Sex or violence—Which is more harmful to children?
Serious warning: this post contains images and descriptions of graphic video-game violence. The intended audience for this post is adults.
_____________________________________________________________________________
The U.S. Supreme Court ruled last week, in a 7-of-9 majority, that the State of California may not prohibit the sale of violent video games to minors. Such a ban, the majority argued, restricts the free speech rights of the video-game manufacturers, and is therefore unconstitutional. Read the ruling here.
Let me do a thought experiment with you. Suppose you have a child—a young boy, aged 13.  He's just been given his weekly allowance for helping out with the chores. Now you're given a choice. You may allow him to do one of the following two things with his hard-earned cash:
Option #1. Purchase a magazine containing images of nude models.
Option #2. Purchase a video game in which he role-plays a sadistic protagonist, torturing a female victim while she screams in agony. Then he rapes her, urinates on her, douses her in gasoline, and sets her on fire. In another level he can recruit the help of a virtual buddy to inflict the torture. For example, the players can grasp a woman by her legs—one leg each—and then literally tear her apart. This is accomplished by pulling the legs in opposite directions, so that your child and the co-torturer rip the woman in half starting at her groin. As she writhes and sobs—as pints of blood explode out of her, and as her organs fall to the floor—the tearing continues: it goes up along the spine through her stomach, splitting her ribs at the torso, and finally reaching her head: the skull cracks, and her very face splits in two. Level over.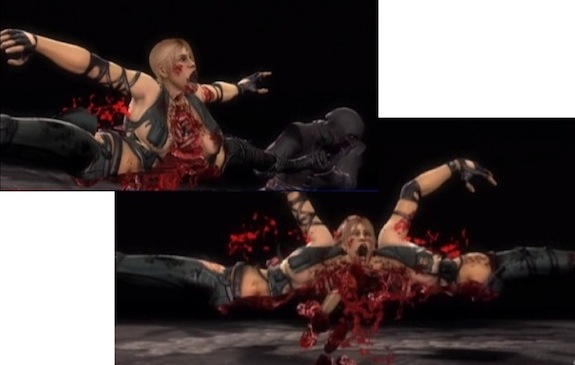 [The above images are taken from Mortal Kombat. For a video of this torture and murder (with commentary by Jon Stewart) see here. If you think this is a "fringe" game played by a soulless sub-population of gamers, think again: it's among the most popular and successful fighting games ever released, described by the New York Daily News as a  "worldwide hit."]
Which would you choose?
In the U.S., I'm sorry to tell you, you do not have the first option. That is, you may not allow your child to purchase the magazine, because it is legally considered obscene. Hence any shop-owner who took your child's money, in exchange for the image of a woman with her breast exposed, would be breaking the law. You could buy the magazine yourself, of course, and give it to your child. But the law requires that an adult is the one who makes the decision to purchase.
You do have the second option, however—thanks to the ruling cited above. In fact, not only may you allow your child to purchase the video game, but your child can actually elect to purchase the video game all by himself—whether you wish him to or not. This is key. He may go to a video game store, at any time, with or without your knowledge or consent, and exchange his allowance for the game. He can take it to a friend's house, put it in the console, and spend hours raping, torturing, and murdering his victims, virtually. You would never have to know.
The State of California decided to legislate against this outcome. There is some straightforward reasoning involved. As it stands, a legislative body is constitutionally allowed to decide that certain media—say, Playboy magazines—are so harmful to minors and young children that they can impose a categorical ban on their sale to anyone under the age of 18. I'm not certain, myself, of the precise type (or degree) of harm that depictions of nudity could cause a 17 year old, or even a 13 year old, as in the scenario I gave above. Maybe such depictions are harmful; maybe they are not. However, I am certain of the following. If it is harmful to view an image like the one I provided in Option #1, then it is a thousand times more harmful, not only to view, but to actively participate in the virtual activities depicted in, the images I showed in Option #2.
If a breast in a magazine is not "protected free speech," then by what principle or reasoning is Mortal Kombat?
Here is the text of the First Amendment to the U.S. Constitution—the one that gives a broad right to freedom of speech:
Congress shall make no law respecting an establishment of religion, or prohibiting the free exercise thereof; or abridging the freedom of speech, or of the press; or the right of the people peaceably to assemble, and to petition the Government for a redress of grievances.
… Hold on, how exactly does this clause have anything to do with violent video games? You'd be right to wonder. Roughly, the argument goes like this. The line between "speech," "expression," "media," and "entertainment" is a blurry one indeed. One person's entertainment is another's propaganda. So "speech" must be taken to include all manner of media, art, and means of communication. Everything from books, to songs, to plays, to movies—and video games as well.
But not all speech is free. There are certain forms of speech that aren't protected, and therefore can be regulated or banned by legislatures. These include (falsely) shouting "fire" in a crowded theater, obscenity, incitement to violence, and fighting words. The one I want to focus on is "obscenity."
In U.S. Constitutional law, "obscenity" has a very narrow meaning. It doesn't apply to just anything a community or a legislature may find offensive or morally corrupting. It applies to sex—and to nudity—only. But why is there a special "loophole" for banning depictions of breasts, when there is no equivalent exception for lifelike depictions of rape, torture, and murder?
Historians can fill me in, but my guess is that it has more to do with America's puritanical past than with any careful analysis of relevant data—that is, data concerning what sorts of things actually cause harm to vulnerable minors.
But the data are, ultimately, irrelevant to my argument. This is a good thing for the case I'm trying to make, because there is quite a bit of academic debate about the real-world causal effects of violent video-gaming on aggression, harm, and so on. My point is only this. Whatever possible harm is sufficient to justify the prohibition of selling a Playboy to a child, cannot in a million years be less than the harm caused by violent video games. If Playboy harm is sufficiently bad, Mortal Kombat harm is sufficiently bad, too—and then a whole lot more.
At least one Supreme Court Justice seemed to notice this absurdity in the logic of the ruling. Here's how Steven Breyer put it in his separate, dissenting opinion:
What sense does it make to forbid selling to a 13-year-old boy a magazine with an image of a nude woman, while protecting a sale to that 13-year-old of an interactive video game in which he actively, but virtually, binds and gags the woman, then tortures and kills her? … What kind of First Amendment would permit the government to protect children by restricting sales of that extremely violent video game only when the woman — bound, gagged, tortured and killed — is also topless?
I'm with Breyer. And I'll make his point even clearer. Scroll up and take another look at those images from Mortal Kombat. These cannot be regulated. They are forms of speech, and they are protected by the US Constitution. But make one change, using your imagination. See the tattered gray top that the woman—the one being dismembered—is just barely wearing? Imagine sliding it over by a few pixels, enough to expose a computer-drawn nipple. Constitutionally, that changes everything. The image is now obscene. Now you can ban it.
Does that seem right to you?
_____________________________________________________________________________________
Post script. Some readers have objected, in private correspondence, that my post is misleading. They say it implies, even though it does not state, that a child can go into ANY video store and freely purchase violent video games, thanks to the ruling in question. They point out that this is not the case. Instead, a consortium of retailers–including Walmart, Best Buy, and other major players making up about 80% of the market–have voluntarily adopted policies which prohibit the sale of mature or adult games to children in their stores. They do this by participating in the Entertainment Software Rating Board scheme.
My response to this is twofold. First, even in the stores with self-imposed policies restricting the sale of extremely violent video games to minors, the actual rate of enforcement of these policies ranges from 65 to 84 percent only. Second, participating retailers make up only 80% of the market, leaving 20% with no such restrictions on sales. Compare this to the ban on selling pornography to minors. In this latter case, all stores, everywhere, are prohibited from selling all "obscene" material to any minor, anywhere. Surely that creates a meaningful difference in access to the two types of material.
Does this mean that kids can't get their hands on pornography, if they really want it? Or cigarettes, or alcohol, or any other prohibited item? Of course not. Kids will find a way. An all-out ban on sales of violent video games to minors would not result in no minor acquiring such games. Surely some would. But so long as there's a meaningful difference between the level of access possible with and without a ban, then this "implied" point of my argument would hold.
But then — I didn't make the argument. My deeper point is not about bans and access issues, but rather about an internal tension in the moral, historical, and philosophical underpinnings of U.S. constitutional law, and the absurdities resulting therefrom. I do not know that I would support a blanket ban on selling violent video games to children. I am not certain that I am in favor of the current, existing ban on sales of Playboy, or the 21-age-limit for sales of alcohol, etc. But I think the point Breyer makes in his dissent reveals a very serious problem in American legal precedent, one which cries out for some hard-nosed thinking. How did this absurdity come about? How might it be addressed? I invite your thoughts.
_____________________________________________________________________________________
Post-post script. A number of readers have asked, in one way or another, whether the scenario I describe in "Option #2" is an accurate account of what happens in any actual video games, or in Mortal Kombat in particular. The answer is yes and no. I will explain what I mean by re-posting a reader comment, and then responding to it. "Bob" writes:
Such utter Bullshit. This is not even close to what is happening in Mortal Combat 9. There is no raping (there aren't any rapes in games that I know). There is no urinating on victims. There is no "role-playing of a [sadistic] protagonist. [Yes], you can play like this in some Roleplay games but [it's] your own choice and reflects your own mind. The Fatality where an enemy gets pulled in half "starting at [her groin]" as you say it, happens to any enemy no matter [whether they are] Male or Female. [You] just put it out of context.

I agree that there are games that I wouldn't let kids play but to put it all out of context and basically saying that Video games are all violent and sick is just wrong. Do your Homework next time.
To Bob, and to anyone else with similar concerns, here is my reply.
First, the opening of my post is, as I explicitly described it, a "thought experiment" — based on reality, but at its core a made-up scenario used to make a point. That's what a thought experiment is. However, the examples I used are not actually fictional. Yes, they don't all exist in one single game, to my knowledge, but every activity I described is a component of at least one actual video game, all blended together into one narrative, and then illustrated with images from one particular actual video game — Mortal Kombat. The examples I used (raping, urinating, etc.) are taken directly from the Supreme Court ruling, which was based on a review of real, existing, purchaseable-by-children video games. I do see that my post could be taken to imply that Mortal Kombat includes every disturbing act described in Option #2, but I don't actually state this.
One further comment. The "fatality" that's shown in the images can indeed be executed on male or female characters. So? I didn't say that it couldn't. And if the image I'd included had been of the tearing of a man, I'd have described it using similar language. In my view, the simulated violent dismembering of a man is no less harmful to children than the violent dismembering of a woman; hence both cases would equally support my stance. Or, if it is less harmful (and I could see certain arguments to that effect) it is certainly not less harmful than the viewing of a breast. That's the whole point of my article.
If, in course of making that point, I was implicitly unfair to Mortal Kombat—if I made it seem somehow worse than it really is—I can't say that I'm very sorry. Pulling a woman in half is bad enough. That you can't, in this very same game, also rape her first (though you can do so in other games), doesn't do much in the way of redemption. Nor is the fact that you can rip a man in half just the same.
All of that is irrelevant to my argument, anyway. The constitutional absurdity I've highlighted poses a problem just so long as there is any game that includes any sort of violence that is more harmful to children than any prohibited depiction of nudity.
I hope this point is, once and for all, clear to my readers.
54 Responses to Sex or violence—Which is more harmful to children?