The Oxford Uehiro Prize in Practical Ethics: The Economics of Morality, By Dillon Bowen
This essay, by Oxford undergraduate student Dillon Bowen, is one of the two finalists in the undergraduate category of the inaugural Oxford Uehiro Prize in Practical Ethics. Dillon will be presenting this paper, along with three other finalists, on the 12th March at the final.
The Economics of Morality: By Dillon Bowen
The Problem
People perform acts of altruism every day.  When I talk about 'altruism', I'm not talking about acts of kindness towards family, friends, or community members.  The sort of altruism I'm interested in involves some personal sacrifice for the sake of people you will probably never meet or know.  This could be anything from holding the door for a stranger to donating a substantial portion of your personal wealth to charity.  The problem is that, while altruism is aimed at increasing the well-being of others, it is not aimed at maximizing the well-being of others.  This lack of direction turns us into ineffective altruists, whose generosity is at the whim of our moral biases, and whose kindness ends up giving less help to fewer people.  I propose that we need to learn to think of altruism economically – as an investment in human well-being.  Adopting this mentality will turn us into effective altruists, whose kindness does not merely increase human happiness, but increases human happiness as much as possible.
For the first section, I explain one morally unimportant factor which profoundly influences our altruistic behavior, both in the lab and in the real world.  In the next section, I look at decision-making processes related to economics.  Like altruistic decision-making, economic decision-making is also burdened by biases.  Yet unlike altruistic decision-making, we have largely learned to overcome our biases when it comes to resource management.  Continuing this analogy in section three, I express hope that we can overcome our moral myopia by thinking about altruism much the same way we think about economics.
1) Biases in Altruistic Decisions
When I claim that altruistic decisions are biased, I don't simply mean that moral judgments rely on factors other than maximizing happiness.  Rather, moral judgments rely on factors other than maximizing happiness which are obviously morally unimportant upon even minimal reflection.  Let me give you an illustration:
"Imagine you're on vacation at a cottage on top of a mountain overlooking a village.  One day a typhoon hits, destroying the village and leaving hundreds of people without food, water, or shelter.  The destruction has made it impossible for you to travel down the mountain, but you can still help by making an online donation to the disaster relief organization working to assist them.
Do you have an obligation to help?"
Something like this script was given to half of a Harvard psychology class by Jay Musen.  To the other half he gave a similar script, only instead of witnessing this carnage from the top of a nearby mountain, students were instructed to envision themselves at home, watching the destruction unfold on television.  In both scenarios, subjects have an equal ability to help the unfortunate villagers.  The only difference is that, in the former scenario, the suffering you witness is up close and personal, whereas in the latter, the suffering is far away.  And yet, 68% said that you have an obligation to help in the first case, compared with 34% in the second.  This study demonstrates an important cognitive bias: people who are physically proximate appear more morally important[1].
The physical proximity bias is borne out in real-world moral decisions.  In 2011, the US government spent over $900 billion domestically on healthcare (~$3,000 per capita)[2].  Compare this with the cost of preventative treatment for schistosomiasis and other neglected tropical diseases (NTDs).  Prophylactic pills can inoculate those in the developing world against a variety of parasites for just $0.54 per person per year[3].  With 400 million annual treatments, NTDs could be virtually eliminated[4].  Yet by 2016, charities working for schistosomiasis prevention will have the resources to issue only a quarter of the necessary treatments[5].  Simply put, the US has approved of spending $3,000 per person per year on healthcare for those at home, but has yet to approve of spending even $0.54 per person per year on healthcare for those far away.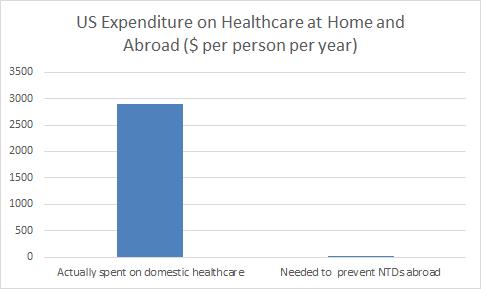 Clearly, physical proximity matters.  But should physical proximity matter?  I suggest that the physical proximity bias really is a bias, in the sense that geographic displacement is not the sort of thing we think we should care about when we give it a moment's thought.  Imagine a solicitor asks you for a donation to, say, feed starving children.  It would be quite odd, to put it mildly, if you responded with, 'Well, that depends.  How far away from me are these children you'll be feeding?'
The physical proximity bias is just one of many cognitive biases that skew our moral decisions away from maximizing happiness based on obviously unimportant factors.  However, we don't see these biases as hindering the goal of our altruistic behavior, largely because we don't see the goal of our altruistic behavior as maximizing well-being.  In what follows, I draw an analogy between our moral decisions and our financial decisions.  Both are plagued by myopic cognitive biases.  But importantly, we explicitly evaluate our financial decisions in terms of monetary yield.  This goal allows us to identify features of our cognitive systems which prevent us from making fiscally prudent choices, and find ways to overcome them.
2) Overcoming Economic Biases
When people invest in the stock market, their primary goal is to make as much money as possible.  We know this because a massive industry has grown to ensure that stock investments yield optimal returns, stocks which yield poor returns quickly die out, and investors explicitly consider it their fiduciary duty to maximize profit for shareholders.  When people give money to charity, or formulate opinions on how their tax dollars ought to be spent, their primary goal is not to help as many people as possible.  We know this because only a tiny fraction of donors have even heard of organizations like GiveWell, ineffective charities thrive alongside charities which are more effective by orders of magnitude, and people rarely seem to consider the size of the impact of their philanthropy.
There are many biases which hinder our efforts to make optimal economic decisions, such as the gambler's fallacy or loss aversion.  And when it comes to our fiscal health, we recognize that these biases are bad.  We understand that, for example, having a successful fund for your child's college education depends on overcoming psychological mechanisms favoring impulsive spending.  As we've seen, there are also manifold biases that prevent us from making altruistic decisions effectively.  But when it comes to our moral decisions, people often fail to see these biases as in any way problematic.  Most importantly, people fail to appreciate that the fate of billions of people in the world today – and potentially the entire future of humanity – depends on us finding a way to overcome these biases.
As humans, we tend to underestimate the value of rewards and punishments based on how far into the future they will occur.  This bias is known as 'temporal discounting'[6].  For instance, people will often prefer a smaller, more immediate sum of cash to a larger sum of money which they will receive at some point in the future.  This is an obvious impediment to certain financial goals, like saving for retirement.  Yet, in spite of temporal discounting, many people somehow succeed in long-term monetary planning.
Perhaps people who are fiscally prudent are immune to temporal discounting?  But no, this hypothesis is not borne out by the psychological literature.  Rather, the conflict between immediate and delayed gratification involves two largely independent cognitive processes[7].  One – the fast, emotionally charged process – generates a strong visceral desire for immediate reward.  The other – the slower, emotionally cooler process – responds to abstract reasons.  Things such as saving for retirement require our slower, reasoning processes to supersede our faster, intuitive processes.
For the final section, I suggest that we should take these lessons from economics and apply them morality.
3) Overcoming Moral Biases
Global rates of starvation could be drastically reduced over the next decade for $190 billion[8].  Malaria could be virtually eradicated in the next 10 years for $51 billion[9].  Most of Africa could live without fear of common tropical parasites in the next 7 years for $1.4 billion[10].  The combined cost of these projects could be paid for by the US and EU in a single year for less than 1% of their GDP[11].
Sadly, these projects will not receive the funds they need, largely due to the fact that the goal of altruism is not to maximize well-being.  Failing to take this as the summum bonum of our philanthropy leads us to be ineffective altruists.  We need to revolutionize how we think about acts of kindness.  Instead of thinking emotionally, we need to think economically.  Altruism should be explicitly viewed as an investment in the well-being of conscious creatures.  And we should demand nothing less of ourselves than to see our investment yield maximum returns.
Adopting this mentality will turn us into effective altruists.  At a minimum, effective altruism says that to the extent we care about helping others, we should try to help as many people as possible as much as possible.  Once we adopt this perspective, many ostensibly innocuous intuitions present themselves transparently as biases.  Just as temporal discounting impedes our ability to care about the future of our finances, I predict similar psychological mechanisms will impede our ability to care about the future of humanity.  Intuitively, future suffering just seems less morally important than current suffering.  And so we have less emotional incentive to invest in things like sustainable energy, nuclear disarmament, the safe development of AI, and epidemiological preparedness for super-viruses.
As effective altruists, we recognize that temporally discounting the suffering and happiness of billions – perhaps trillions – of our descendants is a bad thing.  This is where our reasoning processes will save us.  Once we have acknowledged our biases, the next step is to overcome them.
Now, we might think that overcoming, for example, temporal discounting for the purposes of long-term financial planning is a matter of expanding our cognitive capacity to represent all the resources we will need after our working years.  If only we could represent large sums of cash in the future as if they were immediately available, our problems would be solved.  But this is not what the brain does.  Reasoning processes are not like intuitive processes with more RAM.  Instead, reasoning processes represent information more abstractly and symbolically.
To illustrate this point, try adding these two groups of dots: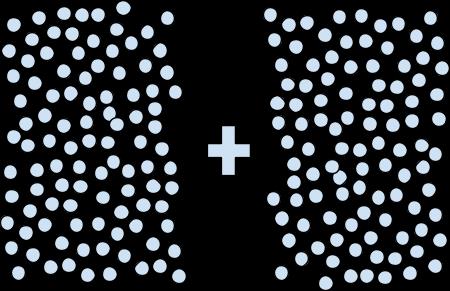 Unless you're an autistic savant, you probably can't do it without counting each one individually.  This is because the brain has limited capacity to represent quantity concretely.  We can hold only about seven objects in working memory at a time[12].  Now try the equivalent math problem where the dots are represented abstractly as Arabic numerals:
100 + 100
Easy.
Just as symbolic representations of quantity allow us to do math with numbers greater than 7, learning to represent suffering and happiness symbolically will allow us to better care about people who live beyond our borders and beyond our lifetimes.  We are probably all familiar with the received wisdom that people ought to be treated as individuals, not statistics.  I think this 'wisdom' is fundamentally wrong.  Our brains simply lack the capacity to empathize with every individual in the world.  If we are to properly care about everyone, we need to think of human well-being as a statistical measure of happiness and suffering.
We don't need to be able to intuitively conceptualize large quantities of things in order to do math, and we don't need to be able to empathize with the suffering of large quantities of people in order to care about them.  Instead of understanding the pain of individuals, we should make an effort to understand abstractly the pain of the masses.  This is the key to discovering and overcoming our moral biases.  We need to recognize the immense amount of suffering in the world today, as well as the vast potential for happiness in the future, and take it as our mission to make the world as happy a place as it can possibly be.
Works Cited
Fenwick, Alan. "My Story." Just Giving. Schistosomiasis Control Initiative, n.d. Web. 17 Jan. 2015. https://www.justgiving.com/sci
GiveWell. "Schistosomiasis Control Initiative (SCI)." GiveWell. Nov. 2014. Web. 17 Jan. 2015.  http://www.givewell.org/international/top-charities/schistosomiasis-control-initiative
Green, L., Fry, A. F., & Myerson, J. (1994). Discounting of delayed rewards: A lifespan comparison. Psychological Science, 5, 33-36.
Madden, G. J., Begotka, A. M., Raiff, B. R., & Kastern L. L. (2003). Delay discounting of real and hypothetical rewards. Experimental and Clinical Psychopharmacology, 11, 139-145.
McClure, S. M., Laibson, D. I., Loewenstein, G., & Cohen, J. D. (2004). Separate neural systems value immediate and delayed monetary rewards. Science, 306, 503-507.
Metcalfe, J., & Mischel, W. (1999). A hot/cool-system analysis of delay of gratification: Dynamics of willpower. Psychological Review, 106, 3-19.
Miller, G. A. (1956). "The magical number seven, plus or minus two: Some limits on our capacity for processing information". Psychological Review 63 (2): 81–97.
Musen, Jay. "Moral Psychology to Help Those in Need." Thesis. Harvard University, 2010. Print.
National Center for Health Statistics. Health, United States, 2013: With Special Feature on Prescription Drugs. Hyattsville, MD. 2014. http://www.cdc.gov/nchs/data/hus/hus13.pdf
O'Brien, Stephen, comp. "Neglected Tropical Diseases." (2008-2009): n. pag.World Health Organization. World Health Organization. Web. 17 Jan. 2015. http://www.who.int/neglected_diseases/diseases/NTD_Report_APPMG.pdf
Roll Back Malaria. Key Facts, Figures and Strategies: The Global Malaria Action Plan. Geneva: Roll Back Malaria Partnership, 2008. RBM. World Health Organization, 2008. Web. 17 Jan. 2015. http://www.rbm.who.int/gmap/GMAP_Advocacy-ENG-web.pdf
Schistosomiasis Control Initiative. "Schistosomiasis Control Initiative." Imperial College London, 2010. Web. 20 Nov. 2014. https://workspace.imperial.ac.uk/schisto/Public/SCI2010.pdf
United States Census Bureau. "Annual Population Estimates." State Totals: Vintage 2011. United States Census, n.d. Web. 19 Jan. 2015. http://www.census.gov/popest/data/state/totals/2011/
World Bank. "World Development Indicators." Data: The World Bank. The World Bank, n.d. Web. 15 Jan. 2015. http://data.worldbank.org/indicator/NY.GDP.MKTP.CD
World Game Institute. "Strategy 1: Famine Relief, Fertilizer for Basic Food Production, and Sustainable Agriculture." UNESCO, 1998-2001. Web. 17 Jan. 2015. http://www.unesco.org/education/tlsf/mods/theme_a/interact/www.worldgame.org/wwwproject/what01.shtml
[1] Musen 2010
[2] According to the National Center for Health and Statistics, the US spent $2.3 trillion on healthcare in 2011 (2014, p.5-6).  Of this, 22.9% was paid by Medicare and 16.4% by Medicaid for a total of $900 billion.  The US population of this year was 311 million (United States Census Bureau 'Annual Population Estimates') for a total of $2,700 per capita.
[3] Schistosomiasis Control Initiative 2010, p. 11
[4] Fenwick 'My Story'
[5] GiveWell 2014
[6] Green et. al. 1994; Madden et. al. 2003
[7] Metcalfe & Mischel 1999; McClure et. al. 2004
[8] World Game Institute 1998-2001
[9] Roll Back Malaria 2008, p.13
[10] O'Brien 2008-2009, p.11
[11] In 2013, the GDP of the US was $16,768,100 million, and the GDP of the EU was $17,958,073 million (World Bank 'World Health Indicators').  The total cost of these three projects is $242,400 million, making it 0.698% of their combined GDP in 2013.
[12] Miller 1956
11 Responses to The Oxford Uehiro Prize in Practical Ethics: The Economics of Morality, By Dillon Bowen