Webinar – Charlie Gard Case: Questions and Lessons
by Dominic Wilkinson (@Neonatalethics)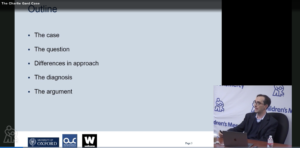 Webinar given recently for the Children's Mercy Centre for bioethics as part of the excellent (and free) Children's Mercy webinar series (great resource for those interested in paediatric bioethics)
In July 2017, the long-running, deeply tragic and emotionally fraught court case of UK infant, Charlie Gard reached its sad conclusion. This high profile case raised some vexing questions in medical ethics about the extent of parental discretion in decisions about treatment for a child.
It highlighted legal (and potentially ethical) differences between the US and UK approach to disagreement between professionals and parents. It attracted attention and comment from many public figures and raised questions about ethical debate in the age of social media and the internet.
While the central questions in the Gard case continue to divide ethicists, health professionals and the public, in this talk, Dominic Wilkinson explores reasons for the potential differences in approach between the US and UK, focuses on the relevance of resource allocation to the Gard case (and other cases), and identifies the need for separate thresholds for limiting treatment on the basis of resources, and on the basis of the child's best interests.
For further ethics resources on the Charlie Gard case see here.