Julian Savulescu
@juliansavulescu
In Roald Dahl's short story, William and Mary, William dies of cancer. But a novel procedure allows his brain, with one eye attached, to be kept functioning in a clear plastic vat. His wife convinces William's neurosurgeon to allow her to take William (or rather his brain and eye) home with her.
When home, Mary places William in a prominent place in the sitting room from where he can survey all her actions. He had been a domineering and controlling husband. He forbade her to have a TV and to smoke. Now, Mary purchases a TV and takes up smoking, blowing smoke in the direction of William. She will punish him for his abuse and his brain may stay alive, utterly powerless, for up to 200 years.
This story was science fiction. But yesterday, the first step to creating the brain in a vat was reported in the US. Back in July 2013, scientists reported the first organ grown from stem cells: a liver. A kidney, heart and other organs have followed. The potential of these technologies to eventually provide replacement organs is also an opportunity to sweep away complex ethical issues: most obviously in avoiding the need for organ donation, but also in enhancing the ability to test drugs on lab grown organs before testing in humans- reducing the risk of harm to research participants, hopefully some day to a negligible amount.
Now, just 2 years later, the first brain has been grown in a laboratory. The organoid has been grown for 12 weeks, the equivalent of a 5 week old foetus.
Lead researcher Professor Rene Anand, from Ohio State University in the US,
said:
"It not only looks like the developing brain, its diverse cell types express nearly all genes like a brain."
Many share an intuition that self-consciousness is highly morally significant. Some hold that self-consciousness significantly enhances an entity's moral status. Others hold self-consciousness underwrites the attribution of so-called personhood (or full moral status) to self-conscious entities. On such views, self-consciousness is highly morally significant: the fact that an entity is self-conscious generates strong moral reasons to treat that entity in certain ways (reasons that, for example, make killing such entities a very serious matter).
Why believe that? Continue reading →
For a long time, Ann Furedi (chief executive of bpas) has been advocating women's right to choose regarding their pregnancies. She is quite radical with regard to this pro-choice principle. For example, she questioned the 24-week limit of abortion, saying that every limit is arbitrary, and women have good reasons when they request an abortion after the 24-week limit. She defends gender selection. She argues that abortion is justified when the continuation of the pregnancy is likely to cause injury to the mental or physical health of the woman and having a child with an undesired gender could cause such suffering. According to her, you are either pro-choice or you are not. You can't reject women's right to choose when you don't like her choice and still be pro-choice. There is no middle ground. What is at stake is the principle of moral autonomy with respect to reproductive decisions. If we set limits to this principle, then we violate the principle all-together. We should trust women to make their own decisions, as only they best know their own circumstances.
Left to make their own moral judgements, some women will inevitably make decisions that we would not; perhaps even those we think are 'wrong'. And we must live with that: tolerance is the price we pay for our freedom of conscience in a world where women can exercise their human capacity through their moral expression. We either support women's moral agency or we do not. (…) We can make the judgement that their choice is wrong – but we must tolerate their right to decide. There is no middle ground to straddle.
The latest issue of the Journal of Medical Ethics is out, and in it, Professor Nigel Biggar—an Oxford theologian—argues that "religion" should have a place in secular medicine (click here for a link to the article).
Some people will feel a shiver go down their spines—and not only the non-religious. After all, different religions require different things, and sometimes they come to opposite conclusions. So whose religion, exactly, does Professor Biggar have in mind, and what kind of "place" is he trying to make a case for?
1. Many think that the wrongness of killing has at least partly to do with the harm and/or badness of death. I assume that is right.
2. Many think that the harm and/or badness of death has primarily to do with the deprivation of a future. In particular, many think that the future contains valuable experiences and states of affairs, and that death robs an entity of experiencing or otherwise attaining these valuable things. Although there are different ways of making explicit how a future is valuable, I assume that the general idea is right.
3. The value in the future is prima facie problematic for those who find abortion permissible. Fetuses seem to have valuable futures. If so, then at the very least there is a (potentially defeasible) moral reason against killing a fetus (cf. Marquis 1989). Continue reading →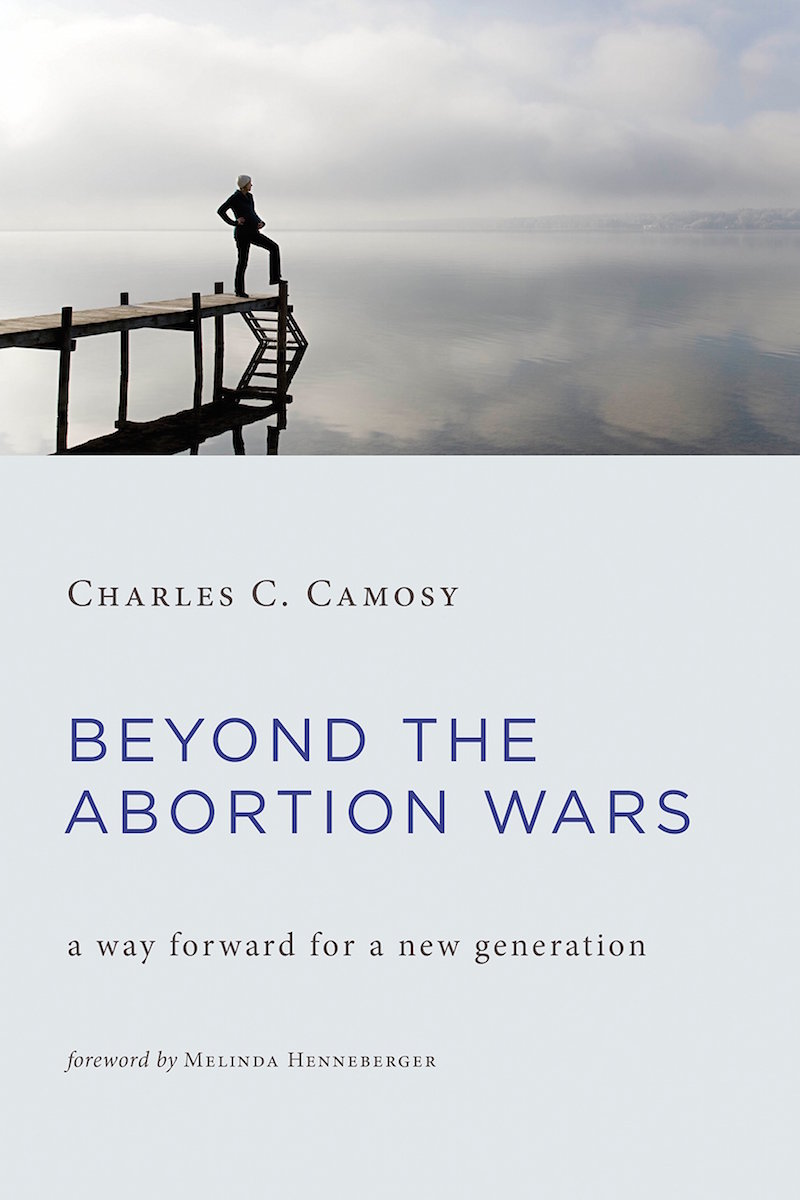 I was recently lucky enough to receive an advance copy of Charles Camosy's forthcoming book to review – 'Beyond the abortion wars: a way forward for a new generation'. In this book, Camosy masterfully traverses the 'battleground' between the 'pro-life' and 'pro-choice'1 camps in order to show that this battleground is in fact no such thing. In fact, as Camosy notes, the majority of the American public actually agree on a middle-ground position on abortion. Despite what one might think from reading certain media outlets and Twitter wars, there is actually a large consensus in the public regarding abortion. This insight is deceptively powerful. By demonstrating the areas of agreement, Camosy is able to help guide us beyond the abortion wars to allow a way forward for a new generation.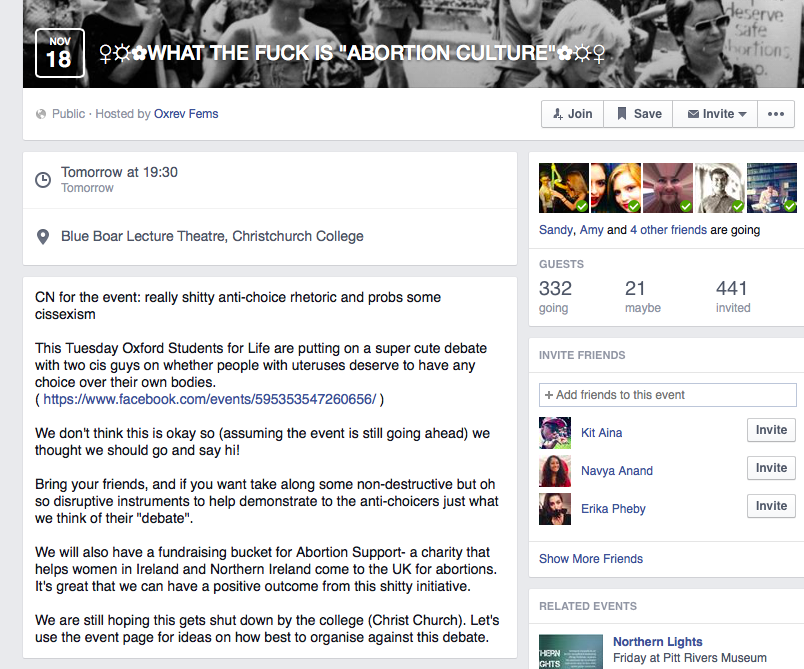 Feminists are kicking up quite a storm in Oxford at the moment. Oxford Students for Life have organized a debate on abortion to happen tomorrow (the 18th November, 2014), which has inspired some rather troubling attacks. Now, Oxford feminists ('WomCam') are generally rather intolerant of any pro-life rhetoric (or, indeed, anyone that disagrees with them), but what has really got their goat this time is that the debate is between two men.
"It is absurd to think we should be listening to two cisgender men debate about what people with uteruses should be doing with their bodies. By only giving a platform to these men, OSFL [Oxford Students for Life] are participating in a culture where reproductive rights are limited and policed by people who will never experience needing an abortion."
Apparently some UK doctors have been aborting babies because their parents don't want a baby of that sex. In response the government is now planning to outlaw  abortion on the grounds of sex. It is already illegal, however, so we must wonder what the politicians are up to.  A question being ignored is whether it is right or  wrong to abort on the grounds of sex. I am going to consider various grounds on which abortion is considered permissible and examine whether that permissibility is consistent with abortion on the grounds of sex being forbidden.
On June 30th, the Supreme Court of the United States handed down its decision in Burwell vs. Hobby Lobby. The case required the court to consider whether closely held for-profit companies owned by individuals with sincere religious objections to abortion should receive a special exemption from providing healthcare coverage for contraceptives that may act after fertilisation but before implantation of an egg. Coverage of twenty types of contraceptives – including the four specific types that the owners consider to be abortifacients – is otherwise legally required as part of the employer-sponsored health insurance mandated by the Patient Protection and Affordable Care Act 2010 (ACA). For a more in depth overview of the facts of the Hobby Lobby case and the key questions before the court, see my previous post on this blog. Continue reading →
Within the next month, the United States Supreme Court will decide whether for-profit corporations shall receive an exemption from providing certain types of contraceptives that are otherwise mandated for healthcare coverage by federal law to employees on the basis of the religious objections of the corporations' owners.  The two cases considered in tandem by the Supreme Court, Sebelius v Hobby Lobby Stores, Inc., and Conestoga Wood Specialties Corporation v Sebelius (Hobby Lobby from here on out), feature a Christian-owned arts and crafts chain and a Mennonite Christian-owned furniture manufacturer, the owners of which object to four specific forms of birth control that they claim cause abortions.
In making their argument for an exemption, the claimants rely mainly on the Religious Freedom Restoration Act (RFRA) passed by Congress in 1993. The RFRA states, "Government shall not substantially burden a person's exercise of religion…" unless "that application of the burden to the person – 1) is furtherance of a compelling governmental interest; and 2) is the least restrictive means of furthering that compelling governmental interest." This sets up three tests for judging the permissibility of a government act: the substantial burden test, the compelling interest test, and the least restrictive means test. For the claimants in Hobby Lobby to be successful under the RFRA, the Supreme Court would need to decide first that the government's 'contraception mandate' is indeed a 'substantial burden' and second that the provision of contraception is both a compelling government interest and that employer based health insurance is the least restrictive method for securing that interest.
Scholars and journalists have taken various approaches in responding to the range of questions related to these three tests. However, I argue here that Hobby Lobby's exemption claim can be denied without diving into this spectrum by showing that it fails to meet the first test: the government does not place a substantial burden on the exercise of religion by Hobby Lobby and Conestoga Wood in its 'contraception mandate.' Continue reading →