Audio and Video recordings of Professor Morten L. Kringlebach (Aarhus University, Denmark; University of Oxford) online St Cross Seminar (21 January 2021) are now available.
Written by: Dr Amna Whiston
In this seminar (available on podcast), Professor Arthur Schafer discussed the ethical challenges involved in the Canadian euthanasia debate at the New St Cross Special Ethics Seminar (online). Professor Schafer, who has written extensively over the last thirty years about a range of topics that includes professional and bio-medical ethics, having been a long-standing proponent of the view that allowing people to die with dignity enriches our rights as humans, critically addressed the question of whether Canada is currently heading in the right direction regarding the legalization of medical assistance in dying.
Autonomy, as Professor Schafer reminds us, is one of the core Canadian values, and this is reflected through the public battle against the prohibition of assisted suicide.  Back in 1993, (Rodriguez v. British Columbia [Attorney General]), the majority of the Supreme Court of Canada urged that at that time there was no public consensus among Canadians that the autonomy interest of people wishing to end their lives is paramount to the state interest in protecting the lives of its citizens. In recent years, Canadian public opinion has undergone a significant shift in favour of the autonomy interest of irredeemably suffering patients who, with no hope of recovery, wish to end their lives with dignity. In June 2016 the Canadian Parliament passed a legislation bill legalizing medical assistance in dying, which has now become legally permissible in several American states (Oregon, Washington State and Montana) and in a number of European nations (the Netherlands, Belgium, Switzerland, and Luxemburg). Today more than two-thirds of Canadians support the new legislation which makes it legally permissible for doctors to help the terminally ill to end their lives. This fact, nonetheless, leaves open a more general question (beyond the Canada context) of whether constitutional rights should be settled by opinion poll.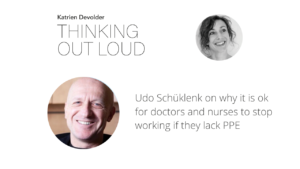 Philosopher Udo Schüklenk argues that it is morally permissible for doctors, nurses and other care workers to stop working if they lack PPE (personal protective equipment).  To listen to the interview, follow this link to the podcast: https://podcasts.apple.com/gb/podcast/is-it-morally-permissible-for-healthcare-workers-to/id1509190881?i=1000472576406
In this talk [AUDIO + SLIDES], Prof. Peter Sandøe (Philosophy, Copenhagen University), argues that, from an ethical viewpoint, gene editing is the best solution to produce hornless cattle. There are, however, regulatory hurdles. (Presented at the workshop 'Gene Editing and Animal Welfare', 19 Nov. 2019, Oxford – organised by Adam Shriver, Katrien Devolder, and The Oxford Uehiro Centre for Practical Ethics; funded by the Society for Applied Philosophy.)
Should we use genetic testing to choose what type of children to bring into the world, and if so, how should we choose? Is it acceptable to choose a deaf child? Should we choose our children on the basis of non-disease traits such as intelligence if that were possible ? Does genetic selection put too much pressure on prospective parents? In this interview with Katrien Devolder (Oxford Uehiro Centre for Practical Ethics), Professor Julian Savulescu, director of the Oxford Uehiro Centre for Practical Ethics, defends his controversial view that we should select those children, from among the children we could have, that will have the best chance at the best life.
[This interview is audio only]
In Elizabeth Anderson's final Uehiro lecture, she tackles what she takes to be the hardest problem facing our current political discourse – How can we overcome obstacles to communicating moral concerns in order to orient policy to important values (such as public health and justice)? This is a particularly difficult and intractable problem because it concerns our moral values; in overcoming this obstacle, there is thus a considerable degree of scope for disagreement, and judgments of the moral character of others based on their moral opinions. Over the course of the lecture, Anderson refines the diagnosis of this problem, and once again expresses optimism about overcoming the obstacles she highlights. This time she outlines how we might disarm the fear, resentment, pride, and contempt that is currently derailing our political discourse, and the virtues that we must develop to do so. You can find a recording of the lecture here.
It is something of an understatement to suggest that we are living through turbulent times. Society today is characterised not just by deep divisions about how to address key social challenges of our time, but also on the emphasis that should be placed on evidence-based discussion of these issues, and the moral values that should guide national policies.
In this context, Elizabeth Anderson's Uehiro lecture series, entitled ""Can We Talk – Communicating Moral Concern In An Era of Polarized Politics" could not be more timely. In the first of this three lecture series, Anderson offers a diagnosis of the problems that currently bedevil political discourse across the world. This first lecture sets the stage for the following two lectures in which she shall offer her own proposed solutions to the problems that she so vividly describes and analyses in this fascinating initial lecture. The remainder of this post shall briefly summarise the key points of the lecture – You can find a recording of the lecture here
By Jonathan Pugh
The below is a slightly extended version of my two 5min presentations at the European Youth Event 2018, at the European Parliament in Strasbourg. I was asked to present on the following questions:
What are the ethical issues surrounding gene-editing, particularly with respect to eradicating mosquitoes?
Should the EU legislate on gene-editing mosquitoes?
By Jonathan Pugh
In the final lecture of the 2018 Uehiro lecture series, Richard Holton concluded his reflections on the theme of 'illness and the social self' by turning to questions about how attitudes can play a role in the onset of medical disorders, with a particular focus on psycho-somatic disorders.
You can find a recording of the lecture here
By Jonathan Pugh
In the second of his three Uehiro lectures on the theme of 'illness and the social self', Richard Holton turned to the moral questions raised by addiction. In the first half of the lecture, he outlined an account of addictive behaviour according to which addictive substances disrupt the link between wanting and liking. In the second half of the lecture, he discusses the implications of this account for the moral significance of preferences, and for how we might structure environments to avoid triggering addictive desires.
You can find a recording of the lecture here