By Charles Foster

It has been a terrible few months for moral philosophers – and for utilitarians in particular. Their relevance to public discourse has never been greater, but never have their analyses been so humiliatingly sidelined by policy makers across the world. The world's governments are all, it seems, ruled by a rather crude vitalism. Livelihoods and freedoms give way easily to a statistically small risk of individual death.
That might or might not be the morally right result. I'm not considering here the appropriateness of any government measures, and simply note that whatever one says about the UK Government's response, it has been supremely successful in generating fear. Presumably that was its intention. The fear in the eyes above the masks is mainly an atavistic terror of personal extinction – a fear unmitigated by rational risk assessment. There is also a genuine fear for others (and the crisis has shown humans at their most splendidly altruistic and communitarian as well). But we really don't have much ballast.
The fear is likely to endure long after the virus itself has receded. Even if we eventually pluck up the courage to hug our friends or go to the theatre, the fear has shown us what we're really like, and the unflattering picture will be hard to forget.
I wonder what this new view of ourselves will mean for some of the big debates in ethics and law? The obvious examples are euthanasia and assisted suicide. Continue reading →
by Anders Sandberg
The Covid-19 pandemic is not the end of the world. But it certainly is a wake-up call. When we look back on the current situation in a year's time, will we collectively learn the right lessons or instead quickly forget like we did with the 1918 flu? Or even think it was just hype, like Y2K?
There are certainly plenty of people saying this is the new normal, and that things will never be the same. But historically we have adapted to trauma rather well. Maybe too well – we have a moral reason to ensure that we do not forget the harsh lessons we are learning now.
By Charles Foster
Cross posted from The Conversation
To be clear, and in the hope of heading off some trolls, two observations. First: of course I don't welcome the epidemic. It will cause death, worry, inconvenience and great physical and economic suffering. Lives and livelihoods will be destroyed. The burden will fall disproportionately on the old, the weak and the poor.
And second: these suggestions are rather trite. They should be obvious to reasonably reflective people of average moral sensibility.
That said, here goes:
1. It will make us realise that national boundaries are artificial
The virus doesn't carry a passport or recognise frontiers. The only way of stopping its spread would be to shut borders wholly, and not even the most rabid nationalists advocate that. It would mean declaring that nations were prisons, with no one coming in or out – or at least not coming back once they'd left. In a world where we too casually assume that frontiers are significant, it doesn't do any harm to be reminded of the basic fact that humans occupy an indivisible world.
Cooperation between nations is essential to combating the epidemic. That cooperation is likely to undermine nationalist rhetoric.
2. It will make us realise that people are not islands
The atomistic billiard-ball model of the person – a model that dominates political and ethical thinking in the west – is biologically ludicrous and sociologically unsustainable. Our individual boundaries are porous. We bleed into one another and infect one another with both ills and joys. Infectious disease is a salutary reminder of our interconnectedness. It might help us to recover a sense of society.
3. It may encourage a proper sort of localism
Internationalism may be boosted. I hope so. But if we're all locked up with one another in local quarantine, we might get to know the neighbours and the family members we've always ignored. We might distribute ourselves less widely, and so be more present to the people around us.
We might even find out that our local woods are more beautiful than foreign beaches, and that local farmers grow better and cheaper food than that which is shipped (with the associated harm to the climate) across the globe.
4. It may encourage altruism
Exigencies tend to bring out the best and the worst in us. An epidemic may engender and foster altruistic heroes.
5. It may remind us of some neglected constituencies
Mortality and serious illness are far higher among the old, the very young, and those suffering from other diseases. We tend to think about – and legislate for – the healthy and robust. The epidemic should remind us that they are not the only stakeholders.
6. It may make future epidemics less likely
The lessons learned from the coronavirus epidemic will pay dividends in the future. We will be more realistic about the dangers of viruses crossing the barriers between species. The whole notion of public health (a Cinderella speciality in medicine in most jurisdictions) has been rehabilitated. It is plain that private healthcare can't be the whole answer. Much has been learned about the containment and mitigation of infectious disease. There are strenuous competitive and cooperative efforts afoot to develop a vaccine, and vaccines against future viral challenges are likely to be developed faster as a result.
7. It might make us more realistic about medicine
Medicine is not omnipotent. Recognising this might make us more aware of our vulnerabilities. The consequences of that are difficult to predict, but living in the world as it really is, rather than in an illusory world, is probably a good thing. And recognising our own vulnerability might make us more humble and less presumptuous.
8. Wildlife may benefit
China has announced a permanent ban on trade in and consumption of wildlife. That in itself is hugely significant from a conservation, an animal welfare, and a human health perspective. Hopefully other nations will follow suit.
Written by Rebecca Brown, Stephanie Tierney, Amadea Turk.
This post was originally published on the NIHR School for Primary Care Research website which can be accessed here. 
Health problems often co-occur with social and personal factors (e.g. isolation, debt, insecure housing, unemployment, relationship breakdown and bereavement). Such factors can be particularly important in the context of non-communicable diseases (NCDs), where they might contribute causally to disease, or reduce that capacity of patients to self-manage their conditions (leading to worse outcomes). This results in the suffering of individuals and a greater burden being placed on healthcare resources.
A potential point of intervention is at the level of addressing these upstream contributors to poor health. A suggested tool – gaining momentum amongst those involved in health policy – is the use of 'social prescribing'. Social prescribing focuses on addressing people's non-medical needs, which it is hoped will subsequently reduce their medical needs. In primary care, social prescribing can take a range of forms. For example, it may involve upskilling existing members of staff (e.g. receptionists) to signpost patients to relevant local assets (e.g. organisations, groups, charities) to address their non-medical needs. It is also becoming common for GPs to refer patients (or people may self-refer) to a link worker (sometimes called a care navigator) who can work with them to identify their broader social and personal needs. Together, they then develop a plan for how those needs could be met through engagement with activities, services or events in the local community. The resources that link workers direct people towards are often run by voluntary organisations and might include, among other things, sports groups, arts and crafts, drama, gardening, cookery, volunteering, housing advice, debt management, and welfare rights.
Supporting people to establish more stable and fulfilling social lives whilst at the same time reducing healthcare costs seems like a win-win. However, it is essential to evaluate the justifications for the introduction of social prescribing schemes, including their effectiveness. This raises a number of complicating factors, including some questions that require not just a consideration of empirical evidence, but a commitment to certain philosophical and ethical positions.
By Charles Foster
Statistically there is a good chance that I will ultimately develop dementia. It is one of the most feared conditions, but bring it on, I say.
It will strip me of some of my precious memories and some of my cognitive function, but it will also strip me of many of the neuroses that make life wretched. It may (but see below) make me anxious because the world takes on an unaccustomed form, but surely there are worse anxieties that are dependent on full function – such as hypochondriacal worries, or the worry that comes from watching the gradual march of a terminal illness. On balance the trade seems a good one. Continue reading →
Why do some people refuse to have their child vaccinated? Are there any good reasons not to vaccinate one's child? Why should one have one's child vaccinated if this doesn't make a difference to whether the community is protected? Why is vaccinating one's child an ethical issue? In this interview with Dr Katrien Devolder, Dr Alberto Giubilini (Philosophy, Oxford) discusses these and other questions, which he addresses in his new book 'The Ethics of Vaccination' (downloadable for free).
written by Andreas Kappes (@AnKappes), Anne-Marie Nußberger (@amnussberger ), Molly Crockett (@mollycrockett ) & Julian Savulescu  (@juliansavulescu)
Measles is making a comeback in Britain and Europe with numbers rising to record levels this year. Last year in Europe, measles killed 35 people, including young children . The re-emergence of measles can be traced to falling rates of vaccination and might make you want to re-think your summer plans. Crowded environments with low levels of hygiene, also known as summer festivals, are something to avoid if unsure about whether you have been properly vaccinated. And maybe re-think going for holidays to Romania, Italy and Greece, the countries with the highest rates of measles outbreaks this year.
But of course, even if you are not vaccinated, your chances of getting measles are low. And if you are infected, dying from measles is rare. The people that die during measles outbreaks are vulnerable babies that are too young to be vaccinated and unvaccinated people with compromised immune systems. And what are the chances that you infect one of these vulnerable people? Extremely low. Your intuition then might be that even if you are unsure about your vaccination status, the low odds don't seem to justify the effort to engage with the NHS or any other health care provider. Maximize your benefits, and others will surely be fine. Individually, this feels right, but for the communities and countries we live in, this is disastrous, slowly eroding herd immunity that protects the most vulnerable.

By Charles Foster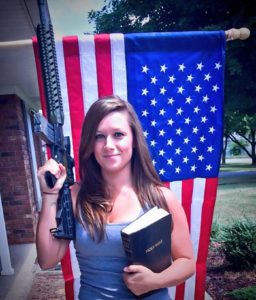 Image: Holly Fisher, a Conservative Christian blogger from West Virginia, posing with gun, Bible, and US flag:  from www.nydailynews.com
There was a near universal consensus that Bishop Michael Curry's sermon at the wedding of Prince Harry and Meghan Markle was magnificent.  'Frock Star', panted the Sun.  The Bishop 'stole the show…and is the 'new Pippa Middleton'' He left for the US, the Sun continued, 'leaving Britain still raving about his electrifying sermon.' The Bishop 'just stole the show', said Vox.com 'Prince Harry and Meghan were all but upstaged by the Episcopal priest's fiery sermon….You might say Curry just made the Anglican communion great again.'
'The Rev Michael Curry', tweeted Ed Miliband, 'could almost make me a believer, ' and Piers Morgan tweeted: 'Wow. Still reeling from Rev Curry. What a moment. What a man!' The BBC commentator Jeremy Vine said that the preacher was 'doing 50 in a 30 zone, and it's brilliant.' Continue reading →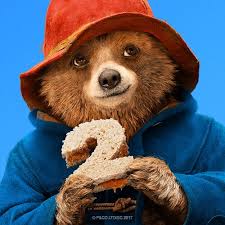 By Charles Foster
Last night, long after everyone else I know, I went with the kids to see Paddington 2. As everyone agrees, it's wonderful. It's a modern morality tale. There is plainly a big appetite for morality.
Interestingly, though, it is a Christian morality tale.1 Paddington's behaviour neutralizes violence. In the face of his goodness, and emolliated by his marmalade sandwiches, the hard men at the prison uncurl their fists and bake strawberry panna cotta with pomegranate glaze instead. His vulnerability is irresistible. He turns selfishness into altruism. 'Nuckles' (sic), (Brendan Gleeson) whose motto has always been that he doesn't do nuffin' for no one for nuffin', jeopardises his own liberty to liberate Paddington – and wins his own perpetual freedom by doing so. There's even a sort of resurrection – in which Paddington, trapped in a watery grave, is released. And as he is released, more of his redemptive power is unleashed too. Continue reading →