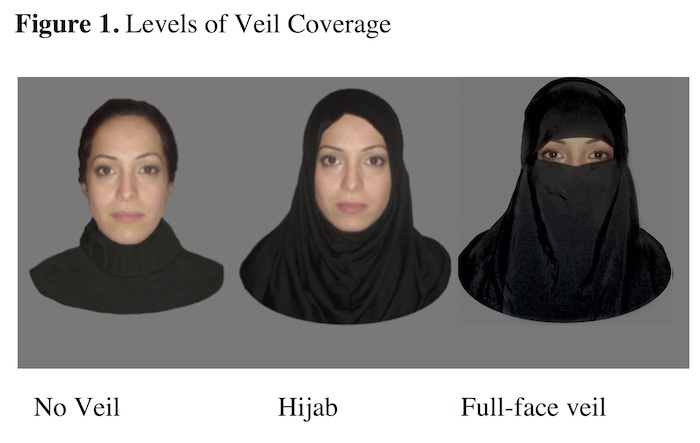 As recent media coverage has documented, Muslim veils are a hot button issue at present.
Research suggests that "a major determinant of who is most vulnerable to anti-Islamic abuse may be the degree to which the individual is visibly identified as Muslim" (King & Ahmad, 2010, p. 886). For Muslim women, one such identifier is a veil. A veil can refer specifically to the hijab or head- scarf, covering just the head but leaving the face exposed, or the full-face veil, which covers the head and face. Hate crime and prejudice directed against Muslims seems to be strongly linked to such visible markers of "difference" (Dreher, 2006), and political discourse has used veils to represent "the problem of Islam" (Watson, 1994)
In recent work published in the Journal of Applied Social Psychology, I explored the way that such prejudice against Muslim women wearing veils may differ as a function of which particular veil is being worn. You can read the paper here for free (it's open access), and so I won't go into too much detail about how study and the psychological literature on prejudice and first impressions. Continue reading →
Something of a twitter storm erupted last week over a poster placed in a supermarket window. The poster, placed in a branch of Sainsbury's, issued a "50p Challenge", urging employees to encourage every customer to "spend an additional 50p during each shopping trip between now and the years-end". After a passer-by named Chris Dodd took a photo of the poster and posted it on twitter, a Sainsbury's representative confirmed that the poster was intended only for employees and that it was not intended for public display. See a news report here. Continue reading →
Frank Van Den Bleeken wants to die.  He is not physically ill, but claims to be suffering from persistent mental anguish, from which death will provide him with some release.  And as a Belgian man, living in Belgium, we might ordinarily expect him to be able to take advantage of that country's fairly liberal euthanasia laws.  Whereas many of the assisted dying regimes around the world specify that the person who wants to die must be terminally ill to qualify, Belgium has seen several cases in which people have been helped to die for reasons that do boil down to psychological distress: in a couple of fairly well-reported cases, Marc and Eddy Verbessem were deaf twins who feared blindness and sought death on that basis, and Nathan Verhelst sought it in the wake of unsuccessful gender-reassignment surgery.
What makes Van Den Bleeken particularly newsworthy is this: he is a convicted killer and rapist.  According to the CBC, he had argued that "he had no prospect of release since he could not overcome his violent sexual impulses and so he wanted to exercise his right to medically assisted suicide in order to end years of mental anguish".  It's not clear whether the anguish came from being in prison, or guilt, or something else.  This might make a difference; I'll touch on that below.
What should we say about the morality of such a case? Continue reading →
As a borderline-obsessive dog lover, the news of the blaze at the Manchester Dogs' Home this week particularly saddened me. A fire was started – it seems deliberately by a 15-year old boy – and around 60 dogs died, with another 150 alive after being rescued. Yet, alongside this there was some uplifting news. A number of passers-by ran into the burning building to rescue dogs, and as I write this the Just Giving page for people to donate to the home after the fire has now reached £1,416,549 in just a few days, with 140,914 donations. Of particular interest to me were the number of people calling the suspect 'evil' – this act really pulled at the heartstrings. More worryingly (but I am ashamed to say, understandable to me) were the visceral reactions to this where people were calling for this child to be burned alive himself.
What is so special about dogs? Do we have any particular moral obligations to dogs? Are there any rational reasons for the enhanced moral status of dogs?
Today is the first day of the 65th meeting of the International Whaling Commission (IWC). The commission, set up in 1946 to ensure the proper conservation of whale stocks and assist in the orderly development of the whaling industry, determines how many, which, and for what purpose, whales can be killed. The meeting beginning today is important because it will re-open discussion about Japan's right to whale for the purposes of conducting scientific research. This past March, Japan lost this right because its findings were deemed to be of little use, and it was clear that the "scientific" nature of the killings were only a ruse. The IWC imposed a moratorium on commercial whaling in 1982, but still allows that the meat of whales killed for scientific purposes could be sold for profit. The Japanese whaling industry exploited this fact in order to sustain what was effectively a commercial whaling industry. Whales were killed in the name of scientific research, and then the meat was sold commercially. The International Court of Justice (ICJ) ruled that this violated the requirement imposed by the IWC that the killing of whales be only "for the purposes of scientific research."
Of the many arguments deployed by the Japanese authorities concerning their right to whale, one is of particular interest to me; namely, that whaling constitutes an important aspect of Japanese culture, and thus ought to be permitted to continue.[1] In what follows, I claim that arguments based on cultural tradition alone are insufficient to generate a right to whale. In cases where the species of whale being killed is not endangered, then (on the condition that the method of whaling used is sustainable) no further reasons need be given in order to defend the practice. Whaling will be just like eating meat,[2] and arguments from cultural tradition will be superfluous. However, if the species of whale is endangered, then whaling is permissible only in cases of practical necessity. Continue reading →
Happy internet slowdown day! Here are some apropos practical ethics questions for all to discuss as we sit patiently, waiting for the internet to load. What kind of internet ought we to have? Should sovereign nations decide for themselves what kind of internet they will have, or is this an international issue, requiring cooperation between nations? What do particular internet companies owe their competitors, and more vaguely, the internet? What right does an individual or social entity have to know about or to police the storage and usage of data about that individual or social entity? What right does an individual or corporation have to access data or restrict access to data at certain speeds?
These kinds of questions are of massive practical importance to big internet companies like Google, who finds itself embroiled in an ongoing antitrust dispute with various entities in Europe, and like American cable company Comcast, who might stand to profit from a change in current net neutrality regulations.
And yet interestingly – and unsurprisingly, I suppose, given the power of moral language – much of the debate surrounding this issue is cast in moral, rather than practical, terms. Continue reading →
The world has turned mad; we need to sober up. It is 2014, and we have recently marked the First World War Centenary. Commemorating a past filled with suffering and loss should be a time to remember the horrors, and to take a firm stance against wars. Yet, we mark the First World War Centenary, and our increasingly unstable world scares me. A ceasefire has just been reached after yet another outburst of excessive violence in Israel/Gaza. Russian troops have entered Ukraine, and the West has responded not only with economic sanctions, but also with increased military (NATO) presence in Europe, and in many cases by decisions to expand military budgets, because a widespread conviction that Russia is a real military threat also to countries such as Denmark. Some commentators seem to think we should prepare for a full war in Europe. The Syrian Civil War is in its third year, and the death toll surpasses 190,000, the cause for which is doubtlessly partly involvement of other countries. A new state, which in its brutality reminds all of us of the history of man, and of what all human babies are capable of developing into, has been declared, the Islamic State, in areas that were previously part of Iraq and Syria. The United States of America responds by gathering an international coalition with the seeming, medium-term, purpose of waging a war, comparing their intentions to those that led to the "quick victory" in the Gulf war in 1990-1991. Meanwhile, the silent drone war that consists of attempts to systematically assassinate terrorists continues. In all this madness, we need to a make plea for peace. Continue reading →
Last month, Lord Robert Winston delivered the Physiological Society summer lecture entitled, 'Shall we be human in the next century?' You can watch it in full here (the stream starts working around 5"30 onwards). In the lecture, Lord Winston discusses the history and misuse of gene science and eugenics, and points to the potential resurgence of this way of thinking, made possible by advances that would allow us to genetically enhance human beings by modifying their nonpathological traits. Winston would be classified as a 'bioconservative' in the contemporary enhancement debate, and below I examine the case for caution that he puts forward in this lecture.