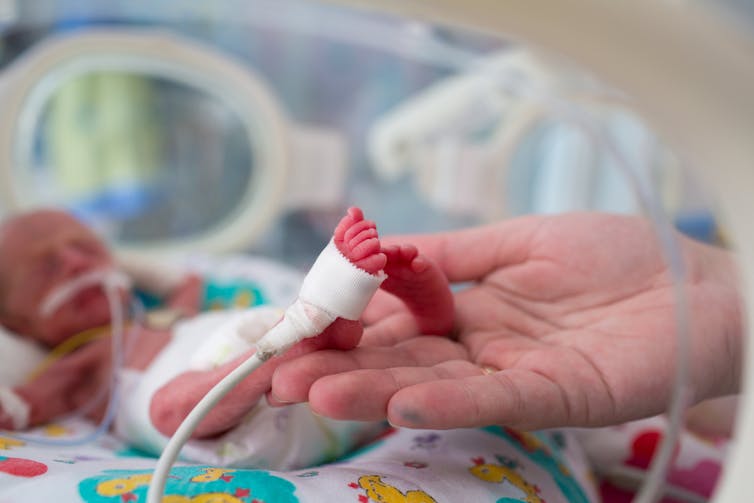 Dominic Wilkinson, University of Oxford
When new guidance relating to the outcome and medical care of babies born extremely prematurely was recently released, it led some to call for UK abortion law to be revised.
This was because one of the new recommendations from the British Association of Perinatal Medicine is that it is sometimes appropriate to provide resuscitation and active medical treatment for babies born at 22 weeks gestation (four and a half months before their due date). This is a week earlier than was recommended in the last version of the framework, published in 2008.
The argument goes that the new guidance creates a "contradiction in British law" because extremely premature infants can now be resuscitated before the point in pregnancy where abortion law changes.
A spokesperson for campaign group Right to Life UK said: "In one room of a hospital, doctors could be working to save a baby born alive before 24 weeks whilst in another room a doctor could perform an abortion which would end the life of a baby at the same age. Surely this contradiction needs to end?" Continue reading →
Written by Stefan Schubert
This blog post reports on: Schubert, S.**, Caviola, L.**, Faber, N. The Psychology of Existential Risk: Moral Judgments about Human Extinction. Scientific Reports. [Open Access]
Humanity's ever-increasing technological powers can, if handled well, greatly improve life on Earth. But if they're not handled well, they may instead cause our ultimate demise: human extinction. Recent years have seen an increased focus on the threat that emerging technologies such as advanced artificial intelligence could pose to humanity's continued survival (see, e.g., Bostrom, 2014; Ord, forthcoming). A common view among these researchers is that human extinction would be much worse, morally speaking, than almost-as-severe catastrophes from which we could recover. Since humanity's future could be very long and very good, it's an imperative that we survive, on this view. Continue reading →
Written by Ben Davies
Last week saw the launch of a campaign (run by the group Vegetarian For Life) that seeks to ensure that older people in care who have ethical commitments to a particular diet are not given food that violates those commitments. This is, as the campaign makes clear, a particularly pressing issue for those who have some form of dementia who may not be capable of expressing their commitment.
Those behind the campaign are quite right to note that people's ethical beliefs should not be ignored simply because they are in care, or have a cognitive impairment (see a Twitter thread where I discuss this with a backer of the campaign). But the idea that one's dietary ethics must be 'for life' got me thinking about a more well-established debate about Advance Directives. (I should stress that what I say here should not be taken to be imputing any particular motivation or philosophical commitments to those behind the campaign itself.)
Professor Dominic Wilkinson, Professor of Medical Ethics, University of Oxford. Consultant Neonatologist
This morning, the High Court judgement around medical treatment for five-year old Tafida Raqeeb was published. Tafida sustained severe brain damage from bleeding in the brain eight months ago. Her parents wish to take her to a hospital in Italy to continue life support, while the doctors at the London hospital caring for her believe that it would be best to stop life support and allow Tafida to die.
Justice MacDonald concluded today that life sustaining treatment for Tafida must continue and her parents should be allowed to take her to Italy. Continue reading →

Informed consent, in practice, is a bad joke. It's a notion created by lawyers, and like many such notions it bears little relationship to the concerns that real humans have when they're left to themselves, but it creates many artificial, lucrative, and expensive concerns.
Of course there are a few clinical situations where it is important that the patient reflects deeply and independently on the risks and benefits of the possible options, and there are a few people (I hope never to meet them: they would be icily un-Falstaffian) whose sole ethical lodestone is their own neatly and indelibly drafted life-plan. But those situations and those people are fortunately rare. Continue reading →
by Dominic Wilkinson @Neonatalethics
This week the legal case around medical treatment for five-year old Tafida Raqeeb has begun in the High Court. She sustained severe brain damage from bleeding in the brain seven months ago. Her parents wish to take her to a hospital in Italy for further treatment, while the doctors at the London hospital caring for her believe that it would be best to stop life support and allow Tafida to die.
In a previous press release, I addressed several common questions about the case:
This seems to be another case like that of Charlie Gard and Alfie Evans. How common are cases of disagreement in the medical care of children?
Why do disagreements occur?
Why don't parents have the final say about treatment?
Who is right in Tafida's case, her parents, or the doctors?
There appear to be two central questions in her case –
Is there any realistic chance of her condition improving if life-support continues?
If Tafida's condition does not improve, should treatment to keep her alive continue, or should it stop (particularly, if her parents do not give permission to withdraw treatment)?
Written by Ben Davies
Last week's by-election in the Welsh constituency of Brecon and Radnorshire saw a reduction of Boris Johnson's government majority to just one, as Liberal Democrat Jane Dodds won the seat. The result was an interesting one: more voters went for No Deal-friendly parties (mainly Johnson's Conservatives and the Brexit Party) than for the out-and-out Remainer Lib Dems. Dodds won not because a majority of voters supported her, but arguably because the pro-Brexit vote was split, and the Lib Dem vote was boosted by Plaid Cymru and the Greens declining to field candidates (it can't have helped that the Conservatives also simply reselected their candidate whose unseating for expenses fraud triggered the election).
The result generated two sets of comments by Conservative Chair James Cleverly. Cleverly's first claim was that the Liberal Democrats had engineered a "back room deal" with other Remain-friendly parties – Plaid and the Greens – in a way that was, he implied, undemocratic. Continue reading →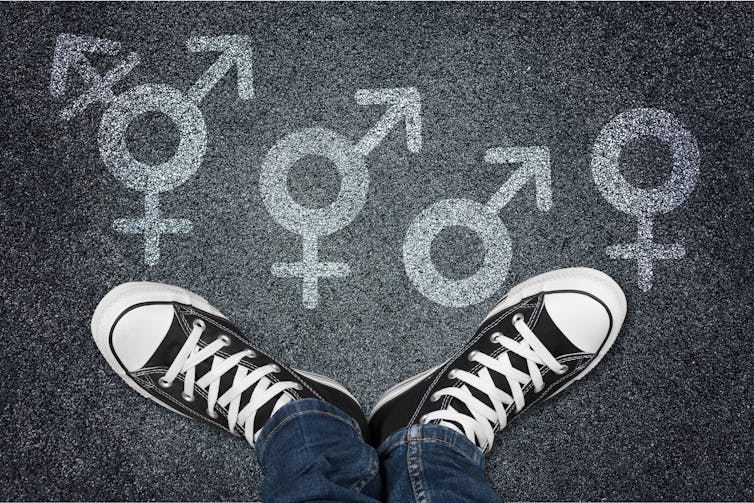 Dominic Wilkinson, University of Oxford and Julian Savulescu, University of Oxford
A recent Newsnight programme reported that a major UK puberty-blocking trial is under investigation. Doctors at a London clinic provided drugs to block the development of puberty in young adolescents with gender dysphoria, a condition where the person experiences discomfort or distress because of a mismatch between their biological sex and gender identity.
The trial began in 2011. A year after starting the drugs, the young people were apparently more likely to report thoughts of wanting to harm themselves. The worry is that perhaps the treatment they received was causing them to have these thoughts of self-harm and suicide.
One of the criticisms of the study, put forward on Newsnight, is the design. The study involved giving the drugs to a group of adolescents and monitoring the effects. However, there was no control group, that is, adolescents who did not receive the drugs. This makes it hard to be sure whether the rates of self-harming thoughts are related to the drugs, would have happened anyway, or perhaps were lower than they would have been without treatment. Continue reading →
Hannah Maslen, University of Oxford, @hannahmaslen_ox
Colin Paine, Thames Valley Police, @Colin_Paine
Police investigators are sometimes faced with a dilemma when deciding whether to pursue investigation of a non-recent case of child sexual abuse. Whilst it might seem obvious at first that the police should always investigate any credible report of an offence – especially a serious offence such as sexual abuse – there are some cases where there are moral reasons that weigh against investigation.
Imagine a case in which a third party agency, such as social services, reports an instance of child sexual exploitation to the police. The alleged offence is reported as having occurred 15 years ago. The victim has never approached the police and seems to be doing OK in her adult life. Although she had serious mental health problems and engaged in self-harm in the past, her mental health now appears to have improved. She does, however, remain vulnerable to setbacks. Initial intelligence gives investigators reason to believe that the suspect has not continued to offend, although there are limits to what can be known without further investigation. Should this alleged offence be investigated?
Written by Charles Foster
In a recent blog post on this site Dom Wilkinson, writing about the case of Vincent Lambert, said this:
'If, as is claimed by Vincent's wife, Vincent would not have wished to remain alive, then the wishes of his parents, of other doctors or of the Pope, are irrelevant. My views or your views on the matter, likewise, are of no consequence. Only Vincent's wishes matter. And so life support must stop.'
The post was (as everything Dom writes is), completely coherent and beautifully expressed. I say nothing here about my agreement or otherwise with his view – which is comfortably in accord with the zeitgeist, at least in the academy. My purpose is only to point out that if he is right, there is no conceivable justification for a department of medical ethics. Dom is arguing himself out of a job. Continue reading →