By Charles Foster
Cross posted from The Conversation
To be clear, and in the hope of heading off some trolls, two observations. First: of course I don't welcome the epidemic. It will cause death, worry, inconvenience and great physical and economic suffering. Lives and livelihoods will be destroyed. The burden will fall disproportionately on the old, the weak and the poor.
And second: these suggestions are rather trite. They should be obvious to reasonably reflective people of average moral sensibility.
That said, here goes:
1. It will make us realise that national boundaries are artificial
The virus doesn't carry a passport or recognise frontiers. The only way of stopping its spread would be to shut borders wholly, and not even the most rabid nationalists advocate that. It would mean declaring that nations were prisons, with no one coming in or out – or at least not coming back once they'd left. In a world where we too casually assume that frontiers are significant, it doesn't do any harm to be reminded of the basic fact that humans occupy an indivisible world.
Cooperation between nations is essential to combating the epidemic. That cooperation is likely to undermine nationalist rhetoric.
2. It will make us realise that people are not islands
The atomistic billiard-ball model of the person – a model that dominates political and ethical thinking in the west – is biologically ludicrous and sociologically unsustainable. Our individual boundaries are porous. We bleed into one another and infect one another with both ills and joys. Infectious disease is a salutary reminder of our interconnectedness. It might help us to recover a sense of society.
3. It may encourage a proper sort of localism
Internationalism may be boosted. I hope so. But if we're all locked up with one another in local quarantine, we might get to know the neighbours and the family members we've always ignored. We might distribute ourselves less widely, and so be more present to the people around us.
We might even find out that our local woods are more beautiful than foreign beaches, and that local farmers grow better and cheaper food than that which is shipped (with the associated harm to the climate) across the globe.
4. It may encourage altruism
Exigencies tend to bring out the best and the worst in us. An epidemic may engender and foster altruistic heroes.
5. It may remind us of some neglected constituencies
Mortality and serious illness are far higher among the old, the very young, and those suffering from other diseases. We tend to think about – and legislate for – the healthy and robust. The epidemic should remind us that they are not the only stakeholders.
6. It may make future epidemics less likely
The lessons learned from the coronavirus epidemic will pay dividends in the future. We will be more realistic about the dangers of viruses crossing the barriers between species. The whole notion of public health (a Cinderella speciality in medicine in most jurisdictions) has been rehabilitated. It is plain that private healthcare can't be the whole answer. Much has been learned about the containment and mitigation of infectious disease. There are strenuous competitive and cooperative efforts afoot to develop a vaccine, and vaccines against future viral challenges are likely to be developed faster as a result.
7. It might make us more realistic about medicine
Medicine is not omnipotent. Recognising this might make us more aware of our vulnerabilities. The consequences of that are difficult to predict, but living in the world as it really is, rather than in an illusory world, is probably a good thing. And recognising our own vulnerability might make us more humble and less presumptuous.
8. Wildlife may benefit
China has announced a permanent ban on trade in and consumption of wildlife. That in itself is hugely significant from a conservation, an animal welfare, and a human health perspective. Hopefully other nations will follow suit.
By Rebecca Brown
Many people will be broadly familiar with the 'heuristics and biases' (H&B) program of work, made prominent by the psychologists Amos Tversky and Daniel Kahneman in the 1970s. H&B developed alongside the new sub-discipline of Behavioural Economics, both detailing the ways in which human decision-makers deviate from what would be expected of homo economicus – an imaginary, perfectly rational being that always aims at maximising utility. For instance, in a famous experiment, Tversky and Kahneman gave people the following information (1983: 297):
Linda is 31 years old, single, outspoken and very bright. She majored in philosophy. As a student, she was deeply concerned with issues of discrimination and social justice, and also participated in anti-nuclear demonstrations. 
Participants were then asked which of the two alternatives was more probable:
1. Linda is a bank teller.
2. Linda is a bank teller and is active in the feminist movement.
By Charles Foster

There are lots of big and clever books about epistemology. It's a complex business. Although one can do some epistemology (some icy thinkers say all) without making any empirical claims about what the senses show (and hence how the senses work), such empirical claims are essential for the discipline to get any real traction on the world.
Whenever this is acknowledged (and it often is not), the emphasis is very much on sight. There is the same bias in lay speech and thought – so much so that sight and some sort of cognitive process or conclusion are commonly conflated. 'Seeing is believing', we say. 'I see', we say, when we really mean that we understand.
This is not surprising. Language and cognition are intimately entangled, and so are vision and cognition. Vision and 'higher order' cognition (important inverted commas, those) are spatially close to one another in the brain: that spatial closeness is reflected in functional closeness. Evolutionarily older centres – notably olfaction – are buried deep in the brain. Since they don't have an office near to 'higher order' cognition, their contribution tends to be overlooked in the cognitive league tables. The insights of the nose tend to be denigrated. Continue reading →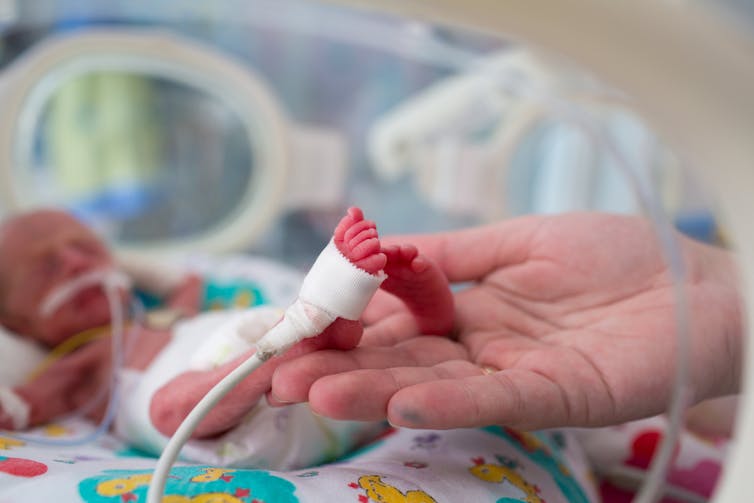 Dominic Wilkinson, University of Oxford
When new guidance relating to the outcome and medical care of babies born extremely prematurely was recently released, it led some to call for UK abortion law to be revised.
This was because one of the new recommendations from the British Association of Perinatal Medicine is that it is sometimes appropriate to provide resuscitation and active medical treatment for babies born at 22 weeks gestation (four and a half months before their due date). This is a week earlier than was recommended in the last version of the framework, published in 2008.
The argument goes that the new guidance creates a "contradiction in British law" because extremely premature infants can now be resuscitated before the point in pregnancy where abortion law changes.
A spokesperson for campaign group Right to Life UK said: "In one room of a hospital, doctors could be working to save a baby born alive before 24 weeks whilst in another room a doctor could perform an abortion which would end the life of a baby at the same age. Surely this contradiction needs to end?" Continue reading →
Written by Stefan Schubert
This blog post reports on: Schubert, S.**, Caviola, L.**, Faber, N. The Psychology of Existential Risk: Moral Judgments about Human Extinction. Scientific Reports. [Open Access]
Humanity's ever-increasing technological powers can, if handled well, greatly improve life on Earth. But if they're not handled well, they may instead cause our ultimate demise: human extinction. Recent years have seen an increased focus on the threat that emerging technologies such as advanced artificial intelligence could pose to humanity's continued survival (see, e.g., Bostrom, 2014; Ord, forthcoming). A common view among these researchers is that human extinction would be much worse, morally speaking, than almost-as-severe catastrophes from which we could recover. Since humanity's future could be very long and very good, it's an imperative that we survive, on this view. Continue reading →
Written by Ben Davies
Last week saw the launch of a campaign (run by the group Vegetarian For Life) that seeks to ensure that older people in care who have ethical commitments to a particular diet are not given food that violates those commitments. This is, as the campaign makes clear, a particularly pressing issue for those who have some form of dementia who may not be capable of expressing their commitment.
Those behind the campaign are quite right to note that people's ethical beliefs should not be ignored simply because they are in care, or have a cognitive impairment (see a Twitter thread where I discuss this with a backer of the campaign). But the idea that one's dietary ethics must be 'for life' got me thinking about a more well-established debate about Advance Directives. (I should stress that what I say here should not be taken to be imputing any particular motivation or philosophical commitments to those behind the campaign itself.)
Professor Dominic Wilkinson, Professor of Medical Ethics, University of Oxford. Consultant Neonatologist
This morning, the High Court judgement around medical treatment for five-year old Tafida Raqeeb was published. Tafida sustained severe brain damage from bleeding in the brain eight months ago. Her parents wish to take her to a hospital in Italy to continue life support, while the doctors at the London hospital caring for her believe that it would be best to stop life support and allow Tafida to die.
Justice MacDonald concluded today that life sustaining treatment for Tafida must continue and her parents should be allowed to take her to Italy. Continue reading →

Informed consent, in practice, is a bad joke. It's a notion created by lawyers, and like many such notions it bears little relationship to the concerns that real humans have when they're left to themselves, but it creates many artificial, lucrative, and expensive concerns.
Of course there are a few clinical situations where it is important that the patient reflects deeply and independently on the risks and benefits of the possible options, and there are a few people (I hope never to meet them: they would be icily un-Falstaffian) whose sole ethical lodestone is their own neatly and indelibly drafted life-plan. But those situations and those people are fortunately rare. Continue reading →
by Dominic Wilkinson @Neonatalethics
This week the legal case around medical treatment for five-year old Tafida Raqeeb has begun in the High Court. She sustained severe brain damage from bleeding in the brain seven months ago. Her parents wish to take her to a hospital in Italy for further treatment, while the doctors at the London hospital caring for her believe that it would be best to stop life support and allow Tafida to die.
In a previous press release, I addressed several common questions about the case:
This seems to be another case like that of Charlie Gard and Alfie Evans. How common are cases of disagreement in the medical care of children?
Why do disagreements occur?
Why don't parents have the final say about treatment?
Who is right in Tafida's case, her parents, or the doctors?
There appear to be two central questions in her case –
Is there any realistic chance of her condition improving if life-support continues?
If Tafida's condition does not improve, should treatment to keep her alive continue, or should it stop (particularly, if her parents do not give permission to withdraw treatment)?