On the supposed distinction between culture and religion: A brief comment on Sir James Munby's decision in the matter of B and G (children)
By Brian D. Earp (@briandavidearp)
Introduction
What is the difference between 'culture' and 'religion' … ? From a legal standpoint, this question is important: practices which may be described as being 'religious' in nature are typically afforded much greater protection from interference by the state than those that are understood as being 'merely' cultural. One key area in which this distinction is commonly drawn is with respect to the non-therapeutic alterations of children's genitals. When such alteration is done to female children, it is often said to be a 'cultural' practice that does not deserve legal protection; whereas, when it is done to male children, it is commonly said to be a 'religious' practice – at least for some groups – and must therefore not be restricted (much less forbidden) by law.
Is this a valid distinction?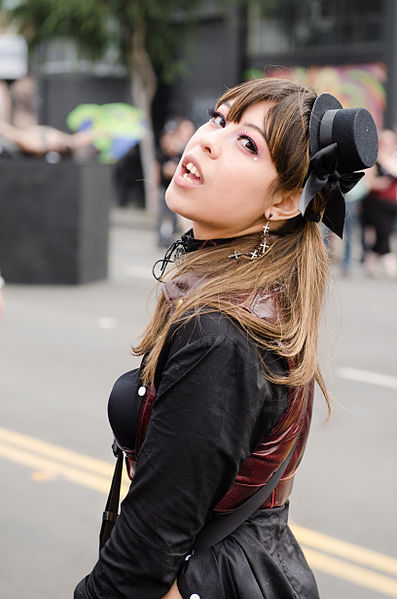 You're walking down the street. In the opposite direction comes a person whom you find very attractive. As he or she passes by, you feel tempted to turn your head so as to, well, check them out. I assume that you have felt this temptation. I, at least, have felt it many times. I have resisted turning my head, however, since doing so is supposedly a bad thing.
But what, exactly, is so bad about turning one's head to check someone out on the street? What is the bad-making property (or properties) of such actions? Let's consider a number of possible answers.
Privacy and consent
One answer might be that if one turns one's head to catch an extra glance of an attractive person, one invades their privacy. In assessing this suggestion, let us grant, for the sake of the argument, that invading someone's privacy is indeed a bad-making property. The relevant question then becomes whether one invades someones's privacy by turning one's head to check them out. Continue reading →
According to Oxfam's latest report,  by 2016 the richest 1% will own more than all the rest of people in the world. For many, the current and increasing inequality among individuals is deeply worrying. For many of us this is because we believe that equality matters. That is, we hold the view that how desirable a state of affairs is not only depends on the extent to which value is maximised but also on how equally it is distributed among individuals.  The underlying idea is that there are no reasons why all those individuals who can be recipients of value should not receive it equally. Who these individuals are depends on what we take the currency of distribution to be. That is, the particular value that should be enjoyed equally. If we accept egalitarianism of well-being, then equality will apply to every individual that can have a well-being of her own. If we believe that it is resources or opportunities for well-being what should be equalised, then equality will apply to all those that can benefit from them. Of course, one could nevertheless restrict the scope of equality to a subset of these individuals. But that would no longer be an egalitarian view. Just as view that claimed that aggregated well-being should be maximised only on Wednesdays would no longer be a version of utilitarianism. Continue reading →
Facebook has changed its privacy settings this January. For Europeans, the changes have come into effect on January 30, 2015.
Apart from collecting data from your contacts, the information you provide, and from everything you see and do in Facebook, the new data policy enables Facebook to use your GPS, Bluetooth, and WiFi signals to track your location at all times. Facebook may also collect information about payments you make (including billing, shipping, and contact details). Finally, the social media giant collects data from third-party partners, other Facebook companies (like Instagram and Whatsapp), and from websites and apps that use their services (websites that offer "Like" buttons and use Facebook Log In).
The result? Facebook will now know where you live, work, and travel, what and where you shop, whom you are with, and roughly what your purchasing power is. It will have more information than anyone in your life about your habits, likes and dislikes, political inclinations, concerns, and, depending on the kind of use you make of the Internet, it might come to know about such sensitive issues as medical conditions and sexual preferences.
To Facebook's credit, their new terms of services, although ambiguous, are clearer than most terms of services one finds on the Internet. Despite the intrusiveness of the privacy policy, one may look benevolently on Facebook: if their terms are comparatively explicit and clear, if users know about them and give their consent, and if in turn the company provides a valuable free service to more than a billion users, why should the new privacy policy be frowned upon? After all, if people don't like the new terms, they are not forced to use Facebook: they are free not to sign up or they can delete their account if they are current users.
A closer look, however, might reveal the matter in a different light. Continue reading →
Rampisham Down, in West Dorset, is a Site of Special Scientific Interest. But it soon won't be. In a decision of dazzling stupidity, the local planning committee has said that it can be covered with over 100,000 solar panels. It accepted that renewable energy was a Good Thing and, in effect, that the loss of biodiversity occasioned by the panels was a price worth paying for the sun-farmers' contribution to the battle against climate change.
Environmentalists, normally on the side of alternative energy, have been loud in their denunciation of the decision. A good example is Miles King in the Guardian: He observes: '….stopping biodiversity loss is as important as stopping global warming.'
Well, no it's not. The crassness of the decision at Rampisham doesn't alter the stark fact that  if global warming isn't stopped, we won't have any biodiversity of any kind to preserve. The planners were crass because there are plenty of other, better places to put the panels. But their view of the big picture is correct. Continue reading →
I was recently lucky enough to receive an advance copy of Charles Camosy's forthcoming book to review – 'Beyond the abortion wars: a way forward for a new generation'. In this book, Camosy masterfully traverses the 'battleground' between the 'pro-life' and 'pro-choice'1 camps in order to show that this battleground is in fact no such thing. In fact, as Camosy notes, the majority of the American public actually agree on a middle-ground position on abortion. Despite what one might think from reading certain media outlets and Twitter wars, there is actually a large consensus in the public regarding abortion. This insight is deceptively powerful. By demonstrating the areas of agreement, Camosy is able to help guide us beyond the abortion wars to allow a way forward for a new generation.
I highly recommend Leif Wenar's essay "Poverty Is No Pond" – especially to those not yet familiar with, but interested in, the empirical complexities involved in giving to overseas poverty-fighting charities.  Wenar's main aim in his essay is to criticize Peter Singer's 2009 book The Life You Can Save for (i) being overly optimistic about the quality of information available on the effects of giving to various charities, and (ii) failing to emphasize that every charitable donation also comes with some risk of harming people living in extreme poverty.  I'll only briefly address (i), and then turn to and focus primarily on (ii).
Consider:
An 11 year-old girl, J.J., is diagnosed with high-risk acute lymphoblastic leukemia, a type of cancer that arises in the bone marrow. She is put on a 32-day course of chemotherapy with an estimated success rate of over 90%. Her doctors don't know of anyone who has survived this illness without such a course of treatment. However, after just 10 days, her mother withdraws her consent to J.J.'s chemotherapy in order to pursue alternative, non-western remedies. J.J. doesn't object, but both of her doctors believe that J.J. doesn't understand either her illness or the importance of the treatment she is on. In all matters, she defers to her mother who is also her surrogate decision maker. The hospital in which J.J. is a patient appeals to Child Services, stating that by ceasing treatment J.J.'s mother has put J.J. into the position of a child in need of protection. Such a status would permit the hospital to continue treatment despite disagreement from J.J's mother (in her capacity as surrogate decision maker). The case goes to trial, and a ruling is made in favour of J.J.'s mother. J.J. is taken out of the hospital in order to pursue non-western treatment alternatives. It is very likely that J.J. will die. Continue reading →
New open access publication: announcement:
In a recently published article, Hannah Maslen, Roi Cohen Kadosh, Julian Savulescu and I present an argument about the permissible (and not-so-permissible) uses of non-invasive brain stimulation technology in children. We consider both children who may be suffering from a specific neurological disorder, for whom the stimulation is intended as a 'treatment', and those who are otherwise healthy, for whom the stimulation is intended as 'enhancement'. For the full article and citation, see here:
Maslen, H., Earp, B. D., Cohen Kadosh, R., & Savulescu, J. (2014). Brain stimulation for treatment and enhancement in children: An ethical analysis. Frontiers in Human Neuroscience, Vol. 8, Article 953, 1-5. Continue reading →
Several times this term I've staggered out onto Oxford station, cramped and queasy from Cattle Class, and seen packs of sleek suits ooze out of First Class, briefcases in their hands and predatory gleams in their eyes. 'Let's go hunting', one floppy-haired account manager said to his confederates. They climbed into cabs, which they saw as safari Land Rovers heading to the bush, and went off to a panelled room in some college.
To that room, lured by canapés and Mammon, lots of undergraduates will have come. Fizz (far more expensive than the students would ever buy themselves, but not of a standard that would be tolerated in the hunters' own Esher homes) will have been waiting on silver trays. Vol au vents will have been smilingly circulated by bought-in labour (or possibly by the  hunters' own menials, in their best suits, slightly creased from travelling with me in Cattle). Continue reading →