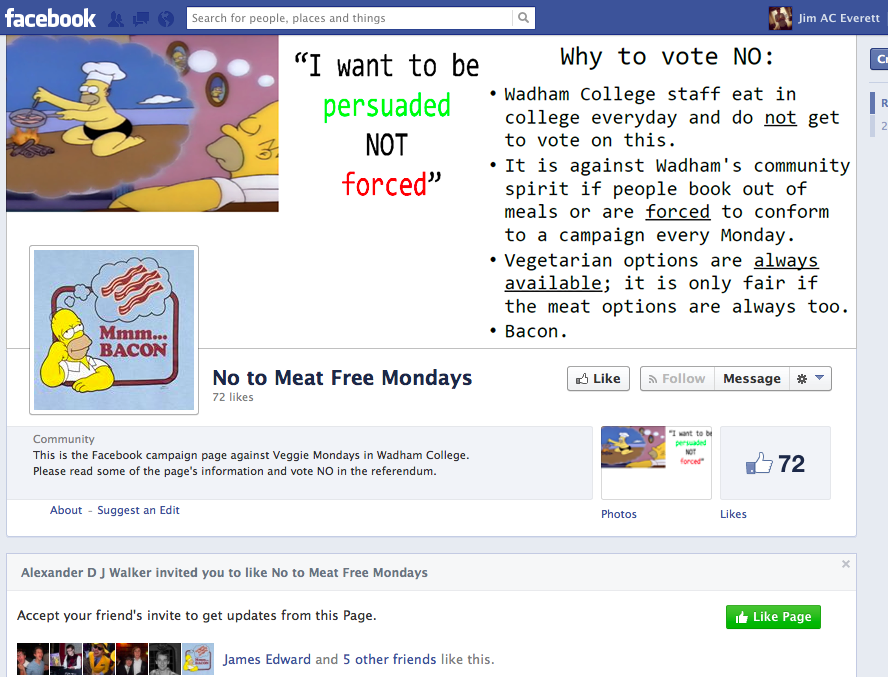 Some context: "Meat Free Mondays" is an international campaign that encourages people not to eat meat on Mondays to improve both their own health and the health of the planet (also, y'know, not killing sentient beings unnecessarily). Sounds like a good idea, no? Apparently not. Continue reading →
Taking the popular over-the-counter pain and fever medication paracetamol during pregnancy might affect the unborn child more than we assumed – and hoped for. Recently, research began to link pre-natal exposure of paracetamol (also known as acetominophen) to asthma and poor motor and communication skills in small children. Now, a new study published yesterday suggests that taking paracetamol during pregnancy comes with an increased risk for the baby of developing attention deficit hyperactivity disorder (ADHD) later.
The authors of this study investigated 64,322 Danish children (born 1996-2002) and their mothers. The women were asked whether they have taken paracetamol in computer-assisted telephone interviews three times during their pregnancy and shortly after. To asses ADHD in children, the researchers used different ways: they asked the mothers of 7-year-olds about their child's behaviour using a standardised ADHD questionnaire. Moreover, they used Danish medical registries to gain information about diagnoses of hyperkinetic disorder, which resembles a severe form of ADHD, and descriptions of ADHD medication to the children.
It has become commonplace in recent years to note that the 'abortion debate' in America has become entrenched. Indeed, there seem to be few issues in contemporary politics that elicit less common ground than the abortion debate finds in its stalwartly pro-choice and pro-life opponents. It is just as common, if not more so, these days to speak of the 'attack on Roe v. Wade' or 'the attack on women's rights,' particularly in light of recent findings that more abortion restrictions were enacted between 2011 and 2013 in the U.S. than in the entire previous decade. Now more than ever, especially for the pro-choice movement, it is necessary to conceptualize novel approaches to the questions of the beginning, end, and quality of life that sit at the heart of the abortion debate. Here I examine a recent case and how it has the potential to advance this debate. Continue reading →
Follow Brian on Twitter by clicking here.
Female genital mutilation (FGM) and male circumcision: time to confront the double standard  
This month, the Guardian launched a campaign in conjunction with Change.org (the petition is here) to end "female genital mutilation" (FGM) in the UK—see Dominic Wilkinson's recent analysis on this blog. I support this campaign and I believe that FGM is impermissible. Indeed, I think that all children, whether female, intersex, or male, should be protected from having parts of their genitals removed unless there is a pressing medical indication; I think this is so regardless of the cultural or religious affiliations of the child's parents; and I have given some arguments for this view here, here, here, here, and here. But note that some commentators are loath to accept so broadly applied an ethical principle: to discuss FGM in the same breath as male circumcision, they think, is to "trivialize" the former and to cause all manner of moral confusion.
Consider these recent tweets by Michael Shermer, the prominent American "skeptic" and promoter of science and rationalism:



This sort of view appears to be common. One frequent claim is that FGM is analogous to "castration" or a "total penectomy," such that any sort of comparison between it and male circumcision is entirely inappropriate (see this paper for further discussion). Some other common arguments are these:
Female genital mutilation and male circumcision are totally different. FGM is necessarily barbaric and crippling ("always torture," according to Tanya Gold), whereas male circumcision is no big deal. Male circumcision is a "minor" intervention that might even confer health benefits, whereas FGM is a drastic intervention with no health benefits, and only causes harm. The "prime motive" for FGM is to control women's sexuality (cf. Shermer in the tweets above); it is inherently sexist and discriminatory and is an expression of male power and domination. Male circumcision, by contrast, has nothing to do with controlling male sexuality – it's "just a snip" and in any case "men don't complain." FGM eliminates the enjoyment of sex, whereas male circumcision has no meaningful effects on sexual sensation or satisfaction. It is perfectly reasonable to oppose all forms of female genital cutting while at the same time accepting or even endorsing infant male circumcision.
Yet almost every one of these claims is untrue, or is severely misleading at best. Such views derive from a superficial understanding of both FGM and male circumcision; and they are inconsistent with the latest critical scholarship concerning these and related practices. Their constant repetition in popular discourse, therefore—including by those like Shermer with a large and loyal audience base—is unhelpful to advancing moral debate.
In a paper forthcoming in the Journal of Personality and Social Psychology, Cory J. Clark and co-authors provide evidence that widespread belief in the existence of free will is bolstered by a fundamental desire to punish wrongdoers (see here). As Clark et al. put it, "There seems little doubt that the subjective experience of choosing and acting supports people's belief in free will, but our findings suggest another powerful motivating factor: the human impulse to blame and punish. People believe in free will – at least in part – because they wish to affirm that people who do immoral things could have and should have acted differently" (Clark et al. forthcoming). Continue reading →
The Daily Mail has caused something of a furore by posting an online petition calling for the UK government to use foreign aid money to help British people whose homes have been devastated by the recent floods. Whilst 143'000 have signed the petition, charities such as Action Aid have condemned the motion. Continue reading →
This is not the post I was planning to write. Originally, it was going to be a heroic post where I showed my devotion to philosophical principles by reluctantly but fearlessly biting the bullet on the sadistic conclusion. Except… it turns out to be nothing like that, because the sadistic conclusion is practically void of content and embracing it is trivial.
Sadism versus repugnance
The sadistic conclusion can be found in Gustaf Arrhenius's papers such as "An Impossibility Theorem for Welfarist Axiologies." In it he demonstrated that – modulo a few technical assumptions – any system of population ethics has to embrace either the Repugnant Conclusion, the Anti-Egalitarian Conclusion or the Sadistic conclusion. Astute readers of my blog posts may have noticed I'm not the repugnant conclusion's greatest fan, evah! The anti-egalitarian conclusion claims that you can make things better by keeping total happiness/welfare/preference satisfaction constant but redistributing it in a more unequal way. Few systems of ethics embrace this in theory (though many social systems seem to embrace it in practice). Continue reading →
Recently in Portsmouth, a statue of Charles Dickens has been unveiled. While not terribly notable in itself this event is of some interest as it ignores the last wishes of the author it is meant to honour [1].
The problem, in my view, is that this is just one of many cases in which a public figure—authors appear especially vulnerable—has been denied the fulfilment of his or her express wishes regarding post-mortem handling of his or her estate or image. Continue reading →
In the U.K., a Labour plan has recently been in the news and stimulating some interesting debate – mainly about the over-regulation of smoking.
As can be seen on the BBC news website, Labour peers have "tabled an amendment to the Children and Families Bill detailing their proposal for England, which they said was about "protecting children". Lord Hunt, who supports the motion, has stated
"Some Lords will argue a car is a private space and that we should not legislate for what happens within such a space. But there are more important principles than that… For one for me is the need for child protection. Unlike most adults, children lack the freedom to decide when and how to travel, they lack the authority most adults have to ask people not to smoke in their company. And in those circumstances I think it is right for Parliament to step in to protect children." Continue reading →