Suppose that the government is proposing a new policy regarding buildings of historical significance. Rather than simply banning the destruction of 'listed' buildings, the new policy would allow their destruction, provided that whoever destroys the building agrees to construct, somewhere nearby, a new building of a similar size, in a similar style, exhibiting a similar range of architectural innovations, and of a similar level of beauty. Blenheim Palace could be flattened and built over with a shopping mall and carpark, provided that mall developers agreed to construct a replica of the palace somewhere nearby.
Most would be disturbed by such a policy. Part of the reason that they would be disturbed, I presume, is that it seems to manifest a failure to recognise the true value of historical buildings. Not all of the value of historical buildings consists in their possession of generic properties like 'being beautiful', 'being in the baroque style' or 'using space to dramatic effect'. Some of their value is value that they have as particular objects, and that could thus not be realised in any other object. Part of the value of Blenheim Palace derives from it's being the birthplace of Winston Churchill. This value could not be realised in a replica of the palace built 5 miles down the road.
Of course, no-one is proposing a policy of sort I've just outlined. I bring it up because I think reflecting on this kind of case may throw some light on recent discussion regarding biodiversity offsetting (see, for example, here, here  and here). Continue reading →
by Dominic Wilkinson (@Neonatalethics)
One of my registrars asked an interesting question this morning. A commonly used life-saving medicine in newborn intensive care is derived from animal products; should parents be told?
Patricia Churchland, a prominent Neurophilosopher, just published a book on neuroscience and its ethical implications which led to a rather nasty exchange in the New York Review of Books with fellow philosopher Colin McGinn.  His pointed, to put it mildly, criticism of her work was based on philosophical considerations about the implications neuroscience has, or, as he argues, lacks, for the philosophy of mind. This criticism evoked two sentiments in me. First, I felt a strong sense of hopelessness for a world in which not even two philosophers can engage in a sober, respectful argument about something they disagree on; not even under the tutelage of the editors of the New York Review of Books, one of the so-called sanctuaries of intellectualism. Good luck Palestine and Israel! Thereafter, I remembered the unease I at times felt as a psychologist when hearing or reading about Churchland's work.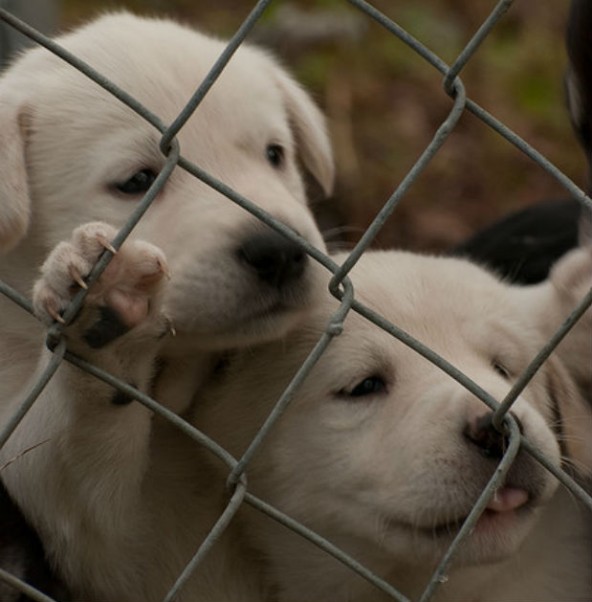 As the diverse range of topics on this blog testifies, philosophical questions concerning practical ethics crop up every day, in a variety of circumstances. Today, I had my own ethical dilemma – this time regarding puppies. Having just moved into my new house, I am now searching for a puppy. When I saw an advert for some puppies for sale in a small village in South Oxfordshire, I became excited: could this be the one?
This morning, after I had arranged an appointment to visit the pups, I began searching online for more details. Specifically, the pups were being sold by what is known as a "commercial breeder": a business that breeds and sells puppies, primarily for profit. To me, this sounded almost identical to the oft-maligned "puppy farms", or "puppy mills". As one website (www.dogstuff.info) describes it, a puppy farm is
 A business that mass-produces dogs for a profit with little or no regard for the health and well-being of the puppies and dogs.   It is a facility where puppies are sold to brokers, pet stores or individuals without regard for the puppy.  They usually have many breeding animals in many different breeds and often, but not always, substandard health, living and socialization conditions. Continue reading →
At some point, most people will have questioned the necessity of the existence of mosquitoes. In the UK at least, the things that might prompt us into such reflection are probably trivial; in my own case, the mild irritation of an itchy and unsightly swelling caused by a mosquito bite will normally lead me to rue the existence of these blood-sucking pests. Elsewhere though, mosquitoes lead to problems that are far from trivial; in Africa the Anopheles gambiae mosquito is the major vector of malaria, a disease that is estimated to kill more than 1 million people each year, most of whom are African children. Continue reading →
If you haven't heard anything about the ongoing saga of Donald Sterling, here is a quick run-down. Sterling owns an NBA team – the Los Angeles Clippers. By most accounts, Sterling is not a morally upstanding person (see here and here). But according to (at least) the court of public opinion, Sterling went too far recently when an audio recording emerged in which Sterling said several horribly racist things. Sponsors began withdrawing support, players threatened to boycott Clippers games, and the NBA reacting swiftly by banning Sterling for life from the NBA and fining him $2.5 million.
Since then things have gotten worse (at least in one sense) for Sterling. Consensus emerged that the NBA could, and would, force Sterling to sell his team – something Sterling said he would not do. But things appear to have been taken out of his hands. Before the NBA had to force Sterling to sell, Sterling was given a diagnosis of Alzheimer's and was declared mentally unfit to make decisions for his team. At that point his wife decided to sell the team, and is in the process of doing so, for a reported $2 billion.
There are many 'ethics in the news' issues here. I'm going to focus on just one. How ought we to think about blame and forgiveness in these kinds of very public cases? What does Sterling owe us (the public), and do we owe Sterling anything? It is easy to find on-line vitriol directed at Sterling, and his largely unapologetic reaction to the whole episode has if anything fanned the flames. Is there a point at which such vitriol is too much? Should the diagnosis – which Sterling challenges – that Sterling is 'mentally unfit' influence how we feel about his blameworthiness for this episode? Should his well-documented past behaviour? Continue reading →
One of the great pleasures of studying human behaviour is to see that what we find in our experiments, what we theorize in our papers and textbooks – as unlikely and counterintuitive it appears to be – actually predicts what happens in so-called real life. Take, for instance, the current build-up of a stock-market bubble in the UK, happening even more dramatically in the US. In the UK, the FTSE 100 is on its way to surpass the record set during the high times of the dotcom bubble and already surpassed the levels reached during the 2008 financial bubble; in the US the Dow Jones has already reached new record highs. Despite having recently experienced the devastating consequences of a stock market bubble bursting, banks and investors return a few years later to the same hyperbolic forecasts and predictions, and start to build up another bubble. It is as if the past did not exist. Compare this behaviour with the following anecdote, which most business school students probably know.
Packets of cigarettes carry pictures showing purchasers what their lungs or their arteries will look like if they carry on smoking. Consumers International and the World Obesity Federation are now suggesting that some foods should bear similar images.
Assume for the sake of argument that the practice would be effective in discouraging the purchase of health-truncating foods. If the images work by telling consumers something about what they are buying that they would not otherwise know, surely there can be no coherent objection to them. Knowledge of that sort is always good – assuming that the consumer has a real choice as to whether to buy the bad product or a better one.
If they work by pushing to the forefronts of consumers' minds information that their grosser appetites conveniently suppress when they are wandering down the mall, there may be an argument against them. This would presumably be on the broad basis that the images manipulate the person away from being what they authentically are (a fructose-guzzling cardiac-cripple-in-waiting) towards something else. This argument would assert that there's a sort of ethical imperialism at work: that those would stamp pictures of limbless diabetics on junk sweet packs are tyrannously seeking to impose an arbitrary normative idea of the good life.
I have little sympathy with this second view. If anyone says in a normative voice that it's good to be diabetic, they're insane. If anyone says in an empirical voice that it's better to be diabetic than non-diabetic, they're misinformed. If anyone says in the voice of a hedonistic utilitarian that the overall pleasure gained by the consumption of lard outweighs the detriments, I'd invite them to get thin, do all the Munros, and then revisit their original judgment. If anyone thinks that they're more authentically themselves by being ill might have a point once their illness is long-standing and has truly become a defining characteristic. But before the illness is triggered, aren't they more themselves without clogged arteries or the need to inject insulin five times a day?
If the packaging proposal is adopted, some interesting questions arise. Should good foods be branded with pictures of the condition you'll be in or the advantages you'll have if you eat them? Aphrodisiac oysters would display the beaming visages of satisfied sexual partners. Green tea would show lean centenarians on trampolines. Or perhaps those good foods should show the things that they'll spare you: prostate-preserving tinned tomatoes might show an unoccupied midnight toilet.
Perhaps other, wider concerns should feature. Tins of palm oil should show dead orangutans. Milk should show the mournful face of a calf-less cow alongside the pictures of healthy, non-osteoporotic bone-scans.
While it's easy to multiply absurdities, the proposal is basically a very good thing. It's a good thing for at least some of the reasons that the notion of informed consent to medical treatment is endorsed. If you're keen on informed consent to treatment, a fortiori you'll be keen on food package images. In fact, I suggest, you should be more keen on those images. They're more important. Continue reading →