This is my first post in a series highlighting current pain science that is relevant to philosophers writing about well-being and ethics.  My work on this topic has been supported by the W. Maurice Young Centre for Applied Ethics, the Oxford Uehiro Centre for Practical Ethics, and the Wellcome Centre for Ethics and Humanities, as well as a generous grant from Effective Altruism Grants. 
There have been numerous published cases in the scientific literature of patients who, for various reasons, report feeling pain but not finding the pain unpleasant. As Daniel Dennett noted in his seminal paper "Why You Can't Make A Computer That Feels Pain," these reports seem to be at odds with some of our most basic intuitions about pain, in particular the conjunction of our intuitions that ''a pain is something we mind'' and ''we know when we are having a pain.'' Dennett was discussing the effects of morphine, but similar dissociations have been reported in patients who undergo cingulotomies to treat terminal cancer pain and in extremely rare cases called "pain asymbolia" involving damage to the insula cortex. Continue reading →
Written by Stephen Rainey
What happens after we die? This might be taken as an eschatological question, seeking some explanation or reassurance around the destiny of an immortal soul or some such vital element of our very being. But there is another sense that has at least as much importance. What should we do with dead bodies?
According to a Yougov survey from 2016, a majority of UK residents prefer cremation over burial, with their ashes scattered in some meaningful place. This could be good news, given the apparent dwindling of burial space globally. In the face of this sort of constraint, the re-use of graves becomes necessary, which can cause distress to the families of even the long dead.
Less commonly, dead bodies can be donated to medical science and put to use for purposes of research and medical training. Research suggests the rate is low owing to 'non-cognitive factors' such as 'the desire to maintain bodily integrity, worries that signing a donor card might 'jinx' a person, and medical mistrust.'
Maybe we should think again about how we treat dead bodies. There could come a time when cremation and burial might be considered a waste of resources, given the uses to which cadavers can be put. One body can be used to train many surgeons in complex procedures by being pared into relevant sections – individual limbs, organ systems, brains. Nevertheless, whilst a corpse is indeed a valuable object, it was also previously a subject. The nature of bodies as post-persons does seem to deserve some special consideration. If we can account for this, we might be in a position to recommend very generally why we ought to respect the bodies of the dead. Continue reading →
Written by Rebecca Brown
Last month, one of the largest music streaming services in the world, Spotify, announced a new 'hate content and hateful conduct' policy. In it, they state that "We believe in openness, diversity, tolerance and respect, and we want to promote those values through music and the creative arts." They condemn hate content that "expressly and principally promotes, advocates, or incites hatred or violence against a group or individual based on characteristics, including, race, religion, gender identity, sex, ethnicity, nationality, sexual orientation, veteran status, or disability." Content that is found to fulfil these criteria may be removed from the service, or may cease to be promoted, for example, through playlists and advertisements. Spotify further describe how they will approach "hateful conduct" by artists: 
We don't censor content because of an artist's or creator's behavior, but we want our editorial decisions – what we choose to program – to reflect our values. When an artist or creator does something that is especially harmful or hateful (for example, violence against children and sexual violence), it may affect the ways we work with or support that artist or creator.
An immediate consequence of this policy was the removal from featured playlists of R. Kelly and XXXTentacion, two American R&B artists. Whilst the 20 year old XXXTentacion has had moderate success in the US, R. Kelly is one of the biggest R&B artists in the world. As a result, the decision not to playlist R. Kelly attracted significant attention, including accusations of censorship and racism. Subsequently, Spotify backtracked on their decision, rescinding the section of their policy on hateful conduct and announcing regret for the "vague" language of the policy which "left too many elements open to interpretation." Consequently, XXXTentacion's music has reappeared on playlists such as Rap Caviar, although R. Kelly has not (yet) been reinstated. The controversy surrounding R. Kelly and Spotify raises questions about the extent to which commercial organisations, such as music streaming services, should make clear moral expressions. 
Continue reading →
By Jonathan Pugh
In the second of his three Uehiro lectures on the theme of 'illness and the social self', Richard Holton turned to the moral questions raised by addiction. In the first half of the lecture, he outlined an account of addictive behaviour according to which addictive substances disrupt the link between wanting and liking. In the second half of the lecture, he discusses the implications of this account for the moral significance of preferences, and for how we might structure environments to avoid triggering addictive desires.
You can find a recording of the lecture here

By Charles Foster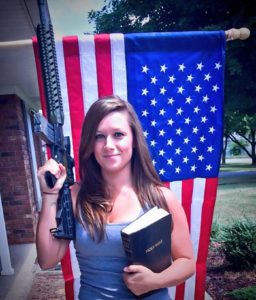 Image: Holly Fisher, a Conservative Christian blogger from West Virginia, posing with gun, Bible, and US flag:  from www.nydailynews.com
There was a near universal consensus that Bishop Michael Curry's sermon at the wedding of Prince Harry and Meghan Markle was magnificent.  'Frock Star', panted the Sun.  The Bishop 'stole the show…and is the 'new Pippa Middleton'' He left for the US, the Sun continued, 'leaving Britain still raving about his electrifying sermon.' The Bishop 'just stole the show', said Vox.com 'Prince Harry and Meghan were all but upstaged by the Episcopal priest's fiery sermon….You might say Curry just made the Anglican communion great again.'
'The Rev Michael Curry', tweeted Ed Miliband, 'could almost make me a believer, ' and Piers Morgan tweeted: 'Wow. Still reeling from Rev Curry. What a moment. What a man!' The BBC commentator Jeremy Vine said that the preacher was 'doing 50 in a 30 zone, and it's brilliant.' Continue reading →
By Tom Douglas
Jack has smoked a packet a day since he was 22. Now, at 52, he needs a heart and lung transplant.
Should he be refused a transplant to allow a non-smoker with a similar medical need to receive one? More generally: does his history of smoking reduce his claim to scarce medical resources?
If it does, then what should we say about Jill, who has never touched a cigarette, but is predicted to become a smoker in the future? Perhaps Jill is 20 years old and from an ethnic group with very high rates of smoking uptake in their 20s. Or perhaps a machine-learning tool has analysed her past facebook posts and google searches and identified her as a 'high risk' for taking up smoking—she has an appetite for risk, an unusual susceptibility to peer pressure, and a large number of smokers among her friends. Should Jill's predicted smoking count against her, were she to need a transplant? Intuitively, it shouldn't. But why not?
By Roger Crisp
This is an exciting time for practical ethics in Oxford. The University has recently launched a new Masters in Practical Ethics, organized by the Oxford Uehiro Centre for Practical Ethics and the Department for Continuing Education. Applicants are currently being assessed for admission, and the course begins in earnest in October.
But what makes ethics – by which I mean philosophical ethics – 'practical' (or 'applied')? It's true that a good deal of philosophical work in ethics is at the 'meta-level', covering issues such as the truth-aptness of moral judgements or the metaphysics of moral properties. But isn't the rest of it, if it's not 'meta' and not merely clarificatory, all going to be practical, in some straightforward sense?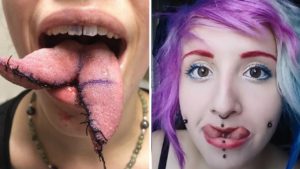 By Charles Foster
Image: 'Split tongue: procedure, safety, result': Tattoo World: Standard YouTube licence.
The appellant in R v BM was a tattooist and body piercer who also engaged in 'body modification'. He was charged with three offences of wounding with intent to do grievous bodily harm. These entailed: (a) Removal of an ear; (b) Removal of a nipple; and (c) division of a tongue so that it looked reptilian. In each case the customer had consented. There was, said the appellant, no offence because of this consent.
Where an adult decides to do something that is not prohibited by the law, the law will generally not interfere.
In Schloendorff v Society of New York Hospital (1914) 105 NE 92 Cardozo J said:
"Every human being of adult years and sound mind has a right to determine what shall be done with his own body."[1]
This principle has been fairly consistently recognised in the English law.[2] Thus, for instance, In In re T (Adult: Refusal of Treatment, Butler-Sloss LJ cited with approval this section of the judgment of Robins JA in Malette v Shulman[3]:
'The right to determine what shall be done with one's own body is a fundamental right in our society. The concepts inherent in this right are the bedrock upon which the principles of self-determination and individual autonomy are based. Free individual choice in matters affecting this right should, in my opinion, be accorded very high priority.' Continue reading →
By Dominic Wilkinson
In the latest case of disputed medical treatment for a child, the family of Liverpool toddler Alfie Evans yesterday lost their last legal appeal. The family had appealed to the European Court of Human Rights to examine whether the UK courts' decision (to allow doctors to stop life support) was contrary to the European Convention on Human Rights. The European Court (as it had in two other cases in the last 12 months) rejected the appeal. It is expected that the artificial ventilation that is currently keeping Alfie alive will be withdrawn in the coming days.
This decision, difficult as it is for his family to accept, is the right decision for Alfie. Medical treatment can no longer help him. As I wrote a month ago, it is time to stop fighting, time to let him go.
However, one important legal and ethical issue raised in this case, and in the case of Charlie Gard from last year, is about the basis for deciding when parents and doctors disagree. What ethical standard should apply?
Last week, the UK Supreme Court adamantly refused Alfie's parents' previous legal appeal, focused on this specific question.  I will argue that the court's arguments fail and that the current UK legal approach is mistaken. (Though in fact, in the Evans case as in the case of Charlie Gard, it seems likely that the court would have reached the same decision about treatment even if it had applied a different ethical standard).