Margaret Thatcher has died.  A few people have declared that this is grounds for celebration.  'A great day', they have announced.  Pop open the champagne. Continue reading →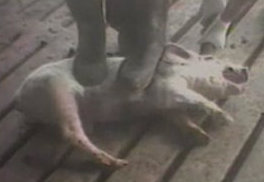 Covertly filming shocking animal abuse in the meat industry (and other industries involving animals) is a common tactic of animal welfare charities such as the Humane Society, Mercy for Animals, Animal Aid, and PETA. The footage is generally obtained by workers for the charities who gain employment at slaughterhouses, farms, laboratories and the like; and it has been instrumental in prosecuting abusers and applying pressure on meat producers to improve welfare standards, as the New York Times reported at the weekend.
The same article also reports a disturbing response to this practice by several US states:
They proposed or enacted bills that would make it illegal to covertly videotape livestock farms, or apply for a job at one without disclosing ties to animal rights groups. They have also drafted measures to require such videos to be given to the authorities almost immediately, which activists say would thwart any meaningful undercover investigation of large factory farms.
Those who flout this so-called 'ag-gag'  legislation may, among other things, be placed on a 'terrorist registry'.
Previous posts in this line here  and  here
The next justification of political authority that Michael Huemer considers in his book The Problem of Political Authority is what is called Hypothetical Social Contract Theory. The broad idea is that what justifies political authority is that you would agree to government coercion were you not the irrational, selfish and ignorant fool that you are. My inclination when addressed in such a manner is to say, so what? Grant that I am the irrational, selfish and ignorant fool that you say I am, why does what I would agree to if I were otherwise make it right for the government to force me to do what I don't want to do? Continue reading →
A recent poll says that nearly all General Practitioners in the UK have given placebos to at least one of their patients.
The story can be seen here: http://www.bbc.co.uk/news/health-21834440
Everyone loves placebos. If you are a scientist, placebo shows an incredible feat of the human body, and interesting interactions between our psychology and the biology that underlies it. A doctor can rest assured that placebos won't cause a chain of undesirable reactions in their patients, while still helping them. Even a new age pro-herbal unscientific mind favours placebo, placebos not only aren't the allopathic evil kind of substance, but with sufficient distortion of argument, placebos can be taken as an argument in favour of whichever branch of neo-medicine that particular mind would like to enforce. So everyone loves placebo, and placebo helps everyone.
Or does it? Here I'll outline some of the reasons we should be wary of placebo effects, and sketch some cultural costs that are being unconsciously left under the rug by the placebo enthusiasm in which we, or at least General Practitioners,  find themselves.
Reason 1) Placebo doesn't mean what we think it means.
Under experimental conditions, placebos are supposed to be inert to the body. Very few substances are actually as inert as would be desirable, and many times we would find outrageous that substance X was considered placebo.  A striking example comes from Beatrice Golomb's short essay on The Dece(i)bo Effect, where she mentions two studies which assessed the effects of corn-oil and olive-oil in patients who needed to lower their cholesterol. It seems a promising avenue of research until you discover that the olive-oil and the corn-oil were not the target of the study, which was a cholesterol-lowering drug, they were the placebos.  The first cultural cost that placebos pay is a labeling cost, once labeled, we lose track of the information of what they contained when studied in the first place.
Reason 2)Placebos don't function as broadly as we think. Or would like to think.
Placebos are good for pain and anxiety, in the short term. Systematic reviews of general studies of placebo, on the other hand, shows very mild to no effects from placebo. As seen here. The second cultural cost that placebos pay is the cost of being likable, and therefore, less amenable to accurate scrutiny beneath the excitement field.  As is widely known, if an idea, meme, memeplex (group of annexed memes) or cultural item is the kind of thing that people just like to believe, it is extremely hard to eliminate it from culture. Placebo is a nice idea, and because of that, it is kept in a safer haven than it should, given how many lives it affects.
Reason 3)Placebos are mysterious, and mysteries are contagious
It is incredible that our minds are able to influence the body in the way they do (irrespective of one's hardcore eliminative monism or Cartesian dualism). Even if the effects are mild, and more constrained than we think, they are still, in some sense, fantastic, belonging to a world of fantasy. To a mind with inclinations for Skyhook type explanations, they open the gate which parts the world of science from the world of fantasy. Doctors are not immune to aspiring that the world be magical and mysterious, in fact, given their high level of education in scientific matters, if any strong innate or childhood force compels them to look for mysteries and Skyhooks, then once the gate is open the diffusion of memes from one side to the other is likely to be uncanny. And here lies the most dangerous cultural cost of placebos. Placebos open the gate for Skyhooks and mysteries in the minds of those on whom our lives depend.  A well educated doctor has to go through a painstaking amount of cognitive dissonance if she is to enforce homeopathic treatment while knowing that nothing she was told while learning the profession indicates that it makes sense. But if there is this other mysterious thing that is well accepted and highly regarded among her peers, well, then the fact that we don't know how it works should not be a decisive factor against homeopathy, right?
Reason 4) Placebos permit a diminished sense of responsibility by twisting psychological knobs
When administering a placebo, a doctor has more reason to sleep well knowing that he didn't (really) act in relation to a patient while still helping than if he had (more) actively selected a medication which could have varied adverse effects for the patient, and legal consequences for the doctor. More than that, it permits the doctor to hold himself responsible only in case of success, which is an emotionally comforting position to be in. By psychologically thinking it is less of a directed action to administer placebo, the doctor can ease his sense of responsibility by believing that it was not so much his decision that played a role.  Even if in the real world he can be indicted for giving placebo in a condition in which it was wrong to do so, at the decision moment  the major players are his self image and internal representation of the event, and these are likely to prefer a story in which he bears no responsibility, except, ironically, the responsibility for infusing the sugar pill with the magical quality that will aid the one in need.
There are good reasons to administer placebos under many circumstances, and the claim here is not that 97.5% of General Practitioners are doing wrong. Instead, it is a call for a sober assessment of which exactly are the circumstances in which placebos ought to be administered. For one thing, in the cases in which placebos are effective, their effectiveness depends on patients actually believing their effectiveness, and for this very reason, it would be a great loss if they became ubiquitous enough that patients stopped believing their effectiveness.
Many cultural items pay the same cultural costs as placebos, being likable, permitting ease of conscience, having ill-defined conceptual borders, and annexing themselves with mysteries are memetic strategies familiar to researchers of cultural evolution, and the items that use those pernicious strategies frequently escape our sight, where I think placebos should be attentively kept.
The Ethics of Male Circumcision
by Brian D. Earp. Special Issue Edited by Julian Savulescu, Brian D. Earp and Bennett Foddy.
The Journal of Medical Ethics is pleased to announce the forthcoming release of a Special Issue, 'The Ethics of Male Circumcision' — to be published in full in the coming days. Selected papers have already been posted Online First and can be seen by clicking here. Contributions cover a wide range of perspectives, and were invited from leading legal scholars, bioethicists, political theorists, pediatricians, and medical historians with expertise in this area. All essays were subjected to rigorous peer review. A list of main contributors and highlights from the arguments showcased in this Special Issue can be found below.
This blog is a brief response to 'Out of Step: Fatal Flaws in the Latest AAP Policy Report on Neonatal Circumcision' by Steven Svoboda and Robert Van Howe, and the AAP Task Force on Circumcision's Response. This is part of a special issue summarised by Brian Earp.
Around one third of men worldwide are circumcised. It is probably the most commonly performed surgical procedure. Circumcision is also one of the oldest forms of attempted human enhancement. It is and has been done for religious, social, aesthetic and health reasons.
Circumcision has a variety of benefits and risks, many of which are discussed in this issue.  There is some dispute about the magnitude and likelihood of these benefits and risks. Some argue that the risks outweigh the benefits and circumcision should not be performed on children who are not competent to make their own decisions.
If it were true that the risks of circumcision clearly outweighed the benefits, great harm has been done and is being done globally through this procedure. Around one third of men have been harmed. This is an extraordinary public health injury. Presumably, some would be entitled to compensation.
The fact that few people think that there is not such a bad situation affecting millions of men indicates that most people implicitly believe that circumcision is not a significant harm, if a harm at all. (This is an example of the kind of argument called modus tollens. If p, then q. Not-q, therefore not-p.)
It is reasonable to conclude either that:
1) It is not clear from existing evidence whether the risks of properly performed circumcision outweigh the benefits, or vice versa.
Or
2) If circumcision is against the interests of an infant, it is only mildly so.
In general, people should make their own decisions about body modification and human enhancement when this is possible. Such an approach speaks in favour of waiting until a child is adult to make his or her own decision about circumcision. And procedures which are not clearly in a child's interests should not be performed on that child. However, religious and other social exclusion may make delay in circumcision psychologically harmful.
It would be a mistake to ban circumcision, given its importance to many people. A dangerous "black market" would be created. As with other forms of potentially risky human enhancement, the best policy is one of harm reduction, not prohibition. Non-medical circumcision should be discouraged, but not prohibited(for further discussion see 'Rational Non-Interventional Paternalism: Why Doctors Ought to Make Judgements of What Is Best for Their Patients'and 'Liberal Rationalism and Medical Decision-Making').
Yesterday, Charles Foster discussed the recent study showing that Facebook 'Likes' can be plugged into an algorithm to predict things about people – things about their demographics, their habits and their personalities – that they didn't explicitly disclose. Charles argued that, even though the individual 'Likes' were voluntarily published, to use an algorithm to generate further predictions would be unethical on the grounds that individuals have not consented to it and, consequently, that to go ahead and do it anyway is a violation of their privacy.
I wish to make three points contesting his strong conclusion, instead offering a more qualified position: simply running the algorithm on publically available 'Likes' data is not unethical, even if no consent has been given. Doing particular things based on the output of the algorithm, however, might be. Continue reading →
By Charles Foster
When you click 'Like' on Facebook, you're giving away a lot more than you might think. Your 'Likes' can be assembled by an algorithm into a terrifyingly accurate portrait.
Here are the chances of an accurate prediction: Single v in a relationship: 67%; Parents still together when you were 21: 60%; Cigarette smoking: 73%; Alcohol drinking: 70%; Drug-using: 65%; Caucasian v African American: 95%; Christianity v Islam: 82%; Democrat v Republican: 85%; Male homosexuality: 88%; Female homosexuality: 75%; Gender: 93%. Continue reading →
It is now quite common to draw distinctions between three types of philosophical ethics. Practical ethics is meant to concern substantive moral issues facing many of us each day, such as abortion or climate change. Continue reading →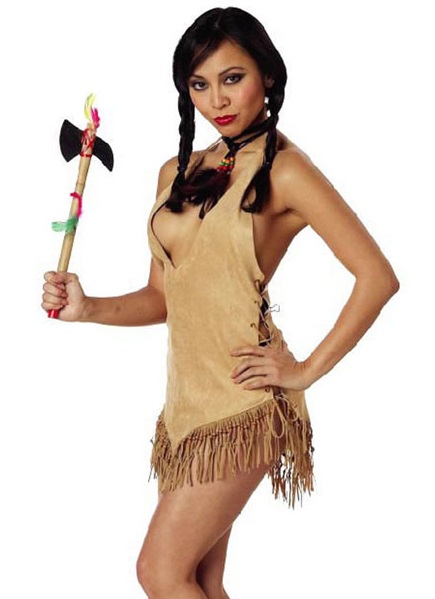 I've been to Cologne recently, one of Germany's main Carnival cities. In the window of a shop I passed, I saw some residues of the just ended Carnival season for sale – amongst other things, a Native American costume. Like many others of the sort, it consisted of a brown faux suede suit, a colourful feather hair decoration, and a little fake axe. And – not to my surprise – it showed far more skin that it concealed. Unfortunately, I didn't take a picture. However, "Indian" Carnival and Halloween costumes like that can be found all over the internet, may it be in the (sadly unavoidable) "sexy" women's version like the one I saw, or in the male "warrior / chief" version.