By Brian D. Earp (@briandavidearp)
* Note: this article was first published online at Quillette magazine.
Introduction
Alice Dreger, the historian of science, sex researcher, activist, and author of a much-discussed book of last year, has recently called attention to the loss of ambivalence as an acceptable attitude in contemporary politics and beyond. "Once upon a time," she writes, "we were allowed to feel ambivalent about people. We were allowed to say, 'I like what they did here, but that bit over there doesn't thrill me so much.' Those days are gone. Today the rule is that if someone—a scientist, a writer, a broadcaster, a politician—does one thing we don't like, they're dead to us."
I'm going to suggest that this development leads to another kind of loss: the loss of our ability to work together, or better, learn from each other, despite intense disagreement over certain issues. Whether it's because our opponent hails from a different political party, or voted differently on a key referendum, or thinks about economics or gun control or immigration or social values—or whatever—in a way we struggle to comprehend, our collective habit of shouting at each other with fingers stuffed in our ears has reached a breaking point.
It's time to bring ambivalence back. Continue reading →
A version of this post was originally published in the Conversation 
You are on holiday with your partner of several years. Your relationship is going pretty well, but you wonder if it could be better. It's Valentine's Day and you find a bottle on the beach. You rub it. A love genie appears. He (or she) will grant you three special Valentine wishes. Here are some of your choices:
to have more or less sexual desire (lust);
to remain always as "in love" as you were when you first fell in love (romantic attraction);
to be more or less bonded to your partner emotionally (attachment);
to be (happily) monogamous or polygamous.
What would you choose? What should you choose? What would your partner choose? Would you choose together, if you could? What would you choose for your partner?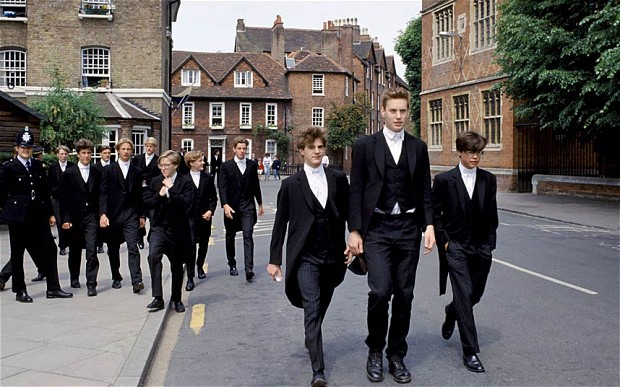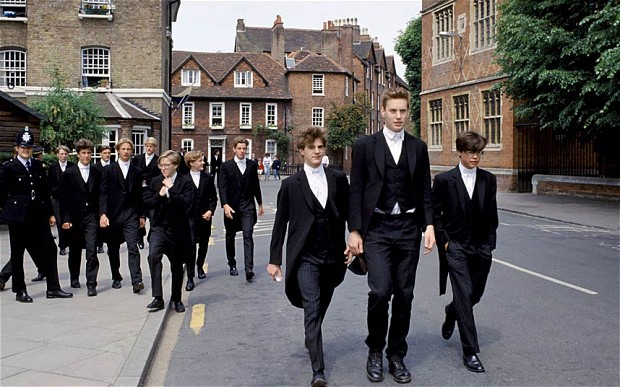 (Photo: Daily Telegraph)
I am a bitter opponent of private education. All my political hackles rise whenever the subject is mentioned.
Yet of my four currently school-aged children, one ('A') is educated privately (at a specialist choir school), and another ('B', who is dyslexic) will shortly be in private education (at a hip, Indian-cotton swathed, high-fibre, bongo-drumming, holistic school). The two others ('C' and 'D') are currently in state primary schools. There are two older children too ('E' and 'F') They were both educated privately, at a fairly traditional school.
How can I live with myself?
One way would be to avert my eyes from the apparently plain discrepancy between my actions and my political convictions. That's often been my strategy. But I want to attempt some kind of defence – at least in relation to A and B, and lay the ground for a potential defence in relation to C and D, should we choose to educate them privately. Continue reading →
(Above image here) Consider the infamous Chinese dog market. Dogs are rounded up, sometimes beaten while still alive (ostensibly to improve the flavour of their meat), killed, and eaten.
Everyone I know thinks it's obscene, and that the suffering of the dogs cannot possibly be outweighed by the sensual satisfaction of the diners, the desirability of not interfering, colonially, with practices acceptable in another culture, or by any other consideration. It's just wrong.
'It's just wrong' is the observation that moral philosophers exist to denounce. They draw their salaries for interrogating this observation, exploding its naivety, and showing that the unexamined observation is the observation not worth making.
But what can the moral philosophers bring to the discussion about the Chinese dogs? Alone, and unaided by science, not much. The philosophy turns out to be either (a) reheated science or (b) a description of our intuitions, together with more or less bare assertions that those intuitions are either good or bad.  Continue reading →
By Brian D. Earp (@briandavidearp)
* Note: this article was first published online at Quillette magazine. The official version is forthcoming in the HealthWatch Newsletter; see http://www.healthwatch-uk.org/.
Introduction
Science and medicine have done a lot for the world. Diseases have been eradicated, rockets have been sent to the moon, and convincing, causal explanations have been given for a whole range of formerly inscrutable phenomena. Notwithstanding recent concerns about sloppy research, small sample sizes, and challenges in replicating major findings—concerns I share and which I have written about at length — I still believe that the scientific method is the best available tool for getting at empirical truth. Or to put it a slightly different way (if I may paraphrase Winston Churchill's famous remark about democracy): it is perhaps the worst tool, except for all the rest.
Scientists are people too
In other words, science is flawed. And scientists are people too. While it is true that most scientists — at least the ones I know and work with — are hell-bent on getting things right, they are not therefore immune from human foibles. If they want to keep their jobs, at least, they must contend with a perverse "publish or perish" incentive structure that tends to reward flashy findings and high-volume "productivity" over painstaking, reliable research. On top of that, they have reputations to defend, egos to protect, and grants to pursue. They get tired. They get overwhelmed. They don't always check their references, or even read what they cite. They have cognitive and emotional limitations, not to mention biases, like everyone else.
At the same time, as the psychologist Gary Marcus has recently put it, "it is facile to dismiss science itself. The most careful scientists, and the best science journalists, realize that all science is provisional. There will always be things that we haven't figured out yet, and even some that we get wrong." But science is not just about conclusions, he argues, which are occasionally (or even frequently) incorrect. Instead, "It's about a methodology for investigation, which includes, at its core, a relentless drive towards questioning that which came before." You can both "love science," he concludes, "and question it."
I agree with Marcus. In fact, I agree with him so much that I would like to go a step further: if you love science, you had better question it, and question it well, so it can live up to its potential.
And it is with that in mind that I bring up the subject of bullshit.
Written by Professor Julian Savulescu and Professor Walter Sinnott-Armstrong
This is a cross-post of an article which was originally published in The Conversation
Effective altruism is a philosophy and social movement which aims not only to increase charitable donations of time and money (and indeed more broadly to encourage leading a lifestyle which does good in the world), but also encourage the most effective use of these resources, usually by looking for measurable impacts such as lives saved per dollar.
For an effective altruist, the core question is: "Of all the possible ways to make a difference, how can I make the greatest difference?" It might be argued, for example, that charity work isn't the best use of time; a talented financier may be better off working for a bank, and use their earnings to pay for others to work for charities instead. Continue reading →
Every day, for about thirty-five minutes, I sit cross-legged on a cushion with my eyes shut. I regulate my breath, titrating its speed against numbers in my head; I watch my breath surging and trickling in and out of my chest; I feel the air at the point of entry and exit; I export my mind to a point just beyond my nose and pour the breath into that point. When my mind wanders off, I tug it back.
The practice is systematic and arduous. In some ways it is complex: it involves 16 distinct stages. When I am tired, and the errant mind won't come quietly back on track, I find it helpful to summarise the injunctions to myself as:
I alternate the emphases: 'I am here': 'I am here'; 'I am here'; 'This is it'; 'This is it'; 'This is it.'
I note (although not usually, and not ideally, when I'm in the middle of the practice) that each of these connotations presumes something about the existence of an 'I'. This is less obvious with the second proposition, but clearly there: 'This' is something that requires a subject. Continue reading →