By Charles Foster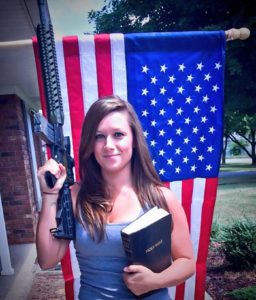 Image: Holly Fisher, a Conservative Christian blogger from West Virginia, posing with gun, Bible, and US flag:  from www.nydailynews.com
There was a near universal consensus that Bishop Michael Curry's sermon at the wedding of Prince Harry and Meghan Markle was magnificent.  'Frock Star', panted the Sun.  The Bishop 'stole the show…and is the 'new Pippa Middleton'' He left for the US, the Sun continued, 'leaving Britain still raving about his electrifying sermon.' The Bishop 'just stole the show', said Vox.com 'Prince Harry and Meghan were all but upstaged by the Episcopal priest's fiery sermon….You might say Curry just made the Anglican communion great again.'
'The Rev Michael Curry', tweeted Ed Miliband, 'could almost make me a believer, ' and Piers Morgan tweeted: 'Wow. Still reeling from Rev Curry. What a moment. What a man!' The BBC commentator Jeremy Vine said that the preacher was 'doing 50 in a 30 zone, and it's brilliant.' Continue reading →
By Tom Douglas
Jack has smoked a packet a day since he was 22. Now, at 52, he needs a heart and lung transplant.
Should he be refused a transplant to allow a non-smoker with a similar medical need to receive one? More generally: does his history of smoking reduce his claim to scarce medical resources?
If it does, then what should we say about Jill, who has never touched a cigarette, but is predicted to become a smoker in the future? Perhaps Jill is 20 years old and from an ethnic group with very high rates of smoking uptake in their 20s. Or perhaps a machine-learning tool has analysed her past facebook posts and google searches and identified her as a 'high risk' for taking up smoking—she has an appetite for risk, an unusual susceptibility to peer pressure, and a large number of smokers among her friends. Should Jill's predicted smoking count against her, were she to need a transplant? Intuitively, it shouldn't. But why not?
By Roger Crisp
This is an exciting time for practical ethics in Oxford. The University has recently launched a new Masters in Practical Ethics, organized by the Oxford Uehiro Centre for Practical Ethics and the Department for Continuing Education. Applicants are currently being assessed for admission, and the course begins in earnest in October.
But what makes ethics – by which I mean philosophical ethics – 'practical' (or 'applied')? It's true that a good deal of philosophical work in ethics is at the 'meta-level', covering issues such as the truth-aptness of moral judgements or the metaphysics of moral properties. But isn't the rest of it, if it's not 'meta' and not merely clarificatory, all going to be practical, in some straightforward sense?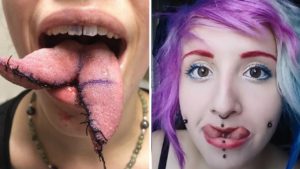 By Charles Foster
Image: 'Split tongue: procedure, safety, result': Tattoo World: Standard YouTube licence.
The appellant in R v BM was a tattooist and body piercer who also engaged in 'body modification'. He was charged with three offences of wounding with intent to do grievous bodily harm. These entailed: (a) Removal of an ear; (b) Removal of a nipple; and (c) division of a tongue so that it looked reptilian. In each case the customer had consented. There was, said the appellant, no offence because of this consent.
Where an adult decides to do something that is not prohibited by the law, the law will generally not interfere.
In Schloendorff v Society of New York Hospital (1914) 105 NE 92 Cardozo J said:
"Every human being of adult years and sound mind has a right to determine what shall be done with his own body."[1]
This principle has been fairly consistently recognised in the English law.[2] Thus, for instance, In In re T (Adult: Refusal of Treatment, Butler-Sloss LJ cited with approval this section of the judgment of Robins JA in Malette v Shulman[3]:
'The right to determine what shall be done with one's own body is a fundamental right in our society. The concepts inherent in this right are the bedrock upon which the principles of self-determination and individual autonomy are based. Free individual choice in matters affecting this right should, in my opinion, be accorded very high priority.' Continue reading →
By Dominic Wilkinson
In the latest case of disputed medical treatment for a child, the family of Liverpool toddler Alfie Evans yesterday lost their last legal appeal. The family had appealed to the European Court of Human Rights to examine whether the UK courts' decision (to allow doctors to stop life support) was contrary to the European Convention on Human Rights. The European Court (as it had in two other cases in the last 12 months) rejected the appeal. It is expected that the artificial ventilation that is currently keeping Alfie alive will be withdrawn in the coming days.
This decision, difficult as it is for his family to accept, is the right decision for Alfie. Medical treatment can no longer help him. As I wrote a month ago, it is time to stop fighting, time to let him go.
However, one important legal and ethical issue raised in this case, and in the case of Charlie Gard from last year, is about the basis for deciding when parents and doctors disagree. What ethical standard should apply?
Last week, the UK Supreme Court adamantly refused Alfie's parents' previous legal appeal, focused on this specific question.  I will argue that the court's arguments fail and that the current UK legal approach is mistaken. (Though in fact, in the Evans case as in the case of Charlie Gard, it seems likely that the court would have reached the same decision about treatment even if it had applied a different ethical standard).
Written by Mackenzie Graham
Last Sunday marked the end of the 2018 Winter Olympics in Pyeongchang, South Korea. Olympic athletes train intensely for years in preparation for a single opportunity at winning gold. Unfortunately, most of them will not be successful. Many will have missed out on a medal by fractions of a second or tenths of a point, an ill-timed crash or fall, or a split-second mental error. In some respects, it hardly seems worth all of the effort and sacrifice, required to be an Olympic athlete (at least in most cases). To focus and train so long and so hard on a single task, only to fall just short of one's goal, seems an irrational way to organize one's life.
On the other hand, we might think that this pessimistic view completely misses the point, and that Olympic athletes are actually living some of the best lives possible. The philosophy of well-being is concerned with what things have 'prudential value'; what things make a life good for the person who is living it? Three conceptions of well-being have largely dominated the philosophical literature. Hedonist views of prudential value hold that, at a fundamental level, the only thing that is 'good for me' (or anyone else), is the experience of pleasure, and the only thing that is bad for me is the avoidance of pain. The best life for me is the one which maximizes my experience of pleasure, and minimizes my experience of pain.
Written by Lucius Caviola
Our relationship with animals is complex. There are some animals we treat very kindly; we keep them as pets, give them names, and take them to the doctor when they are sick. Other animals, in contrast, seem not to deserve this privileged status; we use them as objects for human consumption, trade, involuntary experimental subjects, industrial equipment, or as sources of entertainment. Dogs are worth more than pigs, horses more than cows, cats more than rats, and by far the most worthy species of all is our own one. Philosophers have referred to this phenomenon of discriminating individuals on the basis of their species membership as speciesism (Singer, 1975). Some of them have argued that speciesism is a form of prejudice analogous to racism or sexism.
Whether speciesism actually exists and whether it is related to other forms of prejudice isn't just a philosophical question, however. Fundamentally, these are hypotheses about human psychology that can be explored and tested empirically. Yet surprisingly, speciesism has been almost entirely neglected by psychologists (apart from a few). There have been fewer than 30 publications in the last 70 years on this topic as revealed by a Web of Science search for the keywords speciesism and human-animal relations in all psychology journals. While this search may not be totally exhaustive, it pales in comparison to the almost 3'000 publications on the psychology of racism in the same time frame. The fact that psychology has neglected speciesism is strange, given the relevance of the topic (we all interact with animals or eat meat), the prevalence of the topic in philosophy, and the strong focus psychology puts on other types of apparent prejudice. Researching how we assign moral status to animals should be an obvious matter of investigation for psychology.
By Dominic Wilkinson
Disputes about medical treatment for seriously ill children are in the news again. Last week, the High Court in London decided in favour of withdrawal of life support from a brain damaged 11-month old infant, Isaiah Haastrup, against the wishes of his parents (an appeal is pending later this month). This week, the High court, sitting in Liverpool, is hearing evidence in the case of 20-month-old Alfie Evans, an infant with an undiagnosed degenerative brain condition.
In both of these cases, as in the controversial Charlie Gard case from last year, medical evidence from UK professionals has been overwhelmingly in favour of withdrawing life support and allowing the children to die. However, in each case parents have sought and have obtained evidence from overseas medical specialists who have testified in favour of continued treatment. In the Evans case, as in the earlier Gard case, experts from the Vatican hospital in Rome have apparently offered ongoing treatment.
This suggests several questions. First, why is there a difference between the views of specialists in this country and those overseas? Second, if there are differences in expert opinion about treatment for a child, should courts give any more weight to the views of UK experts than those from overseas? Is there a valid reason to discount the international second opinion?

Guy Kahane**, Jim A.C. Everett**,
Brian D. Earp, Lucius Caviola, Nadira Faber, Molly Crockett,
and Julian Savulescu
Last week, we invited people to find out "How Utilitarian Are You?" by filling out our newly published Oxford Utilitarianism Scale. The scale was widely shared – even by Peter Singer (who scored predictably highly). The Oxford Utilitarianism Scale does a pretty good job of measuring how well people's views match up with "classical" utilitarians (think Bentham and Singer), which is the form of utilitarianism we used to anchor the scale. But that's not all it does. It also teases apart two different dimensions of utilitarian thinking, tracking two ways in which utilitarianism departs from common-sense morality. Our new research recently published in Psychological Review links these two factors to distinct components of human psychology.
The first peculiar aspect of utilitarianism is that it places no constraints whatsoever on the maximization of aggregate well-being. If torturing an innocent person would lead to more good overall, then utilitarianism, in contrast to commonsense morality, requires that the person be tortured. This is what we call instrumental harm: the idea that we are permitted (and even required) to instrumentally use, severely harm, or even kill innocent people to promote the greater good.
The second way that utilitarianism diverges from common-sense morality is by requiring us to impartially maximize the well-being of all sentient beings on the planet in such a way that "[e]ach is to count for one and none for more than one" (Bentham, 1789/1983), not privileging compatriots, family members, or ourselves over strangers – or even enemies. This can be called the positive dimension of utilitarianism, or impartial beneficence.

Blog Authors: Julian Savulescu, Brian D. Earp, Jim A.C. Everett, Nadira Faber, and Guy Kahane
This blog reports on the paper, Kahane G, Everett J, Earp BD, Caviola L,  Faber N, Crockett MJ, Savulescu J, Beyond Sacrificial Harm: A Two Dimensional Model of Utilitarian Decision-Making, Psychological Review [open access]
How Utilitarian are you? Answer these 9 questions to find out…
If you enjoyed taking our 'How Utilitarian Are You?' test,  read our new blog post discussing how we developed it, what it shows, and why it's important
Utilitarianism is one of the oldest and most influential theories about what the right thing to do is. It says that the right act is the one which has the best consequences. In the first formulation by Jeremy Bentham, hedonistic utilitarianism, the right act is the one which maximises happiness and minimises suffering. Richard Hare and Peter Singer made preference utilitarianism famous: the right act is the one which maximises satisfaction of preferences.
Utilitarianism was a novel egalitarian theory when it was developed in the 1700s. It was a radical departure from authoritarian, aristocratic or otherwise hierarchical ways of thinking, positing that each person's happiness and suffering was to count the same. In stark contrast to the social norms of the day, utilitarianism held that the happiness of the pauper is just as important as the happiness of the Prince or the Pope.
Utilitarianism has fallen into disrepute. It is now equated with Machiavellianism: the end justifies the means, whatever those ends may be. It is also seen as coldly calculating, or else simplistically pragmatic. The German philosopher Friedrich Nietzsche described it as a morality appropriate for shop keepers. Recently it has even been portrayed a doctrine for psychopaths. Pope Paul II put it succinctly in 1995:
"Utilitarianism is a civilization of production and of use, a civilization of 'things' and not of 'persons,' a civilization in which persons are used in the same way as things are used."