So claims renowned Oxford philosopher and feminist Janet Radcliffe Richards.  Professor Radcliffe Richards is the author of The Sceptical Feminist, Human Nature After Darwin and Careless Thought Costs Lives: the ethics of transplants. She was also listed recently as one of the world's 50 most important thinkers by Prospect magazine.
Writing in the Journal of Practical Ethics, Radcliffe Richards criticises a common view about sexual equality.
Women hold only 11% of executive positions in top companies in Europe. There are public campaigns to achieve gender balance in public office and top positions in corporations. Political parties are criticised for having low numbers of women in parliament or cabinet.
But Radcliffe Richards argues that society should not be aiming for equal representation of men and women in these ways.
Sex equality sounds self-evident as a requirement of justice, but we need to be clear about exactly what kind of equality is required.

There is much confusion between two quite different kinds of equality, and only one of them is relevant to justice between women and men.

Justice does not require equality of status, wealth, or any other outcome between the sexes.  What matters from a moral point of view is  equal consideration of interests, which is quite different.
Radcliffe Richards agrees that policies to increase the representation of women in influential areas are of great importance.  But she argues that they need a different kind of justification. Recognizing this should make a significant difference to the politics of sex.
See here for the free full text article in the latest issue of the Journal of Practical Ethics.
The Journal of Practical Ethics is a new open access philosophy journal, published by the Oxford Uehiro Centre for Practical Ethics at the University of Oxford. The journal aims to make philosophy relevant to public debate and practical questions. It publishes works by leading academic moral and political philosophers that are accessible to a broader public audience.
By Kimberly Schelle & Nadira Faulmüller
Horizon 2020, the European Union's 2014-2020 largest research programme ever, includes the call to pursue 'Responsible Research and Innovation' (RRI). RRI stands for a research and innovation process in which all societal actors (e.g. citizens, policy makers, business and researchers) are working together in the process to align the outcomes with the values, needs, and expectations of the European Society. In a recently published paper on the importance of including the public and patients' voices in bioethical reasoning, the authors describe, although in other words, the value of the RRI approach in bioethical issues:
"A bioethical position that fails to do this [exchange with the public opinion], and which thus avoids the confrontation with different public arguments, including ones perhaps based in different cultural histories, relations and ontological grounds […], not only runs the risk of missing important aspects, ideas and arguments. It also arouses strong suspicion of being indeed one-sided, biased or ideological—thus illegitimate."
Last week, the Crown Prosecution Service announced that it would not pursue further action against Oxford Union president Ben Sullivan, due to insufficient evidence arising from an investigation into the two accusations of rape and attempted rape made against him. In early May, Sullivan was arrested and released on bail, prompting a chaotic six-week period for the Union as the Thames Valley Police investigated the claims made against him. After Sullivan refused to resign, a number of high-profile speakers, including the UK director of Human Rights Watch, the Interpol secretary-general, and a Nobel Peace prize winner, pulled out of their speaking commitments as part of a larger boycott of Union events.
In an open letter (which has since been taken down) calling for the boycott, students Sarah Pine, who is Oxford University Student Union's Vice President for Women, and Helena Dollimor wrote, "Remaining in his presidency continues to offer prestige and power to someone who is being investigated for rape. This undermines the severe nature of allegations of sexual offences." In contrast, Oxford professor A.C. Grayling penned a response to the letter refusing to cancel his scheduled talk at the Union, noting, "I simply cannot, in all conscience, allow myself to act only on the basis of allegations and suspicions, or of conviction by the kangaroo court of opinion, or trial by press…" In this post, I look at the spectrum of responses in the wake of Sullivan's arrest, of which these two examples represent the poles. More broadly, I consider how we ought to respond – both as individuals and a society – when those in positions of power are accused of rape or other sexual offences. Continue reading →
The Court of Appeal has stated that a statement in a capacitous patient's medical notes that resuscitation should not be attempted (a 'Do Not Attempt Resuscitation' Order – DNAR), should usually only be inserted after consultation with the patient: see R (Tracey) v Cambridge University Hospitals NHS Foundation Trust and others [2014] EWCA Civ 822 (17 June 2014).
The facts have been widely aired in the media: see, for example, here.
Mrs. Tracey had terminal lung cancer. Her clinicians indicated in the notes that no attempts at resuscitation should be made. Her family found out about this, and were outraged, saying that the DNAR order should not have been made without consultation with Mrs. Tracey. Their quarrel was not with the medical appropriateness of the determination that resuscitation would not be in Mrs. Tracey's best interests, but with the procedure  - the failure to consult.  This, they said, violated Mrs. Tracey's rights under Article 8 of the ECHR.
The Resuscitation Council, intervening, said that a requirement to consult with the patient would interfere with clinicians' ability to deliver individual and compassionate care. A patient might, for instance, be very distressed by a discussion about a possible DNAR order.
The outcome can be briefly stated:
Mrs. Tracey's Article 8 rights were engaged by recording the DNAR in the notes. This followed from, inter alia, Pretty v UK (2002) 35 EHRR 1.
Her Article 8(1) rights were violated by failing to involve her in the process
Article 8(2) required the policy adopted by a Trust in relation to DNAR orders to be sufficiently clear and accessible: see Purdy v DPP [2009] UKHL 45; [2010] 1 AC 345.
The absence of a mandatory national DNAR policy was not a violation of Article 8. Local policies would, if properly formulated, satisfy the demands of Article 8(2)
The concerns of the Resuscitation Council were real, but could be met by an important caveat: there should be consultation with the patient unless the clinician 'thinks that the patient will be distressed by being consulted and that distress might cause the patient harm.' Continue reading
In the last few years, there has been a push from various bodies—including the UN—to get Western countries to adopt eating insects as an alternative to meat. Insects have been hailed as a type of super food. They are: rich in protein; environmentally friendly to harvest; sustainable; and, they're already eaten, and enjoyed, in many other parts of the world. There have been a number of occasions recently that I've been asked, as a (moral) vegetarian, for my thoughts on eating insects. "What if…?" and "Would you…?" questions are quite a common occurrence for veggies, but this one actually got me thinking. Continue reading →
Suppose that the government is proposing a new policy regarding buildings of historical significance. Rather than simply banning the destruction of 'listed' buildings, the new policy would allow their destruction, provided that whoever destroys the building agrees to construct, somewhere nearby, a new building of a similar size, in a similar style, exhibiting a similar range of architectural innovations, and of a similar level of beauty. Blenheim Palace could be flattened and built over with a shopping mall and carpark, provided that mall developers agreed to construct a replica of the palace somewhere nearby.
Most would be disturbed by such a policy. Part of the reason that they would be disturbed, I presume, is that it seems to manifest a failure to recognise the true value of historical buildings. Not all of the value of historical buildings consists in their possession of generic properties like 'being beautiful', 'being in the baroque style' or 'using space to dramatic effect'. Some of their value is value that they have as particular objects, and that could thus not be realised in any other object. Part of the value of Blenheim Palace derives from it's being the birthplace of Winston Churchill. This value could not be realised in a replica of the palace built 5 miles down the road.
Of course, no-one is proposing a policy of sort I've just outlined. I bring it up because I think reflecting on this kind of case may throw some light on recent discussion regarding biodiversity offsetting (see, for example, here, here  and here). Continue reading →
by Dominic Wilkinson (@Neonatalethics)
One of my registrars asked an interesting question this morning. A commonly used life-saving medicine in newborn intensive care is derived from animal products; should parents be told?
Patricia Churchland, a prominent Neurophilosopher, just published a book on neuroscience and its ethical implications which led to a rather nasty exchange in the New York Review of Books with fellow philosopher Colin McGinn.  His pointed, to put it mildly, criticism of her work was based on philosophical considerations about the implications neuroscience has, or, as he argues, lacks, for the philosophy of mind. This criticism evoked two sentiments in me. First, I felt a strong sense of hopelessness for a world in which not even two philosophers can engage in a sober, respectful argument about something they disagree on; not even under the tutelage of the editors of the New York Review of Books, one of the so-called sanctuaries of intellectualism. Good luck Palestine and Israel! Thereafter, I remembered the unease I at times felt as a psychologist when hearing or reading about Churchland's work.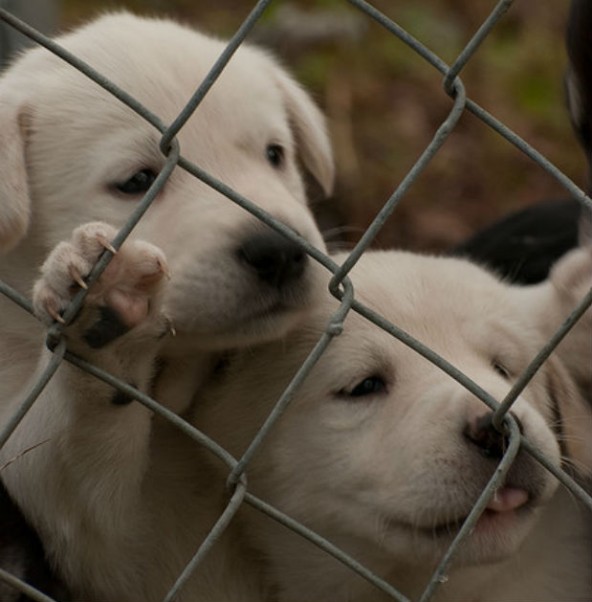 As the diverse range of topics on this blog testifies, philosophical questions concerning practical ethics crop up every day, in a variety of circumstances. Today, I had my own ethical dilemma – this time regarding puppies. Having just moved into my new house, I am now searching for a puppy. When I saw an advert for some puppies for sale in a small village in South Oxfordshire, I became excited: could this be the one?
This morning, after I had arranged an appointment to visit the pups, I began searching online for more details. Specifically, the pups were being sold by what is known as a "commercial breeder": a business that breeds and sells puppies, primarily for profit. To me, this sounded almost identical to the oft-maligned "puppy farms", or "puppy mills". As one website (www.dogstuff.info) describes it, a puppy farm is
 A business that mass-produces dogs for a profit with little or no regard for the health and well-being of the puppies and dogs.   It is a facility where puppies are sold to brokers, pet stores or individuals without regard for the puppy.  They usually have many breeding animals in many different breeds and often, but not always, substandard health, living and socialization conditions. Continue reading →