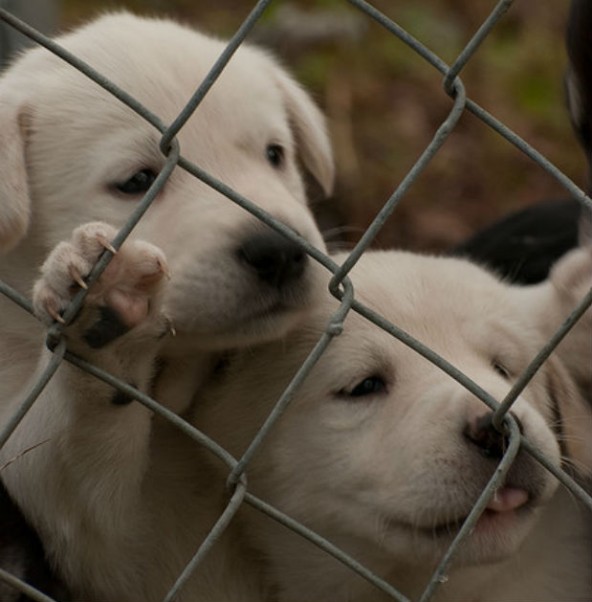 As the diverse range of topics on this blog testifies, philosophical questions concerning practical ethics crop up every day, in a variety of circumstances. Today, I had my own ethical dilemma – this time regarding puppies. Having just moved into my new house, I am now searching for a puppy. When I saw an advert for some puppies for sale in a small village in South Oxfordshire, I became excited: could this be the one?
This morning, after I had arranged an appointment to visit the pups, I began searching online for more details. Specifically, the pups were being sold by what is known as a "commercial breeder": a business that breeds and sells puppies, primarily for profit. To me, this sounded almost identical to the oft-maligned "puppy farms", or "puppy mills". As one website (www.dogstuff.info) describes it, a puppy farm is
 A business that mass-produces dogs for a profit with little or no regard for the health and well-being of the puppies and dogs.   It is a facility where puppies are sold to brokers, pet stores or individuals without regard for the puppy.  They usually have many breeding animals in many different breeds and often, but not always, substandard health, living and socialization conditions. Continue reading →
This week, I've been thinking about smoking. Full disclosure: My name is Jim and I am a smoker. I have smoked for nearly a decade now – since around 2005 – and I only smoke menthol cigarettes. I am addicted to the sweet menthol smoke, where that touch of red fire at the end of a white stick seems so perfectly suited to almost any occasion from celebration to commiseration. I give up on average for a month or two a year, every year. I always come back, though. The reason I say this is to highlight that I am by no means one of these dour-faced moralizers, condemning smokers for their 'filthy habit'. Like a snot-nosed child, it may be filthy, but it's my filthy habit. Most efforts to encourage people against smoking focus on the idea that smoking is personally damaging: it causes illness and death, it costs a lot of money, it harms others, it litters the environment, and so on. This week, however, I've been thinking about whether the real concern is that smoking might be morally wrong. (NB: I'm discussing where whether it is morally wrong, not whether it should be legally banned or whether people should have the 'right' to smoke – these are distinct questions). Continue reading →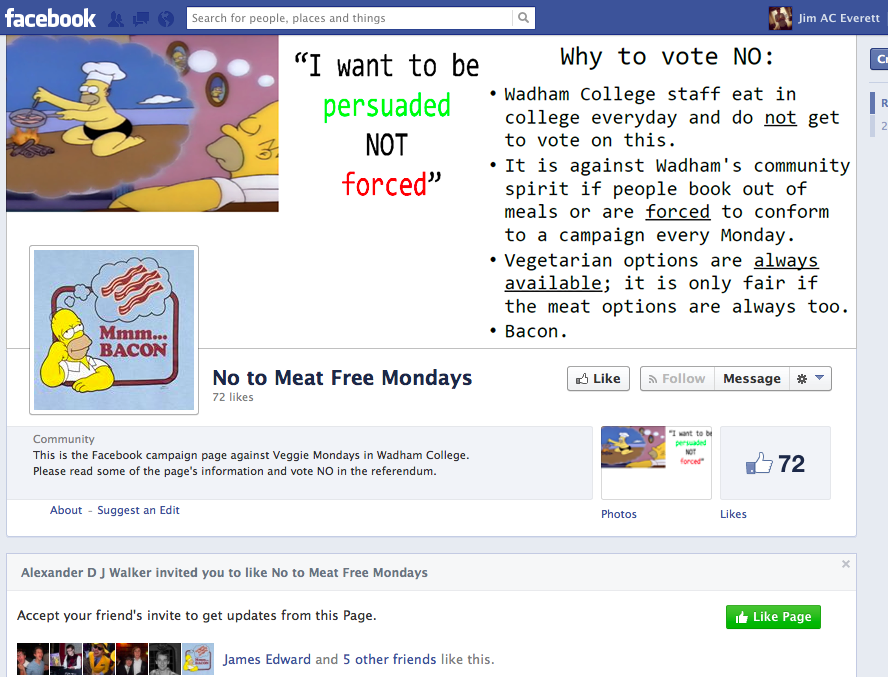 Some context: "Meat Free Mondays" is an international campaign that encourages people not to eat meat on Mondays to improve both their own health and the health of the planet (also, y'know, not killing sentient beings unnecessarily). Sounds like a good idea, no? Apparently not. Continue reading →
In the U.K., a Labour plan has recently been in the news and stimulating some interesting debate – mainly about the over-regulation of smoking.
As can be seen on the BBC news website, Labour peers have "tabled an amendment to the Children and Families Bill detailing their proposal for England, which they said was about "protecting children". Lord Hunt, who supports the motion, has stated
"Some Lords will argue a car is a private space and that we should not legislate for what happens within such a space. But there are more important principles than that… For one for me is the need for child protection. Unlike most adults, children lack the freedom to decide when and how to travel, they lack the authority most adults have to ask people not to smoke in their company. And in those circumstances I think it is right for Parliament to step in to protect children." Continue reading →