Chinese researcher He Jiankui of Shenzhen claims to have gene edited two healthy embryos, resulting in the birth of baby girls born this month, Lulu and Nana. He edited a gene to make the babies resistant to HIV. One girl has both copies of the gene modified while the other has only one (making her still susceptible to HIV). 
If true, this experiment is monstrous. The embryos were healthy. No known diseases. Gene editing itself is experimental and is still associated with off-target mutations, capable of causing genetic problems early and later in life, including the development of cancer. There are many effective ways to prevent HIV in healthy individuals: for example, protected sex. And there are effective treatments if one does contract it.
This experiment exposes healthy normal children to risks of gene editing for no real necessary benefit.
It contravenes decades on ethical consensus and guidelines on the protection of human participants in research.
In many other places in the world, this would be illegal punishable by imprisonment.
Could gene editing ever be ethical? If the science progressed in the future and off target mutations reduced to acceptable and accurately measurable level, it might be reasonable to consider first-in-human trials (with appropriate safeguards and thorough ethics review) in one category of embryos: those with otherwise lethal catastrophic genetic mutations who are certain to die. Gene editing for this group might be life-saving; for these current babies, it is only life-risking.
These healthy babies are being used as genetic guinea pigs. This is genetic Russian Roulette.
Prof Julian Savulescu
Uehiro Chair in Practical Ethics
Director Oxford Uehiro Centre for Practical Ethics
University of Oxford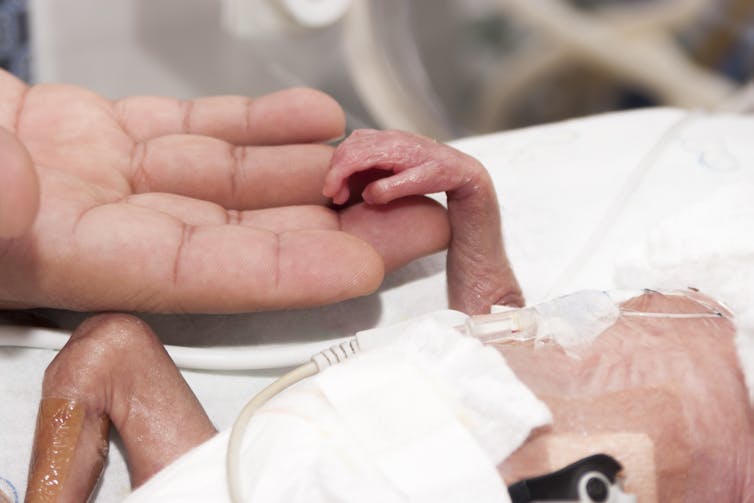 Written by Julian Koplin, University of Melbourne and
Julian Savulescu, University of Oxford
This article is republished from The Conversation under a Creative Commons license. Read the original article.
Researchers have grown groups of brain cells in the lab –
known as 'organoids' – that produce brain waves resembling
those found in premature infants.
from www.shutterstock.com
Scientists have become increasingly adept at creating brain organoids – which are essentially miniature human brains grown in the laboratory from stem cells.
Although brain organoid research might seem outlandish, it serves an important moral purpose. Among other benefits, it promises to help us understand early brain development and neurodevelopmental disorders such as microcephaly, autism and schizophrenia.
Alberto Giubilini (Wellcome Centre for Ethics and Humanities, University of Oxford) and
Julian Savulescu (Uehiro Centre for Practical Ethics, University of Oxford)
Conscientious objection in health care – that is, healthcare practitioners objecting to performing certain legal, safe, and beneficial medical procedures (e.g. abortion) that a patient requests by appealing to their personal moral values – is one of the most debated topics in medical ethics at present time. Although at the moment doctors' private conscience enjoys a lot of legal protection – most laws that make abortion legal contain clauses that exempt doctors from performing the procedure if they so wish. We have provided reasons, both in this forum and in our academic work, for why we think that conscientious objection in health care is not morally permissible and should not be allowed in the case of procedures that are legal, safe, beneficial, autonomously requested by patients and, more generally, consistent with the standards of good medical practice (see e.g. Savulescu 2006, Savulescu and Schuklenk 2017, Giubilini 2014, Giubilini 2017). Some people disagree and advance reasons for the opposite view. One of the scholars who has more clearly and straightforwardly articulated the principles and reasons in support of conscientious objection in health care is Professor Oderberg of Reading University. Prof Oderberg was recently invited to debate the issue with Julian Savulescu at the Masters Course in Practical Ethics run by the Uehiro Centre here at the University of Oxford. On that occasion, Prof Oderberg's defense of conscientious objection centred around a series of principles and considerations that he very effectively formulated in the 17 main points that constitute his "Declaration in support of conscientious objection in health care", published on the University of Reading website and which is available for people who agree with him to sign. Continue reading →
By David Copolov and Julian Savulescu 
This week the Australian Senate will debate a private members' bill that will consider whether to overturn the 21-year-old Euthanasia Laws Act that nullified the ability of Australian self-governing territories to pass legislation in relation to euthanasia and assisted suicide.
The deliberation on whether to continue the arbitrary over-riding of the territories' legislative autonomy in this domain will inevitably also turn a spotlight on the judiciousness of Victoria's recent voluntary assisted dying legislation that empowers terminally ill people who are residents of our state and who are experiencing unrelievable suffering, to end their lives on their own terms.
Standing firmly and resolutely against such legislation is Professor Margaret Somerville, from the University of Notre Dame, who was interestingly described in an article in the Sydney Morning Herald two days ago as having "spent decades observing euthanasia in Canada", even though medically assisted dying only became legal in that country in 2016.
One of the concerns she has raised is the "slippery slope" to unethical assistance in dying. Currently, this might well be on people's minds because of the reports of the deaths of three minors during 2016-2017 as the result of euthanasia in Belgium, out of 4337 deaths during that period. The deaths of the under-18-year-olds occurred as a result of the removal of age limits on access to euthanasia in Belgium that took place as a result of legislation introduced in 2014, 12 years after the introduction of euthanasia for adults.
In contrast to Belgium (which is the only jurisdiction that places no age restrictions on euthanasia or assisted dying), the Victorian Parliament passed the Voluntary Assisted Dying Act in November last year, which limits voluntary assisted dying (VAD) to terminally ill people 18 years and older, who fulfil very strict criteria in relation to experiencing unrelievable suffering and possessing sufficient decision-making capabilities. They must be in the last six months of life, unless they're suffering from a neurodegenerative disease, in which case they must be in the last 12 months of life.
There are many reasons that both the Victorian Legislative Council's Inquiry into end of life choices and the Ministerial Advisory Panel on Voluntary Assisted Dying recommended limiting VAD to adults, including the fact that the extensive consultations with the Victorian public led to the firm conclusion that, as stated in the inquiry's final report: "Victorian values do not support allowing assisted dying to be provided to those who are yet to reach adulthood."
Written by Julian Savulescu
Hypothetical Case 1: Enzyme Replacement Therapy for Gaucher's Disease
Consider a hypothetical version of a real life disease, Gaucher's Disease. Gaucher's disease is an inherited disorder caused by a genetic mutation. The mutation means an enzyme–  glucocerebrosidase — is not produced. A a result, glucerebrosides (fats) build up, damaging cells. This can cause bone fractures, liver enlargement, and bleeding but most importantly, brain damage. Once this has occurred it is irreversible.
Enzyme Replacement Therapy (ERT) is now available and for the purposes of this hypothetical case, the treatment offered, if given from the moment of birth, will prevent all damage (in real life current enzyme replacement treatments do prevent most symptoms, but do not affect nervous system involvement).
In our hypothetical case, a child is born to parents known to carry the mutation for Gaucher's Disease, and prenatal testing has already confirmed that the baby is affected. ERT must be started at birth in order to prevent brain and other damage. However, the parents are Christian Scientists and refuse medical treatment. They believe prayer can cure their child's condition.
Doctors are concerned the missing enzyme needs to be replaced before the child's brain is damaged. They take the case to court where judges agree that therapy is in the child's best interests.
written by Andreas Kappes (@AnKappes), Anne-Marie Nußberger (@amnussberger ), Molly Crockett (@mollycrockett ) & Julian Savulescu  (@juliansavulescu)
Measles is making a comeback in Britain and Europe with numbers rising to record levels this year. Last year in Europe, measles killed 35 people, including young children . The re-emergence of measles can be traced to falling rates of vaccination and might make you want to re-think your summer plans. Crowded environments with low levels of hygiene, also known as summer festivals, are something to avoid if unsure about whether you have been properly vaccinated. And maybe re-think going for holidays to Romania, Italy and Greece, the countries with the highest rates of measles outbreaks this year.
But of course, even if you are not vaccinated, your chances of getting measles are low. And if you are infected, dying from measles is rare. The people that die during measles outbreaks are vulnerable babies that are too young to be vaccinated and unvaccinated people with compromised immune systems. And what are the chances that you infect one of these vulnerable people? Extremely low. Your intuition then might be that even if you are unsure about your vaccination status, the low odds don't seem to justify the effort to engage with the NHS or any other health care provider. Maximize your benefits, and others will surely be fine. Individually, this feels right, but for the communities and countries we live in, this is disastrous, slowly eroding herd immunity that protects the most vulnerable.
Hazem Zohny and Julian Savulescu
Cross-posted with the Oxford Martin School
Developing AI that does not eventually take over humanity or turn the world into a dystopian nightmare is a challenge. It also has an interesting effect on philosophy, and in particular ethics: suddenly, a great deal of the millennia-long debates on the good and the bad, the fair and unfair, need to be concluded and programmed into machines. Does the autonomous car in an unavoidable collision swerve to avoid killing five pedestrians at the cost of its passenger's life? And what exactly counts as unfair discrimination or privacy violation when "Big Data" suggests an individual is, say, a likely criminal?
The recent House of Lords Artificial Intelligence Committee's report acknowledges the centrality of ethics to AI front and centre. It engages thoughtfully with a wide range of issues: algorithmic bias, the monopolised control of data by large tech companies, the disruptive effects of AI on industries, and its implications for education, healthcare, and weaponry.
Many of these are economic and technical challenges. For instance, the report notes Google's continued inability to fix its visual identification algorithms, which it emerged three years ago could not distinguish between gorillas and black people. For now, the company simply does not allow users of Google Photos to search for gorillas.
But many of the challenges are also ethical – in fact, central to the report is that while the UK is unlikely to lead globally in the technical development of AI, it can lead the way in putting ethics at the centre of AI's development and use.

Guy Kahane**, Jim A.C. Everett**,
Brian D. Earp, Lucius Caviola, Nadira Faber, Molly Crockett,
and Julian Savulescu
Last week, we invited people to find out "How Utilitarian Are You?" by filling out our newly published Oxford Utilitarianism Scale. The scale was widely shared – even by Peter Singer (who scored predictably highly). The Oxford Utilitarianism Scale does a pretty good job of measuring how well people's views match up with "classical" utilitarians (think Bentham and Singer), which is the form of utilitarianism we used to anchor the scale. But that's not all it does. It also teases apart two different dimensions of utilitarian thinking, tracking two ways in which utilitarianism departs from common-sense morality. Our new research recently published in Psychological Review links these two factors to distinct components of human psychology.
The first peculiar aspect of utilitarianism is that it places no constraints whatsoever on the maximization of aggregate well-being. If torturing an innocent person would lead to more good overall, then utilitarianism, in contrast to commonsense morality, requires that the person be tortured. This is what we call instrumental harm: the idea that we are permitted (and even required) to instrumentally use, severely harm, or even kill innocent people to promote the greater good.
The second way that utilitarianism diverges from common-sense morality is by requiring us to impartially maximize the well-being of all sentient beings on the planet in such a way that "[e]ach is to count for one and none for more than one" (Bentham, 1789/1983), not privileging compatriots, family members, or ourselves over strangers – or even enemies. This can be called the positive dimension of utilitarianism, or impartial beneficence.

Blog Authors: Julian Savulescu, Brian D. Earp, Jim A.C. Everett, Nadira Faber, and Guy Kahane
This blog reports on the paper, Kahane G, Everett J, Earp BD, Caviola L,  Faber N, Crockett MJ, Savulescu J, Beyond Sacrificial Harm: A Two Dimensional Model of Utilitarian Decision-Making, Psychological Review [open access]
How Utilitarian are you? Answer these 9 questions to find out…
If you enjoyed taking our 'How Utilitarian Are You?' test,  read our new blog post discussing how we developed it, what it shows, and why it's important
Utilitarianism is one of the oldest and most influential theories about what the right thing to do is. It says that the right act is the one which has the best consequences. In the first formulation by Jeremy Bentham, hedonistic utilitarianism, the right act is the one which maximises happiness and minimises suffering. Richard Hare and Peter Singer made preference utilitarianism famous: the right act is the one which maximises satisfaction of preferences.
Utilitarianism was a novel egalitarian theory when it was developed in the 1700s. It was a radical departure from authoritarian, aristocratic or otherwise hierarchical ways of thinking, positing that each person's happiness and suffering was to count the same. In stark contrast to the social norms of the day, utilitarianism held that the happiness of the pauper is just as important as the happiness of the Prince or the Pope.
Utilitarianism has fallen into disrepute. It is now equated with Machiavellianism: the end justifies the means, whatever those ends may be. It is also seen as coldly calculating, or else simplistically pragmatic. The German philosopher Friedrich Nietzsche described it as a morality appropriate for shop keepers. Recently it has even been portrayed a doctrine for psychopaths. Pope Paul II put it succinctly in 1995:
"Utilitarianism is a civilization of production and of use, a civilization of 'things' and not of 'persons,' a civilization in which persons are used in the same way as things are used."