Wednesday 27th November, 5 – 7pm
Lecture Theatre
Oxford Martin School
Old Indian Institute
34 Broad St (corner of Holywell and Catte Streets)
Oxford OX1 3BD
ALL WELCOME
The Oxford Centre for Neuroethics & International Neuroethics Society are pleased to present a set of two Wellcome Lectures in Neuroethics for 2013:
Brain mechanisms of voluntary action: the implications for responsibility
Prof. Patrick Haggard
University College London
The irresponsible self: Self bias changes the way we see the world
Prof. Glyn Humphreys
Department of Experimental Psychology, Oxford University
By Julian Savulescu and Anders Sandberg
Vicky Pryce, wife of disgraced ex-MP Chris Huhne, is back in court this week after  the jury trying her case  was  discharged last week having failed to reach a verdict on her charges of perverting the course of justice. In 2003, Pryce accepted Huhne's speeding points, but is claiming a defence of marital coercion. In 10 questions to the judge, the first jury showed an alarming and deep lack of understanding. Questions included:
"Can a juror come to a verdict based on a reason that was not presented in court and has no facts or evidence to support it?"
They also showed the jury had apparently forgotten key concepts which were explained during the trial:
"Does this defence require violence or physical threats?"

"Can you define what is reasonable doubt?"
Following the jury's discharge, the judge said the jury showed "absolutely fundamental deficits in understanding", adding that he had never seen this in 30 years of presiding over criminal trials. In Pryce's trial, the questions the jury asked after several days of deliberations raised alarm bells, but in another  trial where a verdict was reached, we would never know what the standard of jury understanding or deliberation had been. Yet juries are asked to decide (in some countries) on matters of life or death.
The Pryce case may have been unusual, but in any trial, and particularly in complex fraud cases, juries are asked to juggle and compute vast amounts of information, and to retain it throughout the trial in order to make an informed decision at the end. We have argued in "The Memory of Jurors: Enhancing Trial Performance"  and "Cognitive Enhancement in Courts" with Walter Sinnott-Armstrong, that cognitive enhancement, particularly memory enhancers should be made available to jurors. If this had been available in the Pryce case, would the jury have spent more time discussing the decision at hand, and less on (mis-)remembering the judge's instructions on reasonable doubt or the definition of coercion? If we ask people to take on a civic duty we should offer them all the tools we have available to assist them in its completion.
According to a recent report in the New York Times, the United States government will soon announce plans to fund the Brain Activity Map. Modelled on the highly successful Human Genome Project, the Brain Activity Map is an effort to identify functional networks of neurons, possibly leading to a full understanding of how mental processes like perception and memory are physically distributed in the brain. The scientific and medical potentials, perhaps including new treatment of conditions like schizophrenia or autism, are fantastic. By developing monitoring techniques like calcium imaging, nanoparticle sensor detection, or synthetic-DNA chemical recording, neuroscientists hope to be able to trace the paths traveled by our thoughts and memories. Yet before setting off on this cartographic adventure, perhaps we ought first stop, and remind ourselves where we already are.
In a 2012 Neuron paper proposing the Brain Activity Map, a group of leading scientists briefly acknowledge some ethical worries, including "issues of mind-control, discrimination, health disparities, unintended short- and long-term toxicities…" This is a reasonable, if somewhat eclectic, list of concerns. But I would like to add one more. Brain-mapping, like gene-mapping, risks making us overconfident in our self-understanding. The better we come to understand our brains, the more tempting it will be to assume we understand our selves.
Think for a moment about the history of major advances in human-directed science: Darwinism, psychoanalytics, behaviourism, sociobiology, cybernetics, genomics. With each progression has come a deluge of sweeping assertions about the new completeness of our self-understanding, followed later by a far quieter admission that whatever else we may be, we are also mysteries. In the worst moments, our fleeting certitude fuelled attempts to reorganize societies along purportedly scientific lines, from racist eugenics to disastrous Marxist utopianism. Even when spared catastrophic miscalculation, we've still suffered coarsening reductions in public debate about human nature, where hopes and commitments were temporarily replaced by operant reinforcements or behavioural phenotypes.
The point here is not to deny the reality of scientific descriptions of humanity, nor to retreat into a neo-Romantic induced ignorance. The point is simply to sound a warning, to jot a note to ourselves in this relatively sober moment, before the allure of the scientifically novel begins to blindingly illuminate our horizons. Maps are awesomely seductive bearers of information, so simply compact and so seemingly complete. Mapped brains will be more potent still, enfolding the vanity of portraiture in the certainty of topography.
I'm aware that what I am articulating is not so much an argument as an anxiety. I have no simple take-home message to offer, no action plan or policy recommendation. Certainly we should not attempt to stop the sort of research offered by the Brain Activity Map. Rather, we should support it, fund it, train our children to carry it forward. The potential benefits, to theoretical knowledge and human well-being, are incredible. But there are costs, or at least risks. It would be best to reach first for a bit of preventive humility, a dash of recognition that there are limits on the self-understanding of even such an expert auto-empiricizer as homo sapiens. In Franz Joseph Gall's original phrenological map, the brain area for Circumspection and Forethought was located right next to the brain area for Vanity.
Antonio De Salles, Professor of Neurosurgery – UCLA
Lincoln Frias, postdoct UFMG-Brazil, International Neuroethics Society
Jorge Moll,  D'Or Institute-Brazil, International Neuroethics Society
Psychosurgery has a bad name. The destruction or disconnection of brain tissue to treat mental illness was brought into disrepute by controversial figures of the past, who performed lobotomies with poorly defined clinical indications and without respect to even the most basic surgical practices of asepsis and hemostasis. The procedures were irreversible, unsafe, and often done without adequate informed consent. In many cases the surgeries drastically reduced the patients' well-being and autonomy. To avoid this, governments put in place stringent regulations on these procedures. Coupled with developments in psychopharmacology, this left psychosurgery only as a last resort for extreme cases. The moral problem is that the stereotypes and stigma evoked by this kind of treatment are largely inadequate given current technology.
Natalia Lee and Adrian Carter, from the Neuroethics group at the University of Queensland Centre for Clinical Research, Australia and Members of the International Neuroethics Society
Follow NeuroethicsUQ on Twitter by clicking here
Many of us enjoy foods that are high in sugar, fat, salt, or a combination of the three; take savoury biscuits for example. Dr. David Kessler's The End of Overeating explores in detail the art and science behind the creation of highly palatable foods. Despite their appeal, most of us are able to exhibit adequate control when consuming or over consuming these foods. However, there is a subset of the population for whom control over these foods becomes problematic and can result in unhealthy weight gain or obesity. For these individuals, consumption can become life threatening. Why is it that some who wish to reduce their intake of these foods are not able to do so? Continue reading →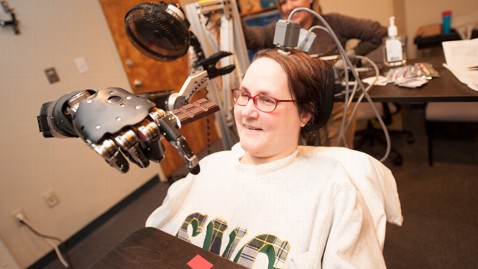 This week there were reports of the amazing advances being made in brain-computer interface (BCI) technology. Following just weeks of training, a 52-year old woman, paralysed from the neck down, was able to use her mind to control a robotic hand to pick up objects on a table, including cones, blocks and small balls, and put them down at another location. She was even able to use the hand to feed herself chocolate.
Having had two arrays of microelectrodes surgically implanted into her left motor cortex, Jan is wired up to a computer that has been programmed to interpret the signals her neurons emit. This computer then passes on the interpreted signals to the robotic arm, which moves in accordance with the signals in real time.
Aside from the awesomeness of the technology, the use of neuroprostheses such as this raises a whole host of interesting philosophical and ethical questions. Particularly as the technology gets more sophisticated and more integrated, the distinction between the machinery being used and the person using it will become increasingly blurred. In the video, Jan already describes how she went from having to 'think' the commands ('clockwise, up, down, forward, back…') to merely having to 'look at the target' to effect accurate movement of the arm. This phenomenon is sometimes labeled 'transparency of use', where a tool serves a person's goals without itself being an object of effortful control. Continue reading →
Pharmaceutical treatment of attention deficit-hyperactivity disorder (ADHD) is associated with reduced criminality according to a study published yesterday in the New England Journal of Medicine. The study of over 25,000 Swedish adults with the disorder found that men undergoing pharmaceutical treatments had a 51% chance of committing at least one crime in a 4-year period compared to 63% for those not in treatment. The risk of criminality for women with ADHD was 25% for those taking medication, and 31% for those not in treatment. It's possible, of course, that the reduction in criminality associated with treatment was due not to the treatment itself, but to other factors, such as desire to improve behaviour, which could have both motivated treatment and reduced criminality. However, even when the investigators adjusted for likely confounders, they found that treatment was associated with significantly reduced criminal offending. Thus, their findings are at least suggestive of a causal relationship between medication and reduced crime.
It will be interesting to see how such a relationship, if it can be further supported, will be viewed by the general public and medical profession. Will it be seen as strengthening or weakening the case for ADHD treatment?
'Come in', said the Well Known Educational Psychologist. We did. 'Please sit down', she said, and we did. She didn't waste time, and quite right too. We wanted to know.
'Tom and I have had a very interesting afternoon.' That sounded bad.
'He's a very able child indeed'. That sounded worse, because it came with the emphatic pause that always indicates a big 'but'.
In the pause I wondered why we'd done this. Why we'd taken a little boy out of the woods and out of his playground to have someone fumble inside his head with blunt tools: indices, probes, inventories, and assumptions about normality.
'He's quite dramatically dyslexic, I'm afraid.' My wife shared her fear. There was a lot of it sloshing around. 'But his IQ is so high that he'll be able to use lots of coping strategies. And he's still very young: there's lots that can be done.' And she told us what it was. Regulations could be invoked, tribunals could be convened, cards could be flashed, phonemes could be chanted. He could be imprinted like other children. It would just take longer. It would be hard work, for Tom and for us, but there was every reason to be hopeful of a 'good result'.
And what the hell did that mean? I asked myself. I was too polite to ask her. I didn't want a result. I wanted my son. Continue reading →