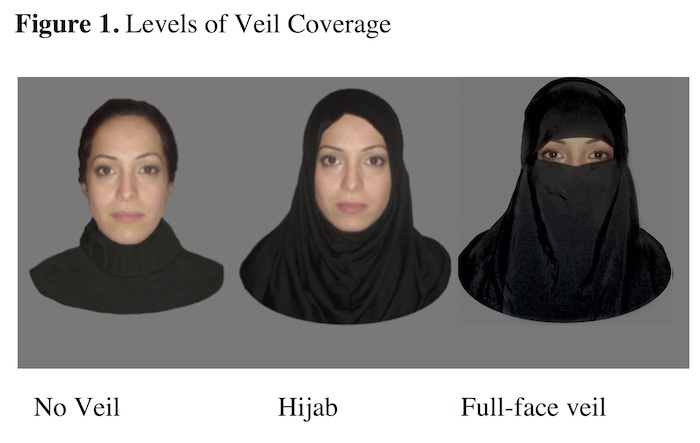 As recent media coverage has documented, Muslim veils are a hot button issue at present.
Research suggests that "a major determinant of who is most vulnerable to anti-Islamic abuse may be the degree to which the individual is visibly identified as Muslim" (King & Ahmad, 2010, p. 886). For Muslim women, one such identifier is a veil. A veil can refer specifically to the hijab or head- scarf, covering just the head but leaving the face exposed, or the full-face veil, which covers the head and face. Hate crime and prejudice directed against Muslims seems to be strongly linked to such visible markers of "difference" (Dreher, 2006), and political discourse has used veils to represent "the problem of Islam" (Watson, 1994)
In recent work published in the Journal of Applied Social Psychology, I explored the way that such prejudice against Muslim women wearing veils may differ as a function of which particular veil is being worn. You can read the paper here for free (it's open access), and so I won't go into too much detail about how study and the psychological literature on prejudice and first impressions. Continue reading →
Most people would agree that terrorism is no good. The word itself is rich with moralized connotations. It is true that some have argued that terrorism might sometimes be justified, but in popular discourse, terrorism is typically deemed obviously horrible.
What are the consequences of branding some action an act of terrorism, or of branding some group a terrorist group? Note, in connection with this question, the ratcheting up of rhetoric surrounding 'cyberterrorism,' with many government officials now listing it as a major ongoing threat (e.g., here and here). Continue reading →
One argument that has been put forward against voting for Scottish independence in the Scottish referendum is that it would be irrational for Scotland to break free of the rest of Great Britain. The grounds for this claim are that the Scottish economy would be significantly worse under independence. This is an empirical claim and for the sake of argument I am going to grant it. What I am interested in is whether, supposing that to be true, it would in fact be irrational. There are a number of things seriously wrong with this inference.
It's still summery, and so here is a little story for the beach or the side of the pool
'There are challenges, certainly', said the Boss. 'But we're confident that we can meet them. Or at least', he went on, looking over his glasses for signs of dissent, 'for a critical mass of stakeholders'.
A graph appeared on the screen at his side. He traced its lines with a red laser dot.
'Here', he said, 'we have the expected rise of temperature with time. And here' (he stabbed with the dot, as if doing the killing himself), 'we have the consequent reduction in human population – assuming' (and he held up a schoolmasterly finger), 'we don't have any HR66.'
He sipped some water, and waited for this to sink in. It did.
'But don't worry', he said. 'There's good news. We do have HR66. Not enough for everyone, sadly, but enough to ensure that the human baton is passed on. And enough, I'm glad to say, for everyone in this room.'
There was a ripple of relief.
'And their families, of course', the Boss continued. 'Families are very important to us. But all this assumes that you want to have the HR66. No one will make you. But, frankly, what's not to like? You take a single dose, and you survive. If you don't take it, you don't survive. It's as simple as that. It even tastes of candy floss. It has only one side-effect, and that's a wholly good thing. It increases – increases, mark you – your IQ. Very, very significantly. By about 100 points, in fact. Not only will you be alive; you'll be a genius beside whom Einstein would have seemed a hopeless retard.'
One more press of the button, and up flashed the logo of the corporation that manufactured HR66. The Boss didn't think it relevant to mention his shareholding.
'Naturally', said the Boss, 'we have to vote for this in the usual way. Yes, humanity's facing apocalypse, and there's one, and only one way out. But we've still got to do things properly. But I expect that we can move to a vote now, can't we?'
'I'm sure we can', agreed the Deputy. 'You've all seen the motion. All those in favour….'
'One moment'.
The Boss and the Deputy, up on the podium, stared. Everyone else turned. A little man in tweed lisped through a badger's beard. 'I'd like some clarification, please.'
'But of course, Tom', said the Boss, magnanimous and desperately alarmed. 'Anything you like.'
No one really knew how Tom had got into the government, or why he wanted to be there. He had no strategically significant connections, no dress sense, no publications other than some monographs on moths and mediaeval fonts, no assets other than a dumpy wife, some anarchic, unwashed children and a small cottage on Dartmoor, and no entries in the Register of Members' Interests apart from 'Masturbation'. This entry had caused a terrible storm. He'd been accused of injuring the dignity of the House, but, after expensive legal advice had been taken, it had been 'reluctantly concluded' that there was no power to force him to remove it.
'I'd like to know', said Tom, 'who's going to get the drug. And why them rather than anyone else.' Continue reading →
Subtly designing people's choice environment in a way that they decide for a desired cause of action – so called "nudging" – receives growing interest as a potential tool for practical ethics. New psychological research suggests a surprisingly simple, but potentially powerful strategy to nudge people.
In a recent (13.8.2014) article in Nature , Sarah S. Richardson and colleagues maintain that careless discussion of epigenetic research on how early life affects health across generations could harm women.
Authors discuss the extensive history of placing the burden of responsibility of a child's health on the lifestyle of the pregnant mother – and the means for controlling women's behavior. Authors describe how, for example, evidence of any fetal harm easily lead to zero-tolerance regulatory frameworks and severe informal and formal consequences (e.g. social condemnation for an occasional sip of alcohol despite the ambiguous evidence that very moderate and occasional drinking should harm the fetus), and how the "lack of emotional warmth" of the "refrigerator mothers " was considered to be the reason to child autism as late as the 1970s. Going even more backwards in the history, various defects were attributed, for example, to the company the mother kept during pregnancy.
by Dominic Wilkinson (@NeonatalEthics)
Lord Falconer's assisted dying bill is being debated today in the House of Lords. In the past week or two there has discussion in the media of many of the familiar arguments for and against such a proposal. As Roger Crisp noted in yesterday's post, there have been relatively few new arguments. Supporters of the bill refer to compassion for the terminally ill, the difficulty of adequately relieving suffering, and patients' right to make fundamental choices about the last stage of their lives. Opponents of the bill express their compassion for the terminally ill and those with disabilities, fear about coercion, and the omnipresent slippery slope.
One concern that has been raised about the assisted dying bill is the fear of abuse in the setting of an overstretched public health system. For example, Penny Pepper, writing in the Guardian notes that "Cuts to social care are monstrous…How would the enactment of the Falconer bill work if brought to our harassed NHS?"
On June 30th, the Supreme Court of the United States handed down its decision in Burwell vs. Hobby Lobby. The case required the court to consider whether closely held for-profit companies owned by individuals with sincere religious objections to abortion should receive a special exemption from providing healthcare coverage for contraceptives that may act after fertilisation but before implantation of an egg. Coverage of twenty types of contraceptives – including the four specific types that the owners consider to be abortifacients – is otherwise legally required as part of the employer-sponsored health insurance mandated by the Patient Protection and Affordable Care Act 2010 (ACA). For a more in depth overview of the facts of the Hobby Lobby case and the key questions before the court, see my previous post on this blog. Continue reading →
Rolf Harris has been sentenced to five years and nine months in prison for sexual offences he committed at various points in the 60s, 70s and 80s.  There has been public outrage at the supposed leniency of his sentence, which will now be reviewed by the Attorney General to determine whether it will be sent to the Court of Appeal. Continue reading →
Over on the Ethox blog Angeliki Kerasidou and Ruth Horn discuss the European Union and the need for cultural understanding between member states, with a focus on the concept of dignity at the end of life.
The results of the recent European elections revealed the disconnection between member states and the European Union. Populist anti-European parties won more seats than ever before challenging the dream for a united continent.[1] One of the main criticisms expressed by anti-European parties was that Brussels imposes a plethora of regulations and directives, from trade regulations and agricultural subsidies to the "amount of cinnamon in buns", challenging individual member-states' traditions and cultural particularities.[2]

Perhaps one way of interpreting 2014 European elections results is that achieving harmonization of policies is very difficult in a continent comprised of countries with different cultures and histories. And, yet, if the European Union is to continue and prosper, issuing policies and guidelines that could be accepted by all member-states is paramount.
See the Ethox blog to read the rest of Angeliki and Ruth's post.