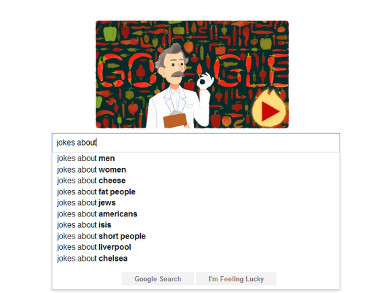 This essay received an Honourable Mention in the Undergraduate Category of the Oxford Uehiro Prize of Practical Ethics
Written by New College Oxford student Raphael Hogarth
Three moral agents walk into a bar. They get to joking and, with each round, their banter becomes more risqué. After the second pint, Agent A ventures a humourless and offensive joke about Jews and big noses: Agents B and C scowl and move on. After the third pint, Agent A has another crack with a joke about the holocaust – a more insensitive joke, but also apparently one with more potential to amuse. Agent B can't help but giggle; Agent C is incandescent with outrage. Agents A and B retort in chorus: "But it's funny!"[1] Continue reading →
This essay is a joint winner in the Undergraduate Category of the Oxford Uehiro Prize in Practical Ethics
Written by University of Oxford student, Thomas Sittler
"How should vegetarians actually live? A reply to Xavier Cohen."
Ethical vegetarians abstain from eating animal flesh because they care about the harm done to farmed animals. More precisely, they believe that farmed animals have lives so bad they are not worth living, so that it is better for them not to come into existence. Vegetarians reduce the demand for meat, so that farmers will breed fewer animals, preventing the existence of additional animals. If ethical vegetarians believed animals have lives that are unpleasant but still better than non-existence, they would focus on reducing harm to these animals without reducing their numbers, for instance by supporting humane slaughter or buying meat from free-range cows.
I will argue that if vegetarians were to apply this principle consistently, wild animal suffering would dominate their concerns, and may lead them to be stringent anti-environmentalists. Continue reading →
Written by Professor Neil Levy
The recent discovery of what is claimed to be a distinct species of the genus Homo, our genus, raises to three the number of species that may have co-existed with Homo Sapiens. Homo naledi is yet to be dated, but it may be only tens of thousands of years old; if so, it coexisted with modern humans. Homo floresiensis, the so-called 'hobbit', seems to have been extant well after sapiens evolved, and there is strong evidence that the Neanderthals coexisted with, probably interbred with, and may have been killed by, our ancestors.
If any of these species had survived into contemporary times, we would be faced with an ethical question which is novel: negotiating our stance toward a species that is not quite human, but too close to be regarded as simply animal (using that word in its common meaning, to refer to non-human animals). More specifically, we would face the problem of how to respond to another deeply cultural being. Naledi seems to have had a culture – so the researchers conclude from the placement of the bones, which they think indicates burial. Perhaps it was language using (floresiensis seems a very good candidate for language using). Yet they might not have been intellectual equals of modern humans (perhaps they were – genetic difference certainly doesn't entail inferiority – but for the purposes of this post I will assume they weren't). If they were our contemporaries, would we be obliged to allow them to vote? To have affirmative action for them in universities and in jobs (assuming that some of them, perhaps rare geniuses, could function at a high enough level to take advantage of these opportunities)? Should we treat them as permanent children, appointing guardians for them?
Some philosophers would say that the answer to these questions is quite easy: we should give them equal consideration. Equality of consideration is the kind of equality which philosophers like Peter Singer argue should be extended to chickens and chimps, just as much as human beings. Treating chickens equally in that sense doesn't entail affirmative action or voting rights for chickens, because chickens don't have an interest in either. It just requires taking their interests equally into account.
While there are strong reasons for thinking we ought to extend equality of consideration to homo naledi, floresiensis and Neanderthals, that doesn't tell us the answer to the concrete questions. Insofar as they are self-aware, these people (let's call them that) have an interest in self-government, and therefore in voting. But (let's assume) they have a limited capacity to understand the issues on which we vote. As self-aware beings, they might be harmed by being treated as inferior. But there may be good grounds for thinking that they are inferior.
We might offer them limited rights: rights to vote in elections for people who have the special role of looking after their interests. That would entail that they are not as self-governed as we are, since they would be living in a broader society (or in a world, at any rate) in which decisions are taken over which they have less say than we do.
I don't think there are good answers to these questions. That is, while I am sure there are better and worse answers, I think this would be a true moral dilemma: the best possible response would have big moral costs. There seems to be no way to act that would involve some harms to a properly cultural being that couldn't be fully autonomous: harms that would arise from its awareness that it was less autonomous and less able to govern its own life than others.
Julian Baggini sees in the discovery of naledi good news for humanity; it shows that in some sense we are not alone. Perhaps, but had they survived, we would face a tragic dilemma. To that extent, we are lucky that they didn't. Genetic diversity among modern human beings is tiny, with genetic differences between groups swamped by those within them. That ensures that the questions we face about how to treat members of other groups are in one central way easier: they are in every important respect our equals. Our ethics would struggle to settle how to treat a deeply cultural group distinct from us which is in some respects not our equals.
Catia Faria, Pompeu Fabra University
Follow Catia on Twitter here
 Throughout history, countless species have come into existence only to later become extinct. Whether extinction is caused by natural processes or human agency, environmental scientists and the general public seem to agree that extinction is a bad thing and that, therefore, conservation efforts should be made to counteract, and perhaps revert, the losses. Resources are often devoted to the reintroduction of endangered species into ecosystems in which they have long been absent. In other cases, states implement measures to protect autochthonous species (that is, species which are native to a certain natural environment, as opposed to introduced as a result of human activity) which are threatened by the presence of a foreign species by eradicating the members of the latter. There are entire organisations dedicated simply to the aim of preventing the extinction of species whose continued existence is at risk.  However, these practices rely on rather controversial assumptions.
Recently I attended a fascinating Society for Applied Philosophy lecture by Shelly Kagan, entitled 'What's Wrong with Speciesism?'. Kagan began the lecture by explaining how, while teaching a course involving some of Peter Singer's writings on non-human animals, he had begun to doubt the view, defended by Singer, that other things equal the suffering of animals matters no less than that of human beings. Continue reading →
Written by Catia Faria
Universitat Pompeu Fabra
Last month, the Academy of Nutrition and Dietetics, one of the world's most influential organizations in its field, published an updated version of a paper concluding that animal-free diets are absolutely healthy (Cullum-Dugan & Pawlak 2015). The article presents the official position of the Academy on this topic, according to which, when well designed, vegetarian and vegan diets provide adequate nutrition for all stages of the life cycle, including pregnancy, lactation, infancy, childhood and adolescence.
 It would be reasonable to expect that such conclusion had a significant impact on people's dietary choices. If adopting a vegan diet imposed great costs on the health of human beings, then doing it might not be what we are required to do. Yet the health argument has been, again, debunked. So, why aren't people going massively vegan? Continue reading →
By Emilian Mihailov
Cross posted on the CCEA blog
Why should animals have the same moral standing as humans?
Ask yourself on what basis human beings claim to have moral standing.  I think the best way to understand this is in terms of the relation between something's being good-for-someone and something's being just plain good.  When we say that something is just plain good (not in the evaluative sense of a good this-or-that, like a good teacher, a good knife, or a good person, but in the sense in which an end or a life or a state of affairs is good) we mean that it is worth pursuing or realizing: that there is reason to bring it about.  Now, most of us believe that various things are good-for ourselves or for our loved ones, and we suppose there is reason to bring those things about, to make them happen, unless we see that they are bad for others.  That means that we claim that the things that are good-for us (and those whom we care about) are just plain good, as long as they are compatible with the things that are good-for others.  But why?  Why should I think that the fact that something is good-for-me (or for anyone) is a reason to bring it about?  I think there is no further reason: I treat it as something that is just plain good simply because it's good-for–me.  In treating what is good-for-me in that way, I am claiming to be what Kant called an "end-in-itself," or rather this is one aspect of making that claim.  But of course I don't claim to be an end-in-itself because I'm me in particular: rather, it's simply because I am the sort of being for whom things can be good or bad. That means that when I pursue my own ends, I in effect commit myself to a principle we might formulate this way:  "The things that are good-for-anyone for whom things can be good or bad are good, unless they are bad-for-others."   Animals fall under that principle:  things can be good-or-bad-for-them in the same sense that they can be good or bad for us.  Their good matters in the same way that ours does.
Practical ethics should be all about really having an impact on the world. This requires, among other things, working on the topic regarding which we are expected to produce the most good. Plausibly, these are topics that have been traditionally neglected or at least that remain under-researched. These are also moral issues that may seriously affect a great number of individuals.
This year marks the 40th anniversary of the publication of Animal Liberation, in 1975. With it Australian philosopher Peter Singer initiated one of the highest impact careers in philosophy of the last century. It is not surprising that in 2005, Time magazine included him among the list of the 100 most influential people. It is remarkable, though, that the growing respect for Peter Singer has not been accompanied by a similar change of attitude regarding animal ethics —precisely the field in which he is recognised to have made a greater difference.
Animal Liberation boosted the contemporary academic debate on animal ethics and inspired the work of many other philosophers. This book contributed significantly to the growth of the movement for the equal consideration of nonhuman animals. It has influenced countless individuals to adopt veganism and to become activists in defence of animals. Even though the end of speciesist attitudes lies in the far future, very few other moral aims can produce a similar or greater good. Given the importance of the book, it is worth reviewing, on occasion of its anniversary, the position that Singer defended in it as well as some of the controversies it raises and issues it leaves open.
Animal Liberation is a non-academic book targeted at the general public. It is written by a  philosopher with a particular moral outlook —utilitarianism— and with particular views about specific moral problems. Its aim is clear: denouncing speciesism and abandoning the consumption of animals, especially for food. Its method is effective: using arguments that most people already accept without having to commit to some of the author's most controversial views.
The book's main thesis is that the interests of all those who can suffer and enjoy should be equally considered. This is derived from the combination of two premises many of us find uncontroversial. Firstly, the widely shared and robust intuition about the equal consideration of all human beings and, secondly, the need for consistency in moral reasoning. The acceptance of the first idea is what leads us to reject assigning different weight to the interests of some individuals based, for example, in certain biological attributes such as sex or skin colour. Analogously, inasmuch as species membership does not condition the weight of an individual's interests, it should also be rejected as a morally relevant attribute. The unequal consideration of similar interests based on the species of individuals should thus, for the sake of consistency, be abandoned as another form of discrimination (speciesism).
Furthermore, the argument from 'species overlap' shows us that any attempt to draw a moral line between human and nonhuman animals will ultimately fail. No matter what attribute one may appeal to, some human beings will lack it and/or some nonhumans will possess it. Of course, it is implausible to derive from this that those humans who lack the selected attribute should be denied moral consideration. Instead, Singer claims, equality in the consideration of interests should be extended beyond the human species to cover all sentient individuals. Since suffering has negative value, we have reasons to prevent it or alleviate it whenever we can, no matter the species of the individual who experiences it.
Perhaps the most controversial aspect in Singer's view has been the one related to the ethics of killing animals. As it is suggested in Animal Liberation, and later clearly stated in Practical Ethics (2011), Singer believed at the time that only those individuals with a capacity to see themselves as extended over time can have an interest in continuing to live and thus be harmed by dying. Singer took this to follow from his version of preference utilitarianism, according to which death can only be bad if it frustrates a desire in being alive. Given that most nonhuman animals lack the necessary psychological capacities to harbour the relevant desire, this would entail that death cannot harm them. Thus, their interests would give us no reasons against killing them. If those reasons exist they will be given by other considerations, such as the maximisation of net positive experiences.
However, recently, Singer changed his view about the badness of death, prompted by his transition from preference utilitarianism to hedonistic utilitarianism. In The Point of View of the Universe (Lazari-Radek & Singer 2014), he acknowledges that all sentient beings with a life worth living (understood in hedonistic terms as containing a surplus of positive experiences) are harmed by death, since they are thereby deprived of the benefits they would have otherwise enjoyed.
Nevertheless, Peter Singer has not yet completely fleshed out his new account of the badness of death and the wrongness of killing animals. In fact, in a recent talk, he identified this topic as one of three most important open questions in animal ethics. The other two are, according to Singer, (a) the problem of performing interspecies comparisons of well-being and (b) whether we have reasons to intervene in nature to prevent or alleviate wild animal suffering.
Even if we disagree with Singer's general utilitarian approach (e.g., if one believes, as I do, that equality matters as such) we must concede that very few philosophers can be said to have had an equally high impact. Forty years ago, Peter Singer realised that working on animal ethics was one of the most effective ways of doing good. Given the work that needs to be done and the billions that can benefit from it (considering both animals under human control and those living in the wild), that is still true today.
References
Singer, P. (2004). Animal Liberation, 4th Edition. New York: HarperCollins.
Singer, P. (2011). Practical Ethics, 3rd Edition. Cambridge: Cambridge University Press.
Lazari-Radek, K. & Singer, P. (2014). The Point of View of the Universe. Sidgwick and Contemporary Ethics. Oxford: Oxford University Press.