This essay was the winner in the Graduate Category of the Oxford Uehiro Prize in Practical Ethics 2017
Written by University of Oxford student, Romy Eskens
On The Permissibility of Consentless Sex With Robots
Recent movies and TV-series, such as Ex Machina and Westworld, have sparked popular interest in sex robots, which are embodied AI systems designed to provide sex for humans. Although for many it may seem absurd to think that humans will ever replace their human bedpartners with artificial machines, the first sexbots have already entered the commercial market. In 2010, TrueCompanion introduced Roxxxy, a sexbot with synthetic skin and an AI system that allows her to interact with her user through speech and affective communication. Another example of sexbots currently for sale are the RealDolls, which are silicone sexbots available in different models and upgradable with insertable faces and body parts. The question I address in this essay is: do humans require consent from sexbots for sexual activity to be permissible? Continue reading →
This essay was the winner in the Undergraduate Category of the Oxford Uehiro Prize in Practical Ethics 2017
Written by University of Oxford student, Paul de Font-Reaulx
What makes discrimination wrong?
Most of us intuitively take discrimination based on gender or ethnicity to be impermissible because we have strong rights to be treated on the basis of merit and capacity rather than e.g. ethnicity or gender. I argue that, despite how this suggestion seems intuitive to most of us with a humanist perspective, it is indefensible. I show that well-informed discrimination can sometimes be permissible, and even morally required, meaning we cannot have absolute rights not to be discriminated against. In the last part I suggest an alternative account, arguing that acts of discrimination are wrong because they violate individuals' weak right to be treated fairly and create negative externalities which – analogously to pollution – there is a collective responsibility to minimize. These results are counterintuitive, and require further attention. Continue reading →
Zero Degrees of Empathy author Simon Baron-Cohen, philosopher Peter Dews and Oxford Transhumanist Anders Sandberg dispute how to be good.
We think empathising with others is the route to a better world. But studies show that empathy encourages us to help one named child over ten anonymous others. Is morality perhaps not about empathy at all? Does the moral way to act have more to do with thinking than feeling, or is empathy a vital force for good?
Should we increase the cognitive capacities of fish if we can? If we enhanced a chimpanzee so that it had the same cognitive capacities as us, would it have exactly the same moral status as us? Is it morally preferable to kill a mouse or to destroy a robot? Could there be beings with a higher moral status than us? These are some of the questions Professor Shelly Kagan (Yale) answers in this interview with Katrien Devolder (Oxford) (Professor Kagan delivered the 2016 Uehiro Lectures on animal ethics at the University of Oxford. The Audio files of these lectures can be downloaded at http://www.practicalethics.ox.ac.uk/l….)
This article was originally published in The Conversation
Written by Julian Savulescu Sir Louis Matheson Distinguishing Visiting Professor at Monash University,
Uehiro Professor of Practical Ethics, University of Oxford
Connor Rochford Medical Student, Monash University
Daniel D'Hotman Medical Student, Monash University

Drug analysis would be a safe, ethical and cost-effective way to reduce harm to young people.

Shutterstock
At the Stereosonic festival last year, Sylvia Choi died after consuming a contaminated ecstasy tablet. Unfortunately Sylvia's narrative is all too familiar – a bright future extinguished at a music festival that will be remembered for all the wrong reasons.
This summer, many young people will also choose to consume various illegal substances in pursuit of a good time. Regardless of their personal choice to break the law, most would agree that they should not have to die for it. Continue reading →
By Brian D. Earp (@briandavidearp)
* Note: this article was first published online at Quillette magazine.
Introduction
Alice Dreger, the historian of science, sex researcher, activist, and author of a much-discussed book of last year, has recently called attention to the loss of ambivalence as an acceptable attitude in contemporary politics and beyond. "Once upon a time," she writes, "we were allowed to feel ambivalent about people. We were allowed to say, 'I like what they did here, but that bit over there doesn't thrill me so much.' Those days are gone. Today the rule is that if someone—a scientist, a writer, a broadcaster, a politician—does one thing we don't like, they're dead to us."
I'm going to suggest that this development leads to another kind of loss: the loss of our ability to work together, or better, learn from each other, despite intense disagreement over certain issues. Whether it's because our opponent hails from a different political party, or voted differently on a key referendum, or thinks about economics or gun control or immigration or social values—or whatever—in a way we struggle to comprehend, our collective habit of shouting at each other with fingers stuffed in our ears has reached a breaking point.
It's time to bring ambivalence back. Continue reading →
Written by Alberto Giubilini, Postdoctoral Research Fellow, Oxford Uehiro Centre for Practical Ethics
This article was originally published in The Conversation
Antimicrobial resistance is the ability of microorganisms causing infections to survive exposure to antimicrobial drugs such as antibiotics. This is considered by some to be a slowly emerging disaster. According to the recently released Review on Antimicrobial Resistance commissioned by the UK government, by 2050 some 10m lives a year will be at risk because of drug resistant infections.
Imagine that an out of control trolley is speeding towards a group of five people. You are standing on a footbridge above, next to a large man. If you push him off the bridge onto the track below, his body will stop the trolley before it hits the five people. He will die, but the five others will be saved. Should you push the man off the bridge?
Before you make your decision, you should know that your popularity could depend on it. According to a new study of more than 2,400 participants, which we carried out with David Pizarro from Cornell University, the way you answer the "trolley problem" can have a big impact on how much people trust you. So let's have a look at your options.
You might say yes; saving five lives outweighs the harm of killing one person. And you wouldn't be alone: you'd be making a moral decision in line with "consequentialist" theories of morality. Consequentialists believe that we should aim to maximise the greatest good for the greatest number of people, even if this means causing some harm – for example, by killing one person to save five.
On the other hand, you might say no; killing someone is just wrong, regardless of any positive consequences there might be. Here, you'd be making a moral decision in line with "deontological" moral theories, which focus on moral rules, rights and duties. Maxims such as "thou shalt not kill" and "treat others as you would like to be treated" (otherwise known asthe golden rule) fit into this category.
Continue reading →
Written by: Rajiv Shah, PhD Candidate, Faculty of Law, University of Cambridge
Donald Trump suggested that women who have abortions should face punishment. For that he was criticised by both the pro-choice side and the pro-life side. The latter claimed that their view is that women should not face punishment for having abortions but that only providers should. This raises the interesting question of whether the pro-life position is coherent. It would seem that it is not. If the foetus has the right to life then having an abortion is like murder and so those who abort should be treated as such. This post argues that the pro-lifer can coherently reject this implication whilst still holding that the foetus has the right to life. Since it considers the responses a pro-lifer could make this post will assume for the sake of argument that the foetus does have a right to life. Continue reading →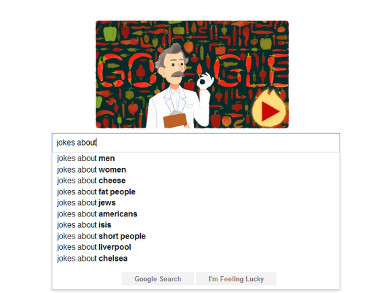 This essay received an Honourable Mention in the Undergraduate Category of the Oxford Uehiro Prize of Practical Ethics
Written by New College Oxford student Raphael Hogarth
Three moral agents walk into a bar. They get to joking and, with each round, their banter becomes more risqué. After the second pint, Agent A ventures a humourless and offensive joke about Jews and big noses: Agents B and C scowl and move on. After the third pint, Agent A has another crack with a joke about the holocaust – a more insensitive joke, but also apparently one with more potential to amuse. Agent B can't help but giggle; Agent C is incandescent with outrage. Agents A and B retort in chorus: "But it's funny!"[1] Continue reading →