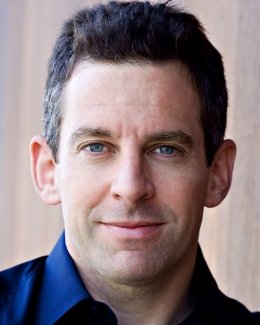 By Brian Earp (Follow Brian on Twitter by clicking here.)
WATCH MY EXCHANGE WITH SAM HARRIS AT OXFORD – ON YOUTUBE HERE.
I just finished a booklet by "New Atheist" Sam Harris — on lying — and I plan to write about it in the coming days. But I want to dig up an older Harris book, The Moral Landscape, so that I may express my hitherto un-expressed puzzlement about Harris' (aging) "bold new" claim — presented in this book — that science can "determine human values" or "tell us what's objectively true about morality" or "give us answers about right and wrong," and the like.
In his new book (the one about lying) Harris says, in effect, you should never, ever, do it — yet his pretense in The Moral Landscape to be revolutionizing moral philosophy seems to me the very height of dishonesty. What he actually does in his book is plain old secular moral reasoning — as non-religious philosophers have been doing for a very long time — but he claims that he's using science to decide right from wrong. That Harris could be naive enough to think he's really bridged the famous "is/ought" chasm seems unlikely (Harris is a very smart writer and researcher, and I tend to like a lot of what he publishes), and so I submit that he's exaggerating* to sell books. Shame on him (or his publisher).
*A previous version of this post had the word "lying" here, but I was told that my rhetorical flourish might be interpreted as libel. I hope "exaggerating" is sufficiently safe. Now onward to my argument:
Posted in
Moral Enhancement
,
Reflections
,
Religion
,
Science
|
Tagged
Dawkins
,
ethics
,
lying
,
morality
,
neuroscience
,
philosophy
,
Richard Dawkins
,
Sam Harris
,
science
,
The Moral Landscape