written by Neil Levy
It's the time of year at which many of us take stock of how our lives are going. It is more or less arbitrary where we mark the end of the year, but because the convention is shared, our lives have a rhythm that is marked by the calendar, and the length of the year makes it a good unit for assessing some aspects of our life. We might ask whether we stuck to the resolutions made 12 months earlier. We might ask more general questions about how our life is going: have we been good parents or partners? Have we pursued worthwhile goals? Have the steps we have taken toward those goals between well-designed?
The unexamined life is not worth living, Socrates is famously reputed to have said. More recently, Mill echoed Socrates, arguing that it was better to live a life of self-reflection and be unsatisfied than be a pig who did not reflect but was happy. The idea that we can and should reflect on our lives and their trajectories remains deeply attractive to us and finds expression in psychotherapy and self-help books, as well as the annual ritual of taking stock. Continue reading →
By Alberto Giubilini
Oxford Martin School and Wellcome Centre for Ethics and Humanitites, University of Oxford
For further discussion on this topic by Dr Giubilini see his oped in The Irish Times
Last month I was invited by Oxford's Students for Life (OSFL), the pro-life student organisation at the University of Oxford, to take part in a public debate where I was asked to argue against their motion that "Conscientious objection in healthcare, concerning beginning and end of life issues, benefits society as a whole." Having worked on conscientious objection in healthcare (e.g., doctors not being willing to perform abortions for personal moral or religious reasons) in the past, I thought (and still think) I had some very strong arguments against conscientious objection in healthcare in general, and conscientious objection by religious doctors in particular. I was very keen on challenging the pro-life position on this topic. I therefore accepted the invitation, although I was a bit surprised by it, given that OSFL were presumably aware of my positions on topics that for the pro-life are very sensitive, such as the ethics of abortion or of infanticide.
But I was curious to see and test to what extent the pro-life community was really committed to freedom of speech and would allow me to defend my views, so diametrically opposite to theirs. During the event, I therefore tried to push my arguments to their most extreme conclusions and to be as provocative as possible; for example, at some point I suggested that an unwanted pregnancy is comparable to a disease and that therefore doctors have a duty to medically treat it by performing an abortion. I have to say I saw many people in the audience jolt in their chairs, which I did expect. Nonetheless, after my talk there was a very civil and calm discussion: the pro-life defenders debated my arguments, allowed me to reply, and thanked me at the end of the debate for my participation and what they considered challenging views.
What does Peter Singer's famous 'pond example' tell us about our obligations to the world's needy? Is rescuing a child drowning in a shallow pond really the same as donating money to effective aid organisations? Is it okay to spend large amounts of money on 'dramatic rescues' (e.g. after an earthquake, to find perhaps one more person alive…)? Does donating money to poor countries with corrupt regimes do more harm than good? Is the approach of Effective Altruism too narrow? In this interview with Katrien Devolder, Professor Larry S. Temkin (Rutgers) casts serious doubts on views that have been widely accepted for decades.
Should self-driving cars be programmed in a way that always protects 'the driver'? Who is responsible if an AI makes a mistake? Will AI used in policing be less racially biased than police officers? Should a human being always take the final decision? Will we become too reliant on AIs and lose important skills? Many interesting questions answered in this video interview with Dr Katrien Devolder.
Written by Michael S. Dauber, MA
In 2015, Sergio Canavero announced that he would perform a therapeutic head transplant procedure on a human subject by December 2017. Since then, he has recruited the assistance of surgeon Xiaoping Ren and switched from Valery Spiridonov to an anonymous Chinese patient whose medical condition remains undisclosed. The procedure, which consists of removing the patient's head and attaching it to a decapitated donor body, is expected to be carried out in China, will cost tens of millions of dollars, and will require dozens of surgeons. The procedure returned to international attention this week when Canavero announced he had successfully performed the procedure on a human cadaver, and said that the announcement of an official procedure date was "immanent." Continue reading →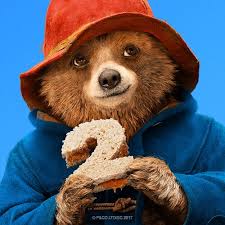 By Charles Foster
Last night, long after everyone else I know, I went with the kids to see Paddington 2. As everyone agrees, it's wonderful. It's a modern morality tale. There is plainly a big appetite for morality.
Interestingly, though, it is a Christian morality tale.1 Paddington's behaviour neutralizes violence. In the face of his goodness, and emolliated by his marmalade sandwiches, the hard men at the prison uncurl their fists and bake strawberry panna cotta with pomegranate glaze instead. His vulnerability is irresistible. He turns selfishness into altruism. 'Nuckles' (sic), (Brendan Gleeson) whose motto has always been that he doesn't do nuffin' for no one for nuffin', jeopardises his own liberty to liberate Paddington – and wins his own perpetual freedom by doing so. There's even a sort of resurrection – in which Paddington, trapped in a watery grave, is released. And as he is released, more of his redemptive power is unleashed too. Continue reading →
Written by Dr Rebecca Brown
It has become commonplace to identify a lack of impulse control as a major cause of poor health. A popular theory within behavioural science tells us that our behaviour is regulated via two systems: the fast, impulsive system 1 (the 'impulsive' or 'automatic' system) and the slower, deliberative system 2 (the 'reflective' system). Much of our behaviour is routine and repeated in similar ways in similar contexts: making coffee in the morning, travelling to work, checking our email. Such behaviours develop into habits, and we are able to successfully perform them with minimal conscious input and cognitive effort. This is because they come under the control of our impulsive system.
Habits have become a focus of health promoters. It seems that many of these routine, repeated behaviours actually have a significant impact on our health over a lifetime: what we eat and drink and how active we are can affect our risk of developing chronic diseases like type II diabetes, heart disease, lung disease and cancer. Despite considerable efforts to educate people as to the risks of eating too much, exercising to little, smoking and drinking, many people continue to engage in such unhealthy habits. One reason for this, it is proposed, is people's limited ability to exert conscious (reflective) control over their habitual (impulsive) behaviour.
Given this, one might think that it would be preferable if people were generally able to exhibit more reflective control; that behaviour was less frequently determined by impulsive processes and more frequently determined by reflective deliberation. Perhaps this could form part of the basis for advising people to be more 'mindful' in their everyday activities, such as eating, and regimes for training one's willpower 'muscle' to ensure confident conscious control over one's behaviour. Continue reading →
Suppose a religious community regards a site – with, say, a stone circle – as sacred. It has for centuries been used as a place of prayer and contemplation. The land is owned by the state and they want to sell it off to build apartment blocks. You might think that the deep attachment the religious community has to this place of worship is what gives it some right to protect the site. But Lea Ypi of the London School of Economics, is not so sure.
Lea Ypi's paper 'Structural Injustice and the Place of Attachment', was published in the Journal of Practical Ethics, Vol 5 No.1.
In response to her paper Lea Ypi has been interviewed by David Edmonds for the Philosophy 24/7 podcast series. The podcast is available here on the Philosophy 24/7 website
Lea Ypi is Professor in Political Theory in the Government Department, London School of Economics, and Adjunct Associate Professor in Philosophy at the Research School of Social Sciences, Australian National University. Before joining the LSE, she was a Post-doctoral Prize Research Fellow at Nuffield College (Oxford) and a researcher at the European University Institute where she obtained her PhD. Her website is here.
Novel gene editing technologies, such as CRISPR/Cas9, allow scientists to make very precise changes in the genome of human embryos. This could prevent serious genetic diseases in future children. But the use of gene editing in human embryos also raises questions: Is it safe? Should prospective parents be free to choose the genetic characteristics of their children? What if they want to use gene editing to have a deaf child, or a child with fair skin and blue eyes? Should gene editing be regulated globally, or should each country have their own legislation? In this interview with Katrien Devolder, John Harris (Professor Emeritus, University of Manchester &  Visiting Professor in Bioethics, King's College London) answers these and other questions, and defends the view that we have the strongest moral obligation to gene-edit human embryos, not only to prevent disease but also for the purpose of enhancement.
Written by Michael Robillard
            "Let me have war, say I: it exceeds peace as far as day does night; it's spritely, waking, audible, and full of vent. Peace is a very apoplexy, lethargy; mulled, deaf, sleepy, insensible; a getter of more bastard children than war's a destroyer of men."
― William Shakespeare, The Tragedy of Coriolanus
As 21st century technology continues to progress at an ever alarming pace, the science-fiction notion of 'human enhancement' looks, day by day, to be an ever-approaching reality. Neuro-chemical enhancement, genetic enhancement, man/machine pairing; each of these emerging technologies carries with it, both individually and collectively, a host of ethical worries concerning the well-being, autonomy, and identity of the individual person. These ethical worries arguably become even more problematic and complex when considering the specific enhancement of soldiers.
In addition to the many ethical concerns surrounding human enhancement in general, the issue of soldier enhancement in particular appears to come with its own set of unique moral problems. This is so, at least in part, since the role of soldier often requires the promotion of attributes, aspects of character, and capacities that are arguably virtuous within the context of war but potentially vicious within the context of otherwise 'normal' society. Indeed, a propensity towards obedience, a disinhibition towards violence, extreme tolerance for risk, and being exceptionally skillful at the trade of killing are not typical attributes we would consider noble or praise-worthy within the day-to-day domestic sphere, though they are attributes absolutely vital for success on the battlefield. Continue reading →