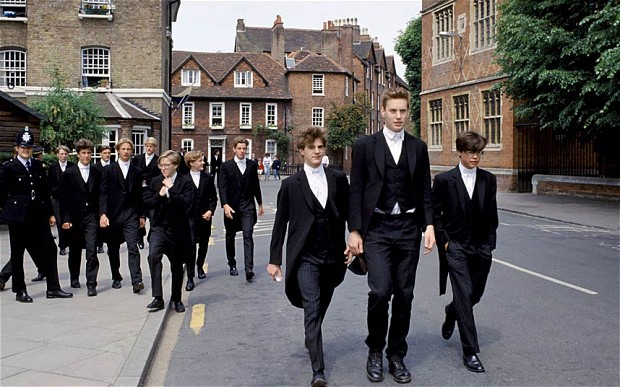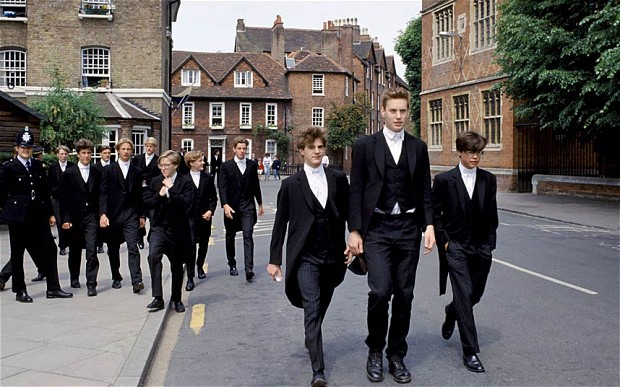 (Photo: Daily Telegraph)
I am a bitter opponent of private education. All my political hackles rise whenever the subject is mentioned.
Yet of my four currently school-aged children, one ('A') is educated privately (at a specialist choir school), and another ('B', who is dyslexic) will shortly be in private education (at a hip, Indian-cotton swathed, high-fibre, bongo-drumming, holistic school). The two others ('C' and 'D') are currently in state primary schools. There are two older children too ('E' and 'F') They were both educated privately, at a fairly traditional school.
How can I live with myself?
One way would be to avert my eyes from the apparently plain discrepancy between my actions and my political convictions. That's often been my strategy. But I want to attempt some kind of defence – at least in relation to A and B, and lay the ground for a potential defence in relation to C and D, should we choose to educate them privately. Continue reading →
The UK became the first country to officially approve gene editing research in human embryos on Monday. The HFEA decision means experiments in which the genes of embryos are manipulated will likely begin at the Francis Crick Institute within the next few months.
Gene editing (GE) technologies are immensely powerful. They have already been used to manipulate mosquitos so they cannot carry diseases like malaria or Zika. They have been used in medicine to reprogram human immune cells to target cancer. When used for research purposes, they promise to greatly increase our knowledge of genetics and human heredity. This will lead to a better understanding of disease, which in turn will allow better treatments – including better drugs.
In an interview with Dr Katrien Devolder, Professor Julian Savulescu (Oxford) argues that doctors should not impose their religious or non-religious values on patients if this conflicts with the delivery of basic public healthcare.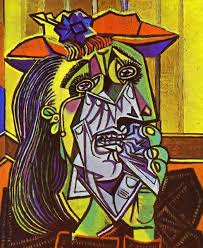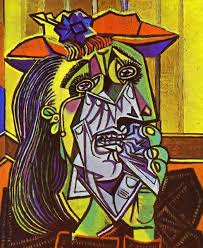 By Charles Foster
Marriage is not well served by its defenders. The loudest and best reported of them are often fundamentalist bigots. It's a shame, for marriage has a lot going for it.
Even if you think that marriage is an anachronistic/bourgeois/theologically contaminated institution, you'll probably agree that the breakdown of marriages is best avoided. Of course incurably dysfunctional marriages should be ended, but most people aspire to enduring relationships, and the wrench of marital dislocation is emotionally and financially traumatic. If there are children, marriage breakup is painful for the parents and can be enduringly damaging for the children. There are, in short and quite uncontroversially, some significant harms associated with the breakdown of marriages.
How can marriage breakdown – and hence those harms – be avoided? Continue reading →
Please note: this blog is was first published at the Journal of Medical Ethics Blog.
The Journal of Medical Ethics is pleased to announce the addition of a new article type – Extended Essays – that will allow authors up to 7,000 words to provide an in-depth analysis of their chosen topic.
In an interview, Associate Editor Tom Douglas said the new category was created "in recognition of the fact that some topics warrant sustained and nuanced analysis of a sort that can't be laid out in less than 3,500 words."
He went on to say that at the Journal of Medical Ethics "we don't want to miss out on the best papers in medical ethics, many of which currently get sent elsewhere simply because of our strict word limits."
Understanding is a fundamental concept in medical ethics. I want to discuss two contrasting senses in which medical treatments require understanding on behalf of the patient. The first of these is very familiar, and much discussed. The second is less so. Continue reading →
Written by Andreas Kappes
The school year just started, but surprisingly, the half-term break is already lurking around the corner, when children have a week off. For a lot of parents this implies seeing their own parents, having them take care of the kids. And whenever families come together, there will be many sentences starting with: If I were you… Adult children don't hesitate to give unsolicited advice on, for instance, the outfit choices of their partners ("If I were you I would only wear this at midnight, when it is dark and nobody can see you"), parents give advice to their own parents ("If I were you, I would take it slow), and grandparents can't resist either ("If I were you, I would buy a house and stop renting"). Even outside the family, unsolicited advice is everywhere1. Obama telling the United Kingdom how much money to spend on the military, David Cameron advising Europe on how to handle immigration, or this blog post suggesting ways to offer advice; it is readily available. And all of these different forms of advice – hopefully with one obvious exception – have one thing in common; they backfire. While people love to dish out advice and it seems to them to be a good idea, we are not great in taking it; we rather hate it. So how to give it right?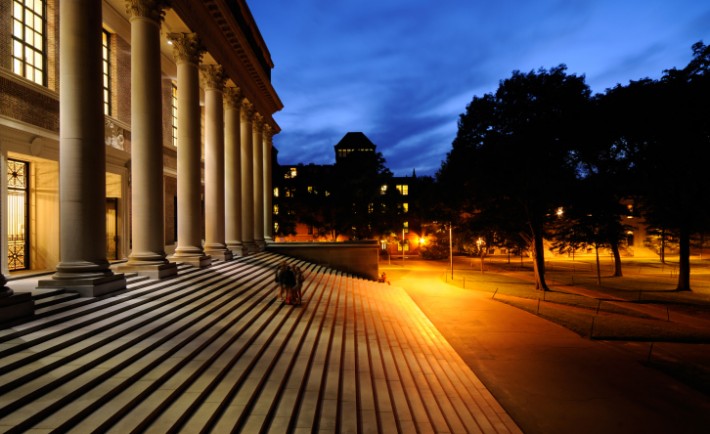 by Brian D. Earp / (@briandavidearp)
* Note: this article was originally published at the Huffington Post.
Introduction
As someone who has worked on college campuses to educate men and women about sexual assault and consent, I have seen the barriers to raising awareness and changing attitudes. Chief among them, in my experience, is a sense of skepticism–especially among college-aged men–that sexual assault is even all that dire of a problem to begin with.
"1 in 4? 1 in 5? Come on, it can't be that high. That's just feminist propaganda!"
A lot of the statistics that get thrown around in this area (they seem to think) have more to do with politics and ideology than with careful, dispassionate science. So they often wave away the issue of sexual assault–and won't engage on issues like affirmative consent.
In my view, these are the men we really need to reach.
A new statistic
So enter the headline from last week's New York Times coverage of the latest college campus sexual assault survey:
"1 in 4 Women Experience Sex Assault on Campus."
But that's not what the survey showed. And you don't have to read all 288 pages of the published report to figure this out (although I did that today just to be sure). The executive summary is all you need.