By Mackenzie Graham
Facebook CEO Mark Zuckerburg recently appeared before members of the United States Congress to address his company's involvement in the harvesting and improper distribution of approximately 87 million Facebook profiles —about 1 million of them British— to data collecting app Cambridge Analytica. In brief, Cambridge Analytica is a British political consulting firm, which uses online user data (like Facebook profiles), to construct profiles of subjects, which can then be used for what it calls 'behavioural micro-targeting'; advertisements tailored to the recipient based on their internet activity. In 2016, Cambridge Analytica was contracted by Donald Trump's presidential campaign, as well as the 'Leave EU' campaign prior to Britain's referendum to leave the European Union.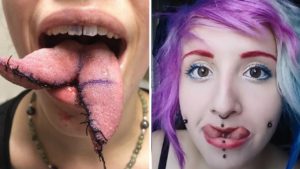 By Charles Foster
Image: 'Split tongue: procedure, safety, result': Tattoo World: Standard YouTube licence.
The appellant in R v BM was a tattooist and body piercer who also engaged in 'body modification'. He was charged with three offences of wounding with intent to do grievous bodily harm. These entailed: (a) Removal of an ear; (b) Removal of a nipple; and (c) division of a tongue so that it looked reptilian. In each case the customer had consented. There was, said the appellant, no offence because of this consent.
Where an adult decides to do something that is not prohibited by the law, the law will generally not interfere.
In Schloendorff v Society of New York Hospital (1914) 105 NE 92 Cardozo J said:
"Every human being of adult years and sound mind has a right to determine what shall be done with his own body."[1]
This principle has been fairly consistently recognised in the English law.[2] Thus, for instance, In In re T (Adult: Refusal of Treatment, Butler-Sloss LJ cited with approval this section of the judgment of Robins JA in Malette v Shulman[3]:
'The right to determine what shall be done with one's own body is a fundamental right in our society. The concepts inherent in this right are the bedrock upon which the principles of self-determination and individual autonomy are based. Free individual choice in matters affecting this right should, in my opinion, be accorded very high priority.' Continue reading →
This essay was awarded second place in the Oxford Uehiro Prize in Practical Ethics Undergraduate Category.
Written by University of Oxford student, Brian Wong
Recent debates over the legacy of colonialism – such that that of the British Empire – have often been centred around whether members of colonies have, on balance, benefited from being subject to colonial rule. Such debates are not only epistemically futile, for counterfactual analysis remains necessarily and largely speculative hitherto; they also neglect a potential alternative to the discussion: that colonial projects could have been wrong independent of the harms they bring.
My thesis is that there existed the unoffsettable wrong of the relational injustice perpetuated under colonialism, such that colonialism was wrong even in cases where it introduced counterfactual-sensitive benefits. I will first discuss my concept of relational injustice, prior to establishing the empirical premise and explaining why such wrongs are unoffsettable by consequentialist gains. Continue reading →
We are pleased to announce the five finalists for the Oxford Uehiro Prize in Practical Ethics and to invite you to attend the final where they will present their entries. Two finalists have been selected from the undergraduate category and three from the graduate, to present their ideas to an audience and respond to a short Q&A as the final round in the competition.
The Presentation will be held in Seminar Room 1, Oxford Martin School (corner of Catte St and Broad St), on Thursday 22nd February, 4.00 – 5.50 pm. This will be followed by a drinks reception in Seminar room 2 until 7:00 pm.
Undergraduate
Jonathan Latimer: "Why We Should Genetically 'Disenhance' Animals Used in Factory Farms"
Brian Wong: "On Relational Injustice: Could Colonialism Have Been Wrong Even if it had Introduced More Benefits than Harms?"
Graduate
James Kirkpatrick: "When is Sex with Conjoined Twins Permissible?"
Tena Thau: "Should Cryonics be Compulsory?"
Miles Unterreiner:  "The Paradox of the Benefiting Samaritan"
All are welcome to attend the final and are warmly invited to join the finalists for a drinks reception after the event. Please sign up at: https://bookwhen.com/uehiro
Please book now and support the next generation of Practical Ethicists.
Should we pay people to quit smoking or lose weight? Would paying them amount to coercion?  Is there a risk that if we start paying for healthy behaviour, its value will be corrupted? Is paying unhealthy people unfair to those who already lead healthy life styles? In this video interview (with Katrien Devolder),  Dr Rebecca Brown from the Oxford Uehiro Centre for Practical Ethics responds to these and other concerns and defends the use of financial incentives as a tool for health promotion.
Guest Post by Nathan Hodson 
* Please note that this article is being cross-posted from the Journal of Medical Ethics Blog 
Research in robotics promises to revolutionize surgery. The Da Vinci system has already brought the first fruits of the revolution into the operating theater through remote controlled laparoscopic (or "keyhole") surgery. New developments are going further, augmenting the human surgeon and moving toward a future with fully autonomous robotic surgeons. Through machine learning, these robotic surgeons will likely one day supersede their makers and ultimately squeeze human surgical trainees out of operating room.
This possibility raises new questions for those building and programming healthcare robots. In their recent essay entitled "Robot Autonomy for Surgery," Michael Yip and Nikhil Das echoed a common assumption in health robotics research: "human surgeons [will] still play a large role in ensuring the safety of the patient." If human surgical training is impaired by robotic surgery, however—as I argue it likely will be—then this safety net would not necessarily hold.
Imagine an operating theater. The autonomous robot surgeon makes an unorthodox move. The human surgeon observer is alarmed. As the surgeon reaches to take control, the robot issues an instruction: "Step away. Based on data from every single operation performed this year, by all automated robots around the world, the approach I am taking is the best."
Should we trust the robot? Should we doubt the human expert? Shouldn't we play it safe—but what would that mean in this scenario? Could such a future really materialize?
Introduction
In a series of five harrowing judgments, the President of the Family Division, Sir James Munby, expressed his frustration with the system that endangered the life of a child who was the subject of care proceedings. He was forthright. Some of his words were quoted in the press. A headline in the Guardian read: 'Judge warns of 'blood on our hands' if suicidal girl is forced out of secure care.' 'Why won't NHS help?' asked the Sun. 'State will have 'blood on its hands' if suicidal teen doesn't get hospital bed soon, top judge warns.'
While the judge's comments seemed generally to be applauded by the media, not all were happy. Here is a typical example of a commentator who was not:
'To use a rhetorical outburst in one case to make broader political points about the state of public services jeopardises the principle of judicial separation. In saying that there are occasions when doing right "includes speaking truth to power", and openly condemning the lack of adequate public resources, is to leave the respected realm of judicial neutrality and to enter the political fray. Language and tone matter. Even if the diagnosis is fair, for a judge to use this tactic is, well, pretty ill-judged.' Continue reading →
Vale Charlie
At some point in all of our lives, we have to let go. One can only admire Connie Yates and Chris Gard who fought so hard for Charlie.
However, we should continue to question the original decision, and the way in which these decisions are made. Even if it is too late for Charlie now, we should improve how we make these decisions for the future.
By Dominic Wilkinson @Neonatalethics
In a blog post published yesterday, Julian Savulescu argues that Charlie Gard should have received the experimental treatment requested by his parents 6 months ago. He further argues that "we should be more aggressive about trials of therapy where there are no other good options".
I have previously argued (in a blog and in an editorial in the Lancet) that the requested treatment is not in Charlie's best interests. In a forthcoming paper (co-authored with John Paris, Jag Ahluwahlia, Brian Cummings and Michael Moreland), we compare the US and UK legal approaches to cases like this, and argue that the US approach is deeply flawed.
Here are four areas where I agree with Julian
In retrospect, it would have been better for Charlie to have received the requested treatment 6 months ago than to have a protracted legal dispute (with continued treatment in intensive care anyway)
We should generally allow patients who are dying or severely ill, without other available treatment, to try experimental treatment if that is something that they (or their family) strongly desire
If experimental treatments are unaffordable in public health systems but patients are able to pay for them privately, or have crowd-sourced funding for them, they should be made available
Experimental treatments should not be provided where the side effects make that treatment highly likely not to be in the patient's interests.
However, despite these areas of common ground, I reach starkly different conclusions from Julian. In my view, the doctors were right to oppose experimental treatment for Charlie in January, the judges were right to decline the family's request for treatment in April, and it would be deeply ethically problematic to provide the treatment now, notwithstanding the recent intervention of the US president and the Pope. Continue reading →