Written by Alberto Giubilini (Oxford Uehiro Centre for Practical Ethics and WEH, University of Oxford )
Vageesh Jaini (University College London)
(Cross posted with the Conversation)
To be properly protective, COVID-19 vaccines need to be given to most people worldwide. Only through widespread vaccination will we reach herd immunity – where enough people are immune to stop the disease from spreading freely. To achieve this, some have suggested vaccines should be made compulsory, though the UK government has ruled this out. But with high rates of COVID-19 vaccine hesitancy in the UK and elsewhere, is this the right call? Here, two experts to make the case for and against mandatory COVID-19 vaccines.
Alberto Giubilini, Senior Research Fellow, Oxford Uehiro Centre for Practical Ethics, University of Oxford
COVID-19 vaccination should be mandatory – at least for certain groups. This means there would be penalties for failure to vaccinate, such as fines or limitations on freedom of movement.
The less burdensome it is for an individual to do something that prevents harm to others, and the greater the harm prevented, the stronger the ethical reason for mandating it.
Continue reading →

Written by: Alberto Giubilini; Oxford Uehiro Centre for Practical Ethics, &
Wellcome Centre for Ethics and Humanities, University of Oxford
It's that time of the year again, when Christmas decorations start to appear way too early in shopping malls. It's beginning to look a bit too much like Christmas. Except that, being it 2020, of course this year "it will be different".
Pubs are very optimistically accepting bookings for Christmas dinners, but many Christmas markets are (un)fortunately being cancelled. You might still see your distant relatives on Christmas day, but (un)fortunately no more than 6 of them at any one time.
Amidst the inevitable confusion, one obvious question is whether Santa Claus should deliver presents this year.
There are various factors to consider when deciding what Santa – but indeed everyone else – should be allowed to do over Christmas. The most relevant are probably the following:
COVID-19 infection rate over Christmas.
Risks and benefits for others of Santa's job.
Risks and benefits for Santa
Alberto Giubilini
Julian Savulescu
Oxford Uehiro Centre for Practical Ethics
University of Oxford
Supported by the UKRI/AHRC funded project "The Ethical Exit Strategy"
(Grant number AH/V006819/1)
https://practicalethics.web.ox.ac.uk/ethical-exit-strategy-covid-19
These are the "Main Points" and the Executive Summary of a Statement on key ethical considerations and recommendations for the UK "Exit Strategy", that is, the strategy informing the series of measures to move the country from the state of lockdown introduced in March 2020 to a 'new normality'.
The full Statement can be found at https://practicalethics.web.ox.ac.uk/files/covidexitstatement1octaccpdf
The document has been produced also on the basis of the discussion among academics and stakeholders from different fields (ethics, economics, medicine, paediatrics, mental health, nursing), who participated in an online workshop on the "Ethical Exit Strategy", held on the 8th of July 2020. Continue reading →
In the UK we're past the peak of the coronavirus pandemic but new ethical issues are arising: the healthcare system is now under enormous pressure – it's working less efficiently than before (because of precautions to protect healthcare personnel), and there's an enormous backlog of patients whose treatments have been put on hold. Which non-Covid-19 patients should get treated first and who will have to wait?  Dominic Wilkinson, Professor of Medical ethics and Consultant in Newborn Intensive Care, sheds some light on this important question, and proposes a practical solution. (To watch with subtitles, press the 'YouTube' button in the video.)
Written by Stephen Rainey
It is presently feared that 'lockdown' may be beginning to fray at the edges, as people tire of their restrictions. From the start of the emergency, discussion focussed upon the ability of the public to stay the course where restrictions were at stake. This neatly ignores the public's being ahead of the government in acknowledging the severity of the situation before the 23rd March announcement to restrict social freedoms. At any rate, concerns over policy effectiveness were addressed through faith in behavioural science (via 'Behavioural Insights', née 'The Nudge Unit'), and communications devices such as the repeated phrase, 'following the science'.
'Following the science' raises reasonable questions including, which science and why? In what sense 'follow'? To what degree? The idea of creating arguments 'from science' for any given policy is presumed sufficient as a motivation, or a reason for citizens to submit themselves to policy demands. However, given the expert basis for these arguments, it is not a safe bet that any given citizen will share the assumptions or knowledge base of the experts, let alone adopt them as straightforward reasons to alter their behaviour. Few people like to be told what to do without at least understanding what is being asked of them and why, so this can be a problem.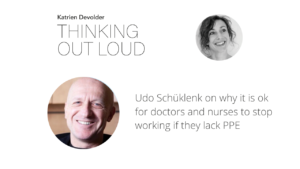 Philosopher Udo Schüklenk argues that it is morally permissible for doctors, nurses and other care workers to stop working if they lack PPE (personal protective equipment).  To listen to the interview, follow this link to the podcast: https://podcasts.apple.com/gb/podcast/is-it-morally-permissible-for-healthcare-workers-to/id1509190881?i=1000472576406
Written by Neil Levy
These are scary times. The death toll from Covid-19 raises hour by hour and in most countries the rate of new infections continues to grow. While most of us know that if we contract the virus the disease will likely be mild for us, we have friends and family who are at much higher risk. As society shuts down and our lives become more and more constrained, our anxiety rises along with it. Continue reading →
By Charles Foster
Cross posted from The Conversation
To be clear, and in the hope of heading off some trolls, two observations. First: of course I don't welcome the epidemic. It will cause death, worry, inconvenience and great physical and economic suffering. Lives and livelihoods will be destroyed. The burden will fall disproportionately on the old, the weak and the poor.
And second: these suggestions are rather trite. They should be obvious to reasonably reflective people of average moral sensibility.
That said, here goes:
1. It will make us realise that national boundaries are artificial
The virus doesn't carry a passport or recognise frontiers. The only way of stopping its spread would be to shut borders wholly, and not even the most rabid nationalists advocate that. It would mean declaring that nations were prisons, with no one coming in or out – or at least not coming back once they'd left. In a world where we too casually assume that frontiers are significant, it doesn't do any harm to be reminded of the basic fact that humans occupy an indivisible world.
Cooperation between nations is essential to combating the epidemic. That cooperation is likely to undermine nationalist rhetoric.
2. It will make us realise that people are not islands
The atomistic billiard-ball model of the person – a model that dominates political and ethical thinking in the west – is biologically ludicrous and sociologically unsustainable. Our individual boundaries are porous. We bleed into one another and infect one another with both ills and joys. Infectious disease is a salutary reminder of our interconnectedness. It might help us to recover a sense of society.
3. It may encourage a proper sort of localism
Internationalism may be boosted. I hope so. But if we're all locked up with one another in local quarantine, we might get to know the neighbours and the family members we've always ignored. We might distribute ourselves less widely, and so be more present to the people around us.
We might even find out that our local woods are more beautiful than foreign beaches, and that local farmers grow better and cheaper food than that which is shipped (with the associated harm to the climate) across the globe.
4. It may encourage altruism
Exigencies tend to bring out the best and the worst in us. An epidemic may engender and foster altruistic heroes.
5. It may remind us of some neglected constituencies
Mortality and serious illness are far higher among the old, the very young, and those suffering from other diseases. We tend to think about – and legislate for – the healthy and robust. The epidemic should remind us that they are not the only stakeholders.
6. It may make future epidemics less likely
The lessons learned from the coronavirus epidemic will pay dividends in the future. We will be more realistic about the dangers of viruses crossing the barriers between species. The whole notion of public health (a Cinderella speciality in medicine in most jurisdictions) has been rehabilitated. It is plain that private healthcare can't be the whole answer. Much has been learned about the containment and mitigation of infectious disease. There are strenuous competitive and cooperative efforts afoot to develop a vaccine, and vaccines against future viral challenges are likely to be developed faster as a result.
7. It might make us more realistic about medicine
Medicine is not omnipotent. Recognising this might make us more aware of our vulnerabilities. The consequences of that are difficult to predict, but living in the world as it really is, rather than in an illusory world, is probably a good thing. And recognising our own vulnerability might make us more humble and less presumptuous.
8. Wildlife may benefit
China has announced a permanent ban on trade in and consumption of wildlife. That in itself is hugely significant from a conservation, an animal welfare, and a human health perspective. Hopefully other nations will follow suit.