What is the Big Society?
When a lane is closed off for repairs, are you that driver who ignores all the  "change lane" signs as you zoom past the stationary line of traffic, then cut in at the very last moment? Are you someone who loves to go to the beach or park to enjoy the scenery, eat a picnic, and leave your rubbish strewn behind you? Are you a bank trader taking risks for profit that would be ridiculous – were it not for the fact that your bank is "too big to fail" and the government will have to step in and raid the public treasury to save it if the gamble goes the wrong way? Do you cheat on your taxes? When your country goes to war, are you one of the brave legions of Keyboard Kommandos who tirelessly blogs (and comments on blogs) in support of it, yet wouldn't even dream of signing up and risking your life to fight for what you believe in? Do you never buy a round of drinks at the pub, or pick up the tab at a restaurant, though you can afford to do so, and enjoy it when others buy  for you?
If you answered "Yes" to some of these questions, then you, my friend, are a free rider, and I would like to introduce you to the latest innovation in 21st century politics, brought to you by Prime Minister David Cameron (drum roll please): it's the Big Society, and it is tailor made just for people like you, Fred! (You don't mind if I call you Fred, do you? No? Then let's continue…)
So what's the Big Society all about, you ask? Well, the media have been having a heck of a time getting a straightforward answer. But Cameron has said it's "a whole new approach to government and governing". It's "the biggest, most dramatic redistribution of power from elites in Whitehall to the man and woman on the street". It's about saying that, "we need people to come together and work together – because we're all in this together." In fact, "You can call it responsibility."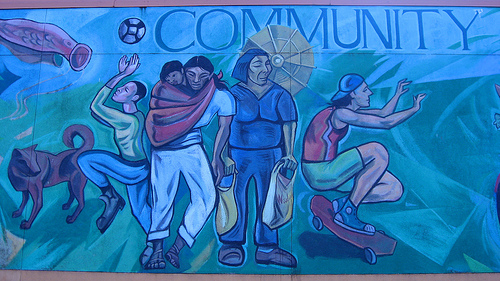 Yeah! Down with the elite, fat-cat government bureaucrats and thumbs-up for the man and woman who just alighted the Clapham omnibus! Right, Fred? What's that you say? You're not so sure about this "responsibility" and "work together" talk?
Ah, well perhaps you misunderstood. Let me explain. You see, the Big Society is not about Big Government telling you what to do! As Cameron says, "You can call it freedom". It's about a "huge culture change" where people "don't always turn to officials, local authorities or central government for answers to the problems they face, but instead feel both free and powerful enough to help themselves and their own communities." It's about "Charities working to rehabilitate offenders." It's about unleashing "social action." It "will depend on the daily decisions of millions of people – on them giving their time, effort, even money, to causes around them." It's about "a new culture of voluntarism [and] philanthropy."
You look relieved! What's that? You were worried that you personally were going to have to take responsibility for stuff? No, no – Cameron is sure you'll love the Big Idea behind the Big Society. (Maybe that's why he gave a speech on Valentine's Day about it.) Cameron says that part of this is "The idea of communities taking more control, of more volunteerism, more charitable giving, of social enterprises taking on a bigger role, of people establishing public services themselves." He says that "there are facilities that the state can't afford to keep open," and we should be "trying to encourage communities who want to come forward and …  run them".
You agree, you say? You've long thought that we all can't afford the expensive old "public services" – libraries, community centres, rehab programs, transportation, public housing, care for the elderly, and what not – in this Age of Austerity? Better if some people either pick up the cost out of charity, or do all the work themselves and go unpaid? There are volunteers like your cousin Valerie who are always doing good in their community – so they can do all this work too, and they won't be needing your help?
I thought you'd be enthusiastic, Fred! Yes, this does indeed seem like a way for you to have your cake and eat it: the government won't make you contribute a thing, but you'll still be able to use those middle-class public services you love, such as your local library, because people like Valerie will volunteer their time and money to run them for you. What's more, the volunteers will take care of the criminals and other assorted needy people too. What's that? You're a bit concerned that Valerie and associates might not be able to raise enough money for the library's expensive bills like roof repairs, computers and new books without contributions from others? Well, I suppose that is a bit of a worry. But Cameron says  we could loan these volunteer groups all the money left "dormant" in abandoned and unclaimed bank accounts. For that matter, there's a bunch of money left dormant at the bottom of the fountain in the town square – I've seen it myself! That would help them out for a while. What kind of a budget do these public services really need anyway?
What's that, Fred? You're not so popular with Valerie, and you're anxious about whether you'll still be allowed to use the library? Of course you will be, Fred, the library won't be privatised. It will be run on a non-profit basis and it'll still be open to the whole public, because it will still be a public service. Valerie and associates will have to let you in.
Why are you laughing, Fred? Oh, right, I see. I guess Valerie and associates are going to feel like a bunch of idiots when they see people like you coming to use the facilities as usual, while refusing to make any contribution. They will see how smart you are, yes, no doubt. But you shouldn't be laughing!  They could get quite upset about that.
What's that, Fred? You don't care about Valerie's feelings, you only really care about what's best for you? Oh, but that's a bit selfish – you should care about them! Well, old habits die hard; I see you'll never learn empathy at your age. But wait – haven't you got perfectly selfish reasons for thinking this is no laughing matter? I mean, Valerie and associates are working hard and paying the cost of running the library and all the other services you want the community to have, right? Then you come in and use whatever you want without making any contribution. Won't they think to themselves: "Hang on a minute, Fred and his  friends are just taking advantage of me here. Why should I be paying and working to run the services that Fred – who's better off than me – gets for nothing?"
What do you think they are going to do then, Fred? Do you think they'll keep working hard and paying for everything so you and your free riding friends can use it? Don't you think they'll start doubting that "we're all in this together" and lose their "passion" for providing these services when they see what you're up to? The volunteers will most likely drift away and the library will most likely close down, won't it Fred?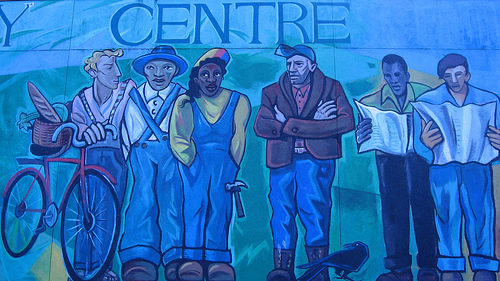 You look very thoughtful, Fred! You want the library to stay open for at least your use, you say? You're even willing to volunteer there yourself if that's what it takes? Oh well, that's wonderful, and quite unlike you, if you don't mind my saying so!  But I should warn you that you might still have a struggle to keep the library open. After all, you won't be able to run it and pay for it all on your own. And there are lots of other free riders just like yourself who are surely going to take advantage without contributing. How will you feel about that? And how will the other volunteers feel about it? You'll be carrying a very heavy and unfair burden. That's just the down side of the "freedom" the Big Society will give everyone. It's freedom to free ride! But do you think you can afford the costs when such a small group of you will be paying them? And even if you can, are you going to stay motivated even while many others are taking advantage of you?
What's that, Fred? You think it would be better if you didn't have to shoulder an unfair burden? You wonder if there's some way we could get just about everyone who is able to help, to come together and chip in, and to really take responsibility for services like this? You're wondering if we could somehow get the whole community involved?
Oh, but there is a way, Fred – there is a highly developed technological solution for exactly this problem. It's definitely not the most fashionable thing, and some people consider it antiquated, 20th century technology. You hardly ever hear our politicians recommend using this technology in public these days, even though most politicians aren't averse to quietly using it for many essential purposes. It's called democratic government, and progressive taxation.
--
Sources of Cameron quotes:
http://www.number10.gov.uk/news/speeches-and-transcripts/2010/07/big-society-speech-53572
http://www.number10.gov.uk/news/speeches-and-transcripts/2011/02/pms-speech-on-big-society-60563
Image credits:
Photos of mural at Ray-Cam Community Centre, Vancouver from dooq's flickr photostream (CC BY-NC-SA 2.0).
28 Responses to What is the Big Society?