by Roger Crisp
On 2 November 2023, at one of the most well-attended (in-person and remotely) New St Cross Ethics seminars to date, Professor Predrag Cicovacki, Professor Emeritus in Philosophy at the College of the Holy Cross, Worcester, MA, USA presented a fascinating lecture on 'Morality and Personality'.
Written by Martin Sand & Karin Jongsma
The recently released Christopher Nolan movie "Oppenheimer" proves to be a phenomenal movie that deserves being watched on screen. Despite its 3 hours length, "Oppenheimer" is an intriguing portrayal of a genius, albeit somewhat narcissistic character, who – in the second half of the movie – seemingly regrets being involved in the development and deployment of the atomic bomb. "Oppenheimer" is much more than a biography of a memorable scientist; it's a tale of the complex relation between science and politics, and the complexity of moral decision-making in an uncertain world faced with unprecedented suffering and cruelty. It provides insights into how the political climate in the "era of ideologies" (Karl Dietrich Bracher) could make it difficult for scientists to have left-leaning views, while pursuing successful scientific careers in the US. Those times and experiences are worth recollecting, also for ongoing discussions about censorship and academic freedom. Continue reading →
This article received an honourable mention in the graduate category of the 2023 National Oxford Uehiro Prize in Practical Ethics
Written by University of Manchester student Thomas Long
Abstract
This essay presents, first and foremost, the recollections of a doctoral anthropologist as they attempt to make sense of a moment of embodied, ethical dissonance: a moment where the "familiar" of their own ethical positionality was suddenly and violently made very "strange" to them through participation in applause. Applause is one of the most practical ways we can perform our support for a cause, idea or individual within corporeal social space. Through a vignette, I examine the ethical challenge presented by my own, unexpected applause – applause for the Pro-Life movement – that occurred during fieldwork with Evangelical Christians in the U.S.A. I use this vignette to question the impact of the field on an anthropologist's capacity to practice what they see as good ethics, and in doing so, consider the practical ethical limits of conducting ethnographic research with so called "repugnant cultural others" (Harding 1991). I argue that moments of uncomfortable alienation from one's own perceived ethical positionality present not a moral, but a conceptual challenge, in that through this alienation the elasticity of our ethical selves is laid bare. I conclude by suggesting that the challenge presented by doing ethnography with ethically divergent interlocutors constitutes an "object dissolving critique" (Robbins, 2003, p.193) of our implicit conception of what it means to be a coherent ethical subject at all. Continue reading →
Guest post by Morgan Carpenter, bioethicist; co-founder and executive director, Intersex Human Rights Australia; Magda Rakita co-founder and executive director, Fundacja Interakcja (Poland), and co-chair, OII Europe; and Bo Laurent, founder, Intersex Society of North America
We love Greta Thunberg. But we were hurt and disappointed that she chose "small dick energy" as a pejorative in her recent Twitter exchange with the self-proclaimed "misogynist influencer" Andrew Tate. This particular choice of words was not, in our view, the self-evidently praiseworthy retort that many progressive commentators took it to be.
Don't get us wrong. Rhetorically taking someone down a notch is undoubtedly sometimes appropriate. Especially if they have an inflated ego, an objectionable moral character, and regularly disrespect others, as appears to be the case with Tate.
We aren't against mocking misogynists.
But we are against doing so by alluding to, or making disparaging comments about, body parts or mental attributes possessed by marginalized people — people who suffer unjust stigma due to those very traits. Continue reading →
Written by Hossein Dabbagh – Philosophy Tutor at Oxford University
hossein.dabbagh@conted.ox.ac.uk
We have the right, ceteris paribus, to ridicule a belief (its propositional content), i.e., harshly criticise it. If someone, despite all evidence, for instance, believes with certainty that no one can see him when he closes his eyes, we might be justified to practice our right to ridicule his belief. But if we ridicule a belief in terms of its propositional content (i.e., "what ridiculous proposition"), don't we thereby "insult" anyone who holds the belief by implying that they must not be very intelligent? It seems so. If ridiculing a belief overlaps with insulting a person by virtue of their holding that belief, an immediate question would arise: Do we have the right to insult people in the sense of expressing a lack of appropriate regard for the belief-holder? Sometimes, at least. Some people might deserve to be insulted on the basis of the beliefs they hold or express—for example, politicians who harm the public with their actions and speeches. However, things get complicated if we take into consideration people's right to live with respect, i.e., free from unwarranted insult. We seem to have two conflicting rights that need to be weighed against each other in practice. The insulters would only have the right to insult, as a pro tanto right, if this right is not overridden by the weightier rights that various insultees (i.e., believers) may have. Continue reading →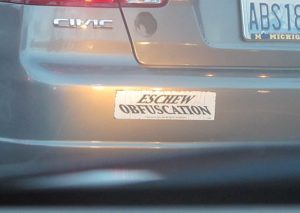 Written by Mette Leonard Høeg
At the What's the Point of Moral Philosophy congress held at the University of Oxford this summer, there was near-consensus among the gathered philosophers that clarity in moral philosophy and practical ethics is per definition good and obscurity necessarily bad. Michael J.  Zimmerman explicitly praised clarity and accessibility in philosophical writings and criticised the lack of those qualities in especially continental philosophy, using some of Sartre's more recalcitrant writing as a cautionary example (although also conceding that a similar lack of coherence can occasionally be found in analytical philosophy too). This seemed to be broadly and whole-heartedly supported by the rest of the participants.

Written by Mette Leonard Høeg
The common intuition in literary criticism, in art criticism in general and in the public cultural sphere is that it is wrong to engage in criticism of a work if you have a personal relation to its author. The critic who reviews the book of a friend, a professional contact or a former lover is biased and could draw private benefits from this, have ulterior motives of revenge or social/professional advancement. It is the convention in literary criticism to strive for objectivity in the assessment and review of a work, and the critic is generally expected to refrain from referencing personal experiences and using private and autobiographical material, in order to be considered professional, expertly and ethically responsible.
Written by Alex Polyakov, The University of Melbourne and Julian Savulescu, University of Oxford
One glaring exception appears to be the majority of western pharmaceutical companies that continue to supply medicines and equipment.
There is growing political and consumer pressure on these companies to take steps to join the concerted efforts designed to pressure the
Russian government to stop the war in Ukraine. Continue reading →
Written by Maximilian Kiener
On December 1 1955, in Alabama, Rosa Parks broke the law. But Parks was no ordinary criminal trying to take advantage of others. She merely refused to give up her seat on a bus to a white person and was arrested for this reason alone. Parks is a hero because she stood up, or rather sat down, for the rights of black people.
Among other things, Parks taught us that we shouldn't take the law too seriously, since a legal prohibition does not always imply a moral prohibition. In fact, there can be cases where we should actually do what the law forbids.
But we can extend Parks' lesson and add another scenario where we shouldn't take the law too seriously. Just as legal prohibitions (such as not to occupy seats reserved for white people) do not always determine what we should do, legal permissions, or rights, cannot determine what we should morally do either.
Consider the UK government, which now permits its citizens to visit public places without wearing masks, despite surging COVID infection rates. Does that permission mean that people in England now have good reasons to abandon their masks? Continue reading →
This essay was the winning entry in the graduate category of the 6th Annual Oxford Uehiro Prize in Practical Ethics.
Written by University of Oxford student, Maya Krishnan.
Introduction
Late one night in Managua, Nicaragua, a man punched Leslie Jamison in the face and then ran away with her camera. Jamison called the police. Forty minutes later, a police truck pulled up with a man in the back. A sense of discomfort informs Jamison's subsequent narration of the incident in her essay collection, The Empathy Exams (2014). Jamison found herself occupying a morally fraught role: that of a white American in Nicaragua who got the police to try to hunt down a likely significantly poorer man. Had she done something wrong by calling the police? Continue reading →