The MSt offers high-quality training in practical ethics, drawing on the internationally recognised expertise of Oxford's Uehiro Centre for Practical Ethics, the Ethox Centre and the Faculty of Philosophy.
Applications for entry to the MSt in 2022-23 are currently closed. Entry for 2023-24 will open in Autumn this year, and will be available here.
Applications for the modules as standalone courses are still available.
This flexible, part -time course consists of six modules and a dissertation. The MSt in Practical Ethics is a part-time course consisting of six taught modules and a dissertation. Modules may also be taken as standalone courses. Continue reading →
In this Thinking Out Loud interview with Katrien Devolder, Philosophy Professor Peter Railton presents his take on how to understand, and interact with, AI. He talks about how AI can have moral obligations towards us, humans, and towards each other, and why we, humans, have moral obligations towards AI agents. He also stresses that the best way to tackle certain world problems, including the dangers of AI itself, is to form a strong community consisting of biological AND AI agents.
by Dominic Wilkinson @Neonatalethics
Tonight, the European Court responded to Archie's parents' request for a final appeal against the decision by a series of UK courts to end the treatment keeping him alive.
What happened in the European Court?
The European Court provided a rapid answer to the application by Archie's lawyers earlier on Wednesday. It said that it would only issue an interim measure (a legal halt to the planned withdrawal of treatment) in exceptional circumstances, where there is a real risk of irreversible harm. In Archie's case, the European Court denied the application for an interim measure. It would not interfere with the decision of the UK's national courts.
Although the court press release did not say it in so many words, the implication is twofold. First, this case is not exceptional. Other cases around life-sustaining treatment for children  have attempted to appeal in the European Court. None of those appeals have been successful. Second, the plan by the courts to allow withdrawal of treatment for Archie is not posing a risk of irreversible harm. Quite the opposite. The UK courts have reluctantly decided that the least harmful thing they can do at this point is to stop the invasive treatments that are keeping him alive, and to let him go.
What happens next?
At this point, there appear to be no further avenues for legal appeal.
In some of the previous cases (for example the case of Charlie Gard), after appeal to the European Court was unsuccessful, families have attempted to bring new evidence back to the court and delayed decisions further. But in none of those cases, has this changed the final outcome. In Archie's case, his legal team have said that they wish to file a legal application to bring him to a hospice for his end of life care.
What is the question about a hospice?
Hospices are specialised centres that provide care for children or adults who have illnesses that cannot be cured and that will shorten their lives. Hospices provide an invaluable source of comfort and care when other types of medicine may have run out of options.
Hospices provide
palliative care.
This includes
support for difficult to control symptoms . That can be provided sometimes over a long period of time, and patients may spend periods of time in hospice and periods of time at home. Hospices also provide outreach support to many children and adults with terminal illnesses. Again, this can be over a period of months or years.
Hospices also provide care for patients at the very end of their lives, when they are dying. This is
end of life care
.
For children like Archie, critically dependent on life support machines, sometimes it is possible to take them to a hospice for their end of life care. The life support machines are removed in the hospice, and the child and family provided with specialised medical and nursing care. Some children can survive for a period of hours or days or even longer after the machines are taken away. The hospice can provide a dignified, private space for the family to spend with their child, to make the most of the last precious time that they have with them. As a specialist in intensive care for babies, I have been involved in such transfers on a number of occasions. This can be enormously helpful for the families and the child in some cases.
Archie's parents wish to take him to a hospice. That might enable his family to spend his final moments in a place that was free of the conflict and bitter disagreement that has marked his recent months in hospital.
If it is possible to transfer Archie to a hospice, this should certainly be arranged.
However, based on the specialist reports about Archie's physical condition in the court hearings, I suspect that this will not be possible. Put simply, the risk is that Archie would die in the back of an ambulance on the way to the hospice. He has been able to be kept stable over this long period of time only through constant careful attention of intensive care staff. His condition is fragile.
If he were to die while being transferred, that would be a potentially stressful, distressing, and undignified end to this sad and sorry saga. It would be bad for Archie and bad for his family.
What about treatment in other countries?
Archie's parents have claimed that doctors in other countries (for example Japan, Italy) have offered to treat Archie.
But if a move to a local hospice would be risky, an international transfer would be even more so.
More importantly, there are no treatments in Japan or Italy or anywhere else that offer any prospect of helping Archie. He has devastating damage from lack of oxygen to his entire brain (and further severe damage to his spinal cord). Although at some point in the future that might change, at the present, very sadly, there is no medicine on earth that could undo that damage and help Archie. All the treatments overseas would do, would be to keep his physical body alive, while offering no possibility of him recovering. That is something the UK courts have carefully considered already and ruled out on the basis that this would be harmful to Archie, and not in his best interests.
No conflicts of interest
By Maximilian Kiener
In March 2022, Philippines President Rodrigo Duterte signed a bill that increased the minimum age for sexual consent from 12 to 16 years. This bill marked a significant change to a previous law that dated back to 1930.[1] International Organisations have advocated for a changed in the Philippines for a long time and welcomed the new bill. 'Having this law is a very good protective instrument for our children from sexual violence, whether or not it starts online or whether or not it also starts in a face-to-face encounter', commented Margarita Ardivilla, a UNICEF child protection specialist.[2]
To the Western World, the Philippines' new bill seems obvious and overdue. After all, most other countries already specify the age of 16 for consent to sex or health care. But we should not feel complacent too quickly. In fact, there might be more to do to protect children and adolescents. Although most countries now convergence on 16 as the age of consent, they still have a much lower age for criminal responsibility, that is they punish children much earlier than they allow them to consent.
Consider the following case from the UK. On Friday 12th February 1993 in Liverpool, UK, Robert Thompson and Jon Venables murdered the two-year-old James Bulger. At the time of their appalling crime, Thompson and Venables were only ten years old, an age at which they would not have been able to give legally valid consent to their own healthcare, or to sex. Yet, the authorities considered them criminally responsible and made them the youngest convicted murderers in 20th-century Britain.[3]
Although this is an extreme case, it illustrates a more general fact: the age at which children become criminally responsible is often considerably lower than the age at which they become able to give legally valid consent. Noroozi et al. found that in 80% of countries with clearly defined ages for consent and responsibility, the age of criminal responsibility is still about 2 to 8 years lower than the age of consent.[4]
This situation should make us think. Now that we agree that the age of consent should be around 16, and not 10 or 12, let's think about the age of criminal responsibility too. Why should children or adolescents be criminally responsibility for their deeds when they could not possibly give consent to anything important in their lives?
Those who support a lower age for criminal responsibility often pursue one of two routes, neither of which is convincing.
First, they argue that consent requires greater mental capacity, or reasoning skills, than responsibility. When deciding whether to consent, one needs to be able to understand one's own prudential interests, values, and the potentially intricate consequences of one's decision, and doing so requires a great deal of intellectual and emotional maturity. On the other hand, understanding that one should not murder, steal, or break other fundamental norms, is pretty straightforward and everyone with a basic grasp of our social interactions should be able to master this.
But this line of reasoning is not convincing. Morality is not just about regurgitating slogans. It requires understanding, more fundamentally, what we owe each other as fellow moral beings. Moreover, sometimes, the situations regarding consent and responsibility could be very similar. Consider the fictitious case of the 15-year-old Mary who can be convicted of murder but cannot refuse her own life-saving treatment. In both cases, Mary needs to understand the concepts of death and fatal action, and it may therefore be inconsistent to hold Mary responsible for murder but then deny her ability to validly refuse treatment for herself. So, on purely capacity-based terms, a categorical divergence between the age of consent and the age of responsibility lacks warrant.
A second argument for a lower age of responsibility often refers to a policy of being 'tough on crime'. Being tough on crime means sending a clear signal to children and adolescents that their wrongs will be prosecuted and punished.
Yet, this policy presupposes that children possess sufficient competence to understand the signal. Therefore, this approach cannot justify a lower age of responsibility independent of a psychological assessment of children's competence. If children at 10 years old cannot sufficiently understand relevant moral and legal norms, there is simply no point in sending them 'a clear signal'. Consider again the ten-year-old Thompson, one of the children who killed James Bulger, who is reported to have asked the police whether they took his victim James to the hospital 'to get him alive again'.[5] Such a child is very unlikely to have understood the fatal nature of his acts, let alone their moral repugnance. Thus, being tough on children like him is very unlikely to deter children of similar competence.
Thus, the view that the age of responsibility should always be lower than the age of consent cannot be justified. We need a more fine-grained approach and should be particularly critical of wide age gaps, like those in the UK, where the age of criminal responsibility is 10 and the age of consent to much in life is 16.
For this reason, the news from the Philippines about the age of consent should be the start, not the end, of a conversation on how to best protect children and adolescents. It should prompt us to think about the age of criminal responsibility too and reform the law in ways that make it coherent across different domains.
[1] https://www.reuters.com/world/asia-pacific/philippine-leader-approves-bill-raising-sex-consent-age-12-16-2022-03-07/
[2] https://theaseanpost.com/geopolitics/2022/mar/09/philippines-raises-age-sexual-consent-16
[3] https://en.wikipedia.org/wiki/Murder_of_James_Bulger
[4] https://ebmh.bmj.com/content/21/3/82.abstract
by Dominic Wilkinson
In the latest legal hearing, in a long running dispute about treatment for brain-injured 12 year old Archie Battersbee, the Court of Appeal yesterday rejected his family's request to delay stopping treatment until a UN committee had reviewed his case.
Why was the appeal rejected?
Archie's parents had previously mounted a series of legal appeals against a decision by Justice Hayden in mid-July that it would be best for Archie to stop the life support machines that are keeping him alive. That included an appeal to the highest court in the UK, the Supreme Court.
Yesterday, the Court of Appeal concluded that it would be wrong to further delay the decision. The UN committee had no legal status in UK law, and therefore would not change the decision about what would be best for Archie.
What is the underlying issue?
Archie sustained profound brain damage from lack of oxygen in early April, when he was found at home with a ligature around his neck. All medical experts who have examined him have agreed that he has absolutely devastating brain damage, from which there is no possibility of recovery. Indeed, the doctors treating him initially believed that the brain damage was so severe that he was brain dead. However, the Court of Appeal in another hearing back in June found that Archie could not be declared brain dead (because the usual testing for brain death was not possible). But even if he is not brain dead, there remains a question about whether it is right to keep him alive.
How common are these disputes?
Tragically, for a small number of children who become critically ill each year, medicine reaches its limits. For children like Archie, doctors cannot make them better, and advanced medical techniques and technologies may end up doing more harm than good. Sometimes, all medicine can do is to prolong the inevitable.
It is entirely understandable that loving parents would struggle to understand or accept this news. Many parents might not initially accept the advice of doctors that it may be best to let their child go.
But in the vast majority of cases, with patience, compassion, careful explanation and empathic support, parents and doctors are able to come together to agree on what would be best for a seriously ill child.
In a small number of cases, medical teams may need external help to reach an agreement. For example, they may draw on a clinical ethics committee, or independent mediation, or may seek second opinions from specialists in other hospitals. In a tiny proportion of cases, if parents and doctors cannot agree what would be best, for a child who is stuck on life support in an intensive care unit, the right thing to do is to ask the court to help. The court in the UK has an important role in resolving disagreements about treatment. The court does not side with either doctors or parents. It focuses exclusively on what would be best for the child (the child's best interests).
Why all the legal appeals?
The UK legal system allows decisions to be appealed to higher courts. In these cases about treatment for children, it is very rare for higher courts to reach a different decision than the initial judges. In cases, like the Charlie Gard case, or Archie's case, parents may seek appeals repeatedly in the hope that the court decision will be overturned, or perhaps as a way of buying extra time.
In Archie's case, it appears that his parents may have run out of options, though it is theoretically possible that they will attempt to appeal again to the Supreme Court, or appeal to the European Court of Human Rights. Even if those appeals do go ahead and delay things further, they are extremely unlikely to change the ultimate decision.
Sadly, the underlying situation for Archie remains unchanged. The best, and only course of action that can help him now, is to let him go.
By Roger Crisp
Your legal duties are what the law demands of you: to pay your taxes, not to park on yellow lines. Moral duties are what morality demands of you: to keep your promises, not to kill the innocent.
Most think it's possible to 'go beyond' your moral duty. Imagine you're one of the 8,477 people who have taken the Giving What We Can pledge to donate 10 per cent of their income to effective charities. It's unlikely anyone would blame you for not giving any more, since it looks as if you're already fulfilling any plausible duty of beneficence. But what if you now start giving 50 per cent? This is not your duty, but of course you won't be blamed. You will be praised for going beyond, way beyond, your duty. Continue reading →
Written by Doug McConnell
The government has recently claimed that their policy to send asylum seekers on a one-way trip to Rwanda as part of the UK-Rwanda Migration and Economic Development Partnership is "completely moral" and responds to an "urgent moral imperative". The justification for these claims is that the policy will act as a "very considerable deterrent" to asylum seekers and break the business model of people smugglers who put asylum seekers at risk of drowning in the English Channel. Needless to say, these claims about the morality of the Rwanda policy are highly contested. Here, I assess whether they stand up to even the most charitable assessment. Continue reading →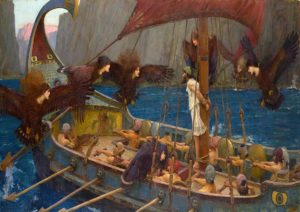 By Charles Foster
[Image: Ulysses and the Sirens: John William Waterhouse, 1891: National Gallery of Victoria, Melbourne]
We shouldn't underestimate Homer's hold on us. Whether or not we've ever read him, he created many of our ruling memes.
I don't think it's fanciful (though it might be ambitious) to suggest that he, and the whole heroic ethos, are partly responsible for our uncritical adoption of a model of autonomy which doesn't do justice to the sort of creatures we really are. That's a big claim. I can't justify it here. But one manifestation of that adoption is our exaggerated respect for advance directives – declarations made when one is capacitous about how one would like to be treated if incapacitous, and which are binding if incapacity supervenes if (in English law) the declaration is 'valid and applicable.' 1.
I suspect that some of this respect comes from the earliest and most colourful advance directive story ever: Odysseus and the Sirens. Continue reading →
by Dominic Wilkinson
Archie is legally alive, and the legal decision about whether it is in his best interests to keep him alive now needs to be revisited in the High Court.
Today, the Court of Appeal made a decision in the case of Archie Battersbee to send the case back to the High Court to examine what should happen next in his medical treatment.
Two questions
There are two separate questions. First, is Archie legally dead. Second, should life support machines continue?