The MSt offers high-quality training in practical ethics, drawing on the internationally recognised expertise of Oxford's Uehiro Centre for Practical Ethics, the Ethox Centre and the Faculty of Philosophy.
Now open to applications for entry in 2022-23, full details on how to apply are available here.
Application deadlines are 12:00 midday UK time on:
Friday 21 January 2022
Latest deadline for most Oxford scholarships
Tuesday 1 March 2022
Final application deadline for entry in 2022-23
Applications for the modules as standalone courses are also available.
This flexible, part -time course consists of six modules and a dissertation. The MSt in Practical Ethics is a part-time course consisting of six taught modules and a dissertation. Modules may also be taken as standalone courses. Continue reading →
Written by Rebecca Brown
In February 2020, just before science journalists had to start writing about covid full time, Tom Chivers wrote an article for Unherd, ''Eugenics is possible' is not the same as 'eugenics is good''. In it he describes a Twitter outcry provoked by Richard Dawkins who tweeted: 
It's one thing to deplore eugenics on ideological, political, moral grounds. It's quite another to conclude that it wouldn't work in practice. Of course it would. It works for cows, horses, pigs, dogs & roses. Why on earth wouldn't it work for humans? Facts ignore ideology.
Chivers analyses the fallout in terms of a distinction between 'high decouplers' and 'low decouplers', a distinction described by the blogger John Nerst, here and also here. Chivers (and Nerst) describe decoupling as a 'magic ritual' that a speaker can perform in order to disassociate the thing they are about to say from all of the baggage that might ordinarily attach to it. So, one might say "I don't think we should kill healthy people and harvest their organs, but it is plausible that a survival lottery, where random people are killed and their organs redistributed, could effectively promote longevity and well-being."
Dominic Wilkinson, University of Oxford
The recent world-first heart transplant from a genetically modified pig to a human generated both headlines and ethical questions.
Many of those questions related to the ethics of xenotransplantation. This is the technical term for organ transplants between species. There has been research into this for more than a century, but recent scientific developments involving genetic modifications of animals to stop the organ being rejected appear to make this much more feasible.
Typical questions about xenotransplantation relate to the risks (for example, of transmitting infection), treatment of the animals, and the ethics of genetic modification of animals for this purpose. Continue reading →
Written by Doug McConnell
Most ethicists would agree that the climate emergency is one of the most serious ethical problems society has ever faced, yet the focus of most of our work is elsewhere. In his piece, "Philosophical Fiddling While the World Burns", Charles Foster suggests that business as usual for ethicists – "fine ethical tuning" and making "subtle distinctions" – amounts to shuffling the deck chairs when we know the ship is heading for an iceberg. Here I argue that, frustratingly, most ethicists qua ethicists have a limited role in responding to the climate emergency. However, this doesn't mean we should despair but, rather, that we should also contribute to addressing the climate emergency outside the ivory tower qua citizens. Continue reading →
By Dominic Wilkinson, Julian Savulescu and Jonathan Pugh
The decision about whether to grant tennis star Novak Djokovic a visa allowing him to stay in Australia to compete in the Australian Open Championship has generated significant controversy. Last week, the Australian Immigration minister exercised his power to cancel the player's visa on the grounds of 'health and good order' on the basis that it was in the public interest to do so. Djokovic's lawyers have called the decision 'patently irrational' and have announced that they will appeal. Continue reading →
There are many corrosive forms of discrimination. But one of the most dangerous is the bias in favour of consciousness, and the consequent denigration of the unconscious.
We see it everywhere. It's not surprising. For when we're unreflective – which is most of the time – we tend to suppose that we are our conscious selves, and that the unconscious is a lower, cruder part of us; a seething atavistic sea full of monsters, from which we have mercifully crawled, making our way ultimately to the sunlit uplands of the neocortex, there to gaze gratefully and dismissively back at what we once were.  It's a picture encoded in our self-congratulatory language: 'Higher cognitive function'; 'She's not to be blamed: she wasn't fully conscious of the consequences.': 'In the Enlightenment we struck off the shackles of superstition and freed our minds to roam.' Continue reading →
By Rebecca Brown
The COVID-19 pandemic has highlighted various cracks in the function of our public institutions. One notable concern is the way in which scientific – including health – information is communicated to the public. Communication can serve different purposes. In the context of COVID-19, communication has been essential: describing the nature of the novel coronavirus, the risks it posed to health, the measures likely to reduce its spread. Some of this communication was aimed at changing people's behaviour in order to control the infection. For instance, people were told to wash their hands regularly, for at least 20 seconds, and to avoid touching their face. Much of this information was uncertain. Emerging data on COVID-19 presented ever-changing estimates for infection and case fatality rates.
There are particular demands that are made of health communication. It needs to reach a wide audience, delivering often quite technical, uncertain information to people with varying degrees of health literacy. It needs to encourage behaviours likely to promote individual and public health and avoid causing unnecessary panic and alarm. It must also, one might argue, avoid misleading people about the facts as they are best understood. This last point suggests that health communication should adhere to the demands of honesty. 
By Ben Davies
In the early hours of Friday morning last week, the long-Conservative UK constituency of North Shropshire caused some political upset (and no little political joy) by electing a Liberal Democrat, Helen Morgan.
It is hard to exaggerate quite how significant a swing this was: the previous Conservative MP, Owen Paterson, whose resignation around accusations of corruption promoted the by-election, had a majority of nearly 23,000 when he was re-elected in 2019. Morgan beat the new Conservative candidate by nearly 6,000.
How was all this possible? One factor will likely have been Conservative voters staying at home, and a few switched to other right-wing parties. But at her acceptance speech, Morgan acknowledged that it was highly likely that voters who would have preferred a Labour MP (the party saw a collapse in its vote share) or a Green MP, lent her their support in order to have the best chance of avoiding a Conservative win. This will lead some to call again for a more formal electoral pact at the country's next General Election, whereby Labour, the Liberal Democrats and the Greens agree to stand down candidates in seats currently occupied by a Conservative, and where there is a reasonable chance of one of these three parties winning if their anti-Tory rivals stand aside.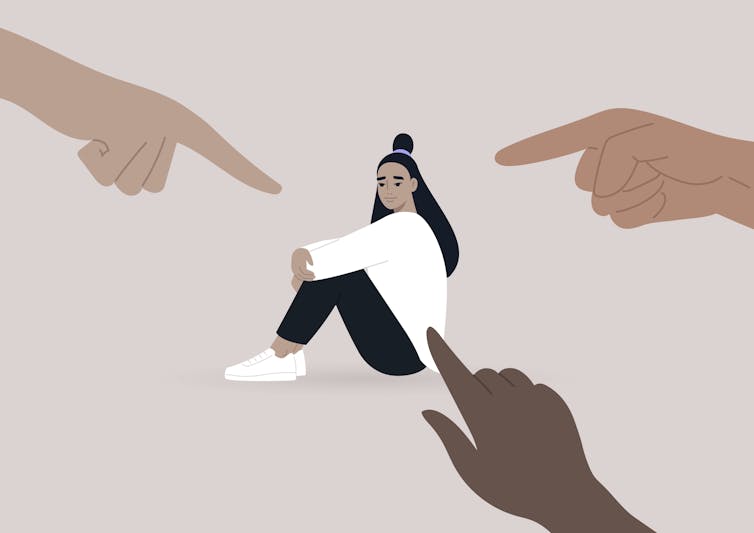 Julian Savulescu, University of Oxford and Alberto Giubilini, University of Oxford
Unvaccinated mother, 27, dies with coronavirus as her father calls for fines for people who refuse jab.
This is the kind of headline you may have seen over the past year, an example highlighting public shaming of unvaccinated people who die of COVID-19.
One news outlet compiled a list of "notable anti-vaxxers who have died from COVID-19".
There's shaming on social media, too. For instance, a whole Reddit channel is devoted to mocking people who die after refusing the vaccine.
COVID-19 vaccinations save lives and reduce the need for hospitalisation. This is all important public health information.
Telling relatable stories and using emotive language about vaccination sends a message: getting vaccinated is good.
But the problem with the examples above is their tone and the way unvaccinated people are singled out. There's also a murkier reason behind this shaming.
by Roger Crisp
For some, the end-of-year holiday offers a little time for relaxation, and perhaps also some general reflection independent of the particular issues one has been thinking about over the year. I'd like to recommend starting with the concepts you use, both to frame ethical questions, and to answer them. Continue reading →