This essay was the runner up in the graduate category of the 6th Annual Oxford Uehiro Prize in Practical Ethics.
Written by University of Oxford student Matthew Minehan.
INTRODUCTION
Sally is a healthy young woman who suffers catastrophic brain trauma. Over many months, her doctors subject her to functional Magnetic Resonance Imagining (fMRI) scans and other assessments that leave them in no doubt that she is in a vegetative state. While she shows sleeping and waking activity patterns, her body is operating on 'automatic' and she has no consciousness. She is "incognizant, incapacitated and insensate" (Fenwick 1998, p.86).
Sally's doctors are aware of a new treatment that, if administered, would move her from the vegetative state to a minimally conscious one. This new state would involve fractured consciousness, a lack of awareness of her condition, an inability to direct her own life and an incapacity for complex thought. Because Sally has no known next of kin and issued no advance directive, the decision on her treatment is left to her medical team.
Should the doctors in this hypothetical scenario administer the treatment to Sally? Continue reading →
Written by Dominic Wilkinson, University of Oxford
This article was originally published on The Conversation
Waiting is never easy. Sometimes the period when you know that something bad is coming is almost harder than when it finally arrives.
Across the health service, there is an enormous and unprecedented effort underway to prepare for the coming surge of patients needing hospital treatment for coronavirus. Looking across to the experience in Italy, Spain and Germany, we know that there is a tsunami coming – a tidal wave of medical need that will swamp us, test us, sweep some of us away.
The analogy with a tsunami is apt because we are at the moment when the waters pull back before the great wave arrives. Some hospitals are eerily quiet; elective surgery has stopped, and some wards have been emptied. Our healthcare workers are anxiously waiting and preparing for what is coming.
Of course, many ordinary people are also waiting, not knowing exactly what lies ahead and fearing the worst. How can they, how can we – all of us – prepare?
The answer is not to panic. But nor should we ignore or downplay the seriousness of the situation. And certainly, it is not to stockpile pasta or loo paper. Continue reading →
By Ben Davies
Most people accept that patients have a strong claim (perhaps with some exceptions) to be told information that is relevant to their health and medical care. Patients have a Right to Know. More controversial is the claim that this control goes the other way, too. Some people claim, and others deny, that patients also have a Right Not to Know.
A number of considerations (harm to the patient; autonomy; privacy) have been marshalled on either side of this debate over the past few decades (e.g. Laurie 2004; Robertson and Savulescu 2001; Herring and Foster 2012; Takala 2019). In this post, I focus on a distinct argument and its apparently unassailable logic. This is the view that a comprehensive Right Not to Know cannot be justified because in many cases a patient's ignorance will likely lead harm to third parties (Council of Europe 1997; Rhodes 1998; Harris and Keywood 2001).
Written by Gabriel De Marco
Suppose that two patients are in need of a complicated, and expensive, heart surgery. Further suppose that they are identical in various relevant respects: e.g., state of the heart, age, likelihood of success of surgery, etc. However, they differ on one feature: for one of these patients, call her Blair, the need for the heart surgery is due to her lifestyle (suppose she was a smoker), whereas the other, Ingrid, has not had this lifestyle, nor any other that would lead to the need for the surgery.
Some people think that:
We can be responsible and blameworthy for our actions and their consequences.
Some of those people also think that:
We can, or should, take this into account when making decisions about how to distribute healthcare resources.
For the purposes of this blog post, let's assume 1 and 2 are true. Commonly, it is thought that, in order to be blameworthy for something, one must be responsible for it. Further, it is commonly thought that, whatever the appropriate response is to blameworthiness for something or other (assuming that there is an appropriate response), it will be negative in some sense or other. Now further suppose that Blair is blameworthy for her illness. Given 1 and 2, this fact about Blair, combined with the fact that Ingrid is innocent with regard to her illness, suggests that, at least in some contexts, we should treat them differently (or at least it would be permissible to do so). Call a healthcare policy that adopts, and reflects, 1 and 2 a Responsibility-Sensitive Policy, or RSP for short.
On Sunday 3 November, OUC's Dr Alberto Giubilini participated in a debate on compulsory vaccination at 2019 Battle of Ideas Festival (Barbican Centre, London). Chaired by Ellie Lee, the session also featured Dr Michael Fitzpatrick (GP and author, MMR and Autism: what parents need to know and Defeating Autism: a damaging delusion); Emilie Karafillakis (Vaccine Confidence Project); and Nancy McDermott (author, The Problem with Parenting: a therapeutic mode of childrearing).
Written by Tess Johnson, University of Oxford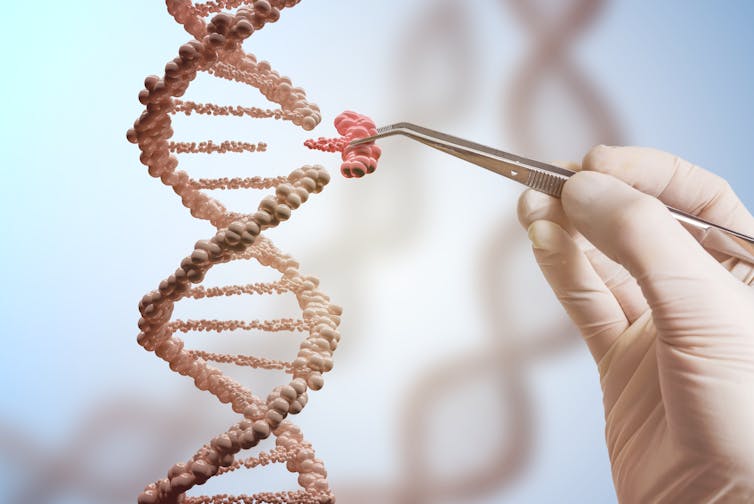 How far will we allow genetic enhancement to go?
vchal/ Shutterstock
The first genetically edited children were born in China in late 2018. Twins Lulu and Nana had a particular gene – known as CCR5 – modified during embryonic development. The aim was to make them (and their descendants) resistant to HIV. By some definitions, this would be an example of human enhancement.
Although there is still a long way to go before the technology is safe, this example has shown it's possible to edit genes that will continue being inherited by genetic offspring for generations. However, we don't yet know what effect these genetic changes will have on the overall health of the twins throughout life. Potential unintended changes to other genes is a grave concern which is limiting our use of gene editing technology at the moment – but this limit won't always be present. Continue reading →
Written by Ben Davies
Last week saw the launch of a campaign (run by the group Vegetarian For Life) that seeks to ensure that older people in care who have ethical commitments to a particular diet are not given food that violates those commitments. This is, as the campaign makes clear, a particularly pressing issue for those who have some form of dementia who may not be capable of expressing their commitment.
Those behind the campaign are quite right to note that people's ethical beliefs should not be ignored simply because they are in care, or have a cognitive impairment (see a Twitter thread where I discuss this with a backer of the campaign). But the idea that one's dietary ethics must be 'for life' got me thinking about a more well-established debate about Advance Directives. (I should stress that what I say here should not be taken to be imputing any particular motivation or philosophical commitments to those behind the campaign itself.)
Written by Dr Alberto Giubilini and Dr Samantha Vanderslott
This article was originally published on the Oxford Martin School website.
Following the publication of figures showing UK childhood vaccination rates have fallen for the fifth year in a row, researchers from the Oxford Martin Programme on Collective Responsibility for Infectious Disease discuss possible responses.
Alberto Giubilini: Yes, "we need to be bold" and take drastic measures to increase vaccination uptake
In response to the dramatic fall in vaccination uptake in the UK, Health Secretary Matt Hancock has said that "we need to be bold" and that he "will not rule out action so that every child is properly protected". This suggests that the Health Secretary is seriously considering some form of mandatory vaccination program or some form of penalty for non-vaccination, as is already the case in other countries, such as the US, Italy, France, or Australia. It is about time the UK takes action to ensure that individuals fulfil their social responsibility to protect not only their own children, but also other people, from infectious disease, and more generally to make their fair contribution to maintaining a good level of public health. Continue reading →
Written by Rebecca Brown, Stephanie Tierney, Amadea Turk.
This post was originally published on the NIHR School for Primary Care Research website which can be accessed here. 
Health problems often co-occur with social and personal factors (e.g. isolation, debt, insecure housing, unemployment, relationship breakdown and bereavement). Such factors can be particularly important in the context of non-communicable diseases (NCDs), where they might contribute causally to disease, or reduce that capacity of patients to self-manage their conditions (leading to worse outcomes). This results in the suffering of individuals and a greater burden being placed on healthcare resources.
A potential point of intervention is at the level of addressing these upstream contributors to poor health. A suggested tool – gaining momentum amongst those involved in health policy – is the use of 'social prescribing'. Social prescribing focuses on addressing people's non-medical needs, which it is hoped will subsequently reduce their medical needs. In primary care, social prescribing can take a range of forms. For example, it may involve upskilling existing members of staff (e.g. receptionists) to signpost patients to relevant local assets (e.g. organisations, groups, charities) to address their non-medical needs. It is also becoming common for GPs to refer patients (or people may self-refer) to a link worker (sometimes called a care navigator) who can work with them to identify their broader social and personal needs. Together, they then develop a plan for how those needs could be met through engagement with activities, services or events in the local community. The resources that link workers direct people towards are often run by voluntary organisations and might include, among other things, sports groups, arts and crafts, drama, gardening, cookery, volunteering, housing advice, debt management, and welfare rights.
Supporting people to establish more stable and fulfilling social lives whilst at the same time reducing healthcare costs seems like a win-win. However, it is essential to evaluate the justifications for the introduction of social prescribing schemes, including their effectiveness. This raises a number of complicating factors, including some questions that require not just a consideration of empirical evidence, but a commitment to certain philosophical and ethical positions.