Written by Dominic Wilkinson and Jonathan Pugh
This article is republished from The Conversation under a Creative Commons license. Read the original article.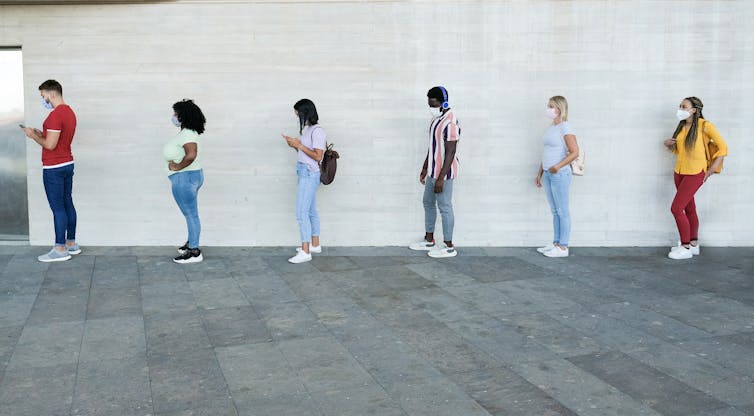 In the UK, an Oxford city councillor has been suspended after mentioning on social media that she had received a COVID vaccination from a private doctor. Meanwhile, media reports suggest that two Spanish princesses, who did not yet qualify for vaccination in Spain were vaccinated while visiting their father in the United Arab Emirates. They are among a number of ultra-wealthy people getting vaccinated in that country.
There have also been reports of people accessing vaccines early in the UK, despite not being in any of the groups prioritised for vaccination at the time.
So how concerned should we be about these cases? Continue reading →
Written By Tom Douglas
This is a (slightly modified) cross-post from The Brussels Times.
Should we all be required to produce a 'vaccine passport'—proving that we have been vaccinated against Covid-19—before being allowed to enter a cafe, travel abroad, or work in a high-risk job?
Some governments are taking tentative steps in this direction. Belgium may require that its soldiers be vaccinated before travelling abroad on peace-keeping missions. In other countries, companies are introducing requirements of their own. Air New Zealand will begin trialling vaccine passports in April.
Many governments have been reluctant to go down this route. Yet the case for vaccine passports is clear: they could allow us to end some lockdown and distancing measures for vaccinated individuals sooner than it would be safe to end them for everyone. This would be a large benefit, since these measures involve severe interference with freedom of movement, and we know that they have serious economic and psychological costs. Continue reading →
After healthcare and some other essential workers, it might seem the most obvious candidates for a Covid-19 vaccine (if we have one) are the elderly and other groups that are more vulnerable to the virus. But Alberto Giubilini argues that prioritising children may be a better option as this could maximise the benefits of indirect immunity for elderly and other vulnerable groups.
By Julian Savulescu and James Cameron
Cross-posted with the Journal of Medical Ethics Blog
Countries all around the world struggle to develop policies on how to exit the COVID-19 lockdown to restore liberty and prevent economic collapse, while also protecting public health from a resurgence of the pandemic. Hopefully, an effective vaccine or treatment will emerge, but in the meantime the strategy involves continued containment and management of limited resources.
One strategy is a staged relaxation of lockdown. This post explores whether a selective continuation of lockdown on certain groups, in this case the aged, represents unjust discrimination. The arguments extend to any group (co-morbidities, immunosuppressed, etc.) who have significantly increased risk of death.
Oxford Uehiro Centre's Director of Medical Ethics, Professor Dominic Wilkinson, has led a UK ethical framework for treatment decisions in acute paediatric settings during the Covid-19 Pandemic.
This ethical framework is a modification of guidance developed for treatment decisions relating to adults. The principles relating to decisions for children in the setting of the pandemic are the same as those for adults. The framework emphasises that decisions should be ethically consistent and apply to patients both with COVID-related and non-COVID related illness.

The focus of the ethical framework provides guidance for a situation where there is extremely high demand and limited critical care capacity. However, it is important to note that at the time of writing (14 April 2020) there is enough paediatric critical care capacity across the UK. At the present time decisions about children in need of critical care should reflect the same fundamental ethical considerations as apply in normal times. Those decisions should be focused on the best interests of the child, and actively involve parents in decision-making.
This essay was the runner up in the graduate category of the 6th Annual Oxford Uehiro Prize in Practical Ethics.
Written by University of Oxford student Matthew Minehan.
INTRODUCTION
Sally is a healthy young woman who suffers catastrophic brain trauma. Over many months, her doctors subject her to functional Magnetic Resonance Imagining (fMRI) scans and other assessments that leave them in no doubt that she is in a vegetative state. While she shows sleeping and waking activity patterns, her body is operating on 'automatic' and she has no consciousness. She is "incognizant, incapacitated and insensate" (Fenwick 1998, p.86).
Sally's doctors are aware of a new treatment that, if administered, would move her from the vegetative state to a minimally conscious one. This new state would involve fractured consciousness, a lack of awareness of her condition, an inability to direct her own life and an incapacity for complex thought. Because Sally has no known next of kin and issued no advance directive, the decision on her treatment is left to her medical team.
Should the doctors in this hypothetical scenario administer the treatment to Sally? Continue reading →
Written by Dominic Wilkinson, University of Oxford
This article was originally published on The Conversation
Waiting is never easy. Sometimes the period when you know that something bad is coming is almost harder than when it finally arrives.
Across the health service, there is an enormous and unprecedented effort underway to prepare for the coming surge of patients needing hospital treatment for coronavirus. Looking across to the experience in Italy, Spain and Germany, we know that there is a tsunami coming – a tidal wave of medical need that will swamp us, test us, sweep some of us away.
The analogy with a tsunami is apt because we are at the moment when the waters pull back before the great wave arrives. Some hospitals are eerily quiet; elective surgery has stopped, and some wards have been emptied. Our healthcare workers are anxiously waiting and preparing for what is coming.
Of course, many ordinary people are also waiting, not knowing exactly what lies ahead and fearing the worst. How can they, how can we – all of us – prepare?
The answer is not to panic. But nor should we ignore or downplay the seriousness of the situation. And certainly, it is not to stockpile pasta or loo paper. Continue reading →
By Ben Davies
Most people accept that patients have a strong claim (perhaps with some exceptions) to be told information that is relevant to their health and medical care. Patients have a Right to Know. More controversial is the claim that this control goes the other way, too. Some people claim, and others deny, that patients also have a Right Not to Know.
A number of considerations (harm to the patient; autonomy; privacy) have been marshalled on either side of this debate over the past few decades (e.g. Laurie 2004; Robertson and Savulescu 2001; Herring and Foster 2012; Takala 2019). In this post, I focus on a distinct argument and its apparently unassailable logic. This is the view that a comprehensive Right Not to Know cannot be justified because in many cases a patient's ignorance will likely lead harm to third parties (Council of Europe 1997; Rhodes 1998; Harris and Keywood 2001).