Laws on genital mutilation, gender affirmation and cosmetic genital surgery are at odds. The key criteria should be medical necessity and consent.
By Brian D. Earp (@briandavidearp)
———————-
In Ohio, USA, lawmakers are currently considering the Save Adolescents from Experimentation (SAFE) Act that would ban hormones or surgeries for minors who identify as transgender or non-binary. In April this year, Alabama passed similar legislation.
Alleging anti-trans prejudice, opponents of such legislation say these bans will stop trans youth from accessing necessary healthcare, citing guidance from the American Psychiatric Association, the American Medical Association and the American Academy of Pediatrics.
Providers of gender-affirming services point out that puberty-suppressing medications and hormone therapies are considered standard-of-care for trans adolescents who qualify. Neither is administered before puberty, with younger children receiving psychosocial support only. Meanwhile genital surgeries for gender affirmation are rarely performed before age 18.
Nevertheless, proponents of the new laws say they are needed to protect vulnerable minors from understudied medical risks and potentially lifelong bodily harms. Proponents note that irreversible mastectomies are increasingly performed before the age of legal majority.
Republican legislators in several states argue that if a child's breasts or genitalia are 'healthy', there is no medical or ethical justification to use hormones or surgeries to alter those parts of the body.
However, while trans adolescents struggle to access voluntary services and rarely undergo genital surgeries prior to adulthood, non-trans-identifying children in the United States and elsewhere are routinely subjected to medically unnecessary surgeries affecting their healthy sexual anatomy — without opposition from conservative lawmakers.
Written by Lisa Forsberg, Anthony Skelton, Isra Black
In early September, children in England, Wales and Northern Ireland are set to return to school. (Scottish schoolchildren have already returned.) Most will not be vaccinated, and there will be few, if any, measures in place protecting them from COVID-19 infection. The Joint Committee on Vaccination and Immunisation (JCVI) have belatedly changed their minds about vaccinating 16- and 17-year olds against COVID-19, but they still oppose recommending vaccination for 12-15 year olds. This is despite considerable criticism from public health experts (here, here, and here), and despite the UK's Medicines and Healthcare products Regulatory Agency (MHRA) declaring COVID-19 vaccines safe and effective for children aged 12 and up—Pfizer/BioNTech in the beginning of June, and Moderna the other week.
In Sweden, children returned to school in the middle of August. As in the UK, children under 16 will be unvaccinated, and there will be few or no protective measures, such as improved ventilation, systematic testing, isolation of confirmed cases, and masking. Like the JCVI in the UK, Sweden's Folkhälsomyndigheten opposes vaccination against COVID-19 for the under-16s, despite Sweden's medical regulatory authority, Läkemedelsverket, having approved the Pfizer and Moderna vaccines for children from the age of 12. The European Medicines Agency approved Pfizer and Moderna in May and July respectively, declaring that any risks of vaccine side-effects are outweighed by the benefits for this age group.
Written by Lisa Forsberg and Anthony Skelton
In many countries vaccine rollouts are now well underway. Vaccine programmes in Israel, the United Kingdom, Chile, United Arab Emirates, Bahrain and the United States have been particularly successful. Mass vaccination is vital to ending the pandemic. However, at present, vaccines are typically not approved for children under the age of 16. Full protection from COVID-19 at a population level will not be achieved until most children and adolescents are inoculated against the deadly disease. A number of pharmaceutical companies have started or will soon start clinical trials to test the safety and efficacy of COVID-19 vaccinations in children and adolescents. Initial results of clinical trials seem promising (see also here and here).
There are strong reasons to inoculate children. COVID-19 may harm or kill them. It disproportionately affects already disadvantaged populations. For example, a CDC study published in August 2020 found the hospitalisation rate to be five times higher for Black children and eight times higher for Latino children than it is for white children. In addition, inoculating children is necessary for establishing herd immunity and (perhaps more importantly), as Jeremy Samuel Faust and Angela L. Rasmussen explained in the New York Times, preventing the virus from spreading and mutating 'into more dangerous variants, including ones that could harm both children and adults'. Continue reading →
Written by Thomas Moller-Nielsen
News that children in England were to switch to online schooling as part of the country's third national lockdown in response to the Covid-19 global pandemic was met with widespread support in the British press. Doctors, public health specialists, and even teaching unions similarly applauded the decision. (Nurseries, which have remained open during the latest lockdown period, have also been put under heavy pressure to close.)
The justification for the suspension of in-person schooling during this pandemic, however, is far from obvious. Indeed, there are at least two prima facie plausible reasons for scepticism. Firstly, children are far less susceptible to serious infection or death from Covid-19 than adults are. (While the precise figures are open to dispute, the Medical Research Council Biostatistics Unit at the University of Cambridge has estimated that the infection-fatality rate for 5-14 year-olds in England is 0.0013% – which is roughly 24 times smaller than the infection fatality rate for 25-44 year-olds, and approximately 9000 times smaller than the infection-fatality rate for 75+ year-olds.) Secondly, virtual schooling – in addition to being a poor substitute for in-person schooling – is widely recognized to be a key contributing factor in students' increased feelings of stress, depression, and anxiety during the pandemic, and has been similarly linked to many physical paediatric disorders such as juvenile hypertension and obesity.
In other words, it seems that: (i) children are not in serious danger of being (directly) harmed by Covid-19; and (ii) children are in very real danger of being harmed by online schooling. Why, then, should students be required to attend virtual school? Continue reading →
Oxford Uehiro Centre's Director of Medical Ethics, Professor Dominic Wilkinson, has led a UK ethical framework for treatment decisions in acute paediatric settings during the Covid-19 Pandemic.
This ethical framework is a modification of guidance developed for treatment decisions relating to adults. The principles relating to decisions for children in the setting of the pandemic are the same as those for adults. The framework emphasises that decisions should be ethically consistent and apply to patients both with COVID-related and non-COVID related illness.

The focus of the ethical framework provides guidance for a situation where there is extremely high demand and limited critical care capacity. However, it is important to note that at the time of writing (14 April 2020) there is enough paediatric critical care capacity across the UK. At the present time decisions about children in need of critical care should reflect the same fundamental ethical considerations as apply in normal times. Those decisions should be focused on the best interests of the child, and actively involve parents in decision-making.
On Sunday 3 November, OUC's Dr Alberto Giubilini participated in a debate on compulsory vaccination at 2019 Battle of Ideas Festival (Barbican Centre, London). Chaired by Ellie Lee, the session also featured Dr Michael Fitzpatrick (GP and author, MMR and Autism: what parents need to know and Defeating Autism: a damaging delusion); Emilie Karafillakis (Vaccine Confidence Project); and Nancy McDermott (author, The Problem with Parenting: a therapeutic mode of childrearing).
Written by Dr Alberto Giubilini and Dr Samantha Vanderslott
This article was originally published on the Oxford Martin School website.
Following the publication of figures showing UK childhood vaccination rates have fallen for the fifth year in a row, researchers from the Oxford Martin Programme on Collective Responsibility for Infectious Disease discuss possible responses.
Alberto Giubilini: Yes, "we need to be bold" and take drastic measures to increase vaccination uptake
In response to the dramatic fall in vaccination uptake in the UK, Health Secretary Matt Hancock has said that "we need to be bold" and that he "will not rule out action so that every child is properly protected". This suggests that the Health Secretary is seriously considering some form of mandatory vaccination program or some form of penalty for non-vaccination, as is already the case in other countries, such as the US, Italy, France, or Australia. It is about time the UK takes action to ensure that individuals fulfil their social responsibility to protect not only their own children, but also other people, from infectious disease, and more generally to make their fair contribution to maintaining a good level of public health. Continue reading →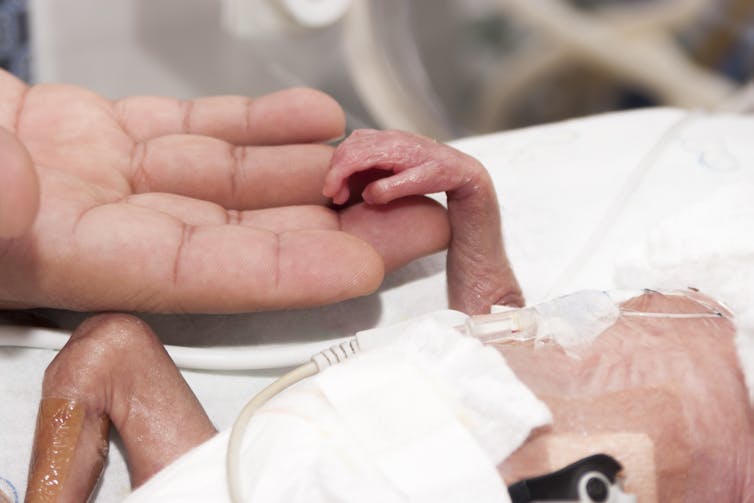 Written by Julian Koplin, University of Melbourne and
Julian Savulescu, University of Oxford
This article is republished from The Conversation under a Creative Commons license. Read the original article.
Researchers have grown groups of brain cells in the lab –
known as 'organoids' – that produce brain waves resembling
those found in premature infants.
from www.shutterstock.com
Scientists have become increasingly adept at creating brain organoids – which are essentially miniature human brains grown in the laboratory from stem cells.
Although brain organoid research might seem outlandish, it serves an important moral purpose. Among other benefits, it promises to help us understand early brain development and neurodevelopmental disorders such as microcephaly, autism and schizophrenia.