How Important Is Population Ethics?
We face very important decisions about climate change policy, healthcare prioritization, energy consumption, and global catastrophic risks.  To what extent can the field of population ethics contribute to real-world decisions on issues like these?  This is one of the central questions being pursued by researchers in the Population Ethics: Theory and Practice project at the Future of Humanity Institute at Oxford University.  The project, overseen by Dr Hilary Greaves, officially began earlier this month, and will continue (at least in its present form) for three years.  The research team aims to make progress in theoretical population ethics, and to assess its relevance to pressing practical issues that affect future generations.
What is theoretical population ethics?
It's a rigorous investigation into plausibility of competing theories about the value or moral desirability of different populations of people, where these populations may vary in terms of:
–personal identity (the populations compared may contain different people)
–number (the populations may be of different sizes), and,
–quality of life (the people in these populations may be at different levels of quality of life, or well-being).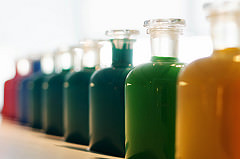 Limited resources make for tough decisions.  Should we spend our $X on deworming pills, or on combating climate change?  One thing we want to know, in approaching this sort of question, is how good the outcome would be if we intervened in one way rather than another.  One thing that's relevant to the goodness of an outcome is how people in that outcome are faring – are they happy or miserable?  But which people are we to count?  One of the fundamental problems in theoretical population ethics is whether we should take into account "only" the billions of people who exist currently, or whether we should also consider the astronomically greater number of merely possible future persons.
A merely possible person is a person whose existence in the future is dependent on what we do now.  Briefly consider the story of one of them:  Linda.  If Lucia's ovum and Leo's sperm were to join together, a zygote would form, and at some point down the line a person, Linda, would exist and would live a happy life.  As a matter of fact, Lucia and Leo never meet, and thus Linda never exists.  Would Linda's existence have made the world better?  This is intensely controversial within population ethics.
Defenders of person-affecting views (including Melinda Roberts and Jan Narveson) claim that we can make the world better by making people happy, but not by making happy people.  Others (including Derek Parfit and John Broome) have argued that these views imply insurmountable paradoxes.  Whether or not they do, it does seem plausible that we should at least sometimes give some weight to the well-being of merely possible persons (even if it's less than what we give to the well-being of actual persons).  Moreover, many of the philosophers who believe that adding happy Linda to the world wouldn't itself make the world a better place, would say that adding an utterly miserable and not worth living life to the world would make it a worse place – their view thus espouses an asymmetry about creating lives worth living versus creating lives not worth living.
Another fundamental problem in theoretical population ethics is how to balance quality of life against population size.  Many economists assume an average view, which ranks outcomes according to their average quality of life per person.  This view faces a devastating objection.  Suppose we find out that most people living in the past were much more miserable than we thought, with lives very much not worth living, making the world's average quality of life per person very negative.  It would then follow from the average view that we'd be making the world a better place if we added many people with lives not worth living, as long as they were just above the (very negative) average.  That is absurd.  Many philosophers have instead adopted a total view, which ranks outcomes according to the total quality of life summed across all persons.  This view avoids the absurd implication noted above.  Unfortunately, it too implies claims that are hard to believe.  Most infamously, it implies the Repugnant Conclusion, which states that,
for any possible population of at least ten billion people, all with a very high quality of life, there must be some much larger imaginable population whose existence, if other things are equal, would be better even though its members have lives that are barely worth living.  (Parfit 1984, p. 388)
Perhaps what's especially surprising about theoretical population ethics is just how difficult it is to avoid the Repugnant Conclusion.  Gustaf Arrhenius, for example, has a mathematical proof showing that denying the Repugnant Conclusion forces one to give up at least one of a number of other claims, each of which appears very hard to deny.
The practical importance of population ethics
One of the aims of the Population Ethics: Theory and Practice project is to figure out how best to solve the theoretical puzzles generated by Parfit, Arrhenius, and others.  Another is to figure out whether and to what extent various answers to these theoretical questions are important for real-world decisions that affect future generations, in addition to the present one.  Making these decisions requires both empirical and evaluative inputs:  on the empirical side, we need to know what will (likely) happen to people, e.g., if we do not conserve natural resources; and on the evaluative side we need to know how to assess different possible distributions of well-being across (actual and merely possible) persons.  Discovering the evaluative truth about theoretical population ethics would provide only the second piece of this puzzle.  Just how important is it to uncover this piece, practically speaking?  Writing in the context of climate change, John Broome suggests that it's very important indeed, and has recently published a book called Climate Matters; William MacAskill puts population ethics at the top of his list of high-impact philosophical research areas.  (One might class this type of research under the more general category of "prioritization research" which is itself a a high-priority cause.)
To illustrate how theoretical population ethics could matter practically, it may help to focus on some examples involving the choice between spending $X on a more "short-term" health intervention versus spending this same amount on averting a global catastrophic risk.  To simplify matters, I'll assume that all lives are at the same high level of quality (unless specified otherwise), and I'll assume risk-neutrality (e.g., a 100% chance of saving 1 life is as good as a 1% chance of saving 100 lives).
 Case 1 – Malaria or Nukes:  we can with virtual certainty save 100 million people from dying of malaria, or instead avert a 10% chance of a nuclear war that would kill everyone alive now, thus also preventing the existence of all future generations.
 In this case, there needn't be any practically relevant disagreement between person-affecting, total, and average views.  It's clear that the total view would imply we should avert the risk of war, if you just consider the astronomical amount of well-being future generations would be deprived of if the war actually occurred.  Person-affecting views agree with this recommendation, since this chance of nuclear war is worse in terms of presently-existing people (100 million deaths < 10% of 7 billion deaths).  Finally, average views which take as relevant the average quality of life per person will recognize that 10% of 7 billion very low quality lives decreases the average more than 100 million very low quality lives (these lives are very low quality in that they are dramatically cut short).  These three kinds of views will have different implications about just how bad 100 million deaths is, compared with the 10% chance of nuclear annihilation, but they will all agree that the latter is worse than the former – they'll agree about what to do here.  So in this sort of case, population ethics might matter less, from a practical standpoint.  Now consider:
 Case 2 – Malaria or Bioterrorism:  we can with virtual certainty save 100 million people from dying of malaria, or instead avert a 1% chance of a bioterrorist attack which would kill everyone now, and thus prevent the existence of all future generations.
 Here we will find a disagreement, with person-affecting and average views recommending that we prevent the malaria deaths, and the total view recommending that we avert the 1% chance of extinction.  (I'll leave it to the reader to work out how these views offer these conflicting recommendations.)  So Case 2 is a case in which input from population ethics is very practically important.  Consider one more example, involving quality of life (this sort of example was alluded to earlier).
 Case 3 – Worms or Climate Change:  we can with virtual certainty increase the quality of life of 100 million presently existing people by 10% (by giving them deworming pills, ridding them of their schistosomiasis), or instead, also with virtual certainty, make it the case that the quality of life enjoyed by future generations will be 10% higher than it would otherwise be, where the population size of these future generations is 100 billion (by preventing an unhealthy decrease in climate quality).
 It's plausible that deworming has further downstream effects – since it improves education in addition to health – but for simplicity let's ignore them.  Our very decision to adopt a policy of mitigating climate change would itself affect who exists (e.g., whether Lucia and Leo ever meet, or whether they meet at the exact time necessary to bring together the particular ovum-sperm combination that would eventually result in Linda); it's extremely likely that the future people affected by our policy would not have existed if we hadn't adopted this policy, the future persons that otherwise would have existed instead are different persons (see discussions of the non-identity problem).  Thus, those who would enjoy the healthier climate are merely possible persons, and would be ignored by strict person-affecting views.  In Case 3, therefore, such person-affecting views would recommend deworming, whereas both total and average views would recommend mitigating climate change.  (Again I will omit the details.)
Sorting out the complex connections between theory and practice is one of the aims of the Population Ethics project, and we accordingly hope to soon have a clearer sense of just how important it is to make progress on the theoretical, evaluative side, and in what particular practical contexts.  (I would warmly welcome any comments that spell out bridges between theory and real-world practice, concerning population size, quality, etc.)
If it turns out – as seems to me likely – that solving the theoretical problems in population ethics is both very practically important and extremely difficult, then we will have to work out how to proceed in light of moral uncertainty.  This topic also falls within the scope of the project.
13 Responses to How Important Is Population Ethics?