Should men be allowed to discuss abortion?
Feminists are kicking up quite a storm in Oxford at the moment. Oxford Students for Life have organized a debate on abortion to happen tomorrow (the 18th November, 2014), which has inspired some rather troubling attacks. Now, Oxford feminists ('WomCam') are generally rather intolerant of any pro-life rhetoric (or, indeed, anyone that disagrees with them), but what has really got their goat this time is that the debate is between two men.
"It is absurd to think we should be listening to two cisgender men debate about what people with uteruses should be doing with their bodies. By only giving a platform to these men, OSFL [Oxford Students for Life] are participating in a culture where reproductive rights are limited and policed by people who will never experience needing an abortion."
As the Student newspaper reports,
WomCam have also criticised the debate as "shaming," "stigmatizing abortion," and "contributing to a culture of misogyny and body policing." They have also called for an apology from OSFL and have asked them to cancel the event.
Oxford feminists have actually now set up a protest group to disrupt the debate, and are actively campaigning for the event to be banned. Indeed, whether the event will go ahead is now uncertain due to security concerns raised by the feminists declared intention to disrupt and end the debate.
Note that the OSFL group has already hosted two all-women panel debates on abortion this year, so the criticism isn't that they only have men speak in their debates generally, but that this particular time men are speaking.
Now, I disagree with Oxford Feminists on almost everything (in particular, the dominant view held by the society that actually I cannot be a feminist because I am a man), but this struck me as almost ludicrously bad. To repeat, the argument is that men should not be able to discuss abortion because they are men. Further, it isn't just that men shouldn't be allowed, but that the men who do actively hate women and want to oppress them.
Have we really reached a place where only women are allowed to discuss abortion? Is this the real world, or has Oxford turned into some dystopian Orwellian thought-police scenario run by feminists? Are there any good reasons to think that only women should be allowed to discuss abortion?
First, I fundamentally disagree that abortion is an issue that only affects women. At a most basic level, this is incorrect – abortion includes the abortion of both male and female babies. But more than that, it is clear that abortion does affect men. How could we possibly think that a woman aborting her male partner's baby against his wishes would have no effect on him? Or that, conversely, a man who does not want a child and wants the woman to have an abortion, but she refuses and he has to pay 18 years child-support? Clearly, abortion affects men and women. Sure, women are the ones that actually do the aborting, but that doesn't mean it doesn't affect men.
But even taking the (flawed) idea that only women are affected by abortion, the claim that therefore only women can discuss it evidently fails as a principle. We don't think that only homosexuals can discuss gay rights, or that only black people can discuss affirmative action, or that only disabled people can discuss equal rights in the workplace. If we want to say that people can only discuss things that are personally relevant to them, we pretty soon end up on a situation where no-one could ever discuss anything ("Sorry, you can't talk about disability support because you don't have a disability"; "Oh, you do? Well it's not a mental health disability, so you still can't"; "Oh, you do? Well, it's actually not bipolar disorder, so you still can't discuss it as you would just oppress me"; Oh, you do? Well, you still can't because actually I'm also homosexual and have bipolar, and so you can't understand the interplay" – and so on, ad infintum).
And what are the implications of this for practical ethics? Should all the men in the department stop conducting work on topics like abortion? Should anyone without addiction problems stop conducting work on addiction and moral responsibility? Should anyone who doesn't live in the developing world stop doing work on charity and aid? Should anyone who isn't a non-human animal stop doing work on animal rights?
It worries me that the Oxford Feminists are probably now the most illiberal – not to mention anti-men- group on campus.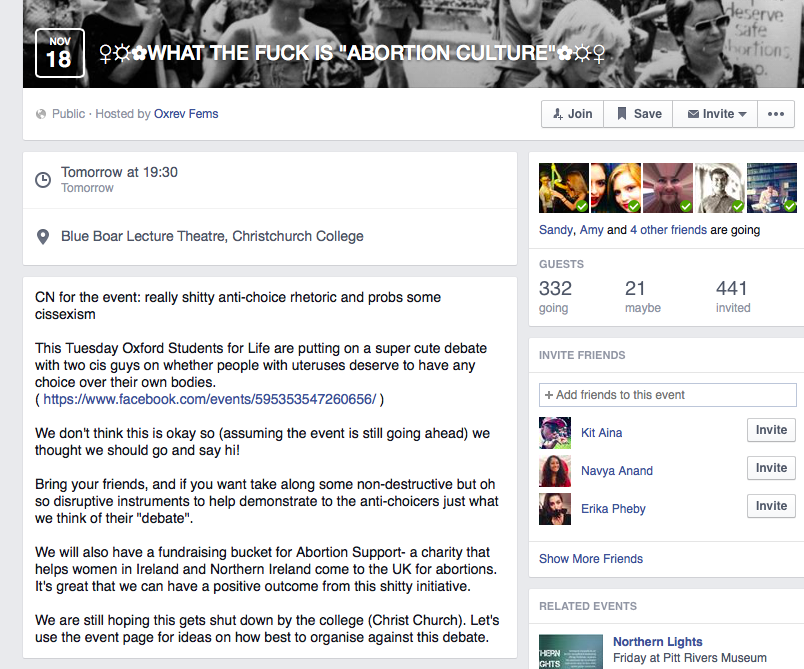 36 Responses to Should men be allowed to discuss abortion?