Paddington Bear and the Evangelicals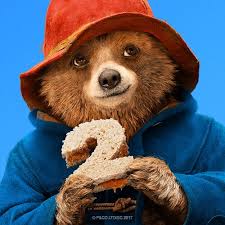 By Charles Foster
Last night, long after everyone else I know, I went with the kids to see Paddington 2. As everyone agrees, it's wonderful. It's a modern morality tale. There is plainly a big appetite for morality.
Interestingly, though, it is a Christian morality tale.1 Paddington's behaviour neutralizes violence. In the face of his goodness, and emolliated by his marmalade sandwiches, the hard men at the prison uncurl their fists and bake strawberry panna cotta with pomegranate glaze instead. His vulnerability is irresistible. He turns selfishness into altruism. 'Nuckles' (sic), (Brendan Gleeson) whose motto has always been that he doesn't do nuffin' for no one for nuffin', jeopardises his own liberty to liberate Paddington – and wins his own perpetual freedom by doing so. There's even a sort of resurrection – in which Paddington, trapped in a watery grave, is released. And as he is released, more of his redemptive power is unleashed too.
This all sounds emetically Polly-Anna-ish. And so it would be if the main actor had been human rather than a bear. It's crucial to the story – and to the acclaim that it has had – that Paddington comes from outside, and, though living amongst the people he transforms, is different from them. Paddington just happens to come from Darkest Peru rather than the Kingdom of Heaven, and to have fur, claws, and a button nose rather than the undoubted advantage of divine as well as human nature.
But just as clearly as Paddington 2 is a Christian tale, it is an anti-Evangelical tale. The dichotomy is striking and salutary. We're reminded in every frame that 81% of white evangelicals voted for Trump – thereby sacrificing any authority that they might have had to give the world ethical advice.2 (By their votes have we known them).3
The baddies in the movie are Evangelical stereotypes. There's Phoenix Buchanan (Hugh Grant) – an English version of the US televangelist: vain, with immaculate bridge-work and a huge smile, strutting in an expensive suit. And the xenophobic neighbourhood watchman, hating Paddington because of his otherness. The philosophy of the unregenerate Nuckles is the atomistic self-determinism of the Bible Belt which has been unblushingly translated into neo-liberalism. Paddington is an unabashed communitarian. The NRA and its churches wouldn't like that.
This is a warm, nice movie. People like warm, nice movies. And so we shouldn't build too vaulting a thesis on its rapturous reception. But perhaps it's not too fanciful to suggest that its success shows that the right-thinking world won't necessarily conflate Christianity and Evangelicalism.
Notes
No doubt unwittingly on the part of the film makers.
Yes: of course there are kind, humble, generous hospitable evangelicals, appalled at what has happened. Lots of them But 81% is quite a big proportion.
C.S. Lewis puts it beautifully: ' "By their fruits ye shall know them." Have they the marks of peace, love, wisdom and humility on their faces or in their conversation? Really, you need not bother about that kind of Puritanism. It is simply the form which the memory of Christianity takes just before it finally dies away altogether….." ' (original emphases). Letter to Arthur Greeves: 6 December 1931: in Collected Letters of C.S. Lewis, Volume 2: Books, Broadcasts and War, 1931-1949: Ed Walter Hooper: Zondervan, 2004
2 Responses to Paddington Bear and the Evangelicals