Is it okay to eat one hamburger per year? Is it acceptable to eat a hamburger made from a  'happy cow'? The production of crops may result in more animals killed than the production of meat from grass-fed cattle and sheep – does this mean we should eat more meat and less crops? Should we eat insects? Should we try to reduce the suffering of wild animals? In this interview with Katrien Devolder, Professor Peter Singer (Princeton, Melbourne) provides an answer to these, and other questions related to vegetarianism and animal welfare, and offers some practical advice for those who care about animal suffering but can't resist eating meat…
Smartphones are like spies in our pocket; we should cover the camera and microphone of our laptops; it is difficult to opt out of services like Facebook that track us on the internet; IMSI-catchers can 'vacuum' data from our smartphones; data brokers may  sell our internet profile to criminals and/or future employees; and yes, we should protect people's privacy even if they don't care about it. Carissa Véliz (University of Oxford) warns us: we should act now before it is too late. Privacy damages accumulate, and, in many cases, are irreversible. We urgently need more regulations to protect our privacy.
Associate Professor and Consultant Neonatologist Dominic Wilkinson (Oxford Uehiro Centre for Practical Ethics) argues that medical doctors should not always listen to their own conscience and that often they should do what the patient requests, even when this conflicts with their own values.
Asbestos kills more people per year than excessive sun exposure, yet it receives much less attention. Tom Douglas (Oxford Uehiro Centre for Practical Ethics) explains why asbestos is still a serious public health threat and what steps should be undertaken to reduce this threat. And yes, the snow in The Wizard of Oz was asbestos!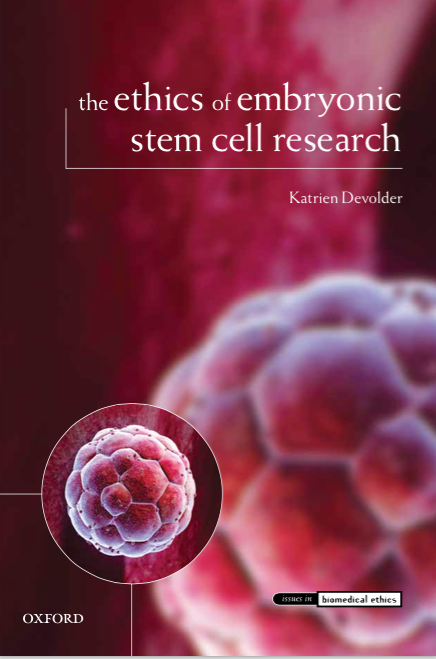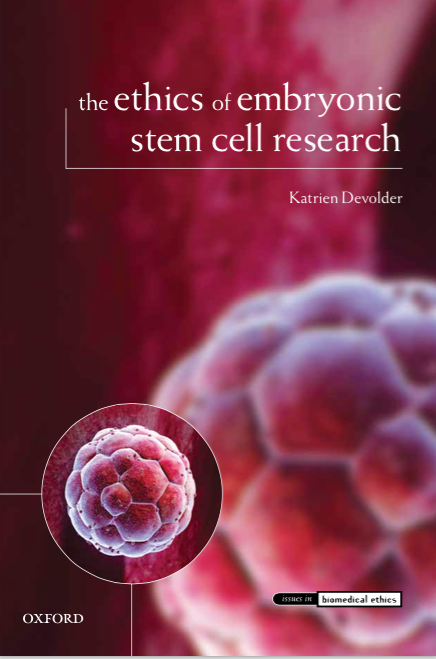 There is wide agreement that embryonic stem cell research holds unique promise for developing therapies for currently incurable diseases and conditions, and for important biomedical research. However, as it is currently done, the isolation of embryonic stem cells involves a process in which an early embryo is destroyed, which many find highly problematic.
This has resulted in what I refer to in my book as
The Problem. Either one supports embryonic stem cell research and accepts resulting embryo destruction, or one opposes embryonic stem cell research and accepts that the potential benefits of this research will be foregone. Continue reading →
"BDSM [Bondage, Discipline, Sadism, Masochism] might be mainstream now, but it has a new PR problem. I blame Christian Grey." writes 'sexual submissive' Sophie Morgan in an article in the Guardian.
I started reading E.L. James' Fifty Shades of Grey but didn't get very far. It's very badly written (guess that's no longer a secret) and, well, I found it incredibly boring (Pride and Prejudice is more exciting, I think). In any case, the book is just a starting point for something I began thinking about after a recent conversation with a friend who is part of the 'BDSM  community'.
The legal status of BDSM varies from country to country. In the UK, it is illegal if it results in any injury which is more than "transient or trifling". Possessing extreme pornography is a criminal offence, which, for obvious reasons, may be problematic for those who are into SM. Moreover, those who engage in any kind of BDSM are not legally protected against discrimination on the basis of their sexual preferences (for example, they can be, and have been, fired for that reason).
I haven't studied the issue in depth, but it seems to me that BDSM should be legal, the main reason being that it concerns a consensual sexual act by adults that doesn't cause harm to third parties. (There's an interesting paper by Nafsika Athanassoulis arguing why SM can be considered a consensual sexual act). But I was thinking about a further question. Should we put more effort into breaking the BDSM taboo? For example, in countries where BDSM is legal, should it be part of general sexual education?
In Australia and New Zealand wearing bike helmets is compulsory. In the United States, bike helmets are strongly promoted. The message in these countries is clear – not wearing a bike helmet is stupid because it can significantly damage your health. The stigma attached to cycling without a helmet may even be comparable to that attached to smoking cigarettes.
If you crash but were wearing a helmet (properly!), you will be less likely to suffer a head injury. Bike helmets may thus prevent disability and even death in this way. I don't want to question that. (Though it has been questioned -it has been said that bike helmets give both cyclists and drivers a false feeling of protection resulting in more risk-taking behaviour on both sides; given that most helmets are not worn properly, this could overall be more dangerous than not wearing helmets.)
But, is the fact that bike helmets may reduce head injuries a sufficiently weighty reason to strongly encourage or legally enforce wearing bike helmets?
Perhaps I'm biased. I'm from Belgium – a cycling-friendly country where hardly anyone wears helmets. Why? It's uncool, it messes up your hair, it's safe enough to bike here (just reciting reasons people give), it's impractical, it's uncomfortable, it's annoying to have to carry your helmet around when you get to your destination, it spoils the 'freedom-feeling' on a bike, etc. No doubt, there are costs to wearing a helmet.
So why should cyclists be required or strongly encouraged to wear helmets? Surely there are many other activities where the risk of head injuries is high? For example, playing in a children's playground is equally, if not more, dangerous in that respect (other examples are hiking, walking or running at swimming pools, and simply getting into your bath). Is there something special about head injuries that result from bike crashes? Surely we wouldn't argue for strongly encouraging or making 'playground helmets' compulsory (or 'bath helmets' – imagine that!). It would be terribly impractical, and uncomfortable for children. It would somehow restrain them in their freedom – it would just make playing on a playground less fun. But the best reason for why we don't make playground helmets compulsory is that there are alternative ways for reducing the risk of head injuries at playgrounds that have fewer disadvantages. One measure that has increasingly been implemented in various countries is to provide playgrounds with a softer ground. This too helps to prevent head injuries, but without any of the disadvantages playground helmets would have.
So why don't we do the same for bikes? Obviously, there is an alternative to wearing bike helmets too. We can change the environment and make cities safer for bikes such that fewer crashes will happen. It's not that biking is intrinsically very dangerous. My daily bike ride to work,  at a moderate pace on safe bike paths away from the road is probably not more dangerous than walking on the footpath. (Of course, I'm not implying that it would be unwise to wear a helmet when racing or when going off the road on rocky ground.)
Perhaps one could say that, in bike-friendly cities, cyclists shouldn't be enforced or strongly encouraged to wear helmets. It's relatively safe to bike there – like it's relatively safe to play on a playground with a soft ground. The overall health benefits of biking (better health for the cyclist and less air pollution) outweigh the risk of head injuries. But, one may say, people should surely be legally enforced or strongly encouraged to wear helmets in cities that are currently very bike-unfriendly (like Oxford).
However, I think this is too quick. It may take away incentives to make cities more bike-friendly. It sends the message that it is cyclists that need to adapt, not drivers. We should, however, keep in mind that there is an alternative to enforcing or strongly encouraging bike helmets: it's making cities bike-friendlier. This may be costly, but it should be seen as a public health and environmental measure. We should  not forget that discouraging people from cycling (by requiring them to wear a helmet) also has significant costs.