Written by Muriel Leuenberger
A modified version of this post is forthcoming in Think edited by Stephen Law.
Authenticity is a popular ideal. Particularly in the western world, authenticity has developed into a prevailing ideal since its rise in Modernity.[1] The search for authenticity is a common trope in film and literature, countless self-help books advise us how to become more authentic, and marketing and politics have long discovered authenticity as a useful label to sell goods and candidates.
Boris Johnson and Donald Trump are recent examples of politicians who presented themselves and were perceived by many as particularly authentic. At the same time, both are known for not taking the truth too seriously, if not for being notorious liars. This seems like a contradiction. Can you be an authentic liar? Figures like Johnson and Trump can prompt us to reconsider and clarify what we mean by a concept like authenticity as well as how we should relate to ourselves and express ourselves to others.

Written by Muriel Leuenberger
A modified version of this post is forthcoming in Think edited by Stephen Law.
Spoiler warning: if you want to watch the movie Don't Worry Darling, I advise you to not read this article beforehand (but definitely read it afterwards).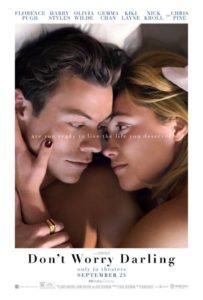 One of the most common reoccurring philosophical thought experiments in movies must be the simulation theory. The Matrix, The Truman Show, and Inception are only three of countless movies following the trope of "What if reality is a simulation?". The most recent addition is Don't Worry Darling by Olivia Wilde. In this movie, the main character Alice discovers that her idyllic 1950s-style housewife life in the company town of Victory, California, is a simulation. Some of the inhabitants of Victory (most men) are aware of this, such as her husband Jack who forced her into the simulation. Others (most women) share Alice's unawareness. In the course of the movie, Alice's memories of her real life return, and she manages to escape the simulation. This blog post is part of a series of articles in which Hazem Zohny, Mette Høeg, and I explore ethical issues connected to the simulation theory through the example of Don't Worry Darling.
One question we may ask is whether living in a simulation, with a simulated and potentially altered body and mind, would entail giving up your true self or if you could come closer to it by freeing yourself from the constraints of reality. What does it mean to be true to yourself in a simulated world? Can you be real in a fake world with a fake body and fake memories? And would there be any value in trying to be authentic in a simulation?

Written by Muriel Leuenberger
The ancient Greek injunction "Know Thyself" inscribed at the temple of Delphi represents just one among many instances where we are encouraged to pursue self-knowledge. Socrates argued that "examining myself and others is the greatest good" and according to Kant moral self-cognition is ''the First Command of all Duties to Oneself''. Moreover, the pursuit of self-knowledge and how it helps us to become wiser, better, and happier is such a common theme in popular culture that you can find numerous lists online of the 10, 15, or 39 best movies and books on self-knowledge.