Announcement: "Brave New Love" – peer commentaries due October 7
Dear Practical Ethics readers,
The paper, "Brave new love: the threat of high-tech 'conversion' therapy and the bio-oppression of sexual minorities" by Brian D. Earp, Anders Sandberg, and Julian Savulescu has been accepted for publication in the American Journal of Bioethics: Neuroscience. Proposals for open peer commentaries are due this Monday October 7th.
The article may be accessed here, or at the following link: http://editorial.bioethics.net. Be sure to select AJOB:Neuroscience from the drop-down menu of journals. Here is an abstract of the argument:
============================
Abstract: Our understanding of the neurochemical bases of human love and attachment, as well as of the genetic, epigenetic, hormonal, and experiential factors that conspire to shape an individual's sexual orientation, is increasing exponentially. This research raises the vexing possibility that we may one day be equipped to modify such variables directly, allowing for the creation of "high-tech" conversion therapies or other suspect interventions. In this paper, we discuss the ethics surrounding such a possibility, and call for the development of legal and procedural safeguards for protecting vulnerable children from the application of such technology. We also consider the more difficult case of voluntary, adult "conversion" and argue that in rare cases, such attempts might be permissible under strict conditions.
============================
Open Peer Commentary articles are typically between 500-1500 words and contain no more than 10 references. A guide to writing an Open Peer Commentary is available under the Resources section "Instructions and Forms" at http://editorial.bioethics.net. AJOB:Neuroscience asks that by Monday, October 7, 2013 you submit a short summary of your proposed Open Peer Commentary (no more than 1-2 paragraphs). Please submit your proposal online via the AJOB:Neuroscience Editorial site, following the instructions provided there. They ask that you do not prepare a full commentary yet. Once they have evaluated your proposal, they will contact you via email to let you know whether or not they were able to include you on the final list of those to be asked to submit an Open Peer Commentary.
You will then have until Friday, October 25, 2013 to submit your full Open Peer Commentary.
Scientists in America have found a way to reduce crime amongst some high risk groups by 30-40%. It involves a simulation of crime scenes where the victim is a hologram representing the potential criminal in question, followed by discussion with a trained therapist. The experience causes the subject to feel greater empathy and reduces violent crime. We should introduce this therapy now, as a matter of priority.
There is no such therapy, sadly. But there is something which promises the same effects in some groups. Ritalin. A Swedish study found that taking ADHD medication significantly reduced the criminality rate amongst those with ADHD: by 32% in men, and 41% in women. ADHD has itself been associated with an increase in criminality.
Some people will argue that this is a therapy for ADHD, not an enhancement. But ADHD is not a disease like cancer – it is likely a variant of normal functioning involving lower levels of impulse control and attention.
Ritalin, Adderall, Modafenil are all taken by thousands of professionals and students to enhance performance, in a similar way to caffeine. The film Limitless was loosely based on modafenil (in fact, Modafenil doesn't appear to have such a dangerous side effect profile as is portrayed in the film, though there are as yet no long term studies of normal people). Ongoing research into Alzheimers disease and other impairments will lead to other drugs which enhance normal cognition.
30  July. This blog is an extended version of the post 'Vaccines: All or Nothing' (posted 29 July). 
A vaccine which would protect children from Meningitis B has been rejected by the Joint Committee on Vaccination and Immunisation (JCVI) as not cost effective, despite the fact the cost is not yet known.
The Department of Health's director of immunization explained:
"This is a very difficult situation where we have a new vaccine against meningitis B but we lack important evidence. We need to know how well it will protect, how long it will protect and if it will stop the bacteria from spreading from person to person.

"We need to work with the scientific community and the manufacturer to find ways to resolve these uncertainties so that we can come to a clear answer."
A call for more research is a standard answer to many dilemmas in healthcare, though perhaps one which is easy to ignore. As far as we know there are no current plans to ensure that this research takes place but the vaccine has already been found to be safe, and according to the BBC, "tests have suggested the vaccine is effective against 73% of the different strains of the disease".
Resource allocation is an inevitable part of any health care system, and perhaps especially so in the NHS. Whilst we would like to provide all available treatments, prioritizing according to effectiveness and cost is necessary, though the exact method of calculating this (currently Quality Adjusted Life Years, or QALYs) is of course under intense debate and scrutiny.
In the meantime, children continue to suffer avoidable, lifelong disability due to infection with Meningitis B. I argue with Lach de Crespigny in a forthcoming paper on homebirth that actions (or failures to act) taken today which cause harm in the future are as wrong as if that harm were realized today. The plight of these children and adolescents should not be ignored.
Put simply, if you could prevent a child from getting brain damage, now or in the future, at little cost to you, you ought to perform that act.
One possible way forward would be to allow parents to pay for the vaccination of their child, at whatever price the company sets, just as holiday vaccinations can be provided by the NHS at a cost to the patient. Vaccinated children could be monitored and their data recorded. Not only would this generate the data that would establish how high up funding agendas this vaccine should be, but some individual children would be prevented from suffering this deadly and debilitating disease. To increase take up, the company would be under market pressure to keep the price as low as possible.
It was announced yesterday that the government is moving towards allowing so-called three person IVF for the creation of embryos free of mitochondrial disease.
The mitochondria are tiny organelles in the body of the cell, concerned with important energy functions, and which contain a small amount of DNA. They are present in the egg, but not in the sperm, and are passed down the female line, more or less unchanged, from mothers to all her offspring, and then from daughters to grandchildren and so on. In some cases, women can suffer from various mitochondrial disorders, which they are at risk of then passing on to their children. These disorders may be relatively mild, but in perhaps 5 – 10 cases a year in the UK, babies will be born with very serious disease.
There are a couple of ways of doing the new procedures, but basically the new proposed techniques take the egg of an affected woman and remove the nuclear DNA (the vast majority of our DNA which goes to shape our basic features). A donated egg is also taken, its nuclear DNA removed, leaving behind the healthy mitochondrial DNA. The nuclear DNA of the affected woman is then transplanted into the body of the healthy egg, resulting in an egg which has the DNA of the affected woman, minus the tiny fraction of mitochondrial DNA concerned with cell energy functions.
The Department of Health has backed this procedure after the HFEA conducted public consultations earlier this year; the HFEA reported broad public support for the techniques.  The Chief Medical Officer is now urging the drafting of regulations to allow the procedure to be approved by Parliament as soon as possible. There are hopes that the first patients could be treated as soon as 2014.
Mitochondrial disease can be really severe and lead to great suffering and early death. So why would there be any doubts about the use of such techniques?
Yesterday's Observer features two pieces about human enhancement in the prospect of the FutureFest festival in London in September (see here and here). The articles mention Bertolt Meyer, a Swiss man born without a left hand who was recently fitted with a state-of-the-art bionic one (which he controls from his iPhone), and include quotes from well-know authors associated with the topic of human enhancement, such as Nick Bostrom and Andy Miah.
A recent poll says that nearly all General Practitioners in the UK have given placebos to at least one of their patients.
The story can be seen here: http://www.bbc.co.uk/news/health-21834440
Everyone loves placebos. If you are a scientist, placebo shows an incredible feat of the human body, and interesting interactions between our psychology and the biology that underlies it. A doctor can rest assured that placebos won't cause a chain of undesirable reactions in their patients, while still helping them. Even a new age pro-herbal unscientific mind favours placebo, placebos not only aren't the allopathic evil kind of substance, but with sufficient distortion of argument, placebos can be taken as an argument in favour of whichever branch of neo-medicine that particular mind would like to enforce. So everyone loves placebo, and placebo helps everyone.
Or does it? Here I'll outline some of the reasons we should be wary of placebo effects, and sketch some cultural costs that are being unconsciously left under the rug by the placebo enthusiasm in which we, or at least General Practitioners,  find themselves.
Reason 1) Placebo doesn't mean what we think it means.
Under experimental conditions, placebos are supposed to be inert to the body. Very few substances are actually as inert as would be desirable, and many times we would find outrageous that substance X was considered placebo.  A striking example comes from Beatrice Golomb's short essay on The Dece(i)bo Effect, where she mentions two studies which assessed the effects of corn-oil and olive-oil in patients who needed to lower their cholesterol. It seems a promising avenue of research until you discover that the olive-oil and the corn-oil were not the target of the study, which was a cholesterol-lowering drug, they were the placebos.  The first cultural cost that placebos pay is a labeling cost, once labeled, we lose track of the information of what they contained when studied in the first place.
Reason 2)Placebos don't function as broadly as we think. Or would like to think.
Placebos are good for pain and anxiety, in the short term. Systematic reviews of general studies of placebo, on the other hand, shows very mild to no effects from placebo. As seen here. The second cultural cost that placebos pay is the cost of being likable, and therefore, less amenable to accurate scrutiny beneath the excitement field.  As is widely known, if an idea, meme, memeplex (group of annexed memes) or cultural item is the kind of thing that people just like to believe, it is extremely hard to eliminate it from culture. Placebo is a nice idea, and because of that, it is kept in a safer haven than it should, given how many lives it affects.
Reason 3)Placebos are mysterious, and mysteries are contagious
It is incredible that our minds are able to influence the body in the way they do (irrespective of one's hardcore eliminative monism or Cartesian dualism). Even if the effects are mild, and more constrained than we think, they are still, in some sense, fantastic, belonging to a world of fantasy. To a mind with inclinations for Skyhook type explanations, they open the gate which parts the world of science from the world of fantasy. Doctors are not immune to aspiring that the world be magical and mysterious, in fact, given their high level of education in scientific matters, if any strong innate or childhood force compels them to look for mysteries and Skyhooks, then once the gate is open the diffusion of memes from one side to the other is likely to be uncanny. And here lies the most dangerous cultural cost of placebos. Placebos open the gate for Skyhooks and mysteries in the minds of those on whom our lives depend.  A well educated doctor has to go through a painstaking amount of cognitive dissonance if she is to enforce homeopathic treatment while knowing that nothing she was told while learning the profession indicates that it makes sense. But if there is this other mysterious thing that is well accepted and highly regarded among her peers, well, then the fact that we don't know how it works should not be a decisive factor against homeopathy, right?
Reason 4) Placebos permit a diminished sense of responsibility by twisting psychological knobs
When administering a placebo, a doctor has more reason to sleep well knowing that he didn't (really) act in relation to a patient while still helping than if he had (more) actively selected a medication which could have varied adverse effects for the patient, and legal consequences for the doctor. More than that, it permits the doctor to hold himself responsible only in case of success, which is an emotionally comforting position to be in. By psychologically thinking it is less of a directed action to administer placebo, the doctor can ease his sense of responsibility by believing that it was not so much his decision that played a role.  Even if in the real world he can be indicted for giving placebo in a condition in which it was wrong to do so, at the decision moment  the major players are his self image and internal representation of the event, and these are likely to prefer a story in which he bears no responsibility, except, ironically, the responsibility for infusing the sugar pill with the magical quality that will aid the one in need.
There are good reasons to administer placebos under many circumstances, and the claim here is not that 97.5% of General Practitioners are doing wrong. Instead, it is a call for a sober assessment of which exactly are the circumstances in which placebos ought to be administered. For one thing, in the cases in which placebos are effective, their effectiveness depends on patients actually believing their effectiveness, and for this very reason, it would be a great loss if they became ubiquitous enough that patients stopped believing their effectiveness.
Many cultural items pay the same cultural costs as placebos, being likable, permitting ease of conscience, having ill-defined conceptual borders, and annexing themselves with mysteries are memetic strategies familiar to researchers of cultural evolution, and the items that use those pernicious strategies frequently escape our sight, where I think placebos should be attentively kept.
According to a recent report in the New York Times, the United States government will soon announce plans to fund the Brain Activity Map. Modelled on the highly successful Human Genome Project, the Brain Activity Map is an effort to identify functional networks of neurons, possibly leading to a full understanding of how mental processes like perception and memory are physically distributed in the brain. The scientific and medical potentials, perhaps including new treatment of conditions like schizophrenia or autism, are fantastic. By developing monitoring techniques like calcium imaging, nanoparticle sensor detection, or synthetic-DNA chemical recording, neuroscientists hope to be able to trace the paths traveled by our thoughts and memories. Yet before setting off on this cartographic adventure, perhaps we ought first stop, and remind ourselves where we already are.
In a 2012 Neuron paper proposing the Brain Activity Map, a group of leading scientists briefly acknowledge some ethical worries, including "issues of mind-control, discrimination, health disparities, unintended short- and long-term toxicities…" This is a reasonable, if somewhat eclectic, list of concerns. But I would like to add one more. Brain-mapping, like gene-mapping, risks making us overconfident in our self-understanding. The better we come to understand our brains, the more tempting it will be to assume we understand our selves.
Think for a moment about the history of major advances in human-directed science: Darwinism, psychoanalytics, behaviourism, sociobiology, cybernetics, genomics. With each progression has come a deluge of sweeping assertions about the new completeness of our self-understanding, followed later by a far quieter admission that whatever else we may be, we are also mysteries. In the worst moments, our fleeting certitude fuelled attempts to reorganize societies along purportedly scientific lines, from racist eugenics to disastrous Marxist utopianism. Even when spared catastrophic miscalculation, we've still suffered coarsening reductions in public debate about human nature, where hopes and commitments were temporarily replaced by operant reinforcements or behavioural phenotypes.
The point here is not to deny the reality of scientific descriptions of humanity, nor to retreat into a neo-Romantic induced ignorance. The point is simply to sound a warning, to jot a note to ourselves in this relatively sober moment, before the allure of the scientifically novel begins to blindingly illuminate our horizons. Maps are awesomely seductive bearers of information, so simply compact and so seemingly complete. Mapped brains will be more potent still, enfolding the vanity of portraiture in the certainty of topography.
I'm aware that what I am articulating is not so much an argument as an anxiety. I have no simple take-home message to offer, no action plan or policy recommendation. Certainly we should not attempt to stop the sort of research offered by the Brain Activity Map. Rather, we should support it, fund it, train our children to carry it forward. The potential benefits, to theoretical knowledge and human well-being, are incredible. But there are costs, or at least risks. It would be best to reach first for a bit of preventive humility, a dash of recognition that there are limits on the self-understanding of even such an expert auto-empiricizer as homo sapiens. In Franz Joseph Gall's original phrenological map, the brain area for Circumspection and Forethought was located right next to the brain area for Vanity.
Whatever your view of abortion, there are too many abortions, and too many of them are too late. Even abortion's fiercest advocates don't pretend that it's a Good Thing – just the lesser of two evils.
In 2010 there were 189,574 abortions in England and Wales – an 8% increase in a decade. The tightly policed regime envisaged in 1967, when the Act became law, hasn't existed for ages, if indeed it ever did. There is abortion on demand, whatever the statute book says.
1967 was a long time ago. There have been many medical advances and societal changes since then. It's time to take stock of the Act.
That's what a recently announced cross-party commission, to be chaired by Fiona Bruce MP, will do.
It will focus, rightly, on two issues: medical advances and attitudes to discrimination. Continue reading →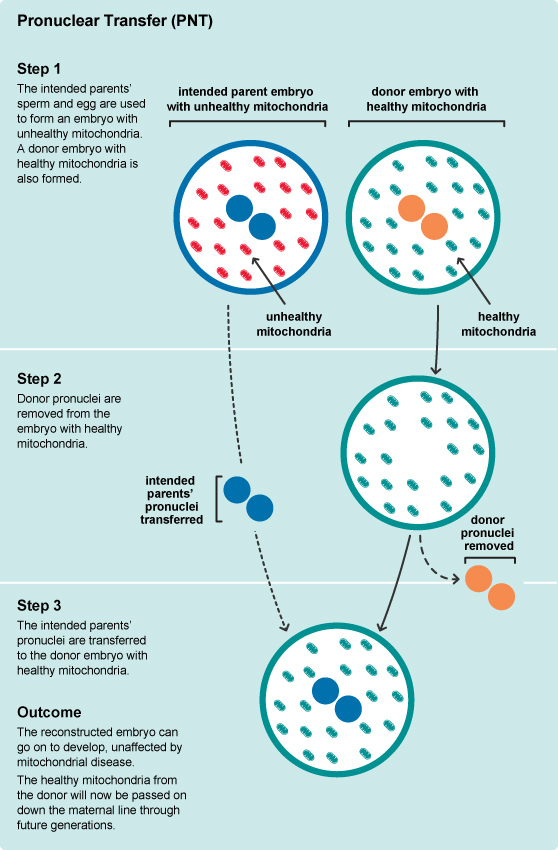 The agency that regulates fertility treatment and embryo research in the UK, the Human Fertilisation and Embryology Authority (HFEA), has asked for public views on two possible new forms of fertility treatment that promise to prevent the transmission of mitochondrial diseases to children. These diseases can be extremely severe, leading to (among other things) diabetes, deafness, progressive blindness, seizures, dementia, muscular dystrophy, and death.