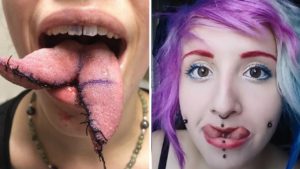 By Charles Foster
Image: 'Split tongue: procedure, safety, result': Tattoo World: Standard YouTube licence.
The appellant in R v BM was a tattooist and body piercer who also engaged in 'body modification'. He was charged with three offences of wounding with intent to do grievous bodily harm. These entailed: (a) Removal of an ear; (b) Removal of a nipple; and (c) division of a tongue so that it looked reptilian. In each case the customer had consented. There was, said the appellant, no offence because of this consent.
Where an adult decides to do something that is not prohibited by the law, the law will generally not interfere.
In Schloendorff v Society of New York Hospital (1914) 105 NE 92 Cardozo J said:
"Every human being of adult years and sound mind has a right to determine what shall be done with his own body."[1]
This principle has been fairly consistently recognised in the English law.[2] Thus, for instance, In In re T (Adult: Refusal of Treatment, Butler-Sloss LJ cited with approval this section of the judgment of Robins JA in Malette v Shulman[3]:
'The right to determine what shall be done with one's own body is a fundamental right in our society. The concepts inherent in this right are the bedrock upon which the principles of self-determination and individual autonomy are based. Free individual choice in matters affecting this right should, in my opinion, be accorded very high priority.' Continue reading →
By Dominic Wilkinson
In the latest case of disputed medical treatment for a child, the family of Liverpool toddler Alfie Evans yesterday lost their last legal appeal. The family had appealed to the European Court of Human Rights to examine whether the UK courts' decision (to allow doctors to stop life support) was contrary to the European Convention on Human Rights. The European Court (as it had in two other cases in the last 12 months) rejected the appeal. It is expected that the artificial ventilation that is currently keeping Alfie alive will be withdrawn in the coming days.
This decision, difficult as it is for his family to accept, is the right decision for Alfie. Medical treatment can no longer help him. As I wrote a month ago, it is time to stop fighting, time to let him go.
However, one important legal and ethical issue raised in this case, and in the case of Charlie Gard from last year, is about the basis for deciding when parents and doctors disagree. What ethical standard should apply?
Last week, the UK Supreme Court adamantly refused Alfie's parents' previous legal appeal, focused on this specific question.  I will argue that the court's arguments fail and that the current UK legal approach is mistaken. (Though in fact, in the Evans case as in the case of Charlie Gard, it seems likely that the court would have reached the same decision about treatment even if it had applied a different ethical standard).
by Dominic Wilkinson
[Updated 22/02/18]
This afternoon, in another case of disputed medical treatment for a seriously ill child, Justice Hayden in the High Court concluded that treatment should be withdrawn from toddler Alfie Evans against the wishes of his parents.
See below for a press release on the Alfie Evans decision. I will add further reports and links to the court transcript when it is available.
See here for ethics commentary and resources on the Charlie Gard case.
See also my recent blog on the Evans and Haastrup cases: Medical treatment disputes and the international second opinion
Details from the court ruling (Liverpool Echo)

by Dominic Wilkinson (@Neonatalethics)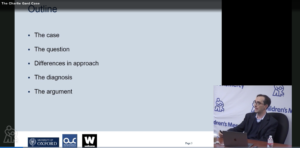 Webinar given recently for the Children's Mercy Centre for bioethics as part of the excellent (and free) Children's Mercy webinar series (great resource for those interested in paediatric bioethics) Continue reading →
Introduction
In a series of five harrowing judgments, the President of the Family Division, Sir James Munby, expressed his frustration with the system that endangered the life of a child who was the subject of care proceedings. He was forthright. Some of his words were quoted in the press. A headline in the Guardian read: 'Judge warns of 'blood on our hands' if suicidal girl is forced out of secure care.' 'Why won't NHS help?' asked the Sun. 'State will have 'blood on its hands' if suicidal teen doesn't get hospital bed soon, top judge warns.'
While the judge's comments seemed generally to be applauded by the media, not all were happy. Here is a typical example of a commentator who was not:
'To use a rhetorical outburst in one case to make broader political points about the state of public services jeopardises the principle of judicial separation. In saying that there are occasions when doing right "includes speaking truth to power", and openly condemning the lack of adequate public resources, is to leave the respected realm of judicial neutrality and to enter the political fray. Language and tone matter. Even if the diagnosis is fair, for a judge to use this tactic is, well, pretty ill-judged.' Continue reading →
The issue of the legality in England and Wales of physician-assisted suicide has recently been revisited by the Divisional Court. Judgment is awaited. The judgment of the Court of Appeal, granting permission for judicial review, is here.
The basic issue before the Court of Appeal was the same as that in Nicklinson v Ministry of Justice and R (Purdy) v DPP: does the right to determine how one lives one's private life (protected by Article 8 of the European Convention on Human Rights)  confer a right to have an assisted death?
Many factors have been said to be relevant to decisions about assisted dying. They include intractable pain (rather a weak criterion, given modern palliative methods), hopeless prognosis – likely to result in death in a short time –  and simple autonomy ('It's my right to determine where, when, and in what circumstances I end my life, and that's an end of the matter'). One factor, commonly in the minds of patients asking for help in ending their lives, but rarely mentioned by advocates of assisted dying, is that the patient feels that she is a burden to her family and carers. Continue reading →
Does Female Genital Mutilation Have Health Benefits? The Problem with Medicalizing Morality
By Brian D. Earp (@briandavidearp)
* Please note: this piece was originally published in Quillette Magazine.
Four members of the Dawoodi Bohra sect of Islam living in Detroit, Michigan have recently been indicted on charges of female genital mutilation (FGM). This is the first time the US government has prosecuted an "FGM" case since a federal law was passed in 1996. The world is watching to see how the case turns out.
A lot is at stake here. Multiculturalism, religious freedom, the limits of tolerance; the scope of children's—and minority group—rights; the credibility of scientific research; even the very concept of "harm."
To see how these pieces fit together, I need to describe the alleged crime.
by Dominic Wilkinson and Julian Savulescu
The case of Charlie Gard has reached its sad conclusion. However, it continues to attract intense public attention. It raises a number of challenging and important ethical questions.
The role of Practical Ethics in cases like this is to help clarify the key concepts, identify central ethical questions, separate them from questions of scientific fact and subject arguments to critical scrutiny. We have disagreed about the right course of action for Charlie Gard, but agree on the role of ethical analysis and the importance of robust and informed debate. Ethics is not about personal opinion – but about argument, reasons, and rational reflection.
We have collected together below some of the materials on the Charlie Gard case that we and others have written as well as some relevant resources from our earlier work. We will update this page as more material becomes available. (*Updated 10/11/17) Continue reading →
In a blog post today, Julian Savulescu argues that in a parallel adult version of the highly controversial Charlie Gard case, a UK court might thwart an unconscious patient's previously expressed desire for self-funded experimental medical treatment. He finds the Gard decision deeply disturbing and suggests that we all have reason to fear the Charlie Gard judgment.
I respectfully beg to differ.
Julian's thought experiment of the billionaire 'Donald Wills' is not analogous to the real Charlie Gard case, his analysis of the UK legal approach to best interests cases for adults is potentially mistaken, his fear is misplaced. Continue reading →
By Dominic Wilkinson @Neonatalethics
In a blog post published yesterday, Julian Savulescu argues that Charlie Gard should have received the experimental treatment requested by his parents 6 months ago. He further argues that "we should be more aggressive about trials of therapy where there are no other good options".
I have previously argued (in a blog and in an editorial in the Lancet) that the requested treatment is not in Charlie's best interests. In a forthcoming paper (co-authored with John Paris, Jag Ahluwahlia, Brian Cummings and Michael Moreland), we compare the US and UK legal approaches to cases like this, and argue that the US approach is deeply flawed.
Here are four areas where I agree with Julian
In retrospect, it would have been better for Charlie to have received the requested treatment 6 months ago than to have a protracted legal dispute (with continued treatment in intensive care anyway)
We should generally allow patients who are dying or severely ill, without other available treatment, to try experimental treatment if that is something that they (or their family) strongly desire
If experimental treatments are unaffordable in public health systems but patients are able to pay for them privately, or have crowd-sourced funding for them, they should be made available
Experimental treatments should not be provided where the side effects make that treatment highly likely not to be in the patient's interests.
However, despite these areas of common ground, I reach starkly different conclusions from Julian. In my view, the doctors were right to oppose experimental treatment for Charlie in January, the judges were right to decline the family's request for treatment in April, and it would be deeply ethically problematic to provide the treatment now, notwithstanding the recent intervention of the US president and the Pope. Continue reading →