If you receive an implanted pacemaker for your heart, does it become your property? When it is no longer any use to you (because you have died), do you have to give it back?
On 9 May 2013, Salla Sariola, from ETHOX, gave a fascinating talk at the St Cross Ethics Seminar, based on work done collaboratively with Bob Simpson (Durham). The presentation focused on the large number of self-poisonings which have been taking place in Sri Lanka, often using lethal agricultural pesticides and herbicides unavailable in many developed countries. This presentation is now available as a podcast at the bottom right of the Oxford Uehiro Centre main webpage. Continue reading →
I have just watched someone die. Just one person. But a whole ecosystem has been destroyed. Everyone's roots wind round everyone else's. Rip up one person, and everyone else is compromised, whether they know it or not. This is true, too, for everything that is done to anyone. Death just points up, unavoidably, what is always the case.
This is trite. But it finds little place in bioethical or medico-legal talk. There, a human is a discrete bio-economic unit, and there's a convention that one can speak meaningfully about its elimination without real reference to other units.
In some medico-legal contexts this is perhaps inevitable. There have to be some limits on doctors' liability. Hence some notion of the doctor-patient relationship is probably inescapable, and the notion requires an artificially atomistic model of a patient.
But ethics can and should do better. Continue reading →
Owen Barfield was lunching in C.S. Lewis's rooms. Lewis, who was then a philosophy tutor, referred to  philosophy as 'a subject'. '"It wasn't a subject to Plato", said Barfield, "It was a way."'1
It would be dangerous for a modern professional philosopher to say that her philosophy was her 'way'. I can well imagine the responses. 'She's lost objectivity'. 'She's a preacher, not an academic.' 'Most of us  were disabused in our first week as undergraduates of the childish notion that philosophy was about the meaning of life. She obviously missed that lecture. She was probably at a prayer meeting instead.'
For the scoffers, philosophy is a job. It's something they do from nine to five. Then, when they leave the faculty, they walk out into the world of angst and bereavement and sick children, and begin, without reference to the day job, to try to puzzle out the meaning of the world and of their own place in it. The job, often, is about exactitude – about ensuring that every step in an examined argument is unimpeachably rigorous. But stop and ask them whether, as a result of the rigour, the argument can now be relied upon to change conduct, and they'll stop, scratch their heads, and look at you as if you're simple.
I'm not really accusing them of hypocrisy – of failing to judge themselves by their own standards. For an allegation like that to stick you'd have to show that they knew that the world of the day job was the same as the world outside. The problem is that they don't perceive the two worlds as having any connection at all. The diagnosis is non-integratedness. It would be unkind to translate it as lack of integrity.
Recently I was reading Charlie Camosy's book Too expensive to treat? Finitude, Tragedy and the Neonatal  ICU2. It's rather a good book, but its contents aren't the point for the moment.
Charlie and I don't always see eye to eye. He's a Catholic, for a start, with far too much respect for old dead men for my comfort. But the tone of the book struck me. Here was someone doing philosophy because the answers mattered. He'd unfashionably remembered that 'philosophy' means the love of wisdom. He approached the issues reverentially but insistently, determined not to let them go until he knew that they had something useful to say to  an artificially ventilated child.
No, this doesn't mean that the book is a Catholic polemic; or that he's mainly interested in crafting an argument that accords with the ruling Encyclicals; or that he's trying to ensure his back will be covered when he next slinks into a confessional;  or that it's a set of inevitable inferences from a set of a priori assumptions; or that it's humourless, earnest,  preachy or fanatical. Let alone correct. It's just a book by all of someone, with the intention of deriving principles that  apply to whole, real, humans, rather than to an abstracted portion of a human, or a pastiche of a human. It's written to appeal to reason, conscience, intuition and hospital accountants, rather than to the Chairmen of grant-giving authorities and tenure committees. It's the work of someone with a conjoined personal and professional life. That should be unremarkable. It's actually very unusual.
That it is so unusual is a big problem both for philosophy and philosophers.
[Conflict of interest: Charlie Camosy is a friend. Come to think of it, that's hardly a conflict of interest. He wouldn't stop being a friend if I hadn't written this, won't be more of a friend because I have, and I won't be getting a cut of any book sales this blog might generate.]
References
1. C. S. Lewis, Surprised by Joy, Geoffrey Bles, 1955
2. Eerdmans, 2010
by Dominic Wilkinson
Here in South Australia last week, a bill has been proposed to clarify the legal status of advance directives. One very small part of that bill involves a modification to an older palliative care act. The modification corrects an ambiguity in wording in the earlier act. The ambiguity is subtle. However, that choice of words has had major consequences for seriously ill children and adults in South Australia and for health practitioners. It is a salutary reminder of how hard it is to enact good laws in the area of end of life, and how easily such laws can make things worse rather than better.
By Lach De Crespigny and Julian Savulescu
Windsor Coroner's Court has heard that a mother died within hours of giving birth at home after a private midwife committed a horrifying catalogue of errors . According to reports, the woman had previously delivered twins by emergency caesarean section, one of which later died. Her husband said his wife was 'brainwashed' into having a home birth by the midwife, who insisted it was safe. The Royal College of Obstetricians and Gynaecologists advise delivery in hospital after caesarean section so that an emergency caesarean delivery can be carried out if necessary. The midwife denied trying to persuade the couple to have a home birth. However she has greater responsibilities than this; as professionals we should try to persuade women to deliver in hospital if this is a safer option. But the midwife seems to have prioritized homebirth over life itself when she reportedly stated:
"Claire had a great pregnancy, she had a really lovely spontaneous birth at home and I hope Simon in time will remember that"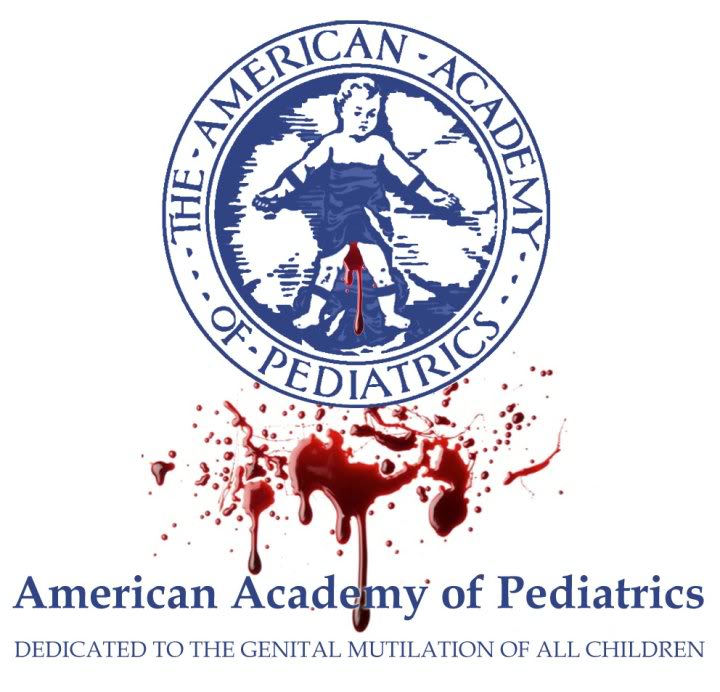 See Brian's most recent previous post by clicking here.
See all of Brian's previous posts by clicking here.
Follow Brian on Twitter by clicking here.
UPDATED as of 27 May, 2013. See the bottom of the post.
The AAP report on circumcision: Bad science + bad ethics = bad medicine
For the first time in over a decade, the American Academy of Pediatrics (AAP) has revised its policy position on infant male circumcision. They now say that the probabilistic health benefits conferred by the procedure just slightly outweigh the known risks and harms. Not enough to come right out and positively recommend circumcision (as some media outlets are erroneously reporting), but just enough to suggest that whenever it is performed—for cultural or religious reasons, or sheer parental preference, as the case may be—it should be covered by government health insurance.
That turns out to be a very fine line to dance on. But fear not: the AAP policy committee comes equipped with tap shoes tightly-laced, and its self-appointed members have shown themselves to be hoofers of the nimblest kind. Their position statement is full of equivocations, hedging, and uncertainty; and the longer report upon which it is based is replete with non-sequiturs, self-contradiction, and blatant cherry-picking of essential evidence.
On the BBC's Moral Maze this evening, the question of elective ventilation was discussed at some length. (For those who missed it, the program is still available here). There were several striking features of that discussion, but one argument that stood out was the argument against elective ventilation based on the importance of respecting the autonomy of patients, and the absence of consent, This has been the basis of previous ethical concerns about Elective Ventilation.
But actually, it seems to me that the consent/autonomy argument is completely upside down.* Patient autonomy provides one of the strongest arguments in favour of elective ventilation. So strong, in fact, that the proposed form of Elective Ventilation should arguably not be 'elective'. It is morally obligatory that we embrace Elective Ventilation. Continue reading →
Mary is 62 years old. She is brought to hospital after she collapsed suddenly at home. Her neighbour found her unconscious, and called the ambulance. When they arrived she was deeply unconscious and at risk of choking on her own secretions. They put a breathing tube in her airway, and transported her urgently to hospital.
When Mary arrives she is found to have suffered a massive stroke. A brain scan shows very severe bleeding inside her brain. In fact the picture on the scan and her clinical state is described by the x-ray specialist as 'devastating'. She is not clinically brain dead, but there is no hope. The emergency department doctors have contacted the neurosurgical team, but they have decided not to proceed with surgery as her chance of recovery is so poor.
In Mary's situation, the usual course of events is to contact family members urgently, to explain to them that there is nothing more that can be done, and to remove her breathing tube in the emergency department. She would be likely to die within minutes or hours. She would not be admitted to the intensive care unit – if called, the ICU team would be likely to say that she is not a "candidate" for intensive care. However, new guidance from the National Institute of Clinical Effectiveness, released late last year, and endorsed in a new British Medical Association working paper, has proposed a radical change to this usual course of events. Continue reading →