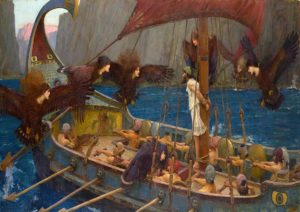 By Charles Foster
[Image: Ulysses and the Sirens: John William Waterhouse, 1891: National Gallery of Victoria, Melbourne]
We shouldn't underestimate Homer's hold on us. Whether or not we've ever read him, he created many of our ruling memes.
I don't think it's fanciful (though it might be ambitious) to suggest that he, and the whole heroic ethos, are partly responsible for our uncritical adoption of a model of autonomy which doesn't do justice to the sort of creatures we really are. That's a big claim. I can't justify it here. But one manifestation of that adoption is our exaggerated respect for advance directives – declarations made when one is capacitous about how one would like to be treated if incapacitous, and which are binding if incapacity supervenes if (in English law) the declaration is 'valid and applicable.' 1.
I suspect that some of this respect comes from the earliest and most colourful advance directive story ever: Odysseus and the Sirens. Continue reading →
by Dominic Wilkinson
Archie is legally alive, and the legal decision about whether it is in his best interests to keep him alive now needs to be revisited in the High Court.
Today, the Court of Appeal made a decision in the case of Archie Battersbee to send the case back to the High Court to examine what should happen next in his medical treatment.
Two questions
There are two separate questions. First, is Archie legally dead. Second, should life support machines continue?
by Dominic Wilkinson
In the recently reported case of Archie Battersbee, a 12 year old boy with severe brain damage from lack of oxygen, a judge declared that he had died on 31st May. This was almost eight weeks after his tragic accident, and five weeks after doctors at his hospital first applied to the court for permission to test him. His parents have appealed the ruling, and the appeal hearing is likely to be heard in the Court of Appeal next week.
If the judgement is correct that Archie is, sadly, legally dead, it is extremely likely that this has been the case for more than a month and potentially now more than two months. One of his doctors testified that in the view of the specialists looking after him it was likely that Archie's brain stem had died between 8th and 26th April. While it would not be unusual for doctors and families to take a few days to discuss and then proceed with formal testing, this length of delay is extremely unusual in the UK. The delay in making a definite determination in Archie's case is because his parents declined consent for brain death testing.
But that might lead us to ask: should parents be asked for consent to testing in these cases? Continue reading →
There are many corrosive forms of discrimination. But one of the most dangerous is the bias in favour of consciousness, and the consequent denigration of the unconscious.
We see it everywhere. It's not surprising. For when we're unreflective – which is most of the time – we tend to suppose that we are our conscious selves, and that the unconscious is a lower, cruder part of us; a seething atavistic sea full of monsters, from which we have mercifully crawled, making our way ultimately to the sunlit uplands of the neocortex, there to gaze gratefully and dismissively back at what we once were.  It's a picture encoded in our self-congratulatory language: 'Higher cognitive function'; 'She's not to be blamed: she wasn't fully conscious of the consequences.': 'In the Enlightenment we struck off the shackles of superstition and freed our minds to roam.' Continue reading →
By Charles Foster
From the time of the decision of the House of Lords in Airedale NHS Trust v Bland (1993) until the decision of the Supreme Court in An NHS Trust v Y (2018) (which I will refer to here as 'Y") it had been understood that the withdrawal of life-sustaining treatment (typically clinically assisted nutrition and hydration – 'CANH') from patients in a vegetative state should be endorsed by the court. Over the years, this practice had been extended to cover such withdrawals in Minimally Conscious States too.
In Y, the Supreme Court held that there was no requirement for court review or endorsement. Why? Continue reading →
By Charles Foster
This is a plea for a self-denying ordinance on the part of philosophers. Ignore Covid-19. It was important that you said what you have said about it, but the job is done. There is nothing more to say. And there are great dangers in continuing to comment. It gives the impression that there is only one issue in the world. But there are many others, and they need your attention. Just as cancer patients were left untreated because Covid closed hospitals, so important philosophical problems are left unaddressed, or viewed only through the distorting lens of Covid. Continue reading →
By Charles Foster

It has been a terrible few months for moral philosophers – and for utilitarians in particular. Their relevance to public discourse has never been greater, but never have their analyses been so humiliatingly sidelined by policy makers across the world. The world's governments are all, it seems, ruled by a rather crude vitalism. Livelihoods and freedoms give way easily to a statistically small risk of individual death.
That might or might not be the morally right result. I'm not considering here the appropriateness of any government measures, and simply note that whatever one says about the UK Government's response, it has been supremely successful in generating fear. Presumably that was its intention. The fear in the eyes above the masks is mainly an atavistic terror of personal extinction – a fear unmitigated by rational risk assessment. There is also a genuine fear for others (and the crisis has shown humans at their most splendidly altruistic and communitarian as well). But we really don't have much ballast.
The fear is likely to endure long after the virus itself has receded. Even if we eventually pluck up the courage to hug our friends or go to the theatre, the fear has shown us what we're really like, and the unflattering picture will be hard to forget.
I wonder what this new view of ourselves will mean for some of the big debates in ethics and law? The obvious examples are euthanasia and assisted suicide. Continue reading →
By Charles Foster
Cross posted from The Conversation
To be clear, and in the hope of heading off some trolls, two observations. First: of course I don't welcome the epidemic. It will cause death, worry, inconvenience and great physical and economic suffering. Lives and livelihoods will be destroyed. The burden will fall disproportionately on the old, the weak and the poor.
And second: these suggestions are rather trite. They should be obvious to reasonably reflective people of average moral sensibility.
That said, here goes:
1. It will make us realise that national boundaries are artificial
The virus doesn't carry a passport or recognise frontiers. The only way of stopping its spread would be to shut borders wholly, and not even the most rabid nationalists advocate that. It would mean declaring that nations were prisons, with no one coming in or out – or at least not coming back once they'd left. In a world where we too casually assume that frontiers are significant, it doesn't do any harm to be reminded of the basic fact that humans occupy an indivisible world.
Cooperation between nations is essential to combating the epidemic. That cooperation is likely to undermine nationalist rhetoric.
2. It will make us realise that people are not islands
The atomistic billiard-ball model of the person – a model that dominates political and ethical thinking in the west – is biologically ludicrous and sociologically unsustainable. Our individual boundaries are porous. We bleed into one another and infect one another with both ills and joys. Infectious disease is a salutary reminder of our interconnectedness. It might help us to recover a sense of society.
3. It may encourage a proper sort of localism
Internationalism may be boosted. I hope so. But if we're all locked up with one another in local quarantine, we might get to know the neighbours and the family members we've always ignored. We might distribute ourselves less widely, and so be more present to the people around us.
We might even find out that our local woods are more beautiful than foreign beaches, and that local farmers grow better and cheaper food than that which is shipped (with the associated harm to the climate) across the globe.
4. It may encourage altruism
Exigencies tend to bring out the best and the worst in us. An epidemic may engender and foster altruistic heroes.
5. It may remind us of some neglected constituencies
Mortality and serious illness are far higher among the old, the very young, and those suffering from other diseases. We tend to think about – and legislate for – the healthy and robust. The epidemic should remind us that they are not the only stakeholders.
6. It may make future epidemics less likely
The lessons learned from the coronavirus epidemic will pay dividends in the future. We will be more realistic about the dangers of viruses crossing the barriers between species. The whole notion of public health (a Cinderella speciality in medicine in most jurisdictions) has been rehabilitated. It is plain that private healthcare can't be the whole answer. Much has been learned about the containment and mitigation of infectious disease. There are strenuous competitive and cooperative efforts afoot to develop a vaccine, and vaccines against future viral challenges are likely to be developed faster as a result.
7. It might make us more realistic about medicine
Medicine is not omnipotent. Recognising this might make us more aware of our vulnerabilities. The consequences of that are difficult to predict, but living in the world as it really is, rather than in an illusory world, is probably a good thing. And recognising our own vulnerability might make us more humble and less presumptuous.
8. Wildlife may benefit
China has announced a permanent ban on trade in and consumption of wildlife. That in itself is hugely significant from a conservation, an animal welfare, and a human health perspective. Hopefully other nations will follow suit.
Professor Dominic Wilkinson, Professor of Medical Ethics, University of Oxford. Consultant Neonatologist
This morning, the High Court judgement around medical treatment for five-year old Tafida Raqeeb was published. Tafida sustained severe brain damage from bleeding in the brain eight months ago. Her parents wish to take her to a hospital in Italy to continue life support, while the doctors at the London hospital caring for her believe that it would be best to stop life support and allow Tafida to die.
Justice MacDonald concluded today that life sustaining treatment for Tafida must continue and her parents should be allowed to take her to Italy. Continue reading →