On the BBC News website this week, there is a feature on a pair of conjoined twins from Senegal who are currently living in Wales. They have an extremely rare condition – fused at the lower abdomen they have separate brains, hearts and lungs, but shared liver, bladder and digestive system.
The twins travelled to the UK to access medical treatment and surgery for their condition, however, the BBC reports that there is concern that both twins would not survive the surgery. The heart of one twin (Marieme) is weak, and the worry is that if she is separated she will die. Tragically, if the twins remain conjoined there is a fear that Marieme will still die, and her twin Ndeye will also not survive.
What should happen in this case? The twins' father, Ibrahima, is, according to reports, struggling with the terrible decision that he faces. It isn't clear at this stage what he will decide.
But what if he refused surgery? What should happen then? Continue reading →
By   Charles Foster
Wrongful life cases (typically where a birth has resulted from a failed sterilisation procedure), used to be big business. The parents would sue the negligent steriliser for the costs of bringing up the unwanted child. There was always something distasteful about parents unwishing their child, and this distaste found legal expression in Macfarlane v Tayside Health Board,1  where the House of Lords said that such claims were unlawful. The ratio of Macfarlane was summarised by the Lord Steyn in Rees v Darlington Memorial Hospital NHS Trust:2 Continue reading →
Think back to the last time you were faced with a really great menu in a restaurant. Loads of options, all of them appealing. Plus you're very hungry. Culinary choices, though typically trivial, can also be hard. This is because it can be tricky to make comparisons – and to judge what's best – across different options, all with particular qualities. The philosopher Ruth Chang describes hard choices as arising when 'reasons run out.' Often this is credited to one of three things: ignorance (we lack some of the information needed to choose between options); incommensurability (we can't find a common currency with which to compare the value/disvalue of different options); incomparability (the options are of such drastically different kinds that we cannot compare across them). But, Chang argues, sometimes we face hard choices in the absence of these factors: we sometimes face hard choices because of parity (the options are on a par). This might be the case when we're faced with hard food choices (lasagne or risotto), and also much more significant life choices (move to a new country or stay put; prioritise career advancement or start a family). Continue reading →

By Stephen Rainey
Summer time, and the living is ethically perplexing. Hordes of holidaymakers, the shimmering sea, busy beaches, and one sun over it all. How can the eager ethicist assess how to make the most of a fortnight away? We all know how we can generally make the most of things – but how ought we to treat the beach while we're away? Should we think of our own pleasure, the pleasure of all, or something else? Here, we can explore some options, and get some answers. Continue reading →

(Image: tctmd.com)
There is a dizzying circularity in much medical law. Judges make legal decisions based on the judgments of rightly directed clinicians, and rightly directed clinicians make their judgments based on what they think the judges expect of them. This is intellectually unfortunate. It can also be dangerous.
There are two causes: Judges' reluctance to interfere with the decisions of clinicians, and doctors' fear of falling foul of the law.
In some ways judicial deference to the judgment of professionals in a discipline very different from their own is appropriate. Judges cannot be doctors. The deference is best illustrated by the famous and ubiquitous Bolam test, which is the touchstone for liability in professional negligence cases.1 A doctor will not be negligent if their action or inaction would be endorsed by a responsible body of professional opinion in the relevant specialty.
In the realm of civil litigation for alleged negligence this deference is justified. The problem arises when the deference is exported to legal arenas where it should have no place. The classic example relates to determinations of the 'best interests' of incapacitous patients. Something done in relation to an incapacitous patient will only be lawful if it is in that patient's best interests. Continue reading →

Written by Doug McConnell
The 2018 edition of the football world cup has brought with it a renewed bout of hand wringing over 'simulation', e.g. players falling, diving, and tumbling under imaginary fouls, rolling around in mock pain, or clasping their faces pretending to have been hit. Stuart James writes in the Guardian that "play-acting has been commonplace at this World Cup. It's become a cancer in the game, not just a stain on it, and Fifa needs to find a cure." But what exactly is wrong with this behaviour? Why is the rise of this behaviour 'a cancer in the game'? Continue reading →
written by Andreas Kappes (@AnKappes), Anne-Marie Nußberger (@amnussberger ), Molly Crockett (@mollycrockett ) & Julian Savulescu  (@juliansavulescu)
Measles is making a comeback in Britain and Europe with numbers rising to record levels this year. Last year in Europe, measles killed 35 people, including young children . The re-emergence of measles can be traced to falling rates of vaccination and might make you want to re-think your summer plans. Crowded environments with low levels of hygiene, also known as summer festivals, are something to avoid if unsure about whether you have been properly vaccinated. And maybe re-think going for holidays to Romania, Italy and Greece, the countries with the highest rates of measles outbreaks this year.
But of course, even if you are not vaccinated, your chances of getting measles are low. And if you are infected, dying from measles is rare. The people that die during measles outbreaks are vulnerable babies that are too young to be vaccinated and unvaccinated people with compromised immune systems. And what are the chances that you infect one of these vulnerable people? Extremely low. Your intuition then might be that even if you are unsure about your vaccination status, the low odds don't seem to justify the effort to engage with the NHS or any other health care provider. Maximize your benefits, and others will surely be fine. Individually, this feels right, but for the communities and countries we live in, this is disastrous, slowly eroding herd immunity that protects the most vulnerable.

By Hazem Zohny
Bad utilitarians make for great supervillains.
Take Thanos, the purple CGI nemesis the Avengers have to face this year in what feels like the gazillionth Marvel movie. In his sincere desire to reduce suffering, Thanos is trying to kill half of all life in the universe.
Like all utilitarian-type supervillains, he has presumably gotten his welfare-maximizing calculus very wrong. But it made me wonder what such a supervillain might look like if their calculus wasn't so comically dim-witted. To that end, I'm going to discuss a character we can call Vegetarian Thanos.

By Charles Foster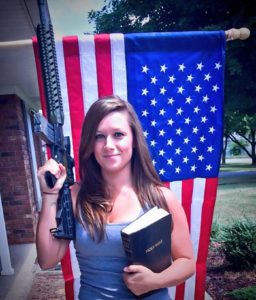 Image: Holly Fisher, a Conservative Christian blogger from West Virginia, posing with gun, Bible, and US flag:  from www.nydailynews.com
There was a near universal consensus that Bishop Michael Curry's sermon at the wedding of Prince Harry and Meghan Markle was magnificent.  'Frock Star', panted the Sun.  The Bishop 'stole the show…and is the 'new Pippa Middleton'' He left for the US, the Sun continued, 'leaving Britain still raving about his electrifying sermon.' The Bishop 'just stole the show', said Vox.com 'Prince Harry and Meghan were all but upstaged by the Episcopal priest's fiery sermon….You might say Curry just made the Anglican communion great again.'
'The Rev Michael Curry', tweeted Ed Miliband, 'could almost make me a believer, ' and Piers Morgan tweeted: 'Wow. Still reeling from Rev Curry. What a moment. What a man!' The BBC commentator Jeremy Vine said that the preacher was 'doing 50 in a 30 zone, and it's brilliant.' Continue reading →
by Dominic Wilkinson
In the light of the media attention today, I have gathered together some of the material relating to the ethics of this case Continue reading →