(Image: tctmd.com)
There is a dizzying circularity in much medical law. Judges make legal decisions based on the judgments of rightly directed clinicians, and rightly directed clinicians make their judgments based on what they think the judges expect of them. This is intellectually unfortunate. It can also be dangerous.
There are two causes: Judges' reluctance to interfere with the decisions of clinicians, and doctors' fear of falling foul of the law.
In some ways judicial deference to the judgment of professionals in a discipline very different from their own is appropriate. Judges cannot be doctors. The deference is best illustrated by the famous and ubiquitous Bolam test, which is the touchstone for liability in professional negligence cases.1 A doctor will not be negligent if their action or inaction would be endorsed by a responsible body of professional opinion in the relevant specialty.
In the realm of civil litigation for alleged negligence this deference is justified. The problem arises when the deference is exported to legal arenas where it should have no place. The classic example relates to determinations of the 'best interests' of incapacitous patients. Something done in relation to an incapacitous patient will only be lawful if it is in that patient's best interests. Continue reading →
written by Andreas Kappes (@AnKappes), Anne-Marie Nußberger (@amnussberger ), Molly Crockett (@mollycrockett ) & Julian Savulescu  (@juliansavulescu)
Measles is making a comeback in Britain and Europe with numbers rising to record levels this year. Last year in Europe, measles killed 35 people, including young children . The re-emergence of measles can be traced to falling rates of vaccination and might make you want to re-think your summer plans. Crowded environments with low levels of hygiene, also known as summer festivals, are something to avoid if unsure about whether you have been properly vaccinated. And maybe re-think going for holidays to Romania, Italy and Greece, the countries with the highest rates of measles outbreaks this year.
But of course, even if you are not vaccinated, your chances of getting measles are low. And if you are infected, dying from measles is rare. The people that die during measles outbreaks are vulnerable babies that are too young to be vaccinated and unvaccinated people with compromised immune systems. And what are the chances that you infect one of these vulnerable people? Extremely low. Your intuition then might be that even if you are unsure about your vaccination status, the low odds don't seem to justify the effort to engage with the NHS or any other health care provider. Maximize your benefits, and others will surely be fine. Individually, this feels right, but for the communities and countries we live in, this is disastrous, slowly eroding herd immunity that protects the most vulnerable.
Written by Stephen Rainey
What happens after we die? This might be taken as an eschatological question, seeking some explanation or reassurance around the destiny of an immortal soul or some such vital element of our very being. But there is another sense that has at least as much importance. What should we do with dead bodies?
According to a Yougov survey from 2016, a majority of UK residents prefer cremation over burial, with their ashes scattered in some meaningful place. This could be good news, given the apparent dwindling of burial space globally. In the face of this sort of constraint, the re-use of graves becomes necessary, which can cause distress to the families of even the long dead.
Less commonly, dead bodies can be donated to medical science and put to use for purposes of research and medical training. Research suggests the rate is low owing to 'non-cognitive factors' such as 'the desire to maintain bodily integrity, worries that signing a donor card might 'jinx' a person, and medical mistrust.'
Maybe we should think again about how we treat dead bodies. There could come a time when cremation and burial might be considered a waste of resources, given the uses to which cadavers can be put. One body can be used to train many surgeons in complex procedures by being pared into relevant sections – individual limbs, organ systems, brains. Nevertheless, whilst a corpse is indeed a valuable object, it was also previously a subject. The nature of bodies as post-persons does seem to deserve some special consideration. If we can account for this, we might be in a position to recommend very generally why we ought to respect the bodies of the dead. Continue reading →
By Jonathan Pugh
In the final lecture of the 2018 Uehiro lecture series, Richard Holton concluded his reflections on the theme of 'illness and the social self' by turning to questions about how attitudes can play a role in the onset of medical disorders, with a particular focus on psycho-somatic disorders.
You can find a recording of the lecture here
Is discrimination against unattractive people (lookism) a serious problem? What are the costs of lookism ? What should we do about lookism? In this interview with Katrien Devolder, Dr Francesca Minerva (Philosopher, Ghent University) addresses these thorny questions.
By Jonathan Pugh
The number of individuals suffering with dementia is steadily increasing; as such, the moral issues raised by the neurodegenerative diseases that bring about the symptoms typifying dementia are of pressing practical concern. In this context, Richard Holton's topic for the first of his three 2018 Uehiro lectures (on the theme "Illness and the Social Self") is a timely one: What are the ethical implications of the progressive and pervasive loss of memory that is a central feature of dementia?
I shall be blogging a synopsis of each lecture in the series on the Practical Ethics blog – You can find a recording of the lecture here
By Mackenzie Graham
Crosspost from The Conversation. Click here to read the full article.
The development of accessible treatment options for pregnant women is a significant public health issue. Yet, very few medications are approved for use during pregnancy. Most drug labels have little data to inform prescribing decisions. This means that most medicines taken during pregnancy are used without data to guide safe and effective dosing.
The United States Food and Drug Administration recently published draft ethical guidelines for how and when to include pregnant women in drug development clinical trials. These guidelines call for "the judicious inclusion of pregnant women in clinical trials and careful attention to potential foetal risk". The guidelines also distinguish between risks that are related to the research and those that are not, and the appropriate level of risk to which a foetus might be exposed. Continue reading →
The Minister of Justice in the UK wants to dramatically increase the use of chemical castration in sex offenders to reduce their risk of reoffending.Dr Tom Douglas (University of Oxford) argues that offering chemical castration to sex offenders might be a better option than current practices to prevent sex offenders from reoffending (e.g. incarceration), and responds to concerns about coercion and interfering in sex offenders' mental states (e.g. by changing their desires).
By Lauren Notini and Brian D. Earp
*Note: a condensed version of this article titled "Iceland's Proposed Circumcision Ban" is being cross-published at Pursuit.
For a small country, Iceland has had a big impact on global media coverage recently, following its proposed ban on male circumcision before an age of consent.
Iceland's proposed legislation seeks to criminalise circumcision on male minors that is unnecessary "for health reasons," stating individuals who remove "part or all of the sexual organs shall be imprisoned for up to 6 years."
The bill claims circumcision violates children's rights to "express their views on the issues [concerning them]" and "protection against traditions that are harmful."
According to bill spokesperson Silja Dögg Gunnarsdóttir, a key reason for the bill is that all forms of female genital cutting (FGC), no matter how minor, have been illegal in Iceland since 2005, but no similar legislation exists for males.
"If we have laws banning circumcision for girls," she said in an interview, then for consistency "we should do so for boys." Consequently, the bill is not specific to male circumcision, but adapts the existing law banning FGC, changing "girls" to "children."
There is much to unpack here. We first discuss self-determination and informed consent, before addressing claims about potential health benefits and harms. We then explore the religious significance of circumcision for some groups, and ask what implications this should have.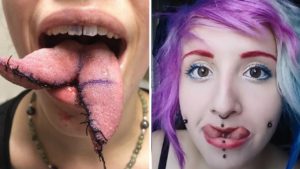 By Charles Foster
Image: 'Split tongue: procedure, safety, result': Tattoo World: Standard YouTube licence.
The appellant in R v BM was a tattooist and body piercer who also engaged in 'body modification'. He was charged with three offences of wounding with intent to do grievous bodily harm. These entailed: (a) Removal of an ear; (b) Removal of a nipple; and (c) division of a tongue so that it looked reptilian. In each case the customer had consented. There was, said the appellant, no offence because of this consent.
Where an adult decides to do something that is not prohibited by the law, the law will generally not interfere.
In Schloendorff v Society of New York Hospital (1914) 105 NE 92 Cardozo J said:
"Every human being of adult years and sound mind has a right to determine what shall be done with his own body."[1]
This principle has been fairly consistently recognised in the English law.[2] Thus, for instance, In In re T (Adult: Refusal of Treatment, Butler-Sloss LJ cited with approval this section of the judgment of Robins JA in Malette v Shulman[3]:
'The right to determine what shall be done with one's own body is a fundamental right in our society. The concepts inherent in this right are the bedrock upon which the principles of self-determination and individual autonomy are based. Free individual choice in matters affecting this right should, in my opinion, be accorded very high priority.' Continue reading →