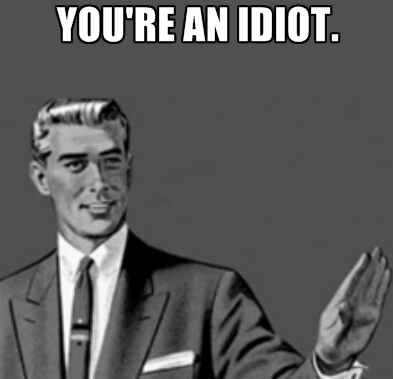 Follow Brian on Twitter by clicking here.
Could ad hominem arguments sometimes be OK? 
You aren't supposed to make ad hominem arguments in academic papers — maybe not anywhere. To get us on the same page, here's a quick blurb from Wikipedia:
An ad hominem (Latin for "to the man" or "to the person"), short for argumentum ad hominem, is a general category of fallacies in which a claim or argument is rejected on the basis of some irrelevant fact about the author of or the person presenting the claim or argument. Ad hominem reasoning is normally categorized as an informal fallacy, more precisely as a genetic fallacy, a subcategory of fallacies of irrelevance.
Some initial thoughts. First, there are some clear cut cases where an ad hominem argument is plainly worthless and simply distracting: it doesn't help us understand things better; it doesn't wend toward truth. Let's say that a philosopher makes an argument, X, concerning (say) abortion; and her opponent points out that the philosopher is (say) a known tax cheat — an attempt to discredit her character. Useless. But let's say that a psychologist makes an argument, Y, about race and IQ (i.e., that black people are less "intelligent" than white people), and his opponent points out that he used to be a member of the KKK. Well, it's still useless in one sense, in that the psychologist's prior membership in the KKK can't by itself disprove his argument; but it does seem useful in another sense, in that it might give us at least a plausible reason to be a little bit more cautious in interpreting the psychologist's results.
Posted in
Uncategorized
|
Tagged
ad hominem
,
advertising
,
ethics
,
fallacies
,
fallacious
,
Internet
,
neuroethics
,
personal
,
reasons
,
research
,
research ethics
,
rhetorical
,
science
,
transparency