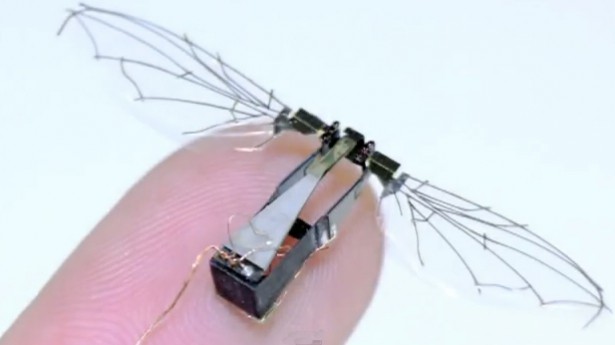 World's smallest drone? Or how to deal with double-edged technology 
BBC News reports that Harvard scientists have developed the world's smallest flying robot. It's about the size of a penny, and it moves faster than a human hand can swat. Of course, the inventors of this "diminutive flying vehicle" immediately lauded its potential for bringing good to the world:
1. "We could envision these robots being used for search-and-rescue operations to search for human survivors under collapsed buildings or [in] other hazardous environments."
2. "They [could] be used for environmental monitoring, to be dispersed into a habitat to sense trace chemicals or other factors."
3. They might even behave like many real insects and assist with the pollination of crops, "to function as the now-struggling honeybee populations do in supporting agriculture around the world."
These all seem like pretty commendable uses of a new technology. Yet one can think of some "bad" uses too. The "search and rescue" version of this robot (for example) would presumably be fitted with a camera; and the prospect of a swarm of tiny, remote-controlled flying video recorders raises some obvious questions about spying and privacy. It also prompts one to wonder who will have access to these spy bugs (the U.S. Air Force has long been interested in building miniature espionage drones), and whether there will be effective regulatory strategies capable of tilting future usage more toward the search-and-rescue side of things, and away from the peep-and-record side.
Posted in
Uncategorized
|
Tagged
Autonomy
,
Brian Earp's Posts
,
camera
,
drones
,
enhancement
,
ethics
,
future generations
,
love drugs
,
morality
,
risk
,
robot
,
smallest robot
,
smart drones
,
spying privacy
,
surveillance
,
technology
,
transparency