In the UK we're past the peak of the coronavirus pandemic but new ethical issues are arising: the healthcare system is now under enormous pressure – it's working less efficiently than before (because of precautions to protect healthcare personnel), and there's an enormous backlog of patients whose treatments have been put on hold. Which non-Covid-19 patients should get treated first and who will have to wait?  Dominic Wilkinson, Professor of Medical ethics and Consultant in Newborn Intensive Care, sheds some light on this important question, and proposes a practical solution. (To watch with subtitles, press the 'YouTube' button in the video.)
This interview is now also available as a video on YouTube: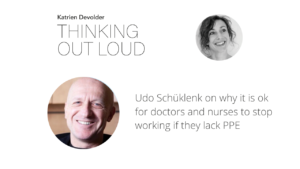 Philosopher Udo Schüklenk argues that it is morally permissible for doctors, nurses and other care workers to stop working if they lack PPE (personal protective equipment).  To listen to the interview, follow this link to the podcast: https://podcasts.apple.com/gb/podcast/is-it-morally-permissible-for-healthcare-workers-to/id1509190881?i=1000472576406
What is passive aggression? Why is it so annoying? What message does the person being passive aggressive try to convey? Is it usually better to speak our mind about what bothers us, or to be passive aggressive? Is it sometimes better to just swear at people? In this interview with Dr Katrien Devolder (Oxford Uehiro Centre for Practical Ethics), philosopher Dr Rebecca Roache  (Royal Holloway) talks us through the philosophy of passive aggression!
Should we use genetic testing to choose what type of children to bring into the world, and if so, how should we choose? Is it acceptable to choose a deaf child? Should we choose our children on the basis of non-disease traits such as intelligence if that were possible ? Does genetic selection put too much pressure on prospective parents? In this interview with Katrien Devolder (Oxford Uehiro Centre for Practical Ethics), Professor Julian Savulescu, director of the Oxford Uehiro Centre for Practical Ethics, defends his controversial view that we should select those children, from among the children we could have, that will have the best chance at the best life.
[This interview is audio only]
In this interview with Katrien Devolder, Peter Singer defends the Global Kidney Exchange (GKE) programme, which matches donor–recipient pairs across high-income, medium-income, and low-income countries. The GKE has been accused of being a form of organ trafficking, exploiting the poor, and involving coercion and commodification of donors. Peter Singer refutes these claims, and argues that the GKE promotes global justice and reduces the potential for people in need of kidneys in low-income and medium-income countries to be exploited.