Written by Doug McConnell
Everywhere we look environmentalists are being exposed as hypocrites. But is this relevant to the arguments these environmentalists are making and, if not, how can we improve the quality of public debate on environmental issues? Continue reading →
In Elizabeth Anderson's final Uehiro lecture, she tackles what she takes to be the hardest problem facing our current political discourse – How can we overcome obstacles to communicating moral concerns in order to orient policy to important values (such as public health and justice)? This is a particularly difficult and intractable problem because it concerns our moral values; in overcoming this obstacle, there is thus a considerable degree of scope for disagreement, and judgments of the moral character of others based on their moral opinions. Over the course of the lecture, Anderson refines the diagnosis of this problem, and once again expresses optimism about overcoming the obstacles she highlights. This time she outlines how we might disarm the fear, resentment, pride, and contempt that is currently derailing our political discourse, and the virtues that we must develop to do so. You can find a recording of the lecture here.
Prof. Elizabeth Anderson's second Uehiro lecture focuses on how we can overcome obstacles to fact-based political discourse. In particular, the lecture concerns how we might prevent identity-expressive discourse (a term introduced in the first lecture; see summary of lecture 1 below) from displacing the discussion of facts and evidence in public discourse, and how we might overcome the shameless lying and disinformation campaigns of populist populations. Over the course of the lecture, Anderson illustrates her analysis with illuminating cases studies, and finishes by providing her own solutions to the problem at hand, drawing on Cultural Cognition theory, John Dewey's cultural conception of democracy, and emerging data from deliberative polling studies. You can find a recording of the lecture here
It is something of an understatement to suggest that we are living through turbulent times. Society today is characterised not just by deep divisions about how to address key social challenges of our time, but also on the emphasis that should be placed on evidence-based discussion of these issues, and the moral values that should guide national policies.
In this context, Elizabeth Anderson's Uehiro lecture series, entitled ""Can We Talk – Communicating Moral Concern In An Era of Polarized Politics" could not be more timely. In the first of this three lecture series, Anderson offers a diagnosis of the problems that currently bedevil political discourse across the world. This first lecture sets the stage for the following two lectures in which she shall offer her own proposed solutions to the problems that she so vividly describes and analyses in this fascinating initial lecture. The remainder of this post shall briefly summarise the key points of the lecture – You can find a recording of the lecture here
Written by Ben Davies
Last week's by-election in the Welsh constituency of Brecon and Radnorshire saw a reduction of Boris Johnson's government majority to just one, as Liberal Democrat Jane Dodds won the seat. The result was an interesting one: more voters went for No Deal-friendly parties (mainly Johnson's Conservatives and the Brexit Party) than for the out-and-out Remainer Lib Dems. Dodds won not because a majority of voters supported her, but arguably because the pro-Brexit vote was split, and the Lib Dem vote was boosted by Plaid Cymru and the Greens declining to field candidates (it can't have helped that the Conservatives also simply reselected their candidate whose unseating for expenses fraud triggered the election).
The result generated two sets of comments by Conservative Chair James Cleverly. Cleverly's first claim was that the Liberal Democrats had engineered a "back room deal" with other Remain-friendly parties – Plaid and the Greens – in a way that was, he implied, undemocratic. Continue reading →
By Charles Foster
Some odd alliances are being forged in this strange new world,
I well remember, a few years ago, the open hostility shown by dreadlocked, shamanic, eco-warriors towards the Abrahamic monotheisms. They'd spit when they passed a church.
The rhetoric of their distaste was predictable. The very notion of a creed was anathema to a free spirit. 'No one's going to tell me what to think', said one (we'll call him Jack), the marks on his wrists still visible from where he'd been chained to a road-builder's bulldozer. And the content of the creeds, and the promulgators-in-chief, didn't help. 'I'm certainly taking no lessons', Jack went on, 'from some patriarchal sky-god represented by a paedophilic priest.'
But it's changed. Jack still heaves bricks through bank windows (he says), and still copulates inside stone circles, but now he's mightily impressed with Jesus, has a Greek Orthodox icon of the resurrection next to his bong, and pictures of Richard Dawkins and Sam Harris on his dartboard. He's not alone. He's part of a widespread movement that is reclaiming and recruiting the intrinsic radicalism of Judaism, Christianity, and Islam in the fight against Neo-Liberalism and the destruction of the planet. Continue reading →

By Charles Foster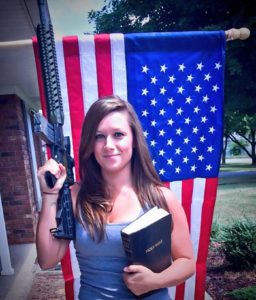 Image: Holly Fisher, a Conservative Christian blogger from West Virginia, posing with gun, Bible, and US flag:  from www.nydailynews.com
There was a near universal consensus that Bishop Michael Curry's sermon at the wedding of Prince Harry and Meghan Markle was magnificent.  'Frock Star', panted the Sun.  The Bishop 'stole the show…and is the 'new Pippa Middleton'' He left for the US, the Sun continued, 'leaving Britain still raving about his electrifying sermon.' The Bishop 'just stole the show', said Vox.com 'Prince Harry and Meghan were all but upstaged by the Episcopal priest's fiery sermon….You might say Curry just made the Anglican communion great again.'
'The Rev Michael Curry', tweeted Ed Miliband, 'could almost make me a believer, ' and Piers Morgan tweeted: 'Wow. Still reeling from Rev Curry. What a moment. What a man!' The BBC commentator Jeremy Vine said that the preacher was 'doing 50 in a 30 zone, and it's brilliant.' Continue reading →
Written by Hazen Zohny 
* Please note that this essay was originally published in Quillette Magazine.
The Discomforts of Being a Utilitarian 
I recently answered the nine questions that make up The Oxford Utilitarianism Scale. My result: "You are very utilitarian! You might be Peter Singer."
This provoked a complacent smile followed by a quick look around to ensure that nobody else had seen this result on my monitor. After all, outright utilitarians still risk being thought of as profoundly disturbed, or at least deeply misguided. It's easy to see why: according to my answers, there are at least some (highly unusual) circumstances where I would support the torture of an innocent person or the mass deployment of political oppression.
Choosing the most utilitarian responses to these scenarios involves great discomfort. It is like being placed on a debating team and asked to defend a position you abhor. The idea of actually torturing individuals or oppressing dissent evokes a sense of disgust in me – and yet the scenarios in these dilemmas compel me not only to say such acts are permissible, they're obligatory. Biting bullets is almost always uncomfortable, which goes a long way in explaining the lack of popularity utilitarianism enjoys. But this discomfort largely melts away once we recognize three caveats relevant to the Oxford Utilitarianism Scale and to moral dilemmas more generally.
The first of these relates to the somewhat misleading nature of these dilemmas. They are set up to appear as though you are being asked to imagine just one thing, like torturing someone to prevent a bomb going off, or killing a healthy patient to save five others. In reality, they are asking two things of you: imagining the scenario at hand, and imaging yourself to be a fundamentally different being – specifically, a being that is able to know with certainty the consequences of its actions.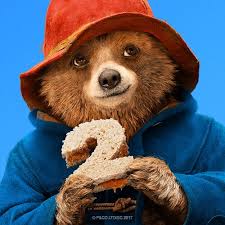 By Charles Foster
Last night, long after everyone else I know, I went with the kids to see Paddington 2. As everyone agrees, it's wonderful. It's a modern morality tale. There is plainly a big appetite for morality.
Interestingly, though, it is a Christian morality tale.1 Paddington's behaviour neutralizes violence. In the face of his goodness, and emolliated by his marmalade sandwiches, the hard men at the prison uncurl their fists and bake strawberry panna cotta with pomegranate glaze instead. His vulnerability is irresistible. He turns selfishness into altruism. 'Nuckles' (sic), (Brendan Gleeson) whose motto has always been that he doesn't do nuffin' for no one for nuffin', jeopardises his own liberty to liberate Paddington – and wins his own perpetual freedom by doing so. There's even a sort of resurrection – in which Paddington, trapped in a watery grave, is released. And as he is released, more of his redemptive power is unleashed too. Continue reading →
Introduction
In a series of five harrowing judgments, the President of the Family Division, Sir James Munby, expressed his frustration with the system that endangered the life of a child who was the subject of care proceedings. He was forthright. Some of his words were quoted in the press. A headline in the Guardian read: 'Judge warns of 'blood on our hands' if suicidal girl is forced out of secure care.' 'Why won't NHS help?' asked the Sun. 'State will have 'blood on its hands' if suicidal teen doesn't get hospital bed soon, top judge warns.'
While the judge's comments seemed generally to be applauded by the media, not all were happy. Here is a typical example of a commentator who was not:
'To use a rhetorical outburst in one case to make broader political points about the state of public services jeopardises the principle of judicial separation. In saying that there are occasions when doing right "includes speaking truth to power", and openly condemning the lack of adequate public resources, is to leave the respected realm of judicial neutrality and to enter the political fray. Language and tone matter. Even if the diagnosis is fair, for a judge to use this tactic is, well, pretty ill-judged.' Continue reading →