Written by Roger Crisp
Imagine two worlds quite different from our own. In Non-intervention, if a person becomes ill with some life-threatening condition, though their pain may be alleviated, no attempt is made to save their lives. In Maximal-intervention, everything possible is done to save the lives of those with life-threatening conditions. Continue reading →
Widespread corruption and racism in Mexico created extra hurdles for the development of Mexico's recently published federal guidelines for deciding who gets to access scarce medical resources (e.g. ventilators in the case of Covid-19). Dr César Palacios-González (Oxford), who helped develop these guidelines,  talks about these challenges.
In the UK we're past the peak of the coronavirus pandemic but new ethical issues are arising: the healthcare system is now under enormous pressure – it's working less efficiently than before (because of precautions to protect healthcare personnel), and there's an enormous backlog of patients whose treatments have been put on hold. Which non-Covid-19 patients should get treated first and who will have to wait?  Dominic Wilkinson, Professor of Medical ethics and Consultant in Newborn Intensive Care, sheds some light on this important question, and proposes a practical solution. (To watch with subtitles, press the 'YouTube' button in the video.)
Written by: Carl Tollef Solberg, Senior Research Fellow, Bergen Centre for Ethics and Priority Setting (BCEPS), University of Bergen.
Espen Gamlund, Professor of Philosophy, Department of Philosophy, University of Bergen.
In 2015, there were 56.4 million deaths worldwide (WHO 2017).[i] Most people would say that the majority of these deaths were bad. If this is the case, why is it so, and are these deaths equally bad?
Death is something we mourn or fear as the worst thing that could happen—whether the deaths of close ones, the deaths of strangers in reported accidents or tragedies, or our own. And yet, being dead is not something we will ever live to experience. This simple truth raises a host of challenging philosophical questions about the negativity surrounding our sense of death, and how and for whom exactly it is harmful. The question of whether death is bad has occupied philosophers for centuries, and the debate emerging in the philosophical literature is referred to as the "badness of death." Are deaths primarily negative for the survivors, or does death also affect the decedent? What are the differences between death in fetal life, just after birth, or in adolescence? When is the worst time to die? These philosophical questions, although of considerable theoretical interest, is particularly relevant for how we evaluate deaths in global health, and policy-makers spending money to finance different health programs need to know how to answer them.  Continue reading →
By Tom Douglas
Jack has smoked a packet a day since he was 22. Now, at 52, he needs a heart and lung transplant.
Should he be refused a transplant to allow a non-smoker with a similar medical need to receive one? More generally: does his history of smoking reduce his claim to scarce medical resources?
If it does, then what should we say about Jill, who has never touched a cigarette, but is predicted to become a smoker in the future? Perhaps Jill is 20 years old and from an ethnic group with very high rates of smoking uptake in their 20s. Or perhaps a machine-learning tool has analysed her past facebook posts and google searches and identified her as a 'high risk' for taking up smoking—she has an appetite for risk, an unusual susceptibility to peer pressure, and a large number of smokers among her friends. Should Jill's predicted smoking count against her, were she to need a transplant? Intuitively, it shouldn't. But why not?

by Dominic Wilkinson (@Neonatalethics)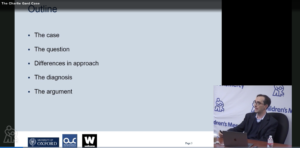 Webinar given recently for the Children's Mercy Centre for bioethics as part of the excellent (and free) Children's Mercy webinar series (great resource for those interested in paediatric bioethics) Continue reading →
by Dominic Wilkinson and Julian Savulescu
Tomorrow, the UK Court of Appeal will review the controversial case of a British infant, Charlie Gard. Charlie's parents are appealing a recent High Court decision that gave doctors permission to withdraw his life support. They have raised money for Charlie to travel to the US for an experimental medical treatment. Continue reading →
By Charles Foster
The Lord Chancellor recently announced that the discount rate under the Damages Act 1996 would be decreased from 2.5% to minus 0.75%. This sounds dull. In fact it is financially tectonic, and raises some important ethical questions.
In the law of tort, damages are intended to put a claimant in the position that she would have been in had the tort not occurred. A claimant who, as result of negligence on the part of a defendant, suffers personal injury, will be entitled to, inter alia, damages representing future loss of earnings, the future cost of care and, often, private medical and other treatment.
Where damages are awarded as a lump sum, there is a risk of over-compensating a claimant. Suppose that the claimant is 10 years old at the time of the award, and will live for 70 years, and the future care costs are £1000 a year for life. Should the sum awarded be £1000 x 70 years = £70,000? (70, here, is what lawyers call the 'multiplier'). It depends on the assumption one makes about what the claimant will do with the lump sum. If she invests it in equities that give her (say) an annual 5% return, £70,000 would over-compensate her.
In the case of Wells v Wells1, the House of Lords decided that, to avoid the risk of under-compensation, claimants should be treated as risk-averse investors. It should be assumed, said the House, that the discount rate should be fixed by reference to the return on index-linked gilts – Government securities. The rate was 2.5% from 2001 until February of this year. The reasons for the change to minus 0.75% are here.  Continue reading →
Dominic Wilkinson, @Neonatalethics
Reports that a 62-year-old Spanish woman has given birth after IVF treatment have led many to question whether there should be age limits with such treatment. Lina Alvarez, a doctor in north-west Spain, isn't the oldest person to have had success with IVF. Earlier this year, in India, Daljinder Kaur is said to have given birth at the age of 72, prompting calls from the Indian Medical Council for a ban on fertility treatment in women over the age of 50.
In many countries where there is funding assistance for IVF there is a limit to obtaining treatment over a certain age. In Britain, for example, the bar is set at age 42. But Alvarez received private treatment. So why care about her age? And what business is it of the rest of us whether she has access to IVF?
There are several arguments that typically surface in debates about age and fertility treatment – and they are all deeply flawed. Continue reading →
Should vegans eat meat to be ethically consistent? And other moral puzzles from the latest issue of the Journal of Practical Ethics
By Brian D. Earp (@briandavidearp)
The latest issue of The Journal of Practical Ethics has just been published online, and it includes several fascinating essays (see the abstracts below). In this blog post, I'd like to draw attention to one of them in particular, because it seemed to me to be especially creative and because it was written by an undergraduate student! The essay – "How Should Vegans Live?" – is by Oxford student Xavier Cohen. I had the pleasure of meeting Xavier several months ago when he presented an earlier draft of his essay at a lively competition in Oxford: he and several others were finalists for the Oxford Uehiro Prize in Practical Ethics, for which I was honored to serve as one of the judges.
In a nutshell, Xavier argues that ethical vegans – that is, vegans who refrain from eating animal products specifically because they wish to reduce harm to animals – may actually be undermining their own aims. This is because, he argues, many vegans are so strict about the lifestyle they adopt (and often advocate) that they end up alienating people who might otherwise be willing to make less-drastic changes to their behavior that would promote animal welfare overall. Moreover, by focusing too narrowly on the issue of directly refraining from consuming animal products, vegans may fail to realize how other actions they take may be indirectly harming animals, perhaps even to a greater degree.