Scott Alexander has a thoughtful piece about who gets to set the default in disagreements about what is reasonable. He describes a couple therapy session where one member is bored with his sex life and goes kinky clubbing, to the anger of his strongly monogamous partner. Yet both want to stay together at least for the sake of the kids. Assuming the answer is an either-or situation where one has to give up on their demand (likely not the ideal response in an actual couple therapy setting), the issue seems to boil down to who has the unreasonable demand.
It resonated with another article I came across in my news flow today: What It's Like to Be Chemically Castrated. This article is an interview with a man who wanted to be chemically castrated in order to manage his sex addiction and save his 45-year marriage. Is this an unreasonable intervention?
Chris Gyngell and Julian Savulescu
Human genetic modification has officially progressed from science fiction to science.  In a world first, scientists have used the gene editing technique CRISPR to modify human embryos. While the study itself marks an important milestone, the reason it is truly extraordinary is the scientific community's reaction to it. In refusing to publish this study on ethical grounds, the world's two leading science journals Nature and Science, appear to be demonstrating a lack of clear and consistent thinking on ethical issues. Continue reading →
Doctors Offering 'Gay Gene' To Same Sex Couples Wanting Gay Children: apparently Dr. William Strider at the Fertility Center of Chicago suggests that homosexual parents should have the option of increasing the chances of their kid being homosexual:
"When straight couples have children, the majority of them want their children to be straight as well. That is why most straight parents have trouble accepting it when their children announce to them that they are gay," …  "So it only makes sense that same-sex couples would want children that carried out their same family values of homosexuality."
The article is likely reporting wrong on what method would be used: germline manipulation sounds like a unproven and risky approach, while PGD is a proven technique that could presumably select based on X-chromosome sequence. And given the topic it is not implausible that Dr. Strider is being misquoted. But let's take everything at face value: would it be ethical to select for sexual preference?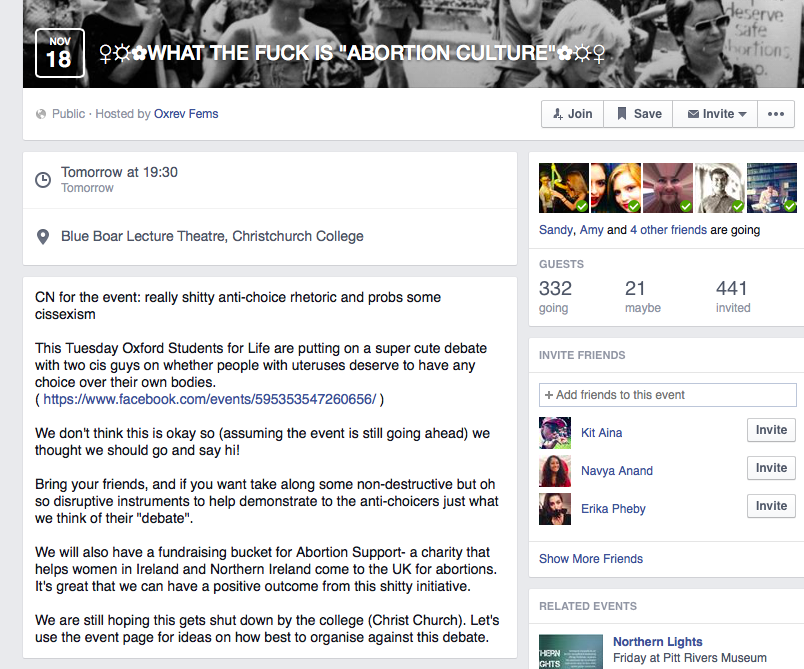 Feminists are kicking up quite a storm in Oxford at the moment. Oxford Students for Life have organized a debate on abortion to happen tomorrow (the 18th November, 2014), which has inspired some rather troubling attacks. Now, Oxford feminists ('WomCam') are generally rather intolerant of any pro-life rhetoric (or, indeed, anyone that disagrees with them), but what has really got their goat this time is that the debate is between two men.
"It is absurd to think we should be listening to two cisgender men debate about what people with uteruses should be doing with their bodies. By only giving a platform to these men, OSFL [Oxford Students for Life] are participating in a culture where reproductive rights are limited and policed by people who will never experience needing an abortion."
Reproductive technologies were in the headlines when Facebook and Apple announced they would offer female employees a $20,000 benefit to freeze their eggs. According to the report, this enables women to delay child bearing for different reasons and gives women more control. The announcement states that egg freezing is a pricey but increasingly popular option for women: The procedure typically costs up to $10,000, with an additional $500 for storage each year. After freezing eggs, in vitro fertilisation (IVF) can be used afterwards.
I wish to start with a disclaimer: I'm totally for increasing control and flexibility with reproductive technologies, I think the possibility as such is great, I cheer if some women genuinely wish to use this option, and I totally recognize that Facebook and Apple are just giving an option. However, there is room for questions. First, individual-level solutions are suggested where the actual issue is likely to be socially constructed, and secondly, IVF is seen merely as a handy option. These two are discussed in the following. Continue reading →
In an article soon to be published in the Journal of Medical Ethics, Rob Sparrow imagines a procedure via which multiple generations of human embryos might be created in the laboratory. Egg and sperm cells would first be generated from existing or new human pluripotent stem cell lines. The resulting eggs would be fertilised using the sperm to create zygotes and ultimately embryos. Embryonic stem cells would then be harvested from these embryos and used to create new egg and sperm cells, which would in turn be used to fertilise one another to create further embryos. This process could be iterated, in principle indefinitely.
Let's call this procedure 'iterated in vitro reproduction' (Sparrow calls it 'in vitro eugenics'). Iterated in vitro reproduction is not yet possible, but, citing recent developments in the science of stem cell-derived gametes, Sparrow argues that it may well become so, though he acknowledges are number of significant hurdles to its development. He also discusses a number of possible applications of the technology and calls for an ethical debate on these. The most controversial application would be in the creation of designer children. Consider the following case, which is a variant on one of the scenarios imagined by Sparrow:
Jack and Jill present to a fertility clinic. Jack provides a sperm sample, and fertility doctors harvest a number of eggs from Jill. These eggs are fertilized with Jack's sperm to create embryos, from which embryonic stem cells are derived. These stem cells are then induced to develop into eggs or sperm which are used to fertilise one another, and so on. The process is iterated numerous times, and at each stage, the embryos are genetically screened via pre-implantation genetic diagnosis. This screening is used to inform a process of selective crossing, so that, over several generations, the population of embryos evolves towards certain genetic dispositions desired by Jack and Jill (a disposition towards longevity, say). This process is aided by adding small amounts of genetic material from stem cell lines derived from other individuals. Eventually, doctors identify an embryo with almost exactly the desired combination of genes, and this embryo is implanted into Jill's womb and carried to term. A child, Jarvis, is born.
Cases like this raise numerous ethical issues, some of which are discussed by Sparrow and the seven commentators on his paper. However, they also raise an interesting conceptual question: would the users of such a technology be the genetic parents of the resulting offspring? Would Jack and Jill be the genetic parents of Jarvis?
By Dominic Wilkinson (@Neonatal Ethics)
Late last month, a paper in the US journal Obstetrics and Gynecology reported the extra
ordinary case of Abigail Beutler. Abigail is now 14 months old. She was born without kidneys, a condition sometimes called 'Potter's syndrome'. Potter's syndrome is normally universally fatal in the newborn period, because without kidneys the fetus does not produce urine and has little or no fluid around them. Without any fluid around the fetus, their lungs do not develop.
Abigail is the first baby to ever survive with this condition. Doctors infused artificial fluid into the uterus around her (amnioinfusion) on five occasions during the pregnancy. This seemed to allow her lungs to grow. Although she was born 3 months prematurely, she had only minor breathing problems at birth. She has received kidney dialysis since soon after birth, was discharged home after 19 weeks and is now reportedly being considered for a kidney transplant. Continue reading →
by Dominic Wilkinson @NeonatalEthics
Over on the Journal of Medical Ethics blog are a couple of posts that might be of interest to Practical Ethics readers.
Last week, the journal published online an article by Cristina Richie on carbon caps and IVF. She argues that the environmental costs of reproduction should lead to carbon caps on IVF, and more restrictive public access to artificial reproduction.
Iain Brasssington wrote a blog in response, 'ARTs in a warming world'. He wrote:
"while reproduction may be a good, it is not the only good at which persons or policies may or should aim; and there are times when two goods conflict.  Neither is it too strange to suggest that there are times when a person should abandon one good because of the greater moral gravity of some other, greater, good.  It's possible that reproduction is one of those goods."
I also wrote a blog in response to Richie, arguing that "Gaia doesn't care where your baby comes from". From an environmental point of view there seems little reason to place limits on artificial but not natural reproduction, or to restrict publicly funded IVF (as Richie suggests) to the "biologically infertile".
Finally, Iain wrote a follow-up piece about conflicts of interest and ethical analysis. Some had criticised Richie's arguments on potentially ad hominem grounds. Brassington argues (persuasively) that what matters are the arguments, not their origins.
[Feel free to comment over on the JME blog]
On the evening of Thursday 28 December, Prof. Justin Oakley, Deputy Director of the Centre for Human Bioethics at Monash University, gave a fascinating and suggestive lecture on whether there is reason for the state to broaden access to IVF treatment for childless people as well as facilitating adoption. Continue reading →