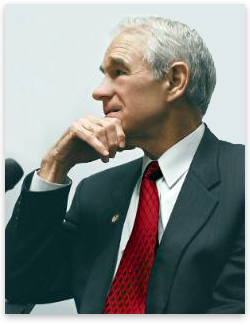 By Brian Earp
Follow Brian on Twitter by clicking here.
Forget about "medical marijuana." Isn't it time to legalize heroin in the United States? Recreational cocaine? Ecstasy? LSD? How about the whole nefarious basketful of so-called 'harder' drugs?
Yes, it is, says Ron Paul, a fourteen-term libertarian congressman and obstetrician from the state of Texas. It's a view shared by virtually none of his Republican colleagues, nor, for that matter, very many Democrats. Nor really anyone in the "mainstream" of American politics. But in this post, I'll argue that he's right.
Paul—who is currently making his third bid for President of the United States—offered his perspective to comedian and Daily Show host Jon Stewart in an interview earlier this week: