Guest Post: CARING ROBOTS
CARING ROBOTS
Written by Darlei Dall'Agnol[1]
Universidade Federal de Santa Catarina
As we humans find ways of enhancing our physical, intellectual, emotional and other capabilities and, as a result, our lifespan expands, caring for the elderly becomes more challenging and complex too. We may postpone aging, but perhaps not forever and serious care will be needed at some point. Now, recent figures show that the number of carers aged 85 and over has risen in England by 128% in the last decade and is around 87.000.[2] Half of these carers work for 50 hours or more each week. Most are compromising their own well-being showing that we must deal with the problem in a different way to avoid aggravating it. These individuals should be cared for and not be the ones caring. An aging population brings greater burdens for the health care system raising many issues about fairness and justice in distributing resources. In countries like Japan, with 25% of the population over 65,[3] caring is even becoming a social problem and some companies are turning to robots.
Pepper "a robot with a heart" will be sold to care for the elderly and children. Other examples include: Wakamaru a "companion robot" designed to co-inhabit with humans (see figure below); Paro a fur-covered robotic seal developed by AIST that responds to petting; Sony's AIBO robotic dog and NeCORO robotic cat covered in synthetic fur used for therapeutic purposes; Secom My Spoon an automatic feeding robot; Sanyo robot for monitoring, delivering messages, and reminding about medicine and other devices to help on the problem of caring for the elderly. In continental Europe, there are a few robots in experimental tests as caregivers too. But are robots the best solution for caring for the elderly?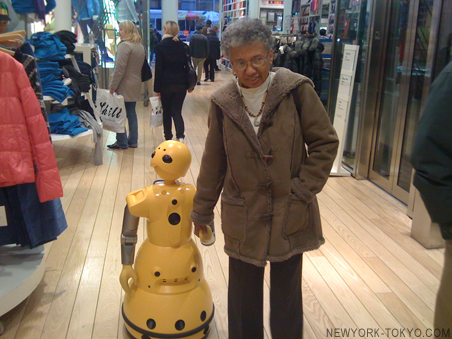 Wakamaru is a domestic robot intended to provide companionship to elderly.It can connect to internet and has speech recognition. One basic function is to remind the user to take medicine. If someone falls, it calls 911.
Whether robots can really perform this activity depends partially on what we mean by caring and consequently how we design and program them. Perhaps the most important ethical issue is what moral theory, if any, should be incorporated into programming a caring robot. In "Robot Caregivers: Ethical Issues across the Human Lifespan", Jason Borenstein and Yvette Pearson discuss the issue of robots as caregivers assuming a capability approach based on human flourishing.[4] Several other questions, however, arise: will caring robots have technical abilities only or will they be designed to have feelings such as sympathy or empathy to better respond to the clients' basic needs? Should they be able to deliberate and take decisions having some degree of consciousness? Should they be capable of autonomous agency or just follow instructions blindly? If they will be autonomous, should we consider them persons? Shouldn't they then have full civil rights and not just obligations? I will not be able to deal with all these questions here, but I would like to discuss further what would be the best possible caring robot.
First of all, let me point out some other uses we already have for robots in health care and related domains. From vacuum cleaners like Roomba to machines washing floors, iron clothes, moving objects from room to room, robots can certainly do most of the work and services for elderly people at home improving their quality of life and well-being. As we saw above, robots are also designed for therapeutic purposes such as reducing stress, stimulating cognitive activities, coaching in physical therapy etc. from which the elderly can benefit.  Some robots can even perform functions of nurses such as taking blood pressure and so on. It is worth underlying that robots are already used in other health care areas too, for example, they perform sophisticated surgeries. Moreover, caring robots may be designed for companionship taking us for a walk, playing chess etc. A caring robot may be always willing to listen to us. It (or she?) may never cheat on us. In the future, they may even be the ideal companion for some of us. Anyway, there is no doubt that caring robots may improve the quality of life for everyone, including vulnerable elderly.
How we design a caring robot becomes then a central issue for robot ethics. To shed some light on this issue, imagine we can use a Person-o-Matic machine to produce, by pushing some buttons, two different kinds of robot caregivers:[5] a droid or a humanoid robot. The main difference is that the droid is programmed with cutting-edge medical knowledge, has excellent caring skills etc., but always does what it thinks is best for you (if you are watching C4 Humans, think of Vera); a humanoid robot has the same knowledge and skills, but it is sensitive and open to your needs and wishes and respects your rights, especially for privacy and other basic liberties. In other words, the difference is between a mere robot caregiver and a caring robot.
Which one would you choose to take care of you if needed? I would prefer a caring humanoid robot, but I recognize that there are reasons or circumstances for someone to have a droid caregiver only (e.g., if one suffers from severe dementia). Now, it seems that we are coming closer and closer to create such a humanoid robot and not only because of the external appearance. Consider, for instance, the recent attempts to create a conscious machine. Tony Prescott, a professor of cognitive neuroscience at the University of Sheffield, UK, reports the progress in creating an artificial self for iCubs (the state-of-the-art humanoid robots in which they are trying to create a sense of self). He remarks that sometimes he has the feeling that "someone is home" already.[6] Perhaps, singularity is really near after all. Now, an iCub robot would have an ecological self (distinguishing herself from others and having a feeling of body ownership), an interpersonal self (capable of self-recognition, seeing others like herself and having empathy for others), temporally extended self (having awareness of a personal past and future), conceptual self (having a life story, personal goals, motivations and values) and a private self (a stream of consciousness and an inner life). Suppose, now, that you can use the Person-o-Matic machine and, by pushing other buttons, you could create different caring humanoid robots integrating this or that self, for instance, an ecological self, but not an interpersonal one, making up diverse identities. There are many possible combinations here. Speaking for myself, I would prefer a caring robot with an interpersonal self as described above. She would meet not only the conditions for personhood, but also would have moral feelings such as sympathy and empathy. Thus, if my analysis of respectful care is right and assuming that a caring robot is genuinely capable of experiencing moral feelings, a humanoid caring robot capable of sympathetic concern seems to be the best carer possible.
Should such caring robots be treated as persons? It seems clear that if we will, in a not far away future, be able to create such caring robots as described above, they will be no longer machines only, that is, a robota, a slave, an obedient servant. The best possible carer would be a humanoid robot capable of truly caring and respecting persons. In turn, she must be respected and cared for too. This may lead to human emotional attachment to caring robots and raise several other moral questions related to human-robot interactions, for instance, reciprocity of feelings etc. I see, however, nothing wrong in a new world where natural (humans and other non-human animals) and artificial persons co-exist peacefully and cooperate with each other for mutual benefit. Perhaps there will exist huge differences, for instance, artificial persons would be practically immortal while humans would not be even if a human who is 100 years old would appear to be half this age by our present standards. Would that difference between immortal artificial persons and mortal enhanced humans morally matter? I don't have an answer, but one intriguing question is whether such a robot would not want to become fully human experiencing mortality. This is also very singular. As we ponder about creating the best possible caring robots, we may find out that she is "just" another human being or an artificial person very much like us. One conclusion we may then reach is that the kind of care robots can provide is really limited and a truly caring person, even if artificial, is human in form.
Finally, as some robot ethicists correctly pointed out, a major concern about robot care for the elderly is that it may replace human contact with negative consequences. Given the present stage in the development of robotics and the idea of respectful care, we must not regard robots as substitutes for human carers. It seems that a human and perhaps in the future a sensible artificial person must always be in the loop of care supervising robot caregivers. Robot care as provided today is very limited and it is not a good substitute for human companionship. Consequently, current robots may help, but they cannot be seen as the definite solution for the problem of social exclusion of the elderly.
[1] Professor of Ethics at the Federal University of Santa Catarina. I would like to thank CAPES, a Brazilian federal agency, for supporting my research at the Oxford Uehiro Centre for Practical Ethics.
[2] http://www.carersuk.org/news-and-campaigns/news/carers-over-85-more-than-double-in-a-decade-but-numbers-getting-support-are-down
[3] http://data.worldbank.org/indicator/SP.POP.65UP.TO.ZS
[4] In: Lin, P., Abney. K. and Bekey.G.A. (eds) (2012) Robot Ethics. The ethical and social implications of robotics. London/Mass.: The MIT Press. p.251f.
[5] See Steve Persons' paper "Designing People to Serve" for a use of the machine Person-o-Matic capable of making different types of artificial persons (APs). In: Lin, P., Abney. K. and Bekey.G.A. (2012) Robot Ethics.
[6] The mirror of ourselves. New Scientist. March 2015. p.39
9 Responses to Guest Post: CARING ROBOTS