This article received an honourable mention in the graduate category of the 2023 National Oxford Uehiro Prize in Practical Ethics
Written by University of Manchester student Thomas Long
Abstract
This essay presents, first and foremost, the recollections of a doctoral anthropologist as they attempt to make sense of a moment of embodied, ethical dissonance: a moment where the "familiar" of their own ethical positionality was suddenly and violently made very "strange" to them through participation in applause. Applause is one of the most practical ways we can perform our support for a cause, idea or individual within corporeal social space. Through a vignette, I examine the ethical challenge presented by my own, unexpected applause – applause for the Pro-Life movement – that occurred during fieldwork with Evangelical Christians in the U.S.A. I use this vignette to question the impact of the field on an anthropologist's capacity to practice what they see as good ethics, and in doing so, consider the practical ethical limits of conducting ethnographic research with so called "repugnant cultural others" (Harding 1991). I argue that moments of uncomfortable alienation from one's own perceived ethical positionality present not a moral, but a conceptual challenge, in that through this alienation the elasticity of our ethical selves is laid bare. I conclude by suggesting that the challenge presented by doing ethnography with ethically divergent interlocutors constitutes an "object dissolving critique" (Robbins, 2003, p.193) of our implicit conception of what it means to be a coherent ethical subject at all. Continue reading →

Image: Heidi Crowter: Copyright Don't Screen Us Out
Scene: A pub in central London
John: They did something worthwhile there today, for once, didn't they? [He motions towards the Houses of Parliament]
Jane: What was that?
John: Didn't you hear? They've passed a law saying that a woman can abort a child up to term if the child turns out to have red hair.
Jane: But I've got red hair!
John: So what? The law is about the fetus. It has nothing whatever to do with people who are actually born.
Jane: Eh?
That's the gist of the Court of Appeal's recent decision in the case of Aidan Lea-Wilson and Heidi Crowter (now married and known as Heidi Carter).  Continue reading →
Written by Julian Savulescu
Oxford Uehiro Centre for Practical Ethics and Wellcome Centre for Ethics, University of Oxford
Biomedical Ethics Research Group, Murdoch Children's Research Institute
Jose Polo and his team at Monash University have successfully reprogrammed human adult cells (fibroblasts – skin cells) to form "iBlastoids". These are structures which are like early human embryos. Normally when a sperm enters an egg, it produces a new cell, which divides, and these cells divide until a blastocyst is formed in the first week, consisting of 200-300 cells. In normal embryonic development, this would implant in the uterus. However, iBlastoids can't do this as they lack the normal membrane that surrounds the blastocyst. They cannot by themselves form a fetus or baby.
They will be useful to study early human development and why so many embryos die soon after formation. They can be used to study mutations or the effect of toxins, perhaps developing treatments for infertility. So far, they have only been allowed to develop to the equivalent of a Day 11 Blastocyst. It is not clear whether they can produce the precursors to brain development:
"the developmental potential of iBlastoids as a model for primitive streak formation and gastrulation remains to be determined, and will require an international conversation on the applicability of the 14-day rule to iBlastoids." (Excerpt from the team's Nature article)
By Charles Foster

Ethics and law are different. Or they should be.
Law has the power to coerce. That is a frightening power. There should be as little law as possible. But there should be more ethics than there is.
The boundary between the two domains is not absolute. Clinicians are probably more frightened of being struck off by the General Medical Council (GMC) (after an adjudication on their ethics by the Medical Practitioners' Tribunal Service) than they are about an order by a civil court that compels their insurers to pay damages for clinical negligence. The exercise of the GMC's statutory powers can be draconian: the existence of those powers, and the associated sanctions, is certainly coercive.
But although the boundary is sometimes blurred, it is still real. It is the job of the law to keep it from becoming dangerously permeable. In a recent case the law was caught napping. Continue reading →
by Roger Crisp
In a recent work-in-progress seminar at the Oxford Uehiro Centre, Xavier Symons, from the University of Notre Dame Australia, gave a fascinating and suggestive presentation based on some collaborative work he has been doing with Reginald Chua OP, from the Catholic Theological College, on institutional conscientious objection. Continue reading →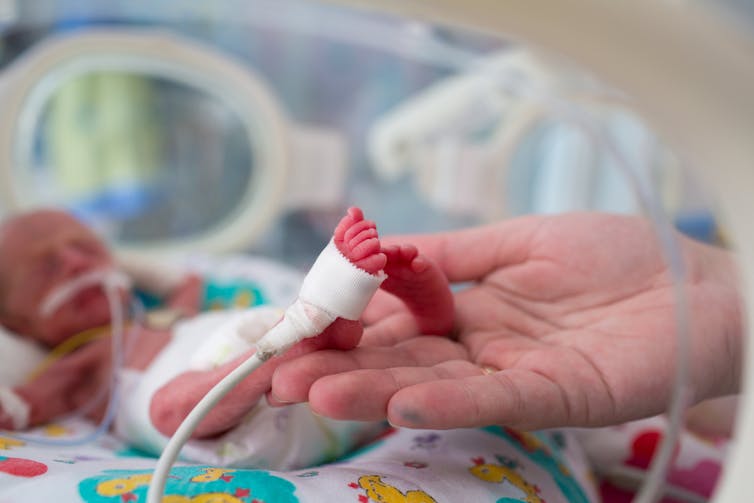 Dominic Wilkinson, University of Oxford
When new guidance relating to the outcome and medical care of babies born extremely prematurely was recently released, it led some to call for UK abortion law to be revised.
This was because one of the new recommendations from the British Association of Perinatal Medicine is that it is sometimes appropriate to provide resuscitation and active medical treatment for babies born at 22 weeks gestation (four and a half months before their due date). This is a week earlier than was recommended in the last version of the framework, published in 2008.
The argument goes that the new guidance creates a "contradiction in British law" because extremely premature infants can now be resuscitated before the point in pregnancy where abortion law changes.
A spokesperson for campaign group Right to Life UK said: "In one room of a hospital, doctors could be working to save a baby born alive before 24 weeks whilst in another room a doctor could perform an abortion which would end the life of a baby at the same age. Surely this contradiction needs to end?" Continue reading →
By   Charles Foster
Wrongful life cases (typically where a birth has resulted from a failed sterilisation procedure), used to be big business. The parents would sue the negligent steriliser for the costs of bringing up the unwanted child. There was always something distasteful about parents unwishing their child, and this distaste found legal expression in Macfarlane v Tayside Health Board,1  where the House of Lords said that such claims were unlawful. The ratio of Macfarlane was summarised by the Lord Steyn in Rees v Darlington Memorial Hospital NHS Trust:2 Continue reading →
I am grateful to Prof. Savulescu and Dr Giubilini for taking the time and care to respond in detail to my Declaration in Support of Conscientious Objection in Health Care. I also thank Prof. Savulescu for giving me the opportunity to reply to their lengthy analysis. The authors make a series of important criticisms and observations, all of which I will face directly. The topic of freedom of conscience in medicine is both contentious and likely to become increasingly urgent in the future, so it is as well to dispel misunderstandings, clarify assertions and respond to objections as thoroughly as possible. That said, I hope I do not try the reader's patience by discussing Giubilini and Savulescu's objections point by point, in the order in which they raise them.
Written by Elizabeth Crisp and Roger Crisp
When a woman aborts a single fetus, that abortion can be a morally troubling experience for her. What about a situation in which a woman is pregnant with more than one fetus, perhaps identical twins, and wishes to abort just one of them – that is, engage in what is sometimes called 'fetal reduction' in a 'multiple pregnancy'? Continue reading →
Alberto Giubilini
Wellcome Centre for Ethics and Humanities and Oxford Martin School, University of Oxford
I am writing this post on the 25th of May, as the Irish abortion referendum is taking place. However, you will probably be reading it once the results are already known. I am not going to write in support of either side of the debate here anyway. I want to write about the appropriateness (from an ethical point of view) of this referendum itself. I want to suggest that a referendum is not the appropriate way to solve the dispute at stake.
Irish people have been asked whether they wanted to repeal the Eight Amendment of the Irish Constitution, which gives foetuses and pregnant women an "equal right to life". It is commonly assumed that the Eight Amendment was preventing the Irish Government from legalizing abortion, except in extreme and very rare circumstances in which abortion is necessary to save the life of a pregnant woman. If the majority of Irish people votes "yes", abortion can become legal in the country. If the majority votes "no", abortion will remain a crime in the country, with the exception of a few extreme and very rare circumstances. More specifically, voting "no" means voting in favour of the idea that in Ireland a foetus does have a right to life equal to the right to life of the woman. Voting "yes" means voting in favour of the idea that in Ireland the foetus does not have a right to life comparable to the right to life of a woman; in other words, that it can be considered merely as part of the woman's body for the purpose of attributing it a right to life (though not necessarily for other purposes), and therefore something that a woman can permissibly decide not to keep alive as a matter of bodily autonomy or, in many cases, and depending on what definition of "health" we adopt, as a matter of basic healthcare.