Written by Julian Savulescu
Oxford Uehiro Centre for Practical Ethics and Wellcome Centre for Ethics, University of Oxford
Biomedical Ethics Research Group, Murdoch Children's Research Institute
Jose Polo and his team at Monash University have successfully reprogrammed human adult cells (fibroblasts – skin cells) to form "iBlastoids". These are structures which are like early human embryos. Normally when a sperm enters an egg, it produces a new cell, which divides, and these cells divide until a blastocyst is formed in the first week, consisting of 200-300 cells. In normal embryonic development, this would implant in the uterus. However, iBlastoids can't do this as they lack the normal membrane that surrounds the blastocyst. They cannot by themselves form a fetus or baby.
They will be useful to study early human development and why so many embryos die soon after formation. They can be used to study mutations or the effect of toxins, perhaps developing treatments for infertility. So far, they have only been allowed to develop to the equivalent of a Day 11 Blastocyst. It is not clear whether they can produce the precursors to brain development:
"the developmental potential of iBlastoids as a model for primitive streak formation and gastrulation remains to be determined, and will require an international conversation on the applicability of the 14-day rule to iBlastoids." (Excerpt from the team's Nature article)
By Charles Foster

Ethics and law are different. Or they should be.
Law has the power to coerce. That is a frightening power. There should be as little law as possible. But there should be more ethics than there is.
The boundary between the two domains is not absolute. Clinicians are probably more frightened of being struck off by the General Medical Council (GMC) (after an adjudication on their ethics by the Medical Practitioners' Tribunal Service) than they are about an order by a civil court that compels their insurers to pay damages for clinical negligence. The exercise of the GMC's statutory powers can be draconian: the existence of those powers, and the associated sanctions, is certainly coercive.
But although the boundary is sometimes blurred, it is still real. It is the job of the law to keep it from becoming dangerously permeable. In a recent case the law was caught napping. Continue reading →
by Roger Crisp
In a recent work-in-progress seminar at the Oxford Uehiro Centre, Xavier Symons, from the University of Notre Dame Australia, gave a fascinating and suggestive presentation based on some collaborative work he has been doing with Reginald Chua OP, from the Catholic Theological College, on institutional conscientious objection. Continue reading →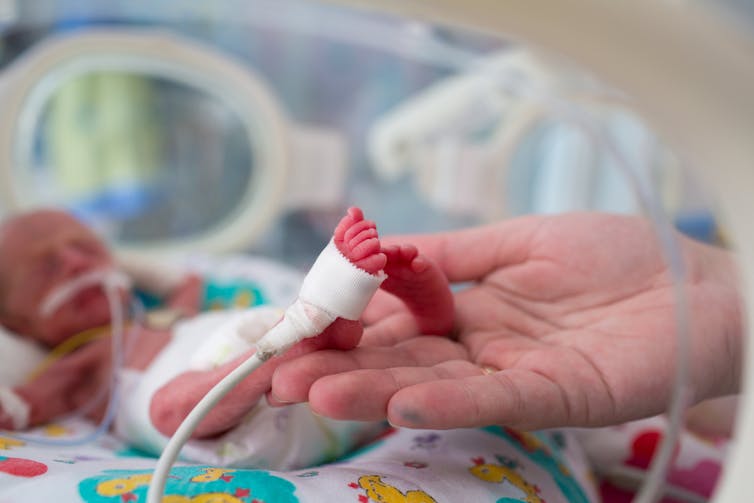 Dominic Wilkinson, University of Oxford
When new guidance relating to the outcome and medical care of babies born extremely prematurely was recently released, it led some to call for UK abortion law to be revised.
This was because one of the new recommendations from the British Association of Perinatal Medicine is that it is sometimes appropriate to provide resuscitation and active medical treatment for babies born at 22 weeks gestation (four and a half months before their due date). This is a week earlier than was recommended in the last version of the framework, published in 2008.
The argument goes that the new guidance creates a "contradiction in British law" because extremely premature infants can now be resuscitated before the point in pregnancy where abortion law changes.
A spokesperson for campaign group Right to Life UK said: "In one room of a hospital, doctors could be working to save a baby born alive before 24 weeks whilst in another room a doctor could perform an abortion which would end the life of a baby at the same age. Surely this contradiction needs to end?" Continue reading →
By   Charles Foster
Wrongful life cases (typically where a birth has resulted from a failed sterilisation procedure), used to be big business. The parents would sue the negligent steriliser for the costs of bringing up the unwanted child. There was always something distasteful about parents unwishing their child, and this distaste found legal expression in Macfarlane v Tayside Health Board,1  where the House of Lords said that such claims were unlawful. The ratio of Macfarlane was summarised by the Lord Steyn in Rees v Darlington Memorial Hospital NHS Trust:2 Continue reading →
I am grateful to Prof. Savulescu and Dr Giubilini for taking the time and care to respond in detail to my Declaration in Support of Conscientious Objection in Health Care. I also thank Prof. Savulescu for giving me the opportunity to reply to their lengthy analysis. The authors make a series of important criticisms and observations, all of which I will face directly. The topic of freedom of conscience in medicine is both contentious and likely to become increasingly urgent in the future, so it is as well to dispel misunderstandings, clarify assertions and respond to objections as thoroughly as possible. That said, I hope I do not try the reader's patience by discussing Giubilini and Savulescu's objections point by point, in the order in which they raise them.
Written by Elizabeth Crisp and Roger Crisp
When a woman aborts a single fetus, that abortion can be a morally troubling experience for her. What about a situation in which a woman is pregnant with more than one fetus, perhaps identical twins, and wishes to abort just one of them – that is, engage in what is sometimes called 'fetal reduction' in a 'multiple pregnancy'? Continue reading →
Alberto Giubilini
Wellcome Centre for Ethics and Humanities and Oxford Martin School, University of Oxford
I am writing this post on the 25th of May, as the Irish abortion referendum is taking place. However, you will probably be reading it once the results are already known. I am not going to write in support of either side of the debate here anyway. I want to write about the appropriateness (from an ethical point of view) of this referendum itself. I want to suggest that a referendum is not the appropriate way to solve the dispute at stake.
Irish people have been asked whether they wanted to repeal the Eight Amendment of the Irish Constitution, which gives foetuses and pregnant women an "equal right to life". It is commonly assumed that the Eight Amendment was preventing the Irish Government from legalizing abortion, except in extreme and very rare circumstances in which abortion is necessary to save the life of a pregnant woman. If the majority of Irish people votes "yes", abortion can become legal in the country. If the majority votes "no", abortion will remain a crime in the country, with the exception of a few extreme and very rare circumstances. More specifically, voting "no" means voting in favour of the idea that in Ireland a foetus does have a right to life equal to the right to life of the woman. Voting "yes" means voting in favour of the idea that in Ireland the foetus does not have a right to life comparable to the right to life of a woman; in other words, that it can be considered merely as part of the woman's body for the purpose of attributing it a right to life (though not necessarily for other purposes), and therefore something that a woman can permissibly decide not to keep alive as a matter of bodily autonomy or, in many cases, and depending on what definition of "health" we adopt, as a matter of basic healthcare.
By Alberto Giubilini
Oxford Martin School and Wellcome Centre for Ethics and Humanitites, University of Oxford
For further discussion on this topic by Dr Giubilini see his oped in The Irish Times
Last month I was invited by Oxford's Students for Life (OSFL), the pro-life student organisation at the University of Oxford, to take part in a public debate where I was asked to argue against their motion that "Conscientious objection in healthcare, concerning beginning and end of life issues, benefits society as a whole." Having worked on conscientious objection in healthcare (e.g., doctors not being willing to perform abortions for personal moral or religious reasons) in the past, I thought (and still think) I had some very strong arguments against conscientious objection in healthcare in general, and conscientious objection by religious doctors in particular. I was very keen on challenging the pro-life position on this topic. I therefore accepted the invitation, although I was a bit surprised by it, given that OSFL were presumably aware of my positions on topics that for the pro-life are very sensitive, such as the ethics of abortion or of infanticide.
But I was curious to see and test to what extent the pro-life community was really committed to freedom of speech and would allow me to defend my views, so diametrically opposite to theirs. During the event, I therefore tried to push my arguments to their most extreme conclusions and to be as provocative as possible; for example, at some point I suggested that an unwanted pregnancy is comparable to a disease and that therefore doctors have a duty to medically treat it by performing an abortion. I have to say I saw many people in the audience jolt in their chairs, which I did expect. Nonetheless, after my talk there was a very civil and calm discussion: the pro-life defenders debated my arguments, allowed me to reply, and thanked me at the end of the debate for my participation and what they considered challenging views.
Doctors have values. These are sometimes described as their conscience. Those values can conflict with what has evolved to be medical practice. Where that practice is consistent with principles, concept and norms of medical ethics, their values should not compromise patient care. The place for doctors to express their values and seek to revise the practice of medicine is at the level of policy and law, not at the bedside. Because conscientious objection can compromise patient care, there should be no legal right to conscientious objection to medical practice that is consistent with medical ethics. Personal values ("conscience") can be accommodated by employers under standard labour law as occurs in Sweden and Finland, or candidates selected for medical specialties who have values consistent with ethical medicine, or new professions developed to provide those services.
Doctors may have very defensible values. But just because their values are reasonable does not imply they should be accommodated by medicine. Consider the Conscientious Neonatologist.
The Conscientious Neonatologist
Peter is a thoughtful, reflective specialist caring for premature babies in intensive care. He is a vegetarian for 20 years. He became deeply concerned about the welfare of animals during his university years. He believes in "animal liberation". Neither he nor his family consume meat or use animal products for clothing.
In his job, he must prescribe "surfactant" – a substance to help the lungs of premature babies function better. The standard, and most effective form is derived from the lungs of pigs. However there is a new artificial form. He considers this a more "ethical" product and considers using it in his medical practice. However, it is not currently used in the newborn intensive care unit because it is more expensive than standard treatment, and there is not clear evidence about its effectiveness.
Peter conscientiously objects to the use of animals in medicine and medical research. How should his personal values influence his professional practice?