By Jonathan Pugh
In the second of his three Uehiro lectures on the theme of 'illness and the social self', Richard Holton turned to the moral questions raised by addiction. In the first half of the lecture, he outlined an account of addictive behaviour according to which addictive substances disrupt the link between wanting and liking. In the second half of the lecture, he discusses the implications of this account for the moral significance of preferences, and for how we might structure environments to avoid triggering addictive desires.
You can find a recording of the lecture here
Is discrimination against unattractive people (lookism) a serious problem? What are the costs of lookism ? What should we do about lookism? In this interview with Katrien Devolder, Dr Francesca Minerva (Philosopher, Ghent University) addresses these thorny questions.
By Jonathan Pugh
The number of individuals suffering with dementia is steadily increasing; as such, the moral issues raised by the neurodegenerative diseases that bring about the symptoms typifying dementia are of pressing practical concern. In this context, Richard Holton's topic for the first of his three 2018 Uehiro lectures (on the theme "Illness and the Social Self") is a timely one: What are the ethical implications of the progressive and pervasive loss of memory that is a central feature of dementia?
I shall be blogging a synopsis of each lecture in the series on the Practical Ethics blog – You can find a recording of the lecture here
By Mackenzie Graham
Crosspost from The Conversation. Click here to read the full article.
The development of accessible treatment options for pregnant women is a significant public health issue. Yet, very few medications are approved for use during pregnancy. Most drug labels have little data to inform prescribing decisions. This means that most medicines taken during pregnancy are used without data to guide safe and effective dosing.
The United States Food and Drug Administration recently published draft ethical guidelines for how and when to include pregnant women in drug development clinical trials. These guidelines call for "the judicious inclusion of pregnant women in clinical trials and careful attention to potential foetal risk". The guidelines also distinguish between risks that are related to the research and those that are not, and the appropriate level of risk to which a foetus might be exposed. Continue reading →
By Lauren Notini and Brian D. Earp
*Note: a condensed version of this article titled "Iceland's Proposed Circumcision Ban" is being cross-published at Pursuit.
For a small country, Iceland has had a big impact on global media coverage recently, following its proposed ban on male circumcision before an age of consent.
Iceland's proposed legislation seeks to criminalise circumcision on male minors that is unnecessary "for health reasons," stating individuals who remove "part or all of the sexual organs shall be imprisoned for up to 6 years."
The bill claims circumcision violates children's rights to "express their views on the issues [concerning them]" and "protection against traditions that are harmful."
According to bill spokesperson Silja Dögg Gunnarsdóttir, a key reason for the bill is that all forms of female genital cutting (FGC), no matter how minor, have been illegal in Iceland since 2005, but no similar legislation exists for males.
"If we have laws banning circumcision for girls," she said in an interview, then for consistency "we should do so for boys." Consequently, the bill is not specific to male circumcision, but adapts the existing law banning FGC, changing "girls" to "children."
There is much to unpack here. We first discuss self-determination and informed consent, before addressing claims about potential health benefits and harms. We then explore the religious significance of circumcision for some groups, and ask what implications this should have.
By Dominic Wilkinson
According to media reports, the family of seriously ill infant Alfie Evans have decided to lodge a second appeal to the Supreme Court today. This is the 6th legal appeal mounted since the High Court decision, on the 20th February, that continued medical treatment was not in Alfie's best interests. There is no prospect that this latest legal appeal will be any more successful than the previous ones – its only effect will be to delay the inevitable decision to withdraw life-prolonging medical treatment.
However, the appeal raises an important question in relation to disputed medical treatment. The UK legal appeal system gives families the opportunity to delay decisions that they do not agree with by mounting a series of appeals. (The Court of Appeal judges yesterday referred to this as akin to a form of legal "Groundhog day" with the judges revisiting the same arguments over and over again.)  While the family of Alfie Evans may not succeed in their aim to take him overseas for medical treatment, they have achieved almost 2 months of additional intensive care for Alfie – two months of treatment that has been legally judged to be not in his interests.
Is there an alternative to the existing legal process? Is there a way to avoid protracted legal appeals in cases of disputed medical treatment?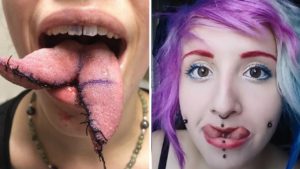 By Charles Foster
Image: 'Split tongue: procedure, safety, result': Tattoo World: Standard YouTube licence.
The appellant in R v BM was a tattooist and body piercer who also engaged in 'body modification'. He was charged with three offences of wounding with intent to do grievous bodily harm. These entailed: (a) Removal of an ear; (b) Removal of a nipple; and (c) division of a tongue so that it looked reptilian. In each case the customer had consented. There was, said the appellant, no offence because of this consent.
Where an adult decides to do something that is not prohibited by the law, the law will generally not interfere.
In Schloendorff v Society of New York Hospital (1914) 105 NE 92 Cardozo J said:
"Every human being of adult years and sound mind has a right to determine what shall be done with his own body."[1]
This principle has been fairly consistently recognised in the English law.[2] Thus, for instance, In In re T (Adult: Refusal of Treatment, Butler-Sloss LJ cited with approval this section of the judgment of Robins JA in Malette v Shulman[3]:
'The right to determine what shall be done with one's own body is a fundamental right in our society. The concepts inherent in this right are the bedrock upon which the principles of self-determination and individual autonomy are based. Free individual choice in matters affecting this right should, in my opinion, be accorded very high priority.' Continue reading →
By Dominic Wilkinson
In the latest case of disputed medical treatment for a child, the family of Liverpool toddler Alfie Evans yesterday lost their last legal appeal. The family had appealed to the European Court of Human Rights to examine whether the UK courts' decision (to allow doctors to stop life support) was contrary to the European Convention on Human Rights. The European Court (as it had in two other cases in the last 12 months) rejected the appeal. It is expected that the artificial ventilation that is currently keeping Alfie alive will be withdrawn in the coming days.
This decision, difficult as it is for his family to accept, is the right decision for Alfie. Medical treatment can no longer help him. As I wrote a month ago, it is time to stop fighting, time to let him go.
However, one important legal and ethical issue raised in this case, and in the case of Charlie Gard from last year, is about the basis for deciding when parents and doctors disagree. What ethical standard should apply?
Last week, the UK Supreme Court adamantly refused Alfie's parents' previous legal appeal, focused on this specific question.  I will argue that the court's arguments fail and that the current UK legal approach is mistaken. (Though in fact, in the Evans case as in the case of Charlie Gard, it seems likely that the court would have reached the same decision about treatment even if it had applied a different ethical standard).
Written by Adam Shriver
Kidney transplants result in improved quality of life and increased longevity compared to dialysis for patients with end-stage renal disease (Evans et al. 1985, Schnuelle et al. 1998, Wolfe et al 1999).  In 2014, the national transplant list in the United States passed a milestone of 100,000 people waiting for kidneys.  However, the current rate of kidney donations, both from living and deceased donors, is not high enough to keep up with demand (Becker & Elias 2007). As a result, many people die each year and the quality of life of many more people is significantly diminished.
In response to this problem, various authors have proposed the creation of a regulated market for kidneys whereupon individuals may sell one of their kidneys in exchange for money and possibly other benefits (Matas et al. 2008, Gaston et al. 2006, Radcliffe-Richards et al. 1998, Radcliffe-Richards 2012, Veatch 2003).  Kidney sellers could be paid relatively large amounts of money (~$95,000) while maintaining a cost-effective system due to the savings obtained from moving people off dialysis (Matas 2008).  If implemented, a regulated kidney market could result in important increases in quality of life and in survival rates.
I admit I find the arguments from authors such as Matas and Radcliffe-Richards largely persuasive.  Nevertheless, their proposals have been subject to a number of criticisms from ethicists that pull on strong moral intuitions.  In what follows, I present an alternative model for a kidney market that I believe avoids the most serious objections to kidney markets.  In contrast to previous arguments that suggest that the benefits of regulated kidney markets would outweigh the harms, I will propose a model that is harmless, on the best way of understanding a harmful practice.  If, as I argue, we can design a kidney market where the decision to give up a kidney does not harm the seller, this suggests that we can reap the benefits of a kidney market without the ethical costs that have raised concerns. Continue reading →