By Lauren Notini and Brian D. Earp
*Note: a condensed version of this article titled "Iceland's Proposed Circumcision Ban" is being cross-published at Pursuit.
For a small country, Iceland has had a big impact on global media coverage recently, following its proposed ban on male circumcision before an age of consent.
Iceland's proposed legislation seeks to criminalise circumcision on male minors that is unnecessary "for health reasons," stating individuals who remove "part or all of the sexual organs shall be imprisoned for up to 6 years."
The bill claims circumcision violates children's rights to "express their views on the issues [concerning them]" and "protection against traditions that are harmful."
According to bill spokesperson Silja Dögg Gunnarsdóttir, a key reason for the bill is that all forms of female genital cutting (FGC), no matter how minor, have been illegal in Iceland since 2005, but no similar legislation exists for males.
"If we have laws banning circumcision for girls," she said in an interview, then for consistency "we should do so for boys." Consequently, the bill is not specific to male circumcision, but adapts the existing law banning FGC, changing "girls" to "children."
There is much to unpack here. We first discuss self-determination and informed consent, before addressing claims about potential health benefits and harms. We then explore the religious significance of circumcision for some groups, and ask what implications this should have.
By Dominic Wilkinson
According to media reports, the family of seriously ill infant Alfie Evans have decided to lodge a second appeal to the Supreme Court today. This is the 6th legal appeal mounted since the High Court decision, on the 20th February, that continued medical treatment was not in Alfie's best interests. There is no prospect that this latest legal appeal will be any more successful than the previous ones – its only effect will be to delay the inevitable decision to withdraw life-prolonging medical treatment.
However, the appeal raises an important question in relation to disputed medical treatment. The UK legal appeal system gives families the opportunity to delay decisions that they do not agree with by mounting a series of appeals. (The Court of Appeal judges yesterday referred to this as akin to a form of legal "Groundhog day" with the judges revisiting the same arguments over and over again.)  While the family of Alfie Evans may not succeed in their aim to take him overseas for medical treatment, they have achieved almost 2 months of additional intensive care for Alfie – two months of treatment that has been legally judged to be not in his interests.
Is there an alternative to the existing legal process? Is there a way to avoid protracted legal appeals in cases of disputed medical treatment?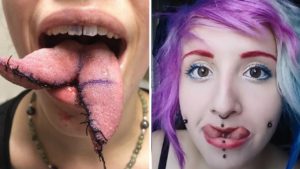 By Charles Foster
Image: 'Split tongue: procedure, safety, result': Tattoo World: Standard YouTube licence.
The appellant in R v BM was a tattooist and body piercer who also engaged in 'body modification'. He was charged with three offences of wounding with intent to do grievous bodily harm. These entailed: (a) Removal of an ear; (b) Removal of a nipple; and (c) division of a tongue so that it looked reptilian. In each case the customer had consented. There was, said the appellant, no offence because of this consent.
Where an adult decides to do something that is not prohibited by the law, the law will generally not interfere.
In Schloendorff v Society of New York Hospital (1914) 105 NE 92 Cardozo J said:
"Every human being of adult years and sound mind has a right to determine what shall be done with his own body."[1]
This principle has been fairly consistently recognised in the English law.[2] Thus, for instance, In In re T (Adult: Refusal of Treatment, Butler-Sloss LJ cited with approval this section of the judgment of Robins JA in Malette v Shulman[3]:
'The right to determine what shall be done with one's own body is a fundamental right in our society. The concepts inherent in this right are the bedrock upon which the principles of self-determination and individual autonomy are based. Free individual choice in matters affecting this right should, in my opinion, be accorded very high priority.' Continue reading →
By Dominic Wilkinson
In the latest case of disputed medical treatment for a child, the family of Liverpool toddler Alfie Evans yesterday lost their last legal appeal. The family had appealed to the European Court of Human Rights to examine whether the UK courts' decision (to allow doctors to stop life support) was contrary to the European Convention on Human Rights. The European Court (as it had in two other cases in the last 12 months) rejected the appeal. It is expected that the artificial ventilation that is currently keeping Alfie alive will be withdrawn in the coming days.
This decision, difficult as it is for his family to accept, is the right decision for Alfie. Medical treatment can no longer help him. As I wrote a month ago, it is time to stop fighting, time to let him go.
However, one important legal and ethical issue raised in this case, and in the case of Charlie Gard from last year, is about the basis for deciding when parents and doctors disagree. What ethical standard should apply?
Last week, the UK Supreme Court adamantly refused Alfie's parents' previous legal appeal, focused on this specific question.  I will argue that the court's arguments fail and that the current UK legal approach is mistaken. (Though in fact, in the Evans case as in the case of Charlie Gard, it seems likely that the court would have reached the same decision about treatment even if it had applied a different ethical standard).
Written by Adam Shriver
Kidney transplants result in improved quality of life and increased longevity compared to dialysis for patients with end-stage renal disease (Evans et al. 1985, Schnuelle et al. 1998, Wolfe et al 1999).  In 2014, the national transplant list in the United States passed a milestone of 100,000 people waiting for kidneys.  However, the current rate of kidney donations, both from living and deceased donors, is not high enough to keep up with demand (Becker & Elias 2007). As a result, many people die each year and the quality of life of many more people is significantly diminished.
In response to this problem, various authors have proposed the creation of a regulated market for kidneys whereupon individuals may sell one of their kidneys in exchange for money and possibly other benefits (Matas et al. 2008, Gaston et al. 2006, Radcliffe-Richards et al. 1998, Radcliffe-Richards 2012, Veatch 2003).  Kidney sellers could be paid relatively large amounts of money (~$95,000) while maintaining a cost-effective system due to the savings obtained from moving people off dialysis (Matas 2008).  If implemented, a regulated kidney market could result in important increases in quality of life and in survival rates.
I admit I find the arguments from authors such as Matas and Radcliffe-Richards largely persuasive.  Nevertheless, their proposals have been subject to a number of criticisms from ethicists that pull on strong moral intuitions.  In what follows, I present an alternative model for a kidney market that I believe avoids the most serious objections to kidney markets.  In contrast to previous arguments that suggest that the benefits of regulated kidney markets would outweigh the harms, I will propose a model that is harmless, on the best way of understanding a harmful practice.  If, as I argue, we can design a kidney market where the decision to give up a kidney does not harm the seller, this suggests that we can reap the benefits of a kidney market without the ethical costs that have raised concerns. Continue reading →
by Dominic Wilkinson
[Updated 22/02/18]
This afternoon, in another case of disputed medical treatment for a seriously ill child, Justice Hayden in the High Court concluded that treatment should be withdrawn from toddler Alfie Evans against the wishes of his parents.
See below for a press release on the Alfie Evans decision. I will add further reports and links to the court transcript when it is available.
See here for ethics commentary and resources on the Charlie Gard case.
See also my recent blog on the Evans and Haastrup cases: Medical treatment disputes and the international second opinion
Details from the court ruling (Liverpool Echo)
Written by Hazen Zohny 
* Please note that this essay was originally published in Quillette Magazine.
The Discomforts of Being a Utilitarian 
I recently answered the nine questions that make up The Oxford Utilitarianism Scale. My result: "You are very utilitarian! You might be Peter Singer."
This provoked a complacent smile followed by a quick look around to ensure that nobody else had seen this result on my monitor. After all, outright utilitarians still risk being thought of as profoundly disturbed, or at least deeply misguided. It's easy to see why: according to my answers, there are at least some (highly unusual) circumstances where I would support the torture of an innocent person or the mass deployment of political oppression.
Choosing the most utilitarian responses to these scenarios involves great discomfort. It is like being placed on a debating team and asked to defend a position you abhor. The idea of actually torturing individuals or oppressing dissent evokes a sense of disgust in me – and yet the scenarios in these dilemmas compel me not only to say such acts are permissible, they're obligatory. Biting bullets is almost always uncomfortable, which goes a long way in explaining the lack of popularity utilitarianism enjoys. But this discomfort largely melts away once we recognize three caveats relevant to the Oxford Utilitarianism Scale and to moral dilemmas more generally.
The first of these relates to the somewhat misleading nature of these dilemmas. They are set up to appear as though you are being asked to imagine just one thing, like torturing someone to prevent a bomb going off, or killing a healthy patient to save five others. In reality, they are asking two things of you: imagining the scenario at hand, and imaging yourself to be a fundamentally different being – specifically, a being that is able to know with certainty the consequences of its actions.
By Dominic Wilkinson
Disputes about medical treatment for seriously ill children are in the news again. Last week, the High Court in London decided in favour of withdrawal of life support from a brain damaged 11-month old infant, Isaiah Haastrup, against the wishes of his parents (an appeal is pending later this month). This week, the High court, sitting in Liverpool, is hearing evidence in the case of 20-month-old Alfie Evans, an infant with an undiagnosed degenerative brain condition.
In both of these cases, as in the controversial Charlie Gard case from last year, medical evidence from UK professionals has been overwhelmingly in favour of withdrawing life support and allowing the children to die. However, in each case parents have sought and have obtained evidence from overseas medical specialists who have testified in favour of continued treatment. In the Evans case, as in the earlier Gard case, experts from the Vatican hospital in Rome have apparently offered ongoing treatment.
This suggests several questions. First, why is there a difference between the views of specialists in this country and those overseas? Second, if there are differences in expert opinion about treatment for a child, should courts give any more weight to the views of UK experts than those from overseas? Is there a valid reason to discount the international second opinion?

Blog Authors: Julian Savulescu, Brian D. Earp, Jim A.C. Everett, Nadira Faber, and Guy Kahane
This blog reports on the paper, Kahane G, Everett J, Earp BD, Caviola L,  Faber N, Crockett MJ, Savulescu J, Beyond Sacrificial Harm: A Two Dimensional Model of Utilitarian Decision-Making, Psychological Review [open access]
How Utilitarian are you? Answer these 9 questions to find out…
If you enjoyed taking our 'How Utilitarian Are You?' test,  read our new blog post discussing how we developed it, what it shows, and why it's important
Utilitarianism is one of the oldest and most influential theories about what the right thing to do is. It says that the right act is the one which has the best consequences. In the first formulation by Jeremy Bentham, hedonistic utilitarianism, the right act is the one which maximises happiness and minimises suffering. Richard Hare and Peter Singer made preference utilitarianism famous: the right act is the one which maximises satisfaction of preferences.
Utilitarianism was a novel egalitarian theory when it was developed in the 1700s. It was a radical departure from authoritarian, aristocratic or otherwise hierarchical ways of thinking, positing that each person's happiness and suffering was to count the same. In stark contrast to the social norms of the day, utilitarianism held that the happiness of the pauper is just as important as the happiness of the Prince or the Pope.
Utilitarianism has fallen into disrepute. It is now equated with Machiavellianism: the end justifies the means, whatever those ends may be. It is also seen as coldly calculating, or else simplistically pragmatic. The German philosopher Friedrich Nietzsche described it as a morality appropriate for shop keepers. Recently it has even been portrayed a doctrine for psychopaths. Pope Paul II put it succinctly in 1995:
"Utilitarianism is a civilization of production and of use, a civilization of 'things' and not of 'persons,' a civilization in which persons are used in the same way as things are used."
Written by Dr Rebecca Brown
It has become commonplace to identify a lack of impulse control as a major cause of poor health. A popular theory within behavioural science tells us that our behaviour is regulated via two systems: the fast, impulsive system 1 (the 'impulsive' or 'automatic' system) and the slower, deliberative system 2 (the 'reflective' system). Much of our behaviour is routine and repeated in similar ways in similar contexts: making coffee in the morning, travelling to work, checking our email. Such behaviours develop into habits, and we are able to successfully perform them with minimal conscious input and cognitive effort. This is because they come under the control of our impulsive system.
Habits have become a focus of health promoters. It seems that many of these routine, repeated behaviours actually have a significant impact on our health over a lifetime: what we eat and drink and how active we are can affect our risk of developing chronic diseases like type II diabetes, heart disease, lung disease and cancer. Despite considerable efforts to educate people as to the risks of eating too much, exercising to little, smoking and drinking, many people continue to engage in such unhealthy habits. One reason for this, it is proposed, is people's limited ability to exert conscious (reflective) control over their habitual (impulsive) behaviour.
Given this, one might think that it would be preferable if people were generally able to exhibit more reflective control; that behaviour was less frequently determined by impulsive processes and more frequently determined by reflective deliberation. Perhaps this could form part of the basis for advising people to be more 'mindful' in their everyday activities, such as eating, and regimes for training one's willpower 'muscle' to ensure confident conscious control over one's behaviour. Continue reading →