Follow Rebecca on Twitter here
I'm working on a paper entitled 'Cyborg justice: punishment in the age of transformative technology' with my colleagues Anders Sandberg and Hannah Maslen. In it, we consider how punishment practices might change as technology advances, and what ethical issues might arise. The paper grew out of a blog post I wrote last year at Practical Ethics, a version of which was published as an article in Slate. A few months ago, Ross Andersen from the brilliant online magazine Aeon interviewed Anders, Hannah, and me, and the interview was published earlier this month. Versions of the story quickly appeared in various sources, beginning with a predictably inept effort in the Daily Mail, and followed by articles in The Telegraph, Huffington Post, Gawker, Boing Boing, and elsewhere. The interview also sparked debate in the blogosphere, including posts by Daily Nous, Polaris Koi, The Good Men Project, Filip Spagnoli, Brian Leiter, Rogue Priest, Luke Davies, and Ari Kohen, and comments and questions on Twitter and on my website. I've also received, by email, many comments, questions, and requests for further interviews and media appearances. These arrived at a time when I was travelling and lacked regular email access, and I'm yet to get around to replying to most of them. Apologies if you're one of the people waiting for a reply.
I'm very happy to have started a debate on this topic, although less happy to have received a lot of negative attention based on a misunderstanding of my views on punishment and my reasons for being interested in this topic. I respond to the most common questions and concerns below. Feel free to leave a comment if there's something important that I haven't covered. Continue reading →
Last summer, on this blog, Rebecca Roache suggested several ways in which technology could enhance retributive punishment—that is, could make punishment more severe—without "resorting to inhumane methods or substantially overhauling the current UK legal system." Her approbation of this type of technological development has recently been reported in the Daily Mail, and reaffirmed in an interview for Aeon Magazine.
Roache's original post was, at least, a response to the sentencing of the mother and stepfather of Daniel Pelka, who was four when he died as a result of a mixture of violence and neglect perpetrated by his parents. They each received the maximum sentence possible in the UK, a minimum of thirty years in prison before the possibility of parole is discussed (and even then they might not get it). This sentence, Roache wrote, was "laughably inadequate." Continue reading →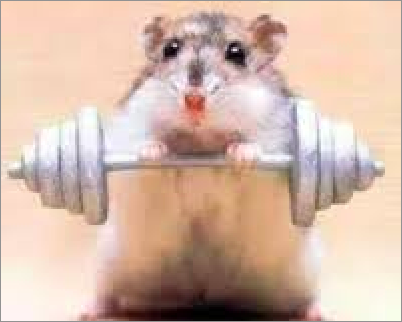 In his article in the Pacific Standard last week, author Bruce Grierson discusses the emerging scientific evidence that the 'will to work out' might be genetically determined. Grierson describes a 'marathon mouse', the descendant of a long line of mice bred for their love of exercise, and a 94-year-old woman called Olga, who is an athletic anomaly. Both the mouse and Olga love to work out. The mouse goes straight to his wheel when he wakes up, running kilometers at a time and Olga – a track and field amateur – still competes in 11 different events. Grierson suggests that cracking the code for intrinsic motivation to exercise would lead to the possibility of synthesizing its biochemical signature: 'Why not a pill that would make us want to work out?', he asks. Such a possibility adds an interesting dimension to the debate about enhancement in sport, and to enhancement debates more generally. Continue reading →
On the evening of Thursday 28 December, Prof. Justin Oakley, Deputy Director of the Centre for Human Bioethics at Monash University, gave a fascinating and suggestive lecture on whether there is reason for the state to broaden access to IVF treatment for childless people as well as facilitating adoption. Continue reading →
Kyle Edwards, Uehiro Centre for Practical Ethics and The Ethox Centre, University of Oxford
Caroline Huang, The Ethox Centre, University of Oxford
On November 22, in a harshly worded "warning letter," the US Food and Drug Administration (FDA) informed the direct-to-consumer genetic testing (DTC-GT) company 23andMe that it had 15 working days to discontinue marketing of its services. By December 5, 23andMe had canceled television, radio, and online advertising and stopped selling its $99 'spit kit' DNA test online.
To put it mildly, the FDA and 23andMe have some communication issues to resolve. A working relationship dating back to 2008 appears to have soured after a six-month period of silence from 23andMe, prompting the warning letter and causing many observers to comment on the apparent stupidity and mystifying nature of 23andMe's communication "strategy." While the FDA's letter is quite clear that 23andMe must communicate better, particularly in reporting the accuracy of its tests, it is not at all clear on how the FDA plans to regulate companies like 23andMe after these accuracy results are in. Moreover, it hints strongly that some tests may be banned even if they are as accurate as the tests you could receive through a physician. 
Assuming 23andMe follows through on its promise to cooperate with the FDA, how exactly should these DTC-GT services be regulated to best serve the public?
Announcement: "Brave New Love" – peer commentaries due October 7
Dear Practical Ethics readers,
The paper, "Brave new love: the threat of high-tech 'conversion' therapy and the bio-oppression of sexual minorities" by Brian D. Earp, Anders Sandberg, and Julian Savulescu has been accepted for publication in the American Journal of Bioethics: Neuroscience. Proposals for open peer commentaries are due this Monday October 7th.
The article may be accessed here, or at the following link: http://editorial.bioethics.net. Be sure to select AJOB:Neuroscience from the drop-down menu of journals. Here is an abstract of the argument:
============================
Abstract: Our understanding of the neurochemical bases of human love and attachment, as well as of the genetic, epigenetic, hormonal, and experiential factors that conspire to shape an individual's sexual orientation, is increasing exponentially. This research raises the vexing possibility that we may one day be equipped to modify such variables directly, allowing for the creation of "high-tech" conversion therapies or other suspect interventions. In this paper, we discuss the ethics surrounding such a possibility, and call for the development of legal and procedural safeguards for protecting vulnerable children from the application of such technology. We also consider the more difficult case of voluntary, adult "conversion" and argue that in rare cases, such attempts might be permissible under strict conditions.
============================
Open Peer Commentary articles are typically between 500-1500 words and contain no more than 10 references. A guide to writing an Open Peer Commentary is available under the Resources section "Instructions and Forms" at http://editorial.bioethics.net. AJOB:Neuroscience asks that by Monday, October 7, 2013 you submit a short summary of your proposed Open Peer Commentary (no more than 1-2 paragraphs). Please submit your proposal online via the AJOB:Neuroscience Editorial site, following the instructions provided there. They ask that you do not prepare a full commentary yet. Once they have evaluated your proposal, they will contact you via email to let you know whether or not they were able to include you on the final list of those to be asked to submit an Open Peer Commentary.
You will then have until Friday, October 25, 2013 to submit your full Open Peer Commentary.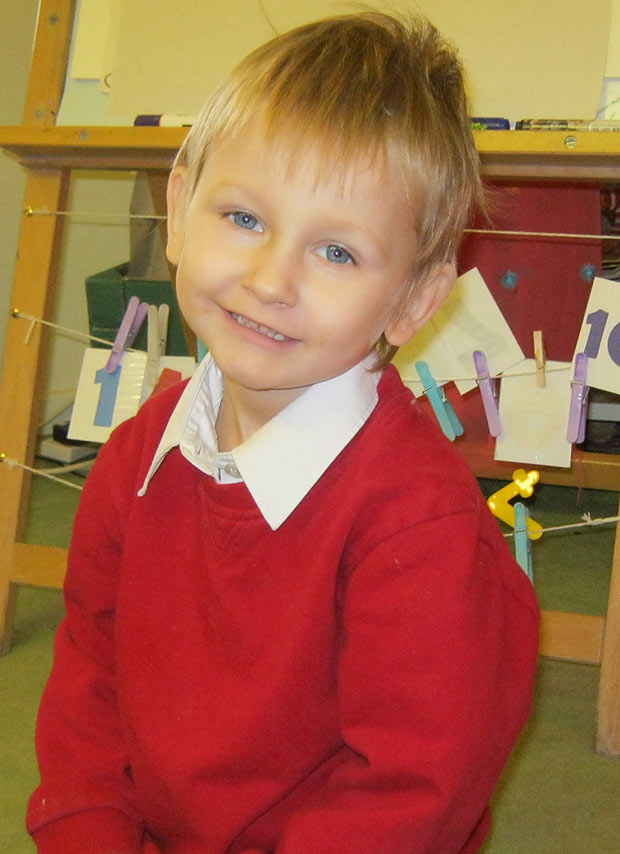 Follow Rebecca on Twitter
Edit 26th March 2014: It's been pointed out to me by various people that this blog post does not make adequately clear that I don't advocate the punishment methods described here. For a clarification of my views on the subject, please go here.
Today, the mother and stepfather of Daniel Pelka each received a life sentence for his murder. Daniel was four when he died in March last year. In the last few months of his short life, he was beaten, starved, held under water until he lost consciousness so that his mother could enjoy some 'quiet time', denied medical treatment, locked in a tiny room containing only a mattress on which he was expected both to sleep and defecate, humiliated and denied affection, and subjected to grotesquely creative abuse such as being force-fed salt when he asked for a drink of water. His young sibling, who secretly tried to feed and comfort Daniel, was forced to witness much of this; and neighbours reported hearing Daniel's screams at night.
Daniel's mother, Magdelena Luczak, and stepfather, Mariusz Krezolek, will each serve a minimum of thirty years in prison. This is the most severe punishment available in the current UK legal system. Even so, in a case like this, it seems almost laughably inadequate. The conditions in which Luczak and Krezolek will spend the next thirty years must, by law, meet certain standards. They will, for example, be fed and watered, housed in clean cells, allowed access to a toilet and washing facilities, allowed out of their cells for exercise and recreation, allowed access to medical treatment, and allowed access to a complaints procedure through which they can seek justice if those responsible for their care treat them cruelly or sadistically or fail to meet the basic needs to which they are entitled. All of these things were denied to Daniel. Further, after thirty years—when Luczak is 57 and Krezolek 64—they will have their freedom returned to them. Compared to the brutality they inflicted on vulnerable and defenceless Daniel, this all seems like a walk in the park. What can be done about this? How can we ensure that those who commit crimes of this magnitude are sufficiently punished? Continue reading →
In this special Enhancement seminar, visiting speakers Rob Sparrow and Chris Gyngell discussed two aspects of enhancement. You can hear the podcast here (mp3).
Rob Sparrow on 'Enhancement and Obsolescence: Avoiding An "Enhanced Rat Race"': A claim about continuing technological progress plays an essential, if unacknowledged, role in the philosophical literature on "human enhancement". Advocates for enhancement typically point to the rapid progress being made in the development of biotechnologies, information technology, and nanotechnology as evidence that we will soon be able to achieve significant improvements on normal human capacities through applications of these technologies. Sparrow argues that – should it eventuate – continuous improvement in enhancement technologies may prove more bane than benefit. A rapid increase in the power of available enhancements would mean that each cohort of enhanced individuals will find itself in danger of being outcompeted by the next in competition for important social goods – a situation he characterises as an 'enhanced rat race'. Rather than risk the chance of being rendered technologically and socially obsolete by the time one is in one's early 20s, it may be rational to prefer that a wide range of enhancements that would generate positional disadvantages that outweigh their absolute advantages be prohibited altogether. The danger of an enhanced rat race therefore constitutes a novel argument in favour of abandoning the pursuit of certain sorts of enhancements.
 Chris Gyngell on 'Stocking the Genetic Supermarket: Genetic Enhancements and Collective Action Problems': In the near future parents may be able to directly alter the genetic make-up of their children using genetic engineering technologies (GETs). A popular model that has been proposed for regulating access to GETs is the 'genetic supermarket'. In the genetic supermarket parents are free to make decisions about which genes to select for their children with little state interference. One possible consequence of the genetic supermarket is that 'collective action problems' will arise. The combined result of individuals using the market to pursue self-interested gains may have a negative effect on society as a whole, and on future generations. In this paper Gyngell asks whether GETs targeting height, innate immunity, and certain cognitive traits would lead to collective action problems if available in the genetic supermarket. he argues that that the widespread availability of GETs targeting height are unlikely to lead to genuine collective action problems, but that those targeting innate immunity and aspects of our cognition, could. He then discusses some implications of this claim for the regulation of GETs.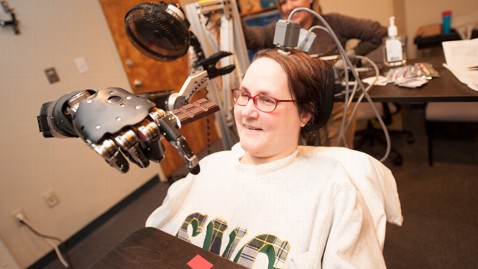 This week there were reports of the amazing advances being made in brain-computer interface (BCI) technology. Following just weeks of training, a 52-year old woman, paralysed from the neck down, was able to use her mind to control a robotic hand to pick up objects on a table, including cones, blocks and small balls, and put them down at another location. She was even able to use the hand to feed herself chocolate.
Having had two arrays of microelectrodes surgically implanted into her left motor cortex, Jan is wired up to a computer that has been programmed to interpret the signals her neurons emit. This computer then passes on the interpreted signals to the robotic arm, which moves in accordance with the signals in real time.
Aside from the awesomeness of the technology, the use of neuroprostheses such as this raises a whole host of interesting philosophical and ethical questions. Particularly as the technology gets more sophisticated and more integrated, the distinction between the machinery being used and the person using it will become increasingly blurred. In the video, Jan already describes how she went from having to 'think' the commands ('clockwise, up, down, forward, back…') to merely having to 'look at the target' to effect accurate movement of the arm. This phenomenon is sometimes labeled 'transparency of use', where a tool serves a person's goals without itself being an object of effortful control. Continue reading →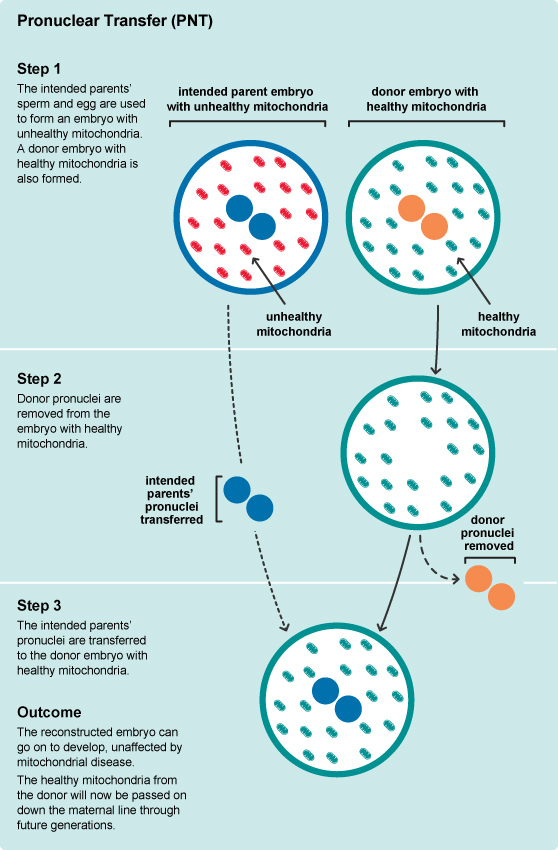 The agency that regulates fertility treatment and embryo research in the UK, the Human Fertilisation and Embryology Authority (HFEA), has asked for public views on two possible new forms of fertility treatment that promise to prevent the transmission of mitochondrial diseases to children. These diseases can be extremely severe, leading to (among other things) diabetes, deafness, progressive blindness, seizures, dementia, muscular dystrophy, and death.