by Dominic Wilkinson and Julian Savulescu
Tomorrow, the UK Court of Appeal will review the controversial case of a British infant, Charlie Gard. Charlie's parents are appealing a recent High Court decision that gave doctors permission to withdraw his life support. They have raised money for Charlie to travel to the US for an experimental medical treatment. Continue reading →
By Dominic Wilkinson @Neonatalethics
Should parents undertake prenatal testing? Is there a moral reason to prevent disability in your future child through embryo selection?
In a special Moral Philosophy Seminar yesterday evening, Professor Tom Shakespeare, from the University of East Anglia, gave a nuanced and multi-faceted argument against the arguments advanced by Julian Savulescu and Jeff McMahan in favour of embryo selection. In particular he attacked Julian's Principle of Procreative Beneficence (PB)
Procreative Beneficence (shortened version): when considering different possible children, based on relevant available information, couples should select the child who is expected to have the best life*
Dominic Wilkinson, @Neonatalethics
Reports that a 62-year-old Spanish woman has given birth after IVF treatment have led many to question whether there should be age limits with such treatment. Lina Alvarez, a doctor in north-west Spain, isn't the oldest person to have had success with IVF. Earlier this year, in India, Daljinder Kaur is said to have given birth at the age of 72, prompting calls from the Indian Medical Council for a ban on fertility treatment in women over the age of 50.
In many countries where there is funding assistance for IVF there is a limit to obtaining treatment over a certain age. In Britain, for example, the bar is set at age 42. But Alvarez received private treatment. So why care about her age? And what business is it of the rest of us whether she has access to IVF?
There are several arguments that typically surface in debates about age and fertility treatment – and they are all deeply flawed. Continue reading →
Let's suppose, entirely hypothetically and for the sake of argument, that Brexit is a disaster for the UK. Let's suppose that sterling crashes; that foreign travel is punishingly expensive and that, if you can afford to go abroad, you're a laughing stock. Let's suppose that the Treasury's estimates of billions of pounds of losses each year are reasonably accurate; that unemployment rises; that credit ratings plummet. Let's suppose Brexit creates a corrosive tide of racism; that things that should never be said, and can never be unsaid, are shouted at high volume. Let's suppose that there's a torrential brain drain; that UK universities fall down the international league tables; that the innovative treatments prescribed (to private patients only, unfortunately – no money left for the NHS) by the UK's (predominantly white) doctors are all devised in New York, Paris and Rome rather than London and Leeds. Let's suppose that the environment, unprotected by EU legislation, is trashed, and that Scotland leaves the UK.  Let's suppose, too, that nervousness about all this creates an increasingly authoritarian style of government .
If all that happens, it'll be great. At least if you're a consistent utilitarian. The horror of the UK's experience will strengthen the EU and prevent other countries from thinking that they should leave the Union – which would have similarly disastrous results for them and, if the EU itself dissolves, tectonic consequences for the stability of the world. Continue reading →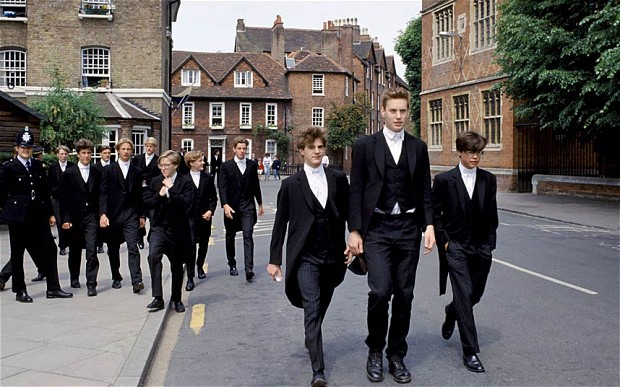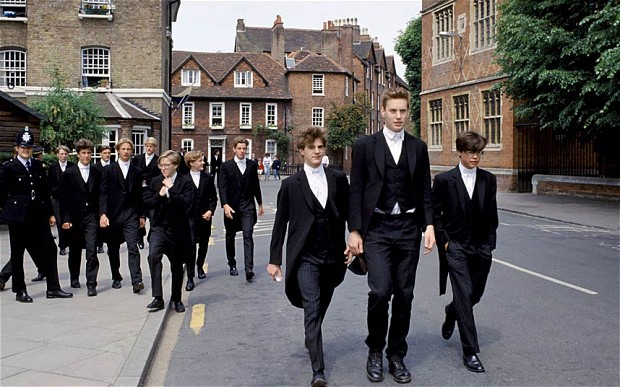 (Photo: Daily Telegraph)
I am a bitter opponent of private education. All my political hackles rise whenever the subject is mentioned.
Yet of my four currently school-aged children, one ('A') is educated privately (at a specialist choir school), and another ('B', who is dyslexic) will shortly be in private education (at a hip, Indian-cotton swathed, high-fibre, bongo-drumming, holistic school). The two others ('C' and 'D') are currently in state primary schools. There are two older children too ('E' and 'F') They were both educated privately, at a fairly traditional school.
How can I live with myself?
One way would be to avert my eyes from the apparently plain discrepancy between my actions and my political convictions. That's often been my strategy. But I want to attempt some kind of defence – at least in relation to A and B, and lay the ground for a potential defence in relation to C and D, should we choose to educate them privately. Continue reading →
by Dominic Wilkinson @Neonatalethics
A critically ill infant in intensive care (let us call him Jonas) has serious congenital abnormalities affecting his liver and brain.1 Doctors looking after Jonas suspect that he may have a major genetic problem. They have recommended testing for Jonas, to help determine whether he does have this problem.
However, Jonas' parents have refused consent for the genetic test. They are concerned that the test could be used to discriminate against Jonas and against them; they have repeatedly indicated that they will not agree to it being performed.
Could it ever be ethical to perform genetic testing on a child against parental wishes?
By Dominic Wilkinson, @Neonatalethics
Earlier this year, the Lancet published a trial (the 'ACT' trial) involving 100,000 babies at risk of being born prematurely in developing countries. Half of the mothers in the ACT trial did not receive a simple cheap medicine that has been previously shown in multiple trials and meta-analysis to reduce the risk of death for premature babies. From the ACT trial results, it appears that 89 additional babies died as a result of their mothers taking part in the trial.
Surely this is an egregious example of unethical research? It appears to be in breach of the World Medical Association Declaration of Helsinki standards. Why did ethics committees allow the research? Why did a major journal like the Lancet publish it? Why aren't bioethicists and activist and advocacy groups like Public Citizen jumping up and down in outrage?
Brenda Kelly and Charles Foster
Female Genital Mutilation ('FGM') is a term covering various procedures involving partial or total removal of the external female genitalia or other injury to the female genital organs for non-medical reasons (WHO, 2012). It can be associated with immediate and long-term physical and psychological health problems. FGM is prevalent in Africa, Middle East and South East Asia as well as within diaspora communities from these countries
The Government, keenly aware of the political capital in FGM, has come down hard. The Serious Crime Act 2015 makes it mandatory to report to the police cases of FGM in girls under the age of 18. While we have some issues with that requirement, it is at least concordant with the general law of child protection.
What is of more concern is the requirement, introduced by the cowardly device of a Ministerial Direction and after the most cursory consultation (in which the GMC and the RCOG hardly covered themselves in glory), by which healthcare professionals, from October 2015, are legally obliged to submit patient-identifiable information to the Department of Health ('DOH') on every female patient with FGM who presents for whatever reason, through the Enhanced Dataset Collection (EDC). The majority of these women will have undergone FGM in their country of origin prior to coming to the UK. Continue reading →
Not long ago the UK implemented an NHS surcharge – an extra fee that non-EEA nationals (Australia and New Zealand are also exempt) applying for leave to remain in the UK must pay. It costs £200 per year, and must be paid up front. So, for example, if you are applying for a work visa for 3 years, and you have a family of three, you must pay £1800 to cover the surcharge for you and your family (on top of other visa costs).
It is difficult to find much public discussion in the UK regarding this surcharge, outside of a few articles that recently noted that the surcharge is unlikely to do what we were told it would do – namely, benefit the NHS. (See here)
Is the surcharge a just policy? Continue reading →