In a blog post today, Julian Savulescu argues that in a parallel adult version of the highly controversial Charlie Gard case, a UK court might thwart an unconscious patient's previously expressed desire for self-funded experimental medical treatment. He finds the Gard decision deeply disturbing and suggests that we all have reason to fear the Charlie Gard judgment.
I respectfully beg to differ.
Julian's thought experiment of the billionaire 'Donald Wills' is not analogous to the real Charlie Gard case, his analysis of the UK legal approach to best interests cases for adults is potentially mistaken, his fear is misplaced. Continue reading →
Dominic Wilkinson, Consultant Neonatologist and Professor in Medical Ethics, argues that Charlie Gard should be allowed to die and that disagreement about this case is not necessarily 'reasonable' disagreement. He also explains what could possibly change his mind about the case.
By Dominic Wilkinson @Neonatalethics
In a blog post published yesterday, Julian Savulescu argues that Charlie Gard should have received the experimental treatment requested by his parents 6 months ago. He further argues that "we should be more aggressive about trials of therapy where there are no other good options".
I have previously argued (in a blog and in an editorial in the Lancet) that the requested treatment is not in Charlie's best interests. In a forthcoming paper (co-authored with John Paris, Jag Ahluwahlia, Brian Cummings and Michael Moreland), we compare the US and UK legal approaches to cases like this, and argue that the US approach is deeply flawed.
Here are four areas where I agree with Julian
In retrospect, it would have been better for Charlie to have received the requested treatment 6 months ago than to have a protracted legal dispute (with continued treatment in intensive care anyway)
We should generally allow patients who are dying or severely ill, without other available treatment, to try experimental treatment if that is something that they (or their family) strongly desire
If experimental treatments are unaffordable in public health systems but patients are able to pay for them privately, or have crowd-sourced funding for them, they should be made available
Experimental treatments should not be provided where the side effects make that treatment highly likely not to be in the patient's interests.
However, despite these areas of common ground, I reach starkly different conclusions from Julian. In my view, the doctors were right to oppose experimental treatment for Charlie in January, the judges were right to decline the family's request for treatment in April, and it would be deeply ethically problematic to provide the treatment now, notwithstanding the recent intervention of the US president and the Pope. Continue reading →
By Charles Foster
Philosophers have a non-identity problem. It is that they are not identified as relevant by the courts. This, in an age where funding and preferment are often linked to engagement with the non-academic world, is a worry.
This irrelevance was brutally demonstrated in an English Court of Appeal case,  ('the CICA case') the facts of which were a tragic illustration of the non-identity problem. Continue reading →
by Dominic Wilkinson and Julian Savulescu
Tomorrow, the UK Court of Appeal will review the controversial case of a British infant, Charlie Gard. Charlie's parents are appealing a recent High Court decision that gave doctors permission to withdraw his life support. They have raised money for Charlie to travel to the US for an experimental medical treatment. Continue reading →
By Dominic Wilkinson @Neonatalethics
Should parents undertake prenatal testing? Is there a moral reason to prevent disability in your future child through embryo selection?
In a special Moral Philosophy Seminar yesterday evening, Professor Tom Shakespeare, from the University of East Anglia, gave a nuanced and multi-faceted argument against the arguments advanced by Julian Savulescu and Jeff McMahan in favour of embryo selection. In particular he attacked Julian's Principle of Procreative Beneficence (PB)
Procreative Beneficence (shortened version): when considering different possible children, based on relevant available information, couples should select the child who is expected to have the best life*
Dominic Wilkinson, @Neonatalethics
Reports that a 62-year-old Spanish woman has given birth after IVF treatment have led many to question whether there should be age limits with such treatment. Lina Alvarez, a doctor in north-west Spain, isn't the oldest person to have had success with IVF. Earlier this year, in India, Daljinder Kaur is said to have given birth at the age of 72, prompting calls from the Indian Medical Council for a ban on fertility treatment in women over the age of 50.
In many countries where there is funding assistance for IVF there is a limit to obtaining treatment over a certain age. In Britain, for example, the bar is set at age 42. But Alvarez received private treatment. So why care about her age? And what business is it of the rest of us whether she has access to IVF?
There are several arguments that typically surface in debates about age and fertility treatment – and they are all deeply flawed. Continue reading →
Let's suppose, entirely hypothetically and for the sake of argument, that Brexit is a disaster for the UK. Let's suppose that sterling crashes; that foreign travel is punishingly expensive and that, if you can afford to go abroad, you're a laughing stock. Let's suppose that the Treasury's estimates of billions of pounds of losses each year are reasonably accurate; that unemployment rises; that credit ratings plummet. Let's suppose Brexit creates a corrosive tide of racism; that things that should never be said, and can never be unsaid, are shouted at high volume. Let's suppose that there's a torrential brain drain; that UK universities fall down the international league tables; that the innovative treatments prescribed (to private patients only, unfortunately – no money left for the NHS) by the UK's (predominantly white) doctors are all devised in New York, Paris and Rome rather than London and Leeds. Let's suppose that the environment, unprotected by EU legislation, is trashed, and that Scotland leaves the UK.  Let's suppose, too, that nervousness about all this creates an increasingly authoritarian style of government .
If all that happens, it'll be great. At least if you're a consistent utilitarian. The horror of the UK's experience will strengthen the EU and prevent other countries from thinking that they should leave the Union – which would have similarly disastrous results for them and, if the EU itself dissolves, tectonic consequences for the stability of the world. Continue reading →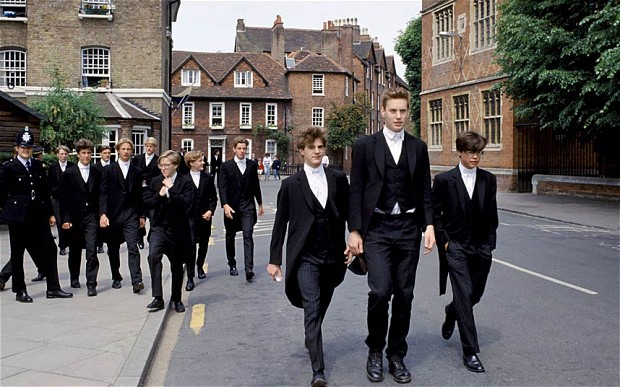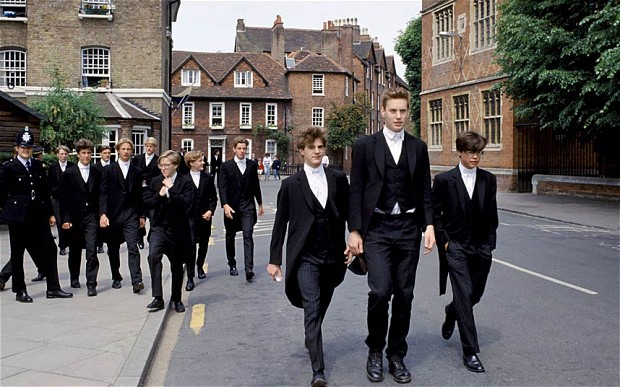 (Photo: Daily Telegraph)
I am a bitter opponent of private education. All my political hackles rise whenever the subject is mentioned.
Yet of my four currently school-aged children, one ('A') is educated privately (at a specialist choir school), and another ('B', who is dyslexic) will shortly be in private education (at a hip, Indian-cotton swathed, high-fibre, bongo-drumming, holistic school). The two others ('C' and 'D') are currently in state primary schools. There are two older children too ('E' and 'F') They were both educated privately, at a fairly traditional school.
How can I live with myself?
One way would be to avert my eyes from the apparently plain discrepancy between my actions and my political convictions. That's often been my strategy. But I want to attempt some kind of defence – at least in relation to A and B, and lay the ground for a potential defence in relation to C and D, should we choose to educate them privately. Continue reading →