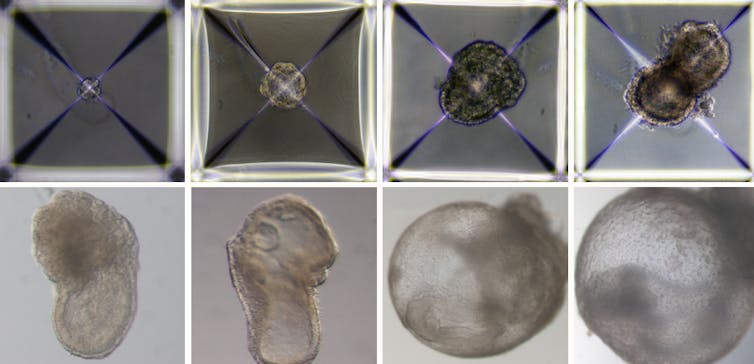 Julian Savulescu, University of Oxford; Christopher Gyngell, The University of Melbourne, and Tsutomu Sawai, Hiroshima University
Children, even some who are too young for school, know you can't make a baby without sperm and an egg. But a team of researchers in Israel have called into question the basics of what we teach children about the birds and the bees, and created a mouse embryo using just stem cells.
It lived for eight days, about half a mouse's gestation period, inside a bioreactor in the lab.
In 2021 the research team used the same artificial womb to grow natural mouse embryos (fertilised from sperm and eggs), which lived for 11 days. The lab-created womb, or external uterus, was a breakthrough in itself as embryos could not survive in petri dishes.
If you're picturing a kind of silicone womb, think again. The external uterus is a rotating device filled with glass bottles of nutrients. This movement simulates how blood and nutrients flow to the placenta. The device also replicates the atmospheric pressure of a mouse uterus.
Some of the cells were treated with chemicals, which switched on genetic programmes to develop into placenta or yolk sac. Others developed into organs and other tissues without intervention. While most of the stem cells failed, about 0.5% were very similar to a natural eight-day-old embryo with a beating heart, basic nervous system and a yolk-sac.
These new technologies raise several ethical and legal concerns.
Written by Julian Savulescu, Chris Gyngell, Tsutomu Sawai
Cross-posted with The Conversation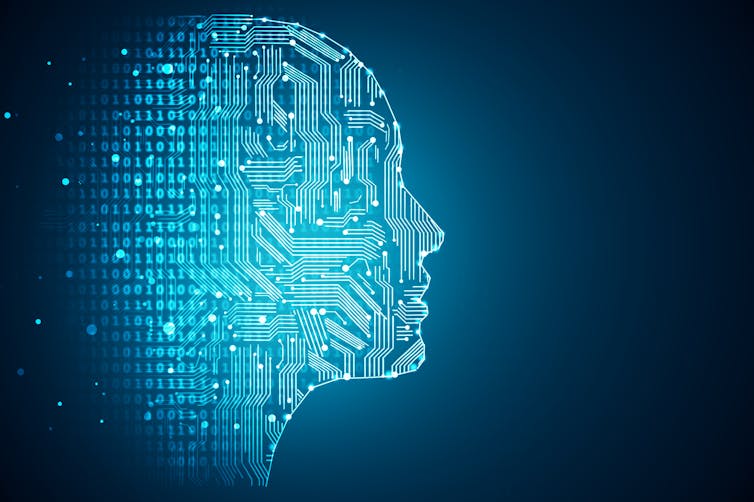 Julian Savulescu, University of Oxford; Christopher Gyngell, The University of Melbourne, and Tsutomu Sawai, Hiroshima University
The year is 2030 and we are at the world's largest tech conference, CES in Las Vegas. A crowd is gathered to watch a big tech company unveil its new smartphone. The CEO comes to the stage and announces the Nyooro, containing the most powerful processor ever seen in a phone. The Nyooro can perform an astonishing quintillion operations per second, which is a thousand times faster than smartphone models in 2020. It is also ten times more energy-efficient with a battery that lasts for ten days.
A journalist asks: "What technological advance allowed such huge performance gains?" The chief executive replies: "We created a new biological chip using lab-grown human neurons. These biological chips are better than silicon chips because they can change their internal structure, adapting to a user's usage pattern and leading to huge gains in efficiency."
Another journalist asks: "Aren't there ethical concerns about computers that use human brain matter?"
Although the name and scenario are fictional, this is a question we have to confront now. In December 2021, Melbourne-based Cortical Labs grew groups of neurons (brain cells) that were incorporated into a computer chip. The resulting hybrid chip works because both brains and neurons share a common language: electricity.
Written by Dr Christopher Gyngell Research Fellow in Biomedical Ethics, Murdoch Childrens Research Institute, and Professor Julian Savulescu Uehiro Chair in Practical Ethics,Visiting Professor in Biomedical Ethics, Murdoch Childrens Research Institute and Distinguished Visiting Professor in Law, Melbourne University, University of Oxford
This article was originally published on The Conversation
One of the greatest mysteries in life is why only about one in three embryos formed naturally ever go on to produce a baby. Most miscarry. By genetically engineering human embryos, scientists in the UK have identified a key gene in enabling embryos to develop.
Kathy Niakan, of the Francis Crick Institute in London, led a team which used gene editing technique CRISPR to investigate the role of a particular gene in the development of embryos. The study could potentially lead to better understanding of miscarriage, and hopefully prevention of it, and improve treatment of infertility.
However, this ground-breaking research would be illegal in Australia. Scientists doing this in Australia could be imprisoned. It's time to review Australia's laws in this area, which are 15 years old. Continue reading →
Written by Dr Chris Gyngell
Last year, the first truly novel synthetic life form was created. The Minimal Cell created by the Venter Lab, contains the smallest genome of any known independent organism.[1] While the first synthetic microbe was created in 2010, that was simply a like for like synthetic copy of the genome of an existing bacterium.  Nothing like the Minimal Cell exists in nature.
This great advance in synthetic biology comes at a time where natural life forms are being manipulated in ways never seen before.  The CRISPR gene editing system has been used to create hulk-like dogs, malaria proof mosquitoes, drought resistant wheat and hornless cows. The list of CRISPR-altered animals grows by the month. Continue reading →
Written by Dr Christopher Gyngell
This article originally appeared on the OMS website
The Nuffield Council of Bioethics released a report last Friday outlining the key ethical issues raised by genome editing technologies.
Genome editing (GE) is a powerful, and extremely rapidly developing technology. It uses engineered enzymes to make precise, controlled modification to DNA. It has the potential to radically transform many industries, including medicine, agriculture and ecology.  Despite only being developed in the past few years', GE has already been used to create malaria-fighting mosquitoes, drought resistant wheat, hornless cows and cancer killing immune cells. The potential applications of GE in a decade are difficult to imagine. It raises a wide range of ethical issues that require careful scrutiny. Continue reading →
It has long been known that cognitive diversity is important to collective performance. Diverse groups are more productive, more innovative and better at solving complex problems than less diverse groups. And recent research suggests that cognitive diversity also drives scientific progress.
Such research has direct implications for how we regulate reproductive technologies. Late last year, the London Sperm Bank was criticised for its decision to ban sperm donors who suffer from minor neurological disorders, including dyslexia and Asperger's syndrome. Continue reading →
Dr Christopher Gyngell (Oxford) comments on the HFEA's decision to give green light to UK researchers to genetically modify human embryos for research. A clear analysis of the most common concerns, and a suggestion for what direction the debate should take.
The UK became the first country to officially approve gene editing research in human embryos on Monday. The HFEA decision means experiments in which the genes of embryos are manipulated will likely begin at the Francis Crick Institute within the next few months.
Gene editing (GE) technologies are immensely powerful. They have already been used to manipulate mosquitos so they cannot carry diseases like malaria or Zika. They have been used in medicine to reprogram human immune cells to target cancer. When used for research purposes, they promise to greatly increase our knowledge of genetics and human heredity. This will lead to a better understanding of disease, which in turn will allow better treatments – including better drugs.
Written by Dr Chris Gyngell, Dr Tom Douglas and Professor Julian Savulescu
A crucial international summit on gene editing continues today in Washington DC. Organised by the US National Academy of Sciences, National Academy of Medicine, the Chinese Academy of Sciences, and the U.K.'s Royal Society, the summit promises to be a pivotal point in the history of the gene editing technologies.
Gene editing (GE) is a truly revolutionary technology, potentially allowing the genetic bases of life to be manipulated at will. It has already been used to create malaria-fighting mosquitoes, drought resistant wheat, hornless cows and cancer killing immune cells. All this despite the fact GE only become widely used in the past few years. The potential applications of GE in a decade are difficult to imagine. It may transform the food we eat, the animals we farm, and the way we battle disease. Continue reading →
A study published last week in the journal Cell has led to speculation that a powerful new gene editing technique is about to be developed.
Gene editing has received widespread media coverage over the past few months. Most of the excitement has centred on a specific gene editing technique, the CRISPR-cas9 system. Research conducted with CRISPR-cas9 on human embryos has been highly controversial, at least partly because some people fear it will lead to gene editing being used to alter the human germline for clinical applications, and will have unpredictable effects on future generations.