by Dominic Wilkinson (@Neonatalethics)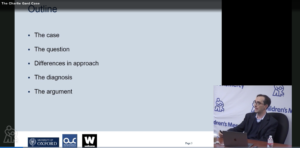 Webinar given recently for the Children's Mercy Centre for bioethics as part of the excellent (and free) Children's Mercy webinar series (great resource for those interested in paediatric bioethics) Continue reading →
Written by Nadira Faber
This post was originally published on The Conversation
We routinely work together with other people. Often, we try to achieve shared goals in groups, whether as a team of firefighters or in a scientific collaboration. When working together, many people – naturally – would prefer doing so with others who are their friends. But, as much as we like spending time with our friends, is working with them in a group really good for our performance?
People have different personal opinions about this question. Some think working in a group of friends makes you more productive, because knowing and liking each other makes you more efficient. Others think it makes you less productive, because you spend too much time recapping your adventures from last weekend rather than focusing on work. So who is right? Continue reading →
Written by Dr Christopher Gyngell Research Fellow in Biomedical Ethics, Murdoch Childrens Research Institute, and Professor Julian Savulescu Uehiro Chair in Practical Ethics,Visiting Professor in Biomedical Ethics, Murdoch Childrens Research Institute and Distinguished Visiting Professor in Law, Melbourne University, University of Oxford
This article was originally published on The Conversation
One of the greatest mysteries in life is why only about one in three embryos formed naturally ever go on to produce a baby. Most miscarry. By genetically engineering human embryos, scientists in the UK have identified a key gene in enabling embryos to develop.
Kathy Niakan, of the Francis Crick Institute in London, led a team which used gene editing technique CRISPR to investigate the role of a particular gene in the development of embryos. The study could potentially lead to better understanding of miscarriage, and hopefully prevention of it, and improve treatment of infertility.
However, this ground-breaking research would be illegal in Australia. Scientists doing this in Australia could be imprisoned. It's time to review Australia's laws in this area, which are 15 years old. Continue reading →
Guest Post: Nathan Hodson
This article originally appeared on the Journal of Medical Ethics Blog 
In a recent article in the Journal of Medical Ethics, Neil Levy has developed a concept of "nudges to reason," offering a new tool for those trying to reconcile medical ethics with the application of behavioural psychological research – a practice known as nudging. Very roughly, nudging means adjusting the way choices are presented to the public in order to promote certain decisions.
As Levy notes, some people are concerned that nudges present a threat to autonomy. Attempts at reconciling nudges with ethics, then, are important because nudging in healthcare is here to stay but we need to ensure it is used in ways that respect autonomy (and other moral principles). Continue reading →

Alberto Giubilini, University of Oxford
The use of antibiotics in meat production is a major contributor to one of the biggest threats facing human health in the 21st century: antibiotic resistance. Finding a solution to this requires us to start taking responsibility for our actions. While one person eating meat has an imperceptible effect on antibiotic resistance, multiply that by millions of people around the world and you have a global crisis. Continue reading →
Zero Degrees of Empathy author Simon Baron-Cohen, philosopher Peter Dews and Oxford Transhumanist Anders Sandberg dispute how to be good.
We think empathising with others is the route to a better world. But studies show that empathy encourages us to help one named child over ten anonymous others. Is morality perhaps not about empathy at all? Does the moral way to act have more to do with thinking than feeling, or is empathy a vital force for good?
Written by Carissa Veliz
DPhil Candidate in Philosophy, Uehiro Centre for Practical Ethics, University of Oxford
This article was originally published in The Conversation
It is inconvenient to guard one's privacy, and the better one protects it, the more inconvenience one must endure. Enjoying privacy, at a minimum, demands installing software to block tracking online, using long and different passwords for online services, remembering to turn off the WiFi and Bluetooth signals on your mobile phone when leaving the house, using cash, and so on. Continue reading →
Written by Prof Neil Levy,
Senior Research Fellow, Uehiro Centre for Practical Ethics, University of Oxford
This article was originally published on The Conversation
One common reaction to the election of Donald Trump (and perhaps to a lesser extent, the Brexit vote) among liberals like me is an expression of dismay that some of our fellow citizens are more racist and more sexist than we had dreamed. It seems many were prepared, if not to support openly racist comments and sexist actions, then at least to overlook them. It looks as though battles we thought we had won, having to do with a recognition of a basic kind of equality, need to be fought all over again. Many have concluded that they were never won at all; people were just waiting for a favourable climate to express the racism and sexism they held hidden. Continue reading →