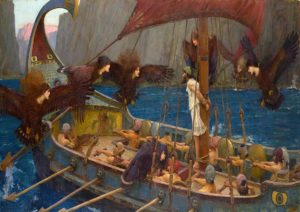 By Charles Foster
[Image: Ulysses and the Sirens: John William Waterhouse, 1891: National Gallery of Victoria, Melbourne]
We shouldn't underestimate Homer's hold on us. Whether or not we've ever read him, he created many of our ruling memes.
I don't think it's fanciful (though it might be ambitious) to suggest that he, and the whole heroic ethos, are partly responsible for our uncritical adoption of a model of autonomy which doesn't do justice to the sort of creatures we really are. That's a big claim. I can't justify it here. But one manifestation of that adoption is our exaggerated respect for advance directives – declarations made when one is capacitous about how one would like to be treated if incapacitous, and which are binding if incapacity supervenes if (in English law) the declaration is 'valid and applicable.' 1.
I suspect that some of this respect comes from the earliest and most colourful advance directive story ever: Odysseus and the Sirens. Continue reading →
There are many corrosive forms of discrimination. But one of the most dangerous is the bias in favour of consciousness, and the consequent denigration of the unconscious.
We see it everywhere. It's not surprising. For when we're unreflective – which is most of the time – we tend to suppose that we are our conscious selves, and that the unconscious is a lower, cruder part of us; a seething atavistic sea full of monsters, from which we have mercifully crawled, making our way ultimately to the sunlit uplands of the neocortex, there to gaze gratefully and dismissively back at what we once were.  It's a picture encoded in our self-congratulatory language: 'Higher cognitive function'; 'She's not to be blamed: she wasn't fully conscious of the consequences.': 'In the Enlightenment we struck off the shackles of superstition and freed our minds to roam.' Continue reading →
By Dominic Wilkinson, 24th June 2021
cross post from the Open Justice Court of Protection Project
On 11th June 2021,  I was a public observer (via MS Teams) of a case in the Court of Protection: Case No. 1375980T Re GU (also blogged about by Jenny Kitzinger here).
The case was (though I did not know it beforehand) related closely to issues that I have written about over a number of years (for example here, here, here ). It was an urgent hearing before Mr Justice Hayden concerning clinically-assisted nutrition and hydration (CANH) for a 70 year old man, GU, who has been in a prolonged disorder of consciousness for seven years.
I have read the judgments from many similar cases in the UK, from the first ever case concerning a feeding tube for a vegetative patient heard in (what is now) the Supreme Court in 1992 (the case of  Tony Bland, injured in the Hillsborough football stadium disaster), through to the most recent Supreme Court case of Re. Y, at which the court ruled that it is not mandatory to bring cases concerning CANH-withdrawal to court unless there is disagreement about best interests, or the decision is finely balanced (report here). I'm also familiar with the judgments in other jurisdictions (e.g. Schiavo in the USA,  Lambert in France) and have been involved in deliberation in clinical ethics committees about cases with similar features.
Yet, this was my first time hearing open deliberations in the Court of Protection. It was a fascinating and thought-provoking experience. Continue reading →
Written by F M Kamm
This post originally appeared in The Philosophers' Magazine
When the number of people who have died of COVID-19 in the U.S. reached 500,000 special notice was taken of this great tragedy. As a way of helping people appreciate how enormous an event this was, some commentators thought it would help to compare it to other events that involved a comparable number of people losing their lives. For example, it was compared to all the U.S lives lost on the battlefield in World Wars 1 and II and the Vietnam War (or World War II, the Korean War, and Vietnam). Such comparisons raise questions, concerning dimensions of comparison, some of which are about degrees of harm, wrong, and meaningfulness which are considered in this essay. (Since the focus in the comparison was on the number of soldiers who died rather the number of other people affected by their deaths, this discussion will also focus on the people who die in a pandemic rather than those affected by their deaths.)
By Charles Foster
From the time of the decision of the House of Lords in Airedale NHS Trust v Bland (1993) until the decision of the Supreme Court in An NHS Trust v Y (2018) (which I will refer to here as 'Y") it had been understood that the withdrawal of life-sustaining treatment (typically clinically assisted nutrition and hydration – 'CANH') from patients in a vegetative state should be endorsed by the court. Over the years, this practice had been extended to cover such withdrawals in Minimally Conscious States too.
In Y, the Supreme Court held that there was no requirement for court review or endorsement. Why? Continue reading →
General anaesthesia is widely used for surgery and diagnostic interventions, to ensure the patient is completely unconscious during these procedures. However, in a paper published in Anaesthesia (a journal of the Association of Anaesthetists) ethics and anaesthesia experts from the University of Oxford say that general anaesthesia should be more widely available for patients at the end of their lives.
Painkilling medications (analgesia) are commonly given to dying patients. But they may not be enough, leading to the use of continuous deep sedation (also known as "palliative" or "terminal" sedation).
"However, for some patients these common interventions are not enough. Other patients may express a clear desire to be completely unconscious as they die," explains co-author Professor Julian Savulescu, Uehiro Chair of Practical Ethics, University of Oxford, UK. "Some dying patients just want to sleep. Patients have a right to be unconscious if they are dying. We have the medical means to provide this and we should."
The authors make clear that their proposal is not about assisted dying, currently illegal in the UK. Instead, their focus is on options available to ensure that patients are comfortable at the end of their lives.
Put simply, some patients will want to be certain they are unconscious and unaware as their final moments arrive.
"The desire to be unconscious as a means of eliminating the experience of physical or mental suffering is understandable," says co-author Jaideep Pandit, Professor of Anaesthesia at Oxford University Hospitals NHS Foundation Trust, UK. "Unconsciousness through general anaesthesia offers the highest chance of making sure that the patient is unaware of going through an adverse process."
He adds that "although general anaesthesia in end-of-life care has been used and described in the UK since 1995, modern multidisciplinary guidelines will be needed before this can be offered more widely. Raising this issue now is important, especially in view of international trends showing increased use of general anaesthesia for dying patients."
Informed consent will, say the authors, be crucial in helping patients understand implications of general anaesthesia for end-of-life care, and the other options they have to manage their final days.
"It is vital that patients are informed of all the legal options available to them to relieve suffering at the end of life. That includes analgesia, sedation and, potentially now, anaesthesia," says co-author Professor Dominic Wilkinson, Director of Medical Ethics, Uehiro Centre for Practical Ethics at the University of Oxford, UK. "The risks and benefits of each should be explained. Patients should be free to choose the option, or combination of options, that best meet their values."
In a separate survey of the general public, published recently in the journal PLOS One, Professors Wilkinson and Savulescu found a high level of support for access to deep sedation in dying patients. Some 88% of those surveyed said they would like the option of a general anaesthetic if they were dying. About two thirds (64%) said they would personally choose to have an anaesthetic at the end of life.
Professor Wilkinson adds "members of the general public appear to value the option of deep sleep and complete relief from pain if they were dying. Our previous research indicates that the public believes that patients should be given this choice."
The authors counter any concerns that the use of general anaesthesia for end-of-life care could hasten death. Studies show no statistically significant difference in mean survival time between patients at the end of life who receive continuous deep sedation and those who do not. In several countries, propofol infusion as used for general anaesthesia has been continued for up to 14 days. "This stresses the point that the purpose of administering anaesthesia is not to hasten death but simply to achieve unconsciousness." explains co- author Antony Takla, Research Associate at the Uehiro Centre for Practical Ethics, University of Oxford.
The authors believe the UK medical community should prepare for increased requests for general anaesthesia for end-of-life care, based on current trends in Western Europe and Scandinavia.
They conclude: "we have described a potential role for general anaesthesia in end-of-life care. This has, in reality, been available to UK patients since the 1990s, but is not commonly discussed or provided. There is a strong ethical case for making this option more widely available. This does not imply that existing palliative care practice is deficient. Indeed, we might see that general anaesthesia in end-of-life care is requested by, or suitable for, very few patients."
"However, the number of patients involved should not alone determine whether this issue is regarded as ethically important. Even if complete unconsciousness is desired by only a few patients, there is a moral imperative for national anaesthesia, palliative care and nursing organisations to prepare for the possibility that general anaesthesia in end-of-life care may be requested by some patients, and to work collaboratively to develop clear protocols to address all of the practical, ethical and medicolegal issues concerned."
Written by Roger Crisp
Imagine two worlds quite different from our own. In Non-intervention, if a person becomes ill with some life-threatening condition, though their pain may be alleviated, no attempt is made to save their lives. In Maximal-intervention, everything possible is done to save the lives of those with life-threatening conditions. Continue reading →
by Dominic Wilkinson @Neonatalethics
This week, the Care Quality Commission (CQC) published an interim report into resuscitation decisions during the COVID-19 pandemic. According to a number of media outlets, the report found that in the first wave of the crisis inappropriate and possibly unlawful 'do not resuscitate' orders were used "without the consent of patients and families" (see eg Telegraph, Sky).
There are real concerns and important questions to answer about policies and care for patients in care homes and in the community during the pandemic. However, the media stories, and the CQC report itself appear to illustrate two ethical misconceptions.