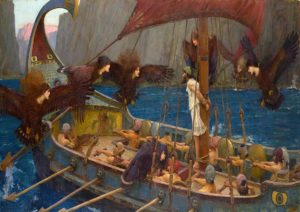 By Charles Foster
[Image: Ulysses and the Sirens: John William Waterhouse, 1891: National Gallery of Victoria, Melbourne]
We shouldn't underestimate Homer's hold on us. Whether or not we've ever read him, he created many of our ruling memes.
I don't think it's fanciful (though it might be ambitious) to suggest that he, and the whole heroic ethos, are partly responsible for our uncritical adoption of a model of autonomy which doesn't do justice to the sort of creatures we really are. That's a big claim. I can't justify it here. But one manifestation of that adoption is our exaggerated respect for advance directives – declarations made when one is capacitous about how one would like to be treated if incapacitous, and which are binding if incapacity supervenes if (in English law) the declaration is 'valid and applicable.' 1.
I suspect that some of this respect comes from the earliest and most colourful advance directive story ever: Odysseus and the Sirens. Continue reading →
By Charles Foster
From the time of the decision of the House of Lords in Airedale NHS Trust v Bland (1993) until the decision of the Supreme Court in An NHS Trust v Y (2018) (which I will refer to here as 'Y") it had been understood that the withdrawal of life-sustaining treatment (typically clinically assisted nutrition and hydration – 'CANH') from patients in a vegetative state should be endorsed by the court. Over the years, this practice had been extended to cover such withdrawals in Minimally Conscious States too.
In Y, the Supreme Court held that there was no requirement for court review or endorsement. Why? Continue reading →
General anaesthesia is widely used for surgery and diagnostic interventions, to ensure the patient is completely unconscious during these procedures. However, in a paper published in Anaesthesia (a journal of the Association of Anaesthetists) ethics and anaesthesia experts from the University of Oxford say that general anaesthesia should be more widely available for patients at the end of their lives.
Painkilling medications (analgesia) are commonly given to dying patients. But they may not be enough, leading to the use of continuous deep sedation (also known as "palliative" or "terminal" sedation).
"However, for some patients these common interventions are not enough. Other patients may express a clear desire to be completely unconscious as they die," explains co-author Professor Julian Savulescu, Uehiro Chair of Practical Ethics, University of Oxford, UK. "Some dying patients just want to sleep. Patients have a right to be unconscious if they are dying. We have the medical means to provide this and we should."
The authors make clear that their proposal is not about assisted dying, currently illegal in the UK. Instead, their focus is on options available to ensure that patients are comfortable at the end of their lives.
Put simply, some patients will want to be certain they are unconscious and unaware as their final moments arrive.
"The desire to be unconscious as a means of eliminating the experience of physical or mental suffering is understandable," says co-author Jaideep Pandit, Professor of Anaesthesia at Oxford University Hospitals NHS Foundation Trust, UK. "Unconsciousness through general anaesthesia offers the highest chance of making sure that the patient is unaware of going through an adverse process."
He adds that "although general anaesthesia in end-of-life care has been used and described in the UK since 1995, modern multidisciplinary guidelines will be needed before this can be offered more widely. Raising this issue now is important, especially in view of international trends showing increased use of general anaesthesia for dying patients."
Informed consent will, say the authors, be crucial in helping patients understand implications of general anaesthesia for end-of-life care, and the other options they have to manage their final days.
"It is vital that patients are informed of all the legal options available to them to relieve suffering at the end of life. That includes analgesia, sedation and, potentially now, anaesthesia," says co-author Professor Dominic Wilkinson, Director of Medical Ethics, Uehiro Centre for Practical Ethics at the University of Oxford, UK. "The risks and benefits of each should be explained. Patients should be free to choose the option, or combination of options, that best meet their values."
In a separate survey of the general public, published recently in the journal PLOS One, Professors Wilkinson and Savulescu found a high level of support for access to deep sedation in dying patients. Some 88% of those surveyed said they would like the option of a general anaesthetic if they were dying. About two thirds (64%) said they would personally choose to have an anaesthetic at the end of life.
Professor Wilkinson adds "members of the general public appear to value the option of deep sleep and complete relief from pain if they were dying. Our previous research indicates that the public believes that patients should be given this choice."
The authors counter any concerns that the use of general anaesthesia for end-of-life care could hasten death. Studies show no statistically significant difference in mean survival time between patients at the end of life who receive continuous deep sedation and those who do not. In several countries, propofol infusion as used for general anaesthesia has been continued for up to 14 days. "This stresses the point that the purpose of administering anaesthesia is not to hasten death but simply to achieve unconsciousness." explains co- author Antony Takla, Research Associate at the Uehiro Centre for Practical Ethics, University of Oxford.
The authors believe the UK medical community should prepare for increased requests for general anaesthesia for end-of-life care, based on current trends in Western Europe and Scandinavia.
They conclude: "we have described a potential role for general anaesthesia in end-of-life care. This has, in reality, been available to UK patients since the 1990s, but is not commonly discussed or provided. There is a strong ethical case for making this option more widely available. This does not imply that existing palliative care practice is deficient. Indeed, we might see that general anaesthesia in end-of-life care is requested by, or suitable for, very few patients."
"However, the number of patients involved should not alone determine whether this issue is regarded as ethically important. Even if complete unconsciousness is desired by only a few patients, there is a moral imperative for national anaesthesia, palliative care and nursing organisations to prepare for the possibility that general anaesthesia in end-of-life care may be requested by some patients, and to work collaboratively to develop clear protocols to address all of the practical, ethical and medicolegal issues concerned."
Most people in the UK would like the option of being heavily sedated, having a general anaesthestic or to having euthanasia, if they were dying, according to Oxford research published today in the medical journal PLOS One.
Professor Dominic Wilkinson, Professor Julian Savulescu and colleagues from the Oxford Uehiro Centre for Practical Ethics, surveyed more than 500 adults in August 2020 on their views about the care of a patient who had one week to live.
The study found a high level of support for access to deep sedation in dying patients.
Some 88% said they would like the option of a general anaesthetic if they were dying. Meanwhile, 79% of those surveyed said they would like to have the option of euthanasia.
But just 64% said they would personally choose anaesthetic at the end of life and nearly half said they would not choose euthanasia for themselves or a family member.
The report maintains, 'This study indicates that a substantial proportion of the general community support a range of options at the end of life, including some that are not currently offered in the UK.'
According to Professor Wilkinson, 'Previous surveys have shown that a large proportion of the UK public wish to have the option of euthanasia. This study shows an even larger number wish to have the choice of being heavily sedated or even receiving a general anaesthetic if they were dying.'
He continues, 'Currently, in the UK it is legal for doctors to provide pain relief to dying patients, and to use sedatives if that is not enough to keep a patient comfortable. Heavy sedation is used as an option of last resort. General anaesthesia is not currently considered. But members of the general public value the option of deep sleep and complete relief from pain if they were dying. They believe that patients should be given this choice.'
Meanwhile, Professor Savulescu adds, 'Patients have a right to be unconscious if they are dying. This survey shows that the general public want to have greater choice at the end of life.'
ENDS
Notes for Editors
For more information, please contact news.office@admin.ox.ac.uk
1. The survey is based on two anonymous online surveys of members of the UK public, sampled to be representative. They were given a scenario of a hypothetical terminally ill patient with one week to live and asked about the acceptability of providing titrated analgesia, gradual sedation, terminal anaesthesia, and euthanasia.
2. Across both surveys, a majority had undertaken higher education, with seven in 10 having A levels or higher qualifications. Meanwhile, just 2.4% overall had no qualifications.
3. Just over half of all respondents said they were religious with 13.8% describing themselves as very religious.
by Prof Dominic Wilkinson @Neonatalethics
Last month, in an emergency hearing, the High court in London heard a case that characterises a familiar problem in medical ethics. A 15 year old adolescent (known as 'X') with a long-standing medical condition, Sickle Cell disease, had a very low blood count and required an urgent blood transfusion. However, X is a Jehovah's Witness and did not wish to receive blood as it was contrary to her religious beliefs. X's doctors believed that she was at risk of very serious health consequences without a blood transfusion (a stroke, or even death).
Of no great surprise to anyone, the court authorised the emergency blood transfusion for X. Although X was "mature and wise beyond her years", and judged to be 'Gillick competent' (see below), the judge made the decision in her best interests.
That decision is consistent with many previous cases that have come to the courts in the UK and overseas (see here, here, here )[1]. It is very similar to the case in Ian McEwan's novel and film "The Children Act" (the book, had been based on real cases before the courts). The courts, in the UK at least, have always decided to over-rule under-eighteens who wish to refuse potentially life-saving treatment. Once the teenager reaches the age of eighteen, the decision is different, however. At that point, if they are judged to have "capacity", (ie they have the ability to use, understand, and communicate the information necessary for a decision)  they can refuse even if the treatment would certainly save their life.
Although the decision is unsurprising, the judge made a comment implying that future cases might not always reach the same conclusion. X's lawyer argued that the traditional legal approach may be "in need of urgent re-analysis and review", and the judge appeared to agree that these arguments needed careful consideration (not possible acutely given the urgency of X's case).
Should the ethical and legal approach to adolescents who refuse treatment change?
Written by: Dr Amna Whiston
In this seminar (available on podcast), Professor Arthur Schafer discussed the ethical challenges involved in the Canadian euthanasia debate at the New St Cross Special Ethics Seminar (online). Professor Schafer, who has written extensively over the last thirty years about a range of topics that includes professional and bio-medical ethics, having been a long-standing proponent of the view that allowing people to die with dignity enriches our rights as humans, critically addressed the question of whether Canada is currently heading in the right direction regarding the legalization of medical assistance in dying.
Autonomy, as Professor Schafer reminds us, is one of the core Canadian values, and this is reflected through the public battle against the prohibition of assisted suicide.  Back in 1993, (Rodriguez v. British Columbia [Attorney General]), the majority of the Supreme Court of Canada urged that at that time there was no public consensus among Canadians that the autonomy interest of people wishing to end their lives is paramount to the state interest in protecting the lives of its citizens. In recent years, Canadian public opinion has undergone a significant shift in favour of the autonomy interest of irredeemably suffering patients who, with no hope of recovery, wish to end their lives with dignity. In June 2016 the Canadian Parliament passed a legislation bill legalizing medical assistance in dying, which has now become legally permissible in several American states (Oregon, Washington State and Montana) and in a number of European nations (the Netherlands, Belgium, Switzerland, and Luxemburg). Today more than two-thirds of Canadians support the new legislation which makes it legally permissible for doctors to help the terminally ill to end their lives. This fact, nonetheless, leaves open a more general question (beyond the Canada context) of whether constitutional rights should be settled by opinion poll.
By Charles Foster

It has been a terrible few months for moral philosophers – and for utilitarians in particular. Their relevance to public discourse has never been greater, but never have their analyses been so humiliatingly sidelined by policy makers across the world. The world's governments are all, it seems, ruled by a rather crude vitalism. Livelihoods and freedoms give way easily to a statistically small risk of individual death.
That might or might not be the morally right result. I'm not considering here the appropriateness of any government measures, and simply note that whatever one says about the UK Government's response, it has been supremely successful in generating fear. Presumably that was its intention. The fear in the eyes above the masks is mainly an atavistic terror of personal extinction – a fear unmitigated by rational risk assessment. There is also a genuine fear for others (and the crisis has shown humans at their most splendidly altruistic and communitarian as well). But we really don't have much ballast.
The fear is likely to endure long after the virus itself has receded. Even if we eventually pluck up the courage to hug our friends or go to the theatre, the fear has shown us what we're really like, and the unflattering picture will be hard to forget.
I wonder what this new view of ourselves will mean for some of the big debates in ethics and law? The obvious examples are euthanasia and assisted suicide. Continue reading →
Written by Charles Foster
In a recent blog post on this site Dom Wilkinson, writing about the case of Vincent Lambert, said this:
'If, as is claimed by Vincent's wife, Vincent would not have wished to remain alive, then the wishes of his parents, of other doctors or of the Pope, are irrelevant. My views or your views on the matter, likewise, are of no consequence. Only Vincent's wishes matter. And so life support must stop.'
The post was (as everything Dom writes is), completely coherent and beautifully expressed. I say nothing here about my agreement or otherwise with his view – which is comfortably in accord with the zeitgeist, at least in the academy. My purpose is only to point out that if he is right, there is no conceivable justification for a department of medical ethics. Dom is arguing himself out of a job. Continue reading →
Dominic Wilkinson, University of Oxford
Shortly before Frenchman Vincent Lambert's life support was due to be removed, doctors at Sebastopol Hospital in Reims, France, were ordered to stop. An appeal court ruled that life support must continue.
Lambert was seriously injured in a motorcycle accident in 2008 and has been diagnosed as being in a persistent vegetative state. Since 2014, his case has been heard many times in French and European courts.
His wife, who is his legal guardian, wishes artificial nutrition and hydration to be stopped and Vincent to be allowed to die. His parents are opposed to this. On Monday, May 20, the parents succeeded in a last-minute legal appeal to stop Vincent's doctors from withdrawing feeding, pending a review by a UN Committee on the Rights of Persons with Disabilities.
Lambert's case is the latest example of disputed treatment for adult patients with profound brain injury. The case has obvious parallels with that of Terri Schiavo, in the US who died in 2005 following seven years of legal battles. And there have been other similar high-profile cases over more than 40 years, including Elena Englaro (Italy, court cases 1999-2008), Tony Bland (UK 1993) Nancy Cruzan (US 1988-90) and Karen Ann Quinlan (US 1975-76). Continue reading →
By David Copolov and Julian Savulescu 
This week the Australian Senate will debate a private members' bill that will consider whether to overturn the 21-year-old Euthanasia Laws Act that nullified the ability of Australian self-governing territories to pass legislation in relation to euthanasia and assisted suicide.
The deliberation on whether to continue the arbitrary over-riding of the territories' legislative autonomy in this domain will inevitably also turn a spotlight on the judiciousness of Victoria's recent voluntary assisted dying legislation that empowers terminally ill people who are residents of our state and who are experiencing unrelievable suffering, to end their lives on their own terms.
Standing firmly and resolutely against such legislation is Professor Margaret Somerville, from the University of Notre Dame, who was interestingly described in an article in the Sydney Morning Herald two days ago as having "spent decades observing euthanasia in Canada", even though medically assisted dying only became legal in that country in 2016.
One of the concerns she has raised is the "slippery slope" to unethical assistance in dying. Currently, this might well be on people's minds because of the reports of the deaths of three minors during 2016-2017 as the result of euthanasia in Belgium, out of 4337 deaths during that period. The deaths of the under-18-year-olds occurred as a result of the removal of age limits on access to euthanasia in Belgium that took place as a result of legislation introduced in 2014, 12 years after the introduction of euthanasia for adults.
In contrast to Belgium (which is the only jurisdiction that places no age restrictions on euthanasia or assisted dying), the Victorian Parliament passed the Voluntary Assisted Dying Act in November last year, which limits voluntary assisted dying (VAD) to terminally ill people 18 years and older, who fulfil very strict criteria in relation to experiencing unrelievable suffering and possessing sufficient decision-making capabilities. They must be in the last six months of life, unless they're suffering from a neurodegenerative disease, in which case they must be in the last 12 months of life.
There are many reasons that both the Victorian Legislative Council's Inquiry into end of life choices and the Ministerial Advisory Panel on Voluntary Assisted Dying recommended limiting VAD to adults, including the fact that the extensive consultations with the Victorian public led to the firm conclusion that, as stated in the inquiry's final report: "Victorian values do not support allowing assisted dying to be provided to those who are yet to reach adulthood."